Light, tender and totally irresistible, this homemade Potato Bread is the perfect sandwich loaf!
Potato Bread
My parents went on a health kick back in the 70's. Carob and whole grains came into the kitchen. My sisters and I begged for mushy Wonder bread…we didn't get it. But on occasion, my mom would pick up a loaf of fluffy potato bread from the market. Those memories were my inspiration for these loaves made with mashed potatoes. And it was seriously one of the best breads I've made in years.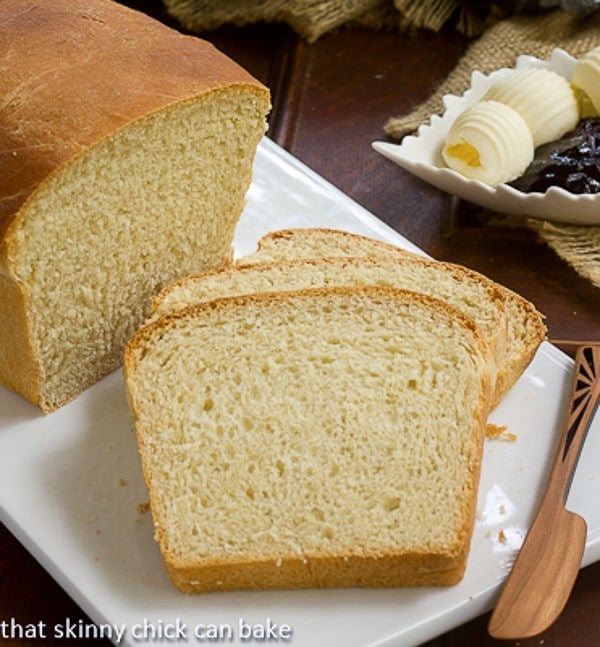 The Ultimate Sandwich Loaf
I would call this the ultimate sandwich loaf. Soft and slightly sweet, it's perfect for any fillings: pb and j, ham and cheese, whatever. Hubby got home from work early and I told him he had to sample a slice. I knew he'd confirm my review. I rarely eat white bread, but I even smeared it with a thick layer of soft butter. Twice. Heavenly. If you're a bread baker, you must try this. If you're not, you still must try it. Unfortunately, the dough is quite sticky and really needs to be kneaded in a stand mixer or in a bread machine. But you can always borrow one, right?
Our #TwelveLoaves October theme is Root Vegetables. September was about baking with our finds from the Farmers Markets. We are continuing exploring what is in season and our October baking mission is about Root Vegetables. Share your October Root Vegetable Bread (yeast or quick bread). Let's get baking!
#TwelveLoaves is a monthly bread baking party created by Lora from Cake Duchess. #TwelveLoaves runs so smoothly thanks to the help of the lovely Paula from Vintage Kitchen Notes and Renee from Magnolia Days.
Potato Bread
A delectable Potato Loaf adapted from King Arthur Flour
Ingredients
1 tablespoon instant yeast (I love Red Star Platinum yeast)
½ cup sugar
1¼ to 1½ cups lukewarm water or potato water (boiling water from potatoes). Use the larger amount of liquid in drier, winter months
¾ cup (12 tablespoons) butter, at room temperature
2½ teaspoons salt
2 large eggs
1 cup mashed potatoes (from about ½ pound potatoes)
6½ cups all-purpose flour (King Arthur preferred)
Instructions
Beat together all of the dough ingredients, using the paddle attachment of your stand mixer for 4 to 5 minutes at medium-high speed, stopping the mixer to scrape down the sides and bottom of the bowl as needed. The mixture should start to become smooth and a bit shiny.
Switch to the dough hook, and knead the dough at medium speed (only if your mixer will tolerate it) for 7 minutes, stopping to scrape the dough into a ball a couple times.
Scrape the dough into a ball (it will be sticky), and place it in a lightly greased bowl or large greased plastic bag. Refrigerate overnight or for up to 24 hours.
Remove the dough from the refrigerator, divide it in half, and shape into 9-inch logs. Place each into greased 9 x 5-inch bread pans.
Cover the pans with lightly greased plastic wrap, and allow the dough to rise until comes about 1" over the rim of the pan. Since the dough is cold, this will take anywhere from 2 to 4 hours. Preheat the oven to 350°.
Bake the loaves for 25 minutes. Tent with aluminum foil, and bake for an additional 15 to 25 minutes, until the bread is a deep golden brown, and a digital thermometer inserted into the center of one of the loaves registers at least 190°F.
Remove the bread from the oven, let rest a couple minutes in pans before removing from pans to rack to finish cooling
Total time includes up to 24 hours with overnight chilling time (but well worth it!)
More Root Vegetable Breads:
Here are the amazing creations posted today by my co-hosts: