Vanilla Panna Cotta with Strawberry Gelée
Vanilla Panna Cotta topped with Strawberry Gelée is an elegant dessert! Tilt your serving glasses while layering for a gorgeous presentation.
Luscious and smooth, this easy panna cotta recipe topped with strawberry gelee was a spectacular dessert for the eyes and palate. I chose a lovely strawberry topping, but, alternatively, serving with a side of strawberry sauce would have been just as nice.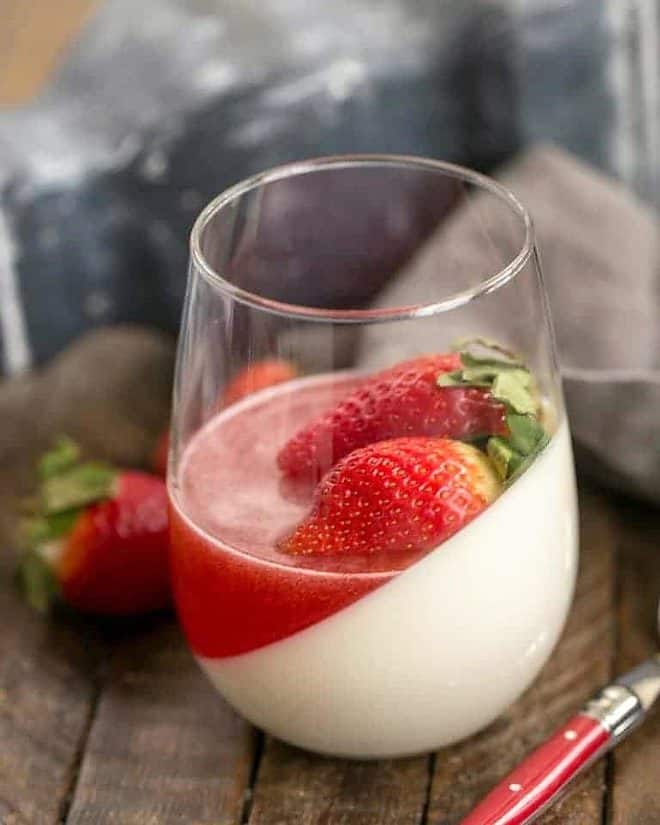 Vanilla Panna Cotta Recipe
On this second attempt, seven years after my first, I angled the glass serving dishes as I placed them on a tea towel-lined muffin tin (affiliate link). I wasn't sure how I'd move these precariously perched glasses and tin into the refrigerator, but thankfully, I did.
This extra step was so the panna cotta layer chilled and solidified on an angle. Once that layer was firm, I turned the glasses upright before adding the strawberry gelee!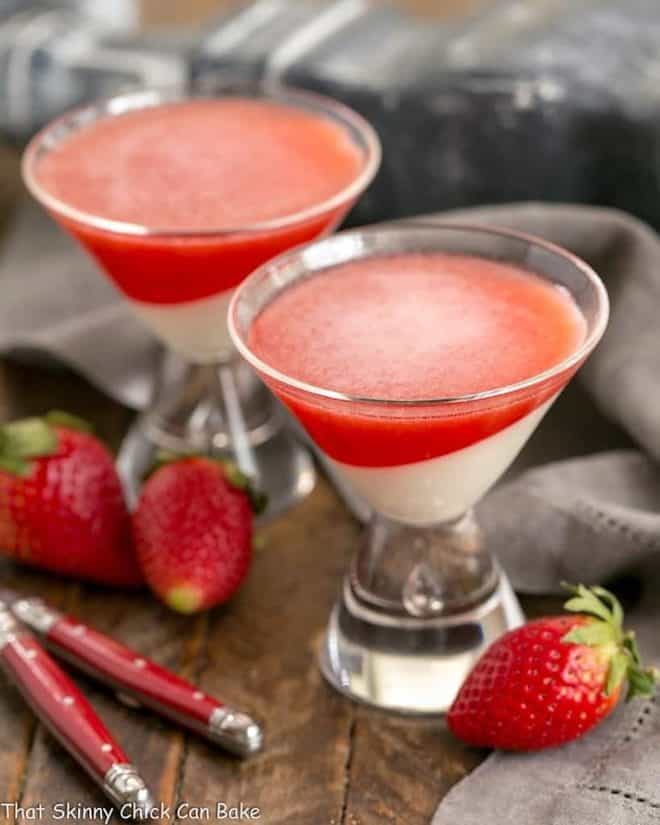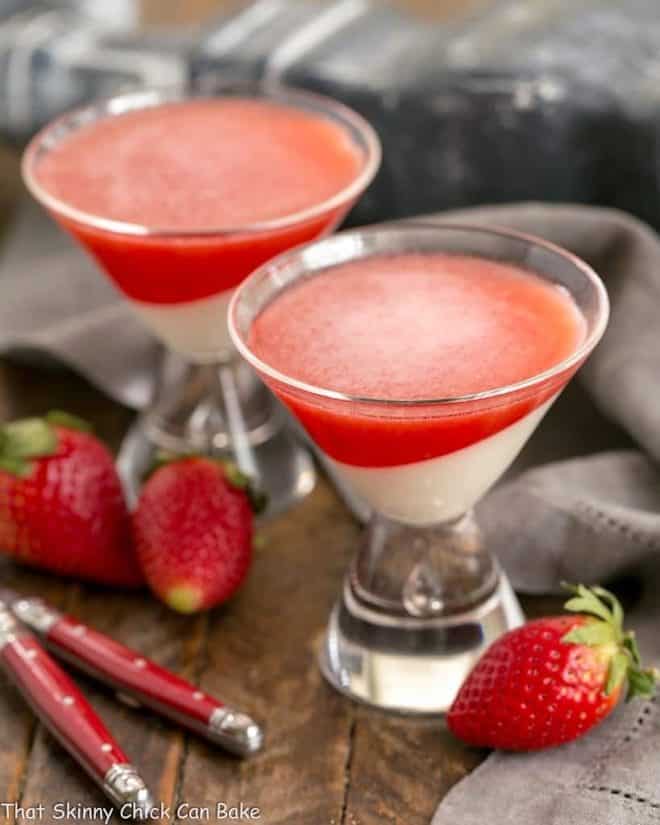 What is Panna Cotta?
The Italian words "panna cotta" translate to cooked cream. It's a dessert made of sweetened cream and milk that's simmered and combined with gelatin to make a firm, molded dessert that often has toppings like caramel (or strawberry gelee!). The origin of this dessert could be in the Piedmont region of Northern Italy dating back to the early 1900s.
Daring Bakers Challenge
My first go-round of this Vanilla Panna Cotta was in 2011 as part of the Daring Bakers group. Mallory from A Sofa in the Kitchen challenged everyone to make Panna Cotta from a Giada De Laurentis recipe.
With that batch, my strawberry gelee was more red than pink; it all depends on the color of your berries. I ended up making a triple batch of the gelee but still didn't have enough to fill all the angled voids created from chilling the panna cotta on an incline. Feel free to make layers flat and parallel, but I think you'll still want a double batch of the jellied topping for a thicker layer.
You Might Need:
More Jellied Recipes: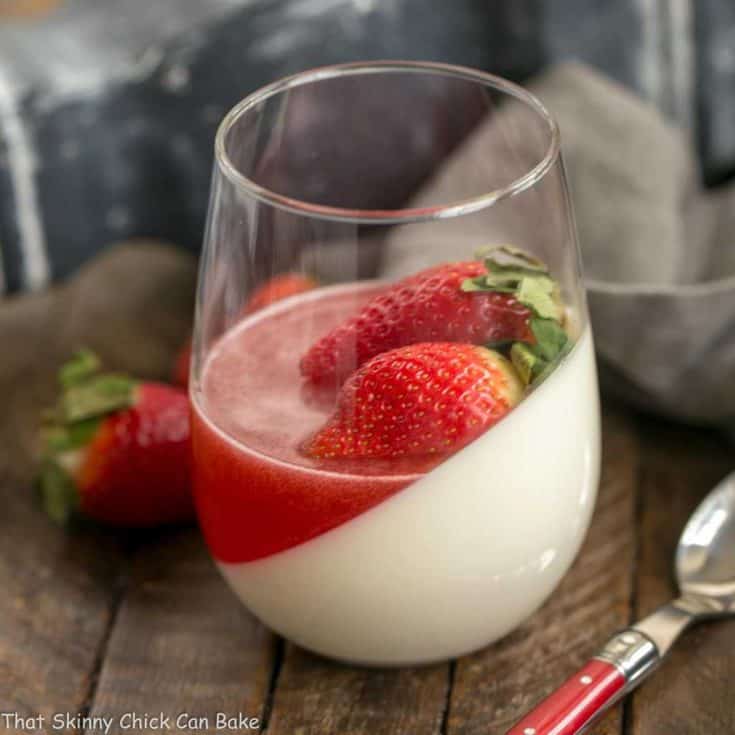 The Recipe:
Vanilla Panna Cotta with Strawberry Gelee Recipe
Prep Time 1 hour
Cook Time 15 minutes
Total Time 1 hour 15 minutes
Yield 8
A classic Italian dessert topped with gelled strawberry sauce
Ingredients
Panna Cotta:
1 cup whole milk
1 tablespoon (¼-ounce) unflavored powdered gelatin
1 vanilla bean, split
3 cups heavy cream
⅓ cup honey
1 tablespoon sugar
Pinch of salt
Strawberry Gelee (doubling recommended)*:
1 cup strawberries
2 tablespoons water
¼ cup sugar
1 ½ teaspoons (⅛-ounce) unflavored powdered gelatin
Instructions
Pour the milk into a saucepan and sprinkle gelatin evenly and thinly over the milk. Let stand for 5 minutes to soften the gelatin.
Place over medium heat on the stove. Add vanilla bean. Heat this mixture until it is hot, but not boiling, about five minutes, whisking occasionally.
Next, add the cream, honey, sugar, and a pinch of salt. Making sure the mixture doesn't boil, continue to heat and stir occasionally until the sugar and honey have dissolved for 5-7 minutes. Remove the vanilla bean.
Remove from heat, and allow it to sit for a few minutes to cool slightly. Then pour into glasses or ramekins. If you'd like an angled version, place a towel across a muffin tin and set the glasses in the tin at a slight angle before pouring.
Refrigerate for at least 6 hours or overnight before adding gelee.
To make gelee, sprinkle gelatin over water.
Place fruit and sugar in a small saucepan and simmer until the sugar has dissolved. Now mix the gelatin into the strawberry mixture and stir until the gelatin has dissolved.
Remove from heat, strain and allow to cool (close to room temp, again, if you're planning on layering on pouring on top of your Panna Cotta, a hot mixture will melt your chilled Panna Cotta). Divide the gelee between the vanilla Panna cottas).
Chill until gelee gels. Serve with fresh berries, if desired.
Notes
Servings will vary depending on the size of your serving dishes.
*Triple the gelee if you want the angled presentation.
Recipe inspired by Giada DeLaurentis.
Nutrition Information:
Yield:
8
Serving Size:
1
Amount Per Serving:
Calories: 409
Total Fat: 33g
Saturated Fat: 21g
Trans Fat: 1g
Unsaturated Fat: 10g
Cholesterol: 104mg
Sodium: 59mg
Carbohydrates: 25g
Fiber: 0g
Sugar: 25g
Protein: 6g
Note: This post may contain affiliate links; view
my Disclosure Policy
for details. I earn a small percentage from any purchase you make by clicking on these links at no extra cost to you.