Mediterranean Quinoa Salad with Olives, Basil and Sun-dried Tomatoes
This Mediterranean Quinoa Salad with Olives, Basil, and Sun-dried Tomatoes is perfect for a picnic, side dish, or even a marvelous vegetarian entree! You'll love this combination of Mediterranean flavors!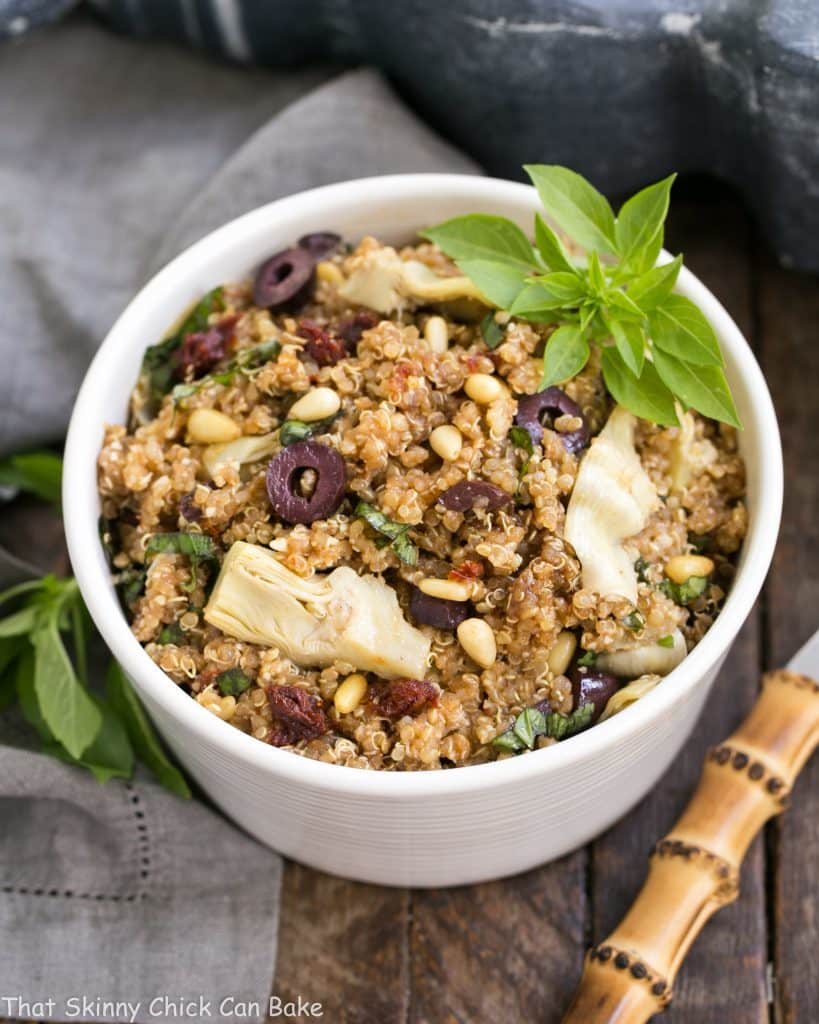 Mediterranean Quinoa Salad
Could I make something without butter or sugar or flour? Those are my staples. The challenge was on. I love using quinoa as a substitute for other grains. A complete protein, quinoa packs more powerful nutritional benefits than ordinary white rice, barley, and pasta.
Impressed with how this Quinoa Risotto with White Beans and Roasted Brassica used quinoa to make a dreamy risotto, I decided to make a loaded Mediterranean Quinoa Salad. All I'd do is substitute orzo with quinoa in an old favorite pasta salad recipe!
A Twist on a Favorite Pasta Salad
I took a favorite picnic salad, Orzo with Everything, and tweaked it to make it gluten-free. I'd eaten a delightful quinoa salad at a recent luncheon and turned to this super-grain of the Andes as a substitution for the orzo. I found a certified gluten-free organic pearl quinoa at Whole Foods. Note that quinoa is naturally gluten-free, but is often cross-contaminated during processing. Make sure to check your label carefully.
Adding flavorful ingredients such as kalamata olives, sun-dried tomatoes, Parmesan and basil along with a simple dressing of balsamic vinegar and olive oil, gave a powerful flavor punch to this exotic grain. I added artichoke hearts to this batch and am dreaming of a version with bocconcini (mini fresh mozzarella balls). But no matter, it was sublime just the way I made it. Be sure to give quinoa, and this amazing Mediterranean Quinoa Salad, a shot.
You May Also Like:
Helpful Tools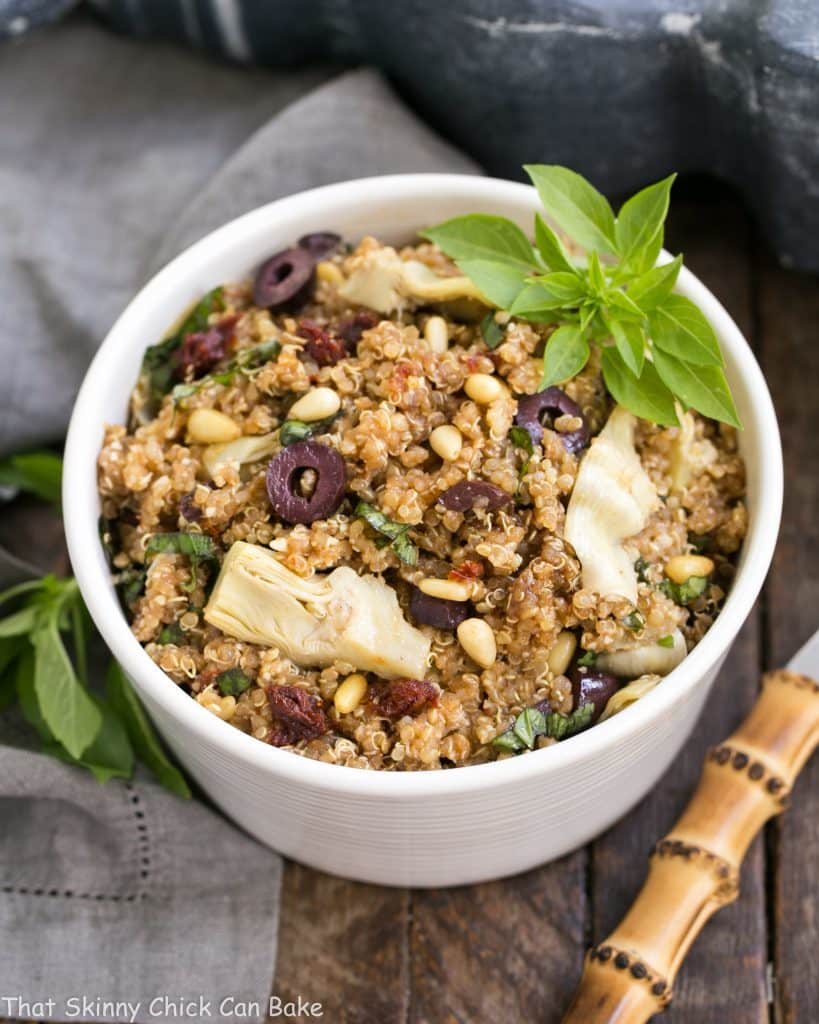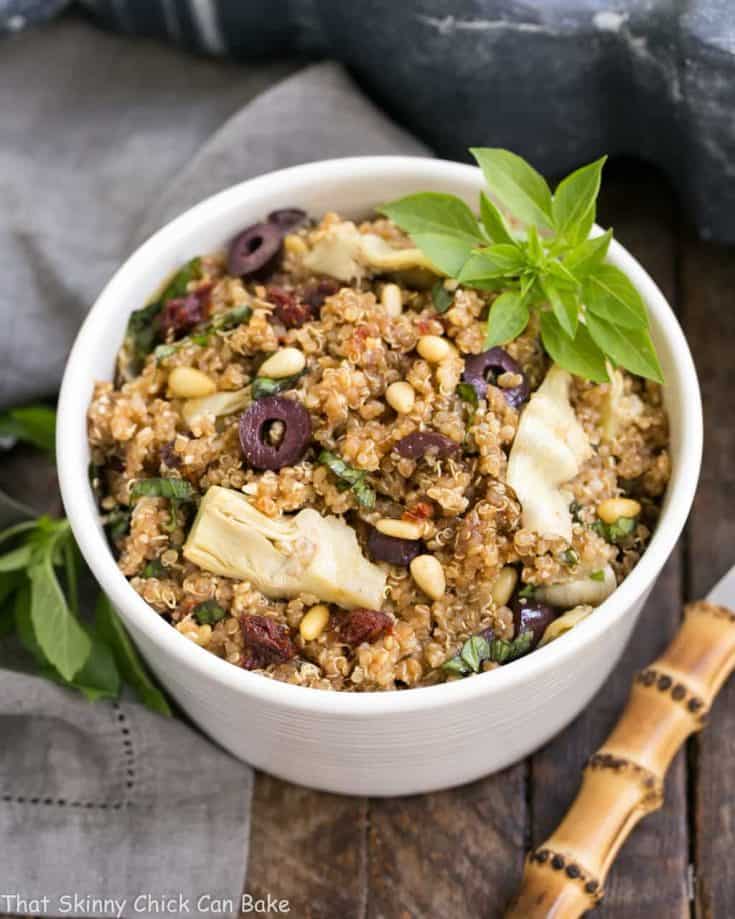 The Recipe:
Mediterranean Quinoa Salad with Olives, Basil and Sun-dried Tomatoes
Prep Time 15 minutes
Cook Time 15 minutes
Total Time 30 minutes
Yield 6 servings
A Quinoa Salad with a Mediterranean twist!
Ingredients
1-1 1/2 cups quinoa (use a certified gluten-free brand)
3 cups vegetable or chicken stock, optional, to cook quinoa
1/3 cup (packed) chopped drained oil-packed sun-dried tomatoes
1/4 cup extra virgin olive oil
1/4 cup balsamic vinegar
1/4 cup chopped Kalamata olives
1/2 cup artichoke heart quarters (marinated)
1/2 cup pine nuts, toasted
1/2 cup chopped fresh basil
1/2 cup freshly grated Parmesan cheese
2 large garlic cloves, minced
Instructions
Cook quinoa in a pot of boiling salted water (or chicken stock) as directed on the package (mine suggested twice as much liquid as quinoa). Drain well.
Place in a large bowl.
Add sun-dried tomatoes, oil, vinegar, and olives and toss to blend. Let stand until cool.
Mix pine nuts, chopped basil, Parmesan, and garlic into orzo mixture.
Season with salt and pepper to taste and serve.
Nutrition Information:
Yield:
6
Serving Size:
1
Amount Per Serving:
Calories: 332
Total Fat: 22g
Saturated Fat: 4g
Trans Fat: 0g
Unsaturated Fat: 17g
Cholesterol: 8mg
Sodium: 280mg
Carbohydrates: 26g
Fiber: 5g
Sugar: 5g
Protein: 10g
Note: This post may contain affiliate links; view
my Disclosure Policy
for details. I earn a small percentage from any purchase you make by clicking on these links at no extra cost to you.