Balsamic Strawberry Crostini
Balsamic Strawberry Crostini: A simple Italian starter or dessert that's the perfect way to enjoy juicy, ripe berries! Fresh strawberries and imported strawberries in syrup are served on toast smeared with honey-sweetened mascarpone cheese!
These are no ordinary toasts! These are also loosely known as Strawberry Bruscettta, with layers of cinnamon sugar, sweet mascarpone cheese, a touch of balsamic vinegar, and sweet ripe strawberries enhanced by Italian strawberry syrup! They will rock your taste buds! Serve these as an fun summer appetizer or even a dessert!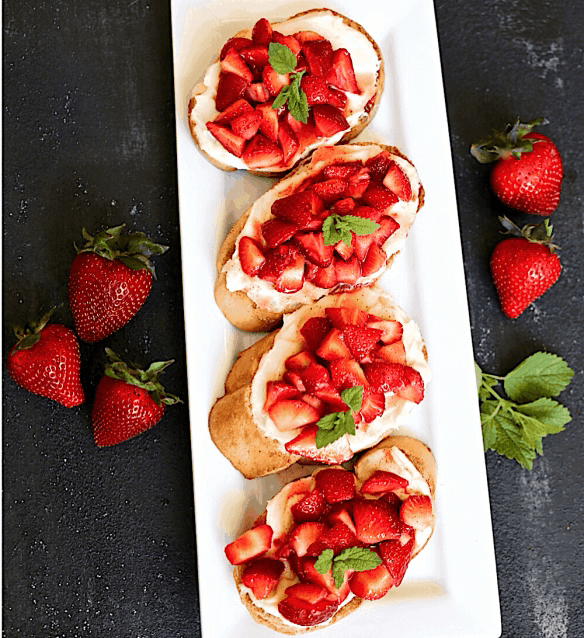 Why You Must Make this Crostini Recipe
It's perfect for spring and summer when strawberries are sweet and juicy.
The flavors are deep, complex, and delicious!
They look gorgeous on a white platter. Your guests will be impressed.
Frequently Asked Questions
What's the difference between bruschetta and crostini?
Crostini are crusty toasts that are brushed with olive oil, then toasted or grilled. Bruschetta is traditional garlic bread, made by rubbing toasted bread such as Italian or sourdough with fresh garlic cloves, then drizzling it with olive oil. The name in Italian means to roast over the coals.
What Are Crosini Made Out of?
The word crostini is Italian for little toasts or croutons. They're made of thin slices of bread often brushed with olive oil. Popular bread varieties used include smaller rounded bread like baguettes.
Their crisp texture makes them ideal to be paired with a creamy spread and toppings.
How Do You Make Crostini?
Thin baguette slices are placed on a sheet pan and baked at 375° for about 10 minutes or until toasted, flipping once. Many recipes call for brushing the bread with olive oil first, but that is not necessary nor traditional.
Are Crostini Served Hot or Cold?
These crisp toasts can be a base for both hot and cold appetizers. How they are served depends on the toppings.
How Do You Store Crostini?
Before toppings are added, you can store crostini at room temperature in a heavy-duty zip-top bag for up to a week. They can also be kept airtight in the freezer for up to 3 months. Just retoast them to refresh before using.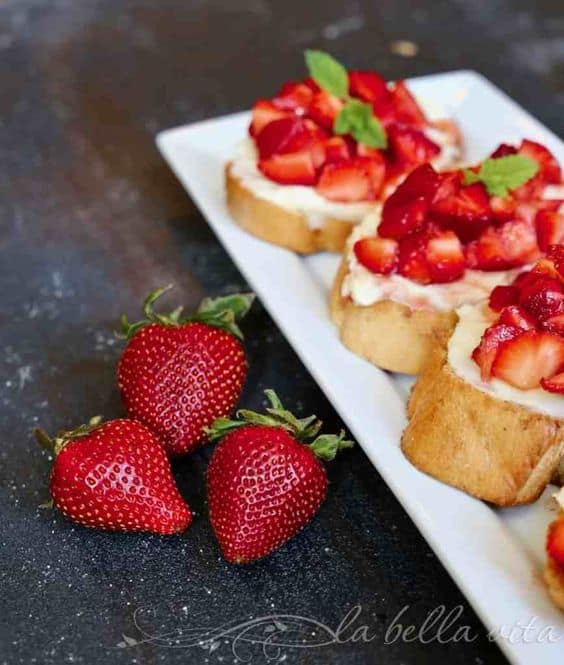 Guest Post from Roz of La Bella Vita
I am thrilled to introduce you to my last guest poster, my sweet friend, Roz, of La Bella Vita. Roz has a gorgeous blog that shares her passion for food, gardening, and travel…often focusing on the sensational food from her Italian heritage. We initially met via Foodbuzz and posted comments on each other's blogs.
It wasn't long before I had an inkling that I might actually know Roz despite her living in the Carolinas, and me in the Midwest. Read on to see how serendipity reconnected us. Besides her exceptional blog, you can find Roz on Pinterest and Facebook. She is sharing her beautiful Balsamic Strawberry Crostini with you today.
From Roz: What an honor to be asked by my good friend, Lizzy, to write a guest post for this awesome blog! Not only because she's got a great food blog, but also because Lizzy has been a friend of my sister Kelly since childhood. Lizzy and Kelly met in 3rd grade in Ames, Iowa, grew up a few blocks from each other, and even went to the same church together. Their friendship continued through high school, college years at the University of Iowa, and beyond to this day!
It was totally bizarre when Lizzy and I found each other's blogs and realized who we were! For this guest post, I thought it would be cool to share some photos of Lizzy and my sister. Liz was sweet enough to send me old photos that she had digitized (I've got to do that with my old photos too!).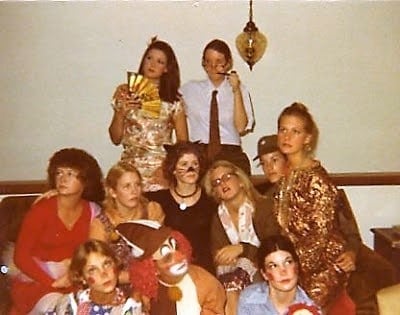 As seniors in high school, on Halloween Night. Kelly is the clown and I'm Raggedy Andy 
With Kelly at our last high school reunion
How to Make Balsamic Strawberry Crostini
And now, it's time to chat about the recipe that I prepared for Mother's Day:  Balsamic Strawberry Crostini! My daughter gave me a gift of some outrageously rich and decadent imported strawberries from Italy and immediately my mind thought of using them for a sweet dessert crostini!
Italian mascarpone cheese is sweetened with some local honey.
It's then spread on top of toasted slices of Italian bread sprinkled with cinnamon sugar.
For the topping, add fresh strawberries to the Italian strawberries in syrup plus some high-quality balsamic vinegar.
Top the mascarpone with the berry mixture. Perfecto!
Buon Appetito!!! Grazie tutto to Lizzy for the privilege of being a guest poster,
Roz from 'la bella vita'
You May Also Like: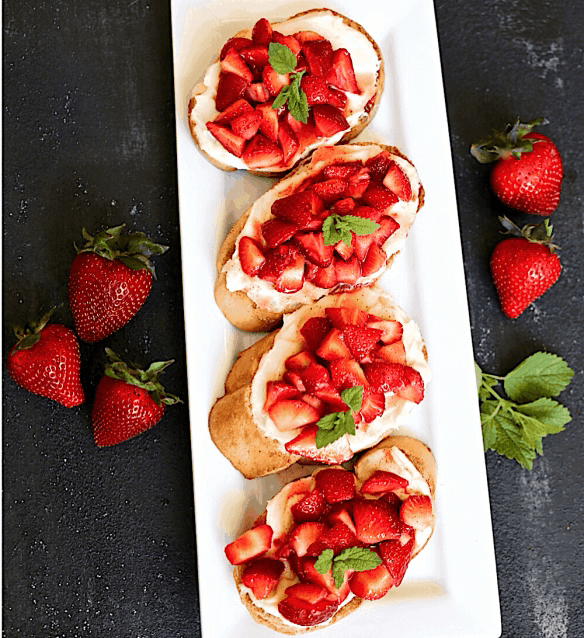 The Recipe:
Strawberry Crostini Recipe
Prep Time 15 minutes
Cook Time 4 minutes
Additional Time 10 minutes
Total Time 29 minutes
Yield varies
A tasty Italian inspired appetizer or dessert made with toasts, sweetened mascarpone and fresh strawberries enhanced with Italian strawberry syrup.
Ingredients
Italian bread, sliced diagonally
cinnamon
sugar
8 oz. mascarpone cheese, room temperature
2 Tbsp. local honey
Fresh strawberries
1 cup Frogole imported Italian strawberries in syrup
balsamic vinegar
cinnamon-sugar
Instructions
Slice bread diagonally.Spread butter on both sides of the bread.
Sprinkle with a mixture of sugar and cinnamon (about 1 cup sugar to 2 tsp. cinnamon to start).
Broil for a few minutes on each side; do not burn. Set aside.
Blend local honey with mascarpone cheese.
Spread a big dollop on each slice of bread.
Cut up strawberries. Blend with imported Italian Fragole strawberries in syrup.
Sprinkle with a little bit of cinnamon-sugar mixture. Blend in 1 teaspoon balsamic vinegar (add more to your taste preference).
Top each cheese-covered crostini with the strawberry mixture.
Garnish with mint, basil, and fresh whole strawberries.
Nutrition Information:
Yield:
6
Serving Size:
2 toasts
Amount Per Serving:
Calories: 361
Total Fat: 18g
Saturated Fat: 10g
Trans Fat: 0g
Unsaturated Fat: 5g
Cholesterol: 52mg
Sodium: 193mg
Carbohydrates: 52g
Fiber: 4g
Sugar: 41g
Protein: 3g
Thatskinnychickcanbake.com occasionally offers nutritional information for recipes contained on this site. This information is provided as a courtesy and is an estimate only. This information comes from online calculators. Although thatskinnychickcanbake.com attempts to provide accurate nutritional information, these figures are only estimates. Varying factors such as product types or brands purchased can change the nutritional information in any given recipe. Also, many recipes on thatskinnychickcanbake.com recommend toppings, which may or may not be listed as optional and nutritional information for these added toppings is not listed. Other factors may change the nutritional information such as when the salt amount is listed "to taste," it is not calculated into the recipe as the amount will vary. Also, different online calculators can provide different results. To obtain the most accurate representation of the nutritional information in any given recipe, you should calculate the nutritional information with the actual ingredients used in your recipe. You are solely responsible for ensuring that any nutritional information obtained is accurate.
I wrote this about Roz on another post:
Those of you who are regular followers of my blog may remember the serendipitous reunion between me and a fellow blogger. Roz, of La Bella Vita, commented on my blog one day, which lead me to hers. I was immediately awed by all her marvelous food, gorgeous photography and especially her kind heart. She had oodles of fans and followers, and I knew I'd be back. She mentioned in her bio she was from Iowa…well, what the heck, so was I.
Then I learned she was 100% Italian…hmmmm…and her photo resembled a friend from my hometown, Kelly. I just had to ask. Yup, she was the older sister of one of my dearest friends since childhood. Roz was the beautiful, mysterious, popular older sister who we only knew by the portrait in their family room…she was busy with high school activities while we were still immature and squirrelly.
After we reconnected, I reminded Roz that Kelly and I took a college road trip to St. Louis one weekend and were treated to one of her home-cooked, gourmet dinners. I'm still hoping we'll be able to meet again in person.
Note: This post may contain affiliate links; view
my Disclosure Policy
for details. I earn a small percentage from any purchase you make by clicking on these links at no extra cost to you.