Fresh Peach Margaritas
The summer kicked off with a blast of heat and humidity. Sipping on chilled Fresh Peach Margaritas is a most delightful way to cool down on a sultry July evening.
Sweet, fresh peaches are a highlight of summer. This Peach Cocktail has all the loveliness you'd expect in a margarita, except with the addition of sweetened peach puree. They're incredibly delicious!!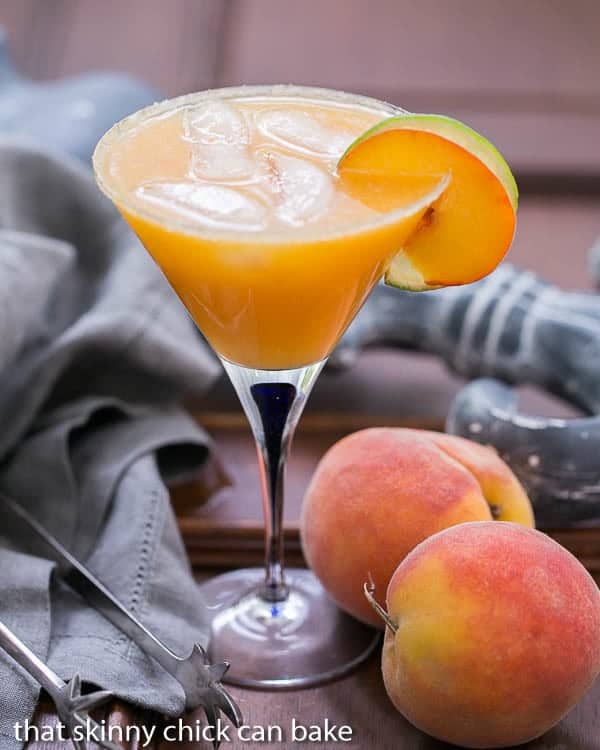 Why You Must Make
We have a terrific produce stand down the street. Their tender sweet corn and ripe, juicy peaches are my two favorite summer foods. Right now, we're savoring fresh Georgia peaches, then we'll get an east coast crop before local Indiana and Michigan peaches are harvested.
If you have access to fresh, sweet, seasonal peaches, these margaritas will rock your world!
There are only so many peach pies and cobblers you can make. Try a cocktail instead.
Entertaining on the 4th of July or anytime during the summer? You'll wow your guests with this margarita recipe!
I set always set aside some of this luscious fruit for a signature cocktail.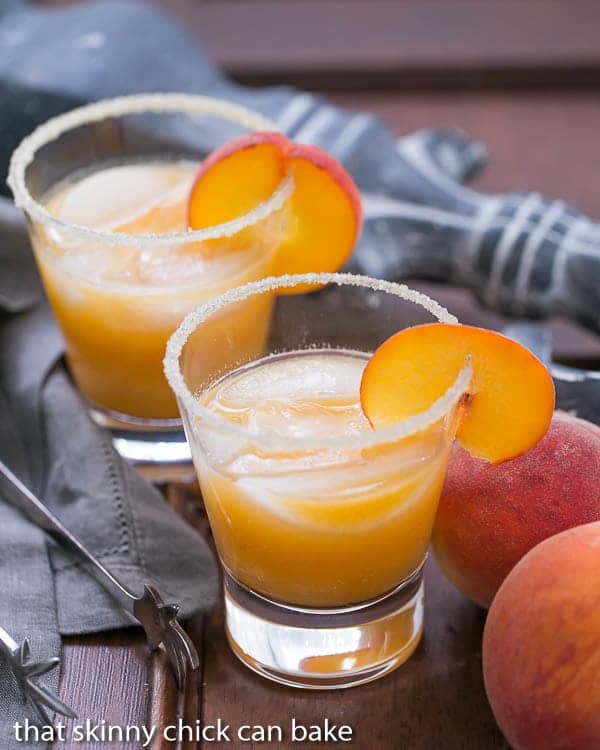 Expert Tips
Margaritas aren't complicated, but here are some tips for making perfect peach margaritas!
For the best results, you must start with the peak of the season fruit. If your peaches aren't ripe and flavorful, your margaritas will be lackluster.
PRO-Tip: Decent fresh peaches are not always available, so you could definitely try making these with canned peaches. Use 4 peach halves instead of the two fresh peaches. Peaches are canned at their prime, so the flavor should be wonderful, too. If your peaches are covered in a heavy syrup, you may want to rinse them off before you puree them.
Freshly squeezed lime juice is imperative, too. Don't even think of buying anything in a bottle.
To balance the tart lime, use a top-notch sweetener, I love organic sugar.
For a beautiful presentation, garnish your glass with a thin slice of lime or peach. I use a knife to make a cut from the rind or peel to the middle of the slice and use that opening to hook the fruit on the cup.
If you like some added bling, dip the rim of your glass into lime juice, then into sugar (or salt if that's your preference).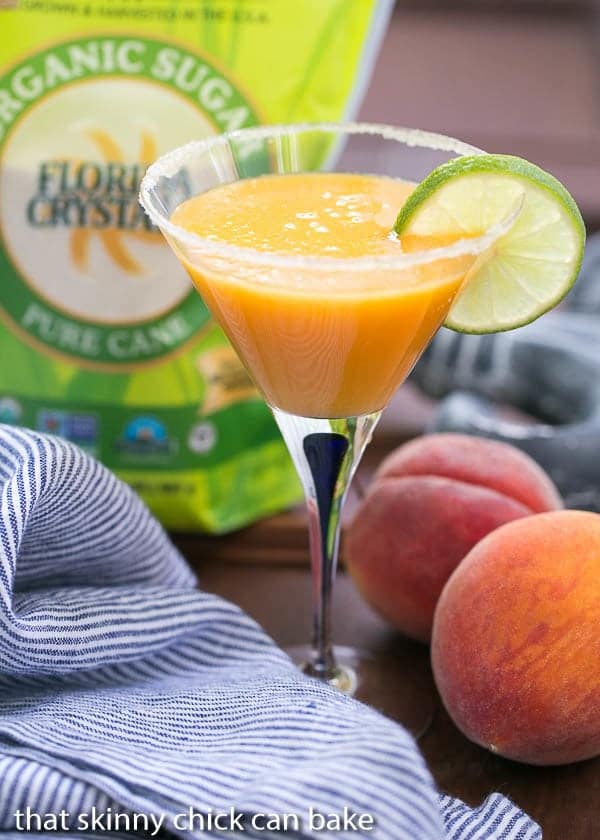 Frequently Asked Questions
What are Margaritas?
Most everyone knows a margarita is a cocktail made with tequila, triple sec, and lime juice. The rim of the glass is often dipped in lime juice, then coarse salt. They can be served on the rocks or blended with ice for a slushy cocktail.
Can Another Orange Liqueur Be Used Instead of Triple Sec?
Yes. Triple Sec is traditional, but Grand Marnier or Cointreau can be used instead.
What Kind of Tequila is Best for a Margarita?
Tequila is crucial for a margarita cocktail. Blanco, white or silver tequila is recommended. It's a clear, unaged (or very young) liquor with highlights of agave. The label should read 100% pure agave.
Who Invented the Margarita?
The earliest claim dates back to 1938. The story goes that Carlos "Danny" Herrera developed the margarita at his Tijuana restaurant, Rancho La Gloria. Allegedly, an aspiring actress with allergies to all hard liquor except tequila was asking for a drink. Danny mixed up the ingredients that usually went with a shot of tequila and made them into the combination that's now known as a margarita.
You May Also Like:
Stay in touch through social media @ Instagram, Facebook, and Pinterest. Don't forget to tag me when you try one of my recipes! And if you love the results, please give it a 5-star rating in the recipe card. Note: As an Amazon Associate, I earn from qualifying purchases. Visit my Amazon Store for my favorite products.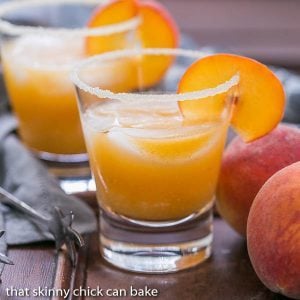 The Recipe:
Fresh Peach Margaritas Recipe
Prep Time 10 minutes
Total Time 10 minutes
Yield 2 servings
A summery twist on the classic Margarita made with juicy fresh peaches
Ingredients
½ cup fresh peach puree (about 2 medium peaches, peeled, pitted, cut into pieces, and pureed in a blender or food processor)
1-2 tablespoons sugar
2 ounces tequila
1-ounce fresh lime juice
½ ounce of Grand Marnier (or your favorite orange liqueur)
Sugar for rims of glasses
Lime slices and/or peach slices to garnish, optional
Instructions
Whisk together peach puree and 1 tablespoon of sugar. Taste and add more sugar if needed. Whisk in the tequila, lime juice, and Grand Marnier. Taste and adjust to your preferences.
Pour a bit of water onto a small, rimmed flat plate. I used a saucer.
Sprinkle sugar over a second small plate. Dip the rim of the glasses into the water, then dip them into the sugar to make a sugar rim.
Garnish margaritas with sliced fruit. Serve margaritas over ice.
For a virgin peach spritzer, combine peach puree, sugar and then top the glass with cold club soda or lemon-lime soda. Makes one.
Notes
This recipe can be adapted to your liking. I tend to go light on the liquor, so taste first and tweak to your tastes. If your peaches aren't sweet enough, you may need to add more sugar.
Nutrition Information:
Yield:
2
Serving Size:
1 glass
Amount Per Serving:
Calories: 164
Total Fat: 0g
Saturated Fat: 0g
Trans Fat: 0g
Unsaturated Fat: 0g
Cholesterol: 0mg
Sodium: 1mg
Carbohydrates: 26g
Fiber: 3g
Sugar: 21g
Protein: 1g
Note: This post may contain affiliate links; view
my Disclosure Policy
for details. I earn a small percentage from any purchase you make by clicking on these links at no extra cost to you.