Chocolate Truffle Ice Cream
Chocolate Truffle Ice Cream: With homemade chocolate truffle bits and homemade chocolate liquor, this ice cream is ideal for the die-hard chocoholic!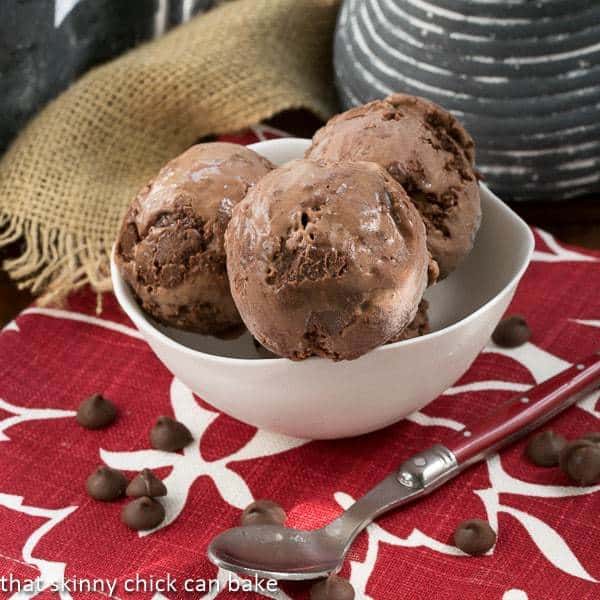 Heavenly Chocolate Truffle Ice Cream
It has been hot as blazes in Indianapolis…with August like heat and humidity. Well, there was one perk to our sultry forecast, ice cream season had arrived. I was lucky enough to be given a copy of Scoop Adventures, The Best Ice Cream of the 50 States by Lindsay Clendaniel. She collected the best recipes from ice cream parlors across the country and shared them along with a number of her own delectable creations. I spied this extraordinary chocolate truffle ice cream on Lindsay's blog and knew it was perfect for my chocoholic family.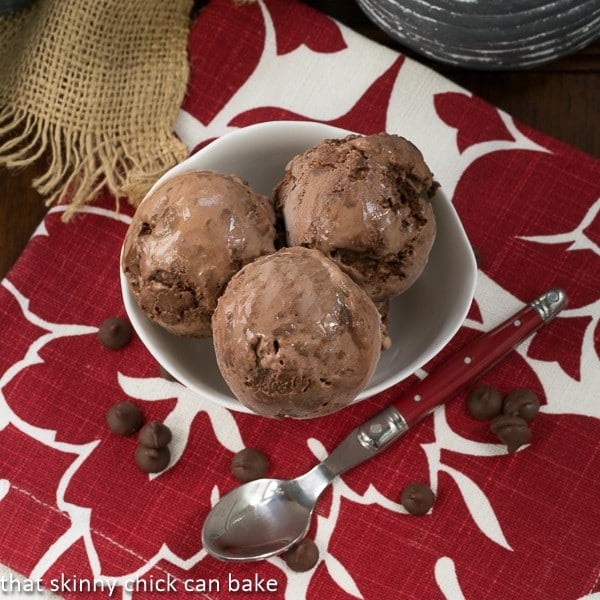 A Winning Chocolate Ice Cream Recipe
I hate to admit it, but I've always been more of a vanilla girl. But I did have to sample just a nibble of this sinfully rich ice cream. I was immediately sold by its double dose of chocolate decadence…with both Lindsay's homemade chocolate liquor and the luscious truffles. Velvety smooth with chunks of chocolate interspersed throughout the ice cream, even this plain Jane vanilla girl thought it was dreamy. When my oldest stopped by for Sunday dinner, I offered him samples of the three desserts taking residence in my kitchen. He hemmed and hawed over which was his favorite, but this chocolate truffle ice cream proved to be the winner. I was not a bit surprised.
I'm joining up with the Ice Cream Tuesday gang this week to share more decadent ice cream recipes from Lindsay's blog and cookbook. I'm also giving away a copy of Scoop Adventures to one lucky reader. Check out all the phenomenal ice cream recipes plus make certain to scroll down and enter the giveaway. Giveaway now CLOSED.
P.S. All my friends will be offering this giveaway, too, so visit them to increase your chances of winning!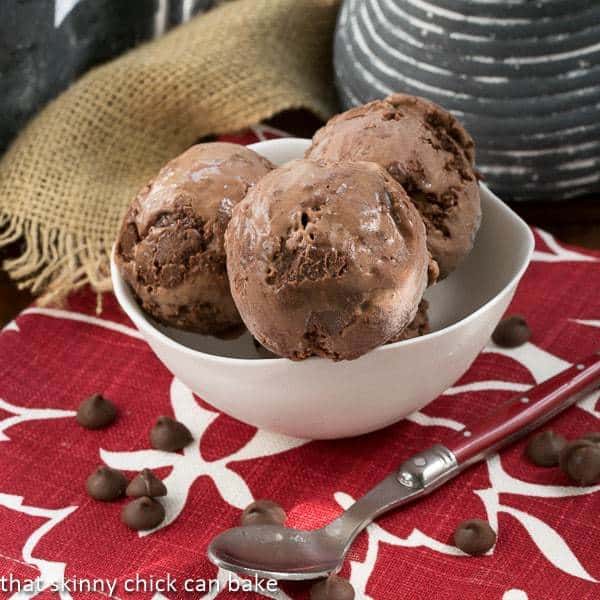 The Recipe:
Chocolate Truffle Ice Cream
Prep Time 30 minutes
Cook Time 12 minutes
Total Time 42 minutes
Yield 1 quart
Triple Chocolate Ice Cream for the die hard chocoholic.
Ingredients
Chocolate liquor:
⅓ cup cocoa
⅓ cup water
⅓ cup sugar
1 ounce bittersweet chocolate (I used semisweet)
Ice Cream Base:
1 ½ cup milk, divided
1 tablespoon cornstarch
1 ¾ cup cream
½ cup sugar
¼ teaspoon salt
Truffles:
½ cup heavy cream
6 ounces bittersweet chocolate chips (I used semisweet)
Instructions
Fill a large bowl with ice water and set aside.
To make chocolate liquor; combine cocoa powder, water, and ⅓ cup sugar in a saucepan. Bring to a low boil, whisking constantly.
Once you see bubbles, remove the pan from the heat and add bittersweet (or semisweet) chocolate. Let sit for 2 minutes and then whisk until smooth. Whisk chocolate liquor and salt in a medium bowl and set aside.
In a small bowl, whisk 2 tablespoons of the milk and cornstarch, and set aside. Combine remaining milk, cream, and ½ cup sugar in a saucepan and bring to a low boil. Cook until the sugar dissolves, about 3 minutes.
Remove the milk mixture from the heat and slowly whisk in the cornstarch mixture. Return to a boil and cook until the mixture is slightly thickened, about 1 minute. Add to the chocolate liquor and whisk to combine. Set the bowl in the ice water bath to cool, for 20 minutes, whisking occasionally. Cover with plastic wrap and refrigerate until well chilled, at least 4 hours or overnight.
To make truffles, heat heavy cream in a microwave for 30 seconds to 1 minute till hot. Add the chocolate chips to the cream. Allow the mixture to sit for a couple of minutes to allow the chocolate to melt. Stir till smooth. Refrigerate until firm.
When the ice cream base is chilled, pour it into the ice cream maker and process it according to the manufacturer's instructions.
Remove the truffle swirl from the refrigerator and make small truffles. Sprinkle a small layer of truffle balls into a freezer-safe container and lightly spoon a layer of ice cream on top.
Continue to alternate layers of truffles and ice cream until the container is full, swirling with a spoon.
Freeze until firm, at least 4 hours.
Notes
Total time: 12 hours with chilling and freezing times
Recipe reprinted with permission of Lindsay Clendaniel, author of Scoop Adventures.
Nutrition Information:
Yield:
8
Serving Size:
1
Amount Per Serving:
Calories: 527
Total Fat: 40g
Saturated Fat: 24g
Trans Fat: 1g
Unsaturated Fat: 13g
Cholesterol: 80mg
Sodium: 133mg
Carbohydrates: 37g
Fiber: 5g
Sugar: 23g
Protein: 8g
Recipe first shared by Lindsay on Scoop Adventures.
To win a copy of this magnificent cookbook, follow the Rafflecoptor prompts below. You must answer the question about your favorite ice cream to be officially entered. This giveaway for those with a US address only. Winner will have 48 hours to respond to my email before another winner is drawn. Good luck!!! CLOSED
Disclosure: I was sent a copy of Scoop Adventures to review. I was not compensated for writing this post and the opinions expressed are my own.
Note: This post may contain affiliate links; view
my Disclosure Policy
for details. I earn a small percentage from any purchase you make by clicking on these links at no extra cost to you.