German Apple Cake
This German Apple Cake or Apple Kuchen with a pastry crust, topping of sliced baking apples, and cinnamon sugar is both easy and delicious!
My first ever Apfel Kuchen was a gift for my dear father-in-law who had been searching for his grandmother's recipe that he remembered so fondly from his childhood. It was made with yeast and a custard of egg, sugar, cream, and cinnamon. My latest version is simpler and just as tasty.
Why You Must Make
It's reminiscent of an apple slab pie, and so much easier to make than any version of apple pie.
If you love apple desserts, this has the classic pairing of apples and cinnamon.
Apfel Kuchen can be traced back at least 400 years. The German tradition of Koffee and Kuchen was similar to British tea time.
Ingredient Notes:
Baking Apples – Use a variety for the best tasting kuchen, like Granny Smith, Golden Delicious, and Honeycrisp.
Flour – AP is perfect
Baking Powder – Check if it's still active by looking at the expiration date or putting a spoonful into hot water to see if it bubbles vigorously. If it does, it's good to go.
White Sugar
Brown Sugar
Salt – I prefer table salt for baking as it distributes throughout the dough best.
Egg – I use large eggs and bring them to room temperature for easier incorporation.
Milk – I use 2% as that's what we have on hand; whole milk will also work well.
Cinnamon
How to Make
To make the crust, sift together the dry ingredients.
Cut in the butter until it's pea-sized.
Whisk together the egg and milk and thoroughly mix into the dry ingredients.
Pat into the bottom of a greased 9 x 13-inch pan.
Peel, core, then slice the apples into thin wedges.
Arrange the apples in rows over the crust, overlapping slightly. Dot the apples with small pieces of butter.
Make the topping by mixing the sugars, flour, and cinnamon.
Sprinkle the topping over the apples, and bake as directed until golden brown.
Expert Tips
There are numerous variations of apple kuchen, often passed along for generations. It may take a few attempts to find the perfect recipe for your family.
Use baking apples. I like using a variety to add a more complex, unique flavor to my kuchen.
Leave on the peels if you like the texture and color they provide. I prefer my apples peeled.
Sprinkle raisins or toasted pecans on your kuchen before adding the topping, if desired.
I usually recommend lining your baking pan with foil, but it was difficult to pat the crust in the pan when lined. Instead, just grease your pan and don't mess with foil.
Serve straight up, with a scoop of vanilla ice cream or a dollop of lightly sweetened whipped cream, or make a homemade custard sauce to accompany each slice.
Frequently Asked Questions
What is Kuchen?
Kuchen is the German word for cake, but is more like a cross between cake and pie, often including custard. There are many variations of this German Apple Cake.
How Do You Pronounce Kuchen?
Kuchen can be pronounced KOO-gan or KOO-can.
How Do You Serve Kuchen?
Traditionally, kuchen is served with coffee or tea, along with other sweets between 3 and 5 PM. Americans are more likely to serve kuchen with a dollop of whipped cream or scoop of ice cream for dessert after dinner.
How Do You Store Kuchen?
Kuchen can be stored at room temperature for 2-3 days or in the refrigerator for up to 5 days. In the summer, it's recommended to store your kuchen in the refrigerator, since it's a moist dessert and will spoil more quickly in a warm environment.
Kuchen will freeze well for up to 3 months if wrapped airtight. Defrost overnight in the refrigerator and gently warm to serve.
You May Also Like:
Stay in touch through social media @ Instagram, Facebook, and Pinterest. Don't forget to tag me when you try one of my recipes! And if you love the results, please give it a 5-star rating in the recipe card. Note: As an Amazon Associate, I earn from qualifying purchases. Visit my Amazon Store for my favorite products.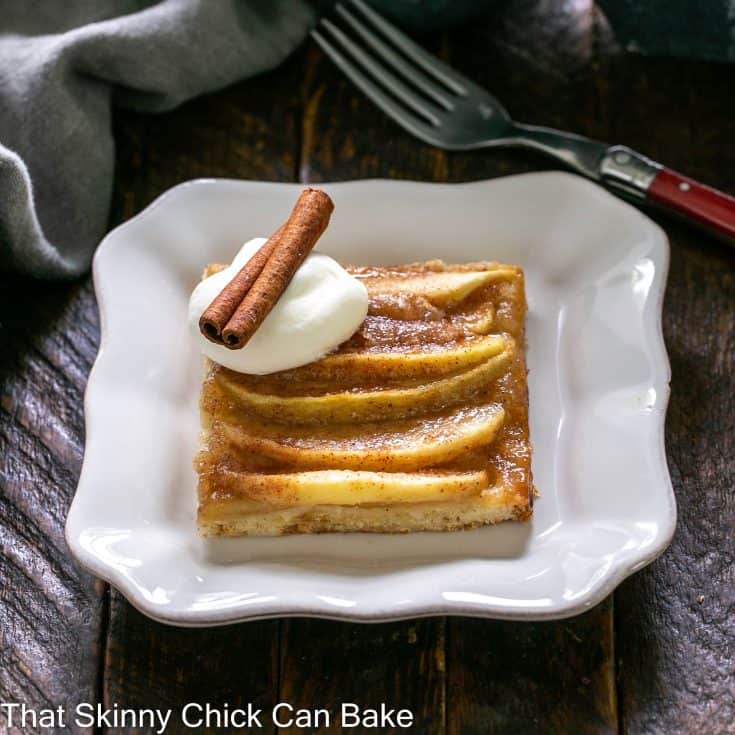 The Recipe:
Apple Kuchen or Apfelkuchen
Prep Time 30 minutes
Cook Time 30 minutes
Additional Time 1 hour
Total Time 2 hours
Yield 8
This Apple Kuchen or German Apple Cake is a retro recipe from my husband's German great-grandmother
Ingredients
4 baking apples, like Granny Smith, Yellow Delicious, Honeycrisp (a variety is better)
½ cup flour
1 teaspoon baking powder
2 teaspoons sugar
¼ teaspoon salt
½ cup butter
1 egg, room temperature
2 tablespoons milk
Topping:
2 tablespoons butter
¼ cup sugar
¼ cup brown sugar
1 ½ tablespoons flour
½ teaspoon cinnamon
Instructions
Preheat your oven to 350°. Grease a 9 x 13-inch baking pan and set it aside.
Make the crust layer by whisking together the flour, baking powder, sugar, and salt.
Cut the ½ cup butter into the dry ingredients with a pastry blender or two knives until the butter is pea-sized.
In a small bowl, whisk together the egg and milk, then add to the dry ingredients.
Mix well and pat into the baking pan.
Peel, core, and thinly slice the apples.
Place on the dough in rows, overlapping slightly.
Dot the apples with the remaining butter.
Mix together the topping ingredient and spread over the apples.
Bake for 30-25 minutes or until the apples are tender when you pierce them with the point of a sharp knife.
Notes
A variety of baking apples adds a more unique flavor.
Nutrition Information:
Yield:
8
Serving Size:
1 slice
Amount Per Serving:
Calories: 497
Total Fat: 15g
Saturated Fat: 8g
Trans Fat: 0g
Unsaturated Fat: 6g
Cholesterol: 106mg
Sodium: 282mg
Carbohydrates: 82g
Fiber: 3g
Sugar: 41g
Protein: 11g
I tweaked this Apple Kuchen Recipe slightly by adding tiny pats of butter before baking. Fred remembered his grandmother dotting her kuchen with butter before popping it in the oven. = It gave me great pleasure be able to give my father-in-law a taste of his childhood…
A few of you know that my seemingly healthy and dear, dear father-in-law was diagnosed with lung cancer not long after Christmas. When it comes to in-laws, I've been blessed. Kind, caring, generous…they are two of my favorite people in the world. We were hoping my father-in-law would have more time…so he could watch his grandchildren marry and spoil his future great-grandchildren as he did his grandchildren. This was not to be. His disease moved quickly and ferociously…and I would send treats for him when Bill would visit for the weekend.
He and I shared our love of smoked fish, bread with nuts and dried fruit as well as all apple desserts. For years he had searched for a recipe similar to his German grandmother's apple kuchen…and finally my brother-in-law, Dan, found "the" recipe in an old family recipe box. Dan tried his best to recreate this German apple cake, but apparently, it got over-baked…"Long story," he relayed in his email.
Update: my father-in-law lost his battle with cancer on Thursday. I will be forever grateful that his strong sense of family and love of God was the legacy passed to his sons and grandchildren. I was blessed to have him in my life for nearly 30 years.
Note: This post may contain affiliate links; view
my Disclosure Policy
for details. I earn a small percentage from any purchase you make by clicking on these links at no extra cost to you.