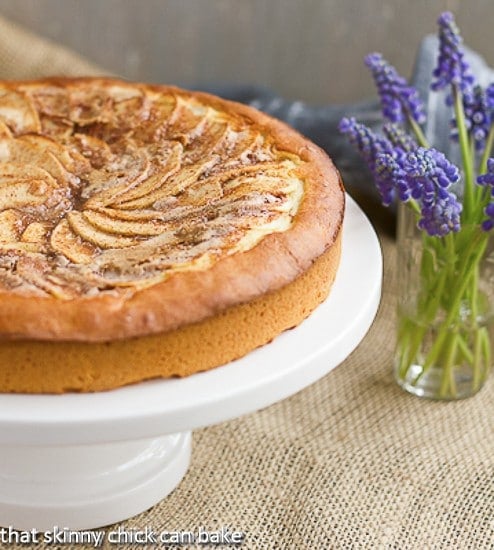 A few of you know that my seemingly healthy and dear, dear father-in-law was diagnosed with lung cancer not long after Christmas. When it comes to in-laws, I've been blessed. Kind, caring, generous…they are two of my favorite people in the world. We were hoping my father-in-law would have more time…so he could watch his grandchildren marry and spoil his future great grandchildren as he did his grandchildren. This was not to be. His disease moved quickly and ferociously…and I would send treats for him when Bill would visit for the weekend. He and I shared our love of smoked fish, breads with nuts and dried fruit as well as all apple desserts. For years he had searched for a recipe similar to his German grandmother's apple kuchen…and finally my brother-in-law, Dan, found "the" recipe in an old family recipe box. Dan tried his best to recreate it, but apparently it got over-baked…"long story," he relayed in his email.
I tweaked it slightly by adding tiny pats of butter before baking. Fred remembered his grandmother dotting her kuchen with butter before popping it in the oven. There's also a cottage cheese version…you just mix two cups of cottage cheese into the sugar/cream mixture and use that instead of the apples. I used my mandoline to slice the apples thinly…as I wanted them to get them tender during the short cooking time. It gave me great pleasure be able to give my father-in-law a taste of his childhood…
Update: my father-in-law lost his battle with cancer on Thursday. I will be forever grateful that his strong sense of family and love of God was the legacy passed to his sons and grandchildren. I was blessed to have him in my life for nearly 30 years.
Apple Kuchen or Apfelkuchen
3 cups flour
1 cake yeast (2 teaspoons instant yeast or 2 1/4 teaspoons dry active yeast)
3/4 cup whole milk
6 tablespoons butter (plus 1 tablespoon to dot on before baking)
1/3 cup sugar
1/2 teaspoon salt
2 eggs
1 beaten egg
3 tablespoon light cream (half and half or milk)
1 cup sugar
1 1/2 teaspoons cinnamon
2 cups thinly sliced apples
In the bowl of your stand mixer, combine 1 1/2 cup flour and the yeast.
In pryex measuring cup or microwave safe bowl, microwave 3/4 cup milk till approximately 115-120º, then add butter,1/3 cup sugar and salt. Stir till butter is almost melted. Add to flour mixture and add 2 eggs. Beat at low speed using paddle attachment for 1/2 minute, scraping bowl. Beat 3 minutes at high speed. stir in remaining flour.
Divide in half, with lightly floured fingers, pat into two greased 9-inch round baking pans, pressing up sides to form a rim. Cover, let rise in warm place until double in size, about 45-50 minutes.
Preheat oven to 400º.
Combine the beaten egg and the cream/milk. Stir in 1 cup sugar and the cinnamon. Arrange fruit atop risen dough. Carefully spoon sugar/cream mixture over fruit. Dot with tiny pieces of butter.
Bake for 20-25 minutes. Cool slightly. Cut into wedges and serve warm.
Yield: 2 9-inch coffee cakes
Total time: 2 hours
May's #TwelveLoaves theme is Open. Bake a bread, yeast or quick bread, loaf or individual. May is all about celebrating bread and the one year anniversary of #TwelveLoaves. Do you have a favorite bread? We would love to see it. Let's get baking!
Want to join the #TwelveLoaves group? It's easy!
1. When you post your Twelve Loaves bread on your blog, make sure that you mention the Twelve Loaves challenge in your blog post; this helps us to get more members as well as share everyone's posts. Please make sure that your bread is inspired by the theme!
2. Please link your post to the linky tool at the bottom of my blog. It must be a bread baked to the Twelve Loaves theme.
3. Have your Twelve Loaves bread that you baked this May, 2013, and posted on your blog by May 31, 2013.
Powered by Linky Tools
Note: This post may contain affiliate links; view
my Disclosure Policy
for details. I earn a small percentage from any purchase you make by clicking on these links at no extra cost to you.