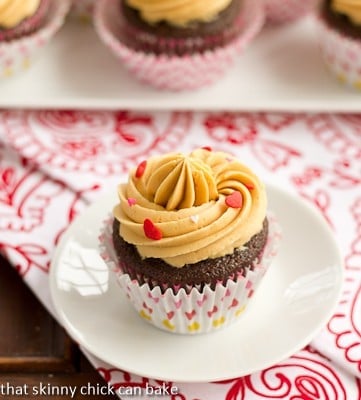 This month's Improv Challenge theme is Hearts and Flours…perfect for Valentine's Day! Kristen of Frugal Antics of a Harried Homemaker is our lovely hostess….and our assignment was to make anything made with flour that incorporated hearts.  If you'd like to join our group, feel free to contact Kristen…March's pairing is peas and  carrots…I don't think a dessert is possible with that combo! Darn.
Not being too creative when it came to this theme, I grabbed the jar of Valentine sprinkles and remembered the stout cupcakes with caramel buttercream that my friend, Jan, raved about. Chocolate  pleases the hubby…and caramel reels me in every time. But I took it in my own direction when I remembered reading about David Lebovitz's Caramelized White Chocolate. White chocolate discs are baked in a low temperature oven, stirring every 10 minutes, till caramelized. I added this chalky, tan concoction to hot cream with a pat of butter and whisked till it resembled caramel sauce. I let it cool and beat it into an amazing whipped ganache. Almost unprecedented, these cupcakes drew praise from the hubby, the daughter and me! I did take liberty with the beaters and mixing bowl, licking any and all remains! I wouldn't say the frosting tastes like white chocolate nor caramel, but something in between…unique and just exquisite.
If I've inspired you to try this icing, make sure to check out Lebovitz's post linked above. I found I had a few teeny chalky bits in my "caramel" which were probably due to 10 minutes too long in my oven. Pressing the mixture through a fine mesh sieve would have alleviated any lumps…and there's a lot more troubleshooting and details in his post.  Doesn't the resulting mixture look like caramel? I chilled it, then whipped it to frosting consistency. I will play around with the amount of cream next time…I started with a half cup, but think I'll add an extra tablespoon of cream. If you like to experiment in the kitchen, this is one cupcake you need to try.
Chocolate Stout Cupcakes with Caramelized White Chocolate Ganache
Ingredients
12 ounces good quality white chocolate, a chunk chopped or fêves/discs
A pinch of sea salt
1/2+ cup cream
1 tablespoon butter
3/4 cup unsweetened cocoa, plus more for dusting finished cupcakes
2 cups sugar
2 cups all-purposeflour
1 teaspoon baking soda
Pinch fine salt
1 bottle stout beer (recommended: Guinness)
1 stick butter, melted
1 tablespoon vanilla extract
3 large eggs
3/4 cup sour cream
Instructions
Preheat the oven to 250º. Spread white chocolate discs over rimmed baking sheet. Put in oven for 10 minutes to melt. Stir and return to oven.
Remove it from the oven and spread it with a clean, dry spatula.
Continue to cook for and additional 30-60 minutes, stirring at 10 minute intervals. At some points it may look lumpy and chalky.
Cook until the white chocolate is golden brown (like peanut butter), and caramelized. Stir in sea salt.
If it's lumpy, pulse in a food processor till smooth.
Heat cream and butter in microwave safe bowl till cream is hot and butter is melted. Add white chocolate and whisk till smooth. Chill till ganache is thick but not firm. Whip until it reaches frosting consistency. Set aside till cupcakes are ready to frost.
Preheat oven to 350 degrees F.
In a large mixing bowl, whisk together the cocoa, sugar, flour, baking soda, and salt.
In another medium mixing bowl, combine the stout, melted butter, and vanilla. Beat in eggs, 1 at time. Mix in sour cream until thoroughly combined and smooth. Gradually mix the dry ingredients into the wet mixture.
Lightly grease 24 muffin tins. Divide the batter equally between muffin tins, filling each 3/4 full. Bake for about 12 minutes and then rotate the pans. Bake another 12 to 13 minutes until risen, nicely domed, and set in the middle but still soft and tender. Cool before turning out.
Top each cupcake with a heap of frosting and dust with cocoa.
Cupcake Recipe adapted from Dave Lieberman
Caramelized White Chocoate adapted from David Lebovitz
http://www.thatskinnychickcanbake.com/2013/02/improv-challenge.html
Linked to: