Chocolate Stout Cupcakes with Caramelized White Chocolate Ganache
Chocolate Stout Cupcakes with Caramelized White Chocolate Ganache elevate an ordinary cupcake to celebrity status!!
This Chocolate Cupcake Recipe is enhanced with Guinness stout which maximizes flavor as alcohol is known to do. Then the white chocolate is caramelized adding nutty and butterscotch notes to the swirls of frosting.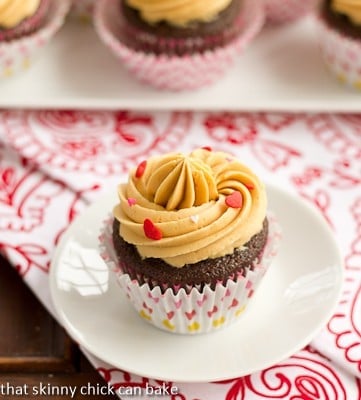 Why You Must Make
Chocolate cupcakes with a swirl of caramelized white chocolate frosting are a unique and delicious dessert!
The Caramelized White Chocolate recipe that is the base for the ganache frosting is from David Lebovitz, so you know it's top-notch.
If your family is like mine, they'll be thrilled to come home to a fresh batch of frosted cupcakes!
Ingredient Notes
Kitchen Staples – Sugar, All-Purpose Flour, Baking Soda, Sea or Table Salt, Butter, Unsweetened Cocoa Powder
Good Quality White Chocolate – A chunk, fêves or discs
Heavy Cream – 36% Butterfat
Stout – Guinness is readily available
Good Quality White Chocolate, a chunk chopped or fêves/discs
Vanilla Extract – Use real vanilla extract, never artificially flavored.
Sour Cream – Use full fat as the fat keeps the cupcakes moist
Eggs – Large eggs are standard for most baking recipes. Have them at room temperature for easier incorporation.

How to Make
Bake the white chocolate discs in a low-temperature oven, stirring every 10 minutes, until caramelized.
Then add the chalky, tan concoction to hot cream with a pat of butter and whisk until it resembles caramel sauce.
Let it cool before whipping this ganache into a delicious frosting.
Prepare the cupcake pan and set it aside.
Make the cupcakes by first mixing together the dry ingredients.
Then mix together the wet ingredients.
Mix the dry ingredients into the wet ingredients until just combined. Don't be tempted to overmix or beat.
Fill the cupcake slots ¾ full and bake as directed.
Let cool thoroughly before topping each cupcake with a swirl of frosting.
Recipe Tips
Alcohol is a flavor enhancer and adding stout to these cupcakes won't make them taste like beer.
Don't overmix the cake batter. When you mix the dry ingredients into the wet, just stir until they're incorporated. Beating will just activate the gluten more and more the cupcakes less tender.
Sour cream is a crucial ingredient. The acidity in it will weaken the gluten bonds plus the fat will help keep the cupcakes moist.
Don't overfill your cupcake tins. ¾ full is perfect as it gives the batter room to rise.
Cooking the white chocolate in the oven helps caramelize the cocoa butter thus adding a more complex flavor to what is often thought of as a rather plain vanilla-flavored confection.
Almost unprecedented, these cupcakes drew praise from the hubby, the daughter, and me! I did take liberty with the beaters and mixing bowl, licking any and all remains! I wouldn't say the frosting tastes like white chocolate or caramel, but something in between…unique and just exquisite. These Chocolate Stout Cupcakes with Caramelized White Chocolate Ganache were divine!
If I've inspired you to try this icing, make sure to check out Lebovitz's post linked above. I found I had a few teeny chalky bits in my "caramel" which were probably due to 10 minutes too long in my oven. Pressing the mixture through a fine-mesh sieve would have alleviated any lumps…and there's a lot more troubleshooting and details in his post. Doesn't the resulting mixture look like caramel? I chilled it, then whipped it to a frosting consistency. I will play around with the amount of cream next time…I started with a half cup, but think I'll add an extra tablespoon of cream. If you like to experiment in the kitchen, this is one cupcake you need to try.
Frequently Asked Questions
What Does It Mean to Caramelize?
To caramelize means to heat sugar until it becomes liquid and clear. The color will change to golden or a darker brown. It's also known as burnt sugar.
What is Stout?
Stout is a type of beer that originated in the British Isles. It's stronger and darker than typical American beer. Guinness is a very well-known stout.
You May Also Like:
Stay in touch through social media @ Instagram, Facebook, and Pinterest. Don't forget to tag me when you try one of my recipes! And if you love the results, please give it a 5-star rating in the recipe card. Note: As an Amazon Associate, I earn from qualifying purchases. Visit my Amazon Store for my favorite products.
The Recipe:
Chocolate Stout Cupcakes Recipe with Caramelized White Chocolate Ganache
Prep Time 30 minutes
Cook Time 5 minutes 6 seconds
Total Time 35 minutes 6 seconds
Yield 24
A unique, gourmet chocolate cupcake with caramelized white chocolate ganache frosting!
Ingredients
12 ounces good quality white chocolate, a chunk chopped or fêves/discs
A pinch of sea salt
½ cup + 1 tablespoon heavy cream
1 tablespoon butter
¾ cup unsweetened cocoa, plus more for dusting finished cupcakes
2 cups sugar
2 cups all-purposeflour
1 teaspoon baking soda
Pinch fine salt
1 bottle stout beer, recommended: Guinness
1 stick butter, melted
1 tablespoon vanilla extract
3 large eggs
¾ cup sour cream
Instructions
Preheat the oven to 250º. Spread white chocolate discs over a rimmed baking sheet. Put in the oven for 10 minutes to melt. Stir and return to oven.
Remove it from the oven and spread it with a clean, dry spatula.
Continue to cook for an additional 30-60 minutes, stirring at 10-minute intervals. At some points it may look lumpy and chalky.
Cook until the white chocolate is golden brown (like peanut butter), and caramelized. Stir in the sea salt.
If it's lumpy, pulse the white chocolate mixture in a food processor till smooth.
Heat cream and butter in a microwave-safe bowl till the cream is hot and the butter is melted. Add the white chocolate and whisk till smooth. Chill until the ganache is thick but not firm. Whip until it reaches frosting consistency. Set aside till cupcakes are ready to frost.
Preheat oven to 350 degrees F.
In a large mixing bowl, whisk together the cocoa, sugar, flour, baking soda, and salt.
In another medium mixing bowl, combine the stout, melted butter, and vanilla. Beat in eggs, one at a time. Mix in sour cream until thoroughly combined and smooth. Gradually mix the dry ingredients into the wet mixture.
Lightly grease 24 muffin tins. Divide the batter equally between muffin tins, filling each 3/4 full.
Bake for about 12 minutes and then rotate the pans. Bake another 12 to 13 minutes until risen, nicely domed, and set in the middle but still soft and tender. Cool before turning out.
Top each cupcake with a heap of frosting and dust with cocoa.
Notes
Cupcake Recipe adapted from Dave Lieberman
Caramelized White Chocolate adapted from David Lebovitz
Nutrition Information:
Yield:
24
Serving Size:
1 cupcake
Amount Per Serving:
Calories: 258
Total Fat: 14g
Saturated Fat: 8g
Trans Fat: 0g
Unsaturated Fat: 4g
Cholesterol: 48mg
Sodium: 135mg
Carbohydrates: 30g
Fiber: 1g
Sugar: 27g
Protein: 3g
Note: This post may contain affiliate links; view
my Disclosure Policy
for details. I earn a small percentage from any purchase you make by clicking on these links at no extra cost to you.