Tips for Renovating a Kitchen
I've been through two kitchen renovations, one in 1996 and one this year, 2018. I've learned some Tips for Renovating a Kitchen that may help you survive the upheaval of your remodeling project.
Remodeling always has its hiccups and generally lasts longer than planned. Simplifying your meals and setting up a makeshift kitchen area help lessen the stress of renovations.
Tips for Renovating Your Kitchen
First of all, your kitchen will be totally gutted for weeks if not months. Ours was the latter. You'll need to set up a temporary kitchen, preferably near a sink.
I erected a card table in our basement laundry room, near the laundry sink. Make sure to put some sort of drain strainer in the sink so the pipes don't clog when you rinse off dishes.
I used an Induction Burner to cook chili, spaghetti sauce, skillet meals, eggs, etc. Note that not all pans will work on an induction burner as they must be magnetic, like cast iron or magnetic stainless steel.
See if your contractor will keep your current oven in the kitchen. Ours was more than receptive to this request and kept our oven in its old spot, then moved it to the new location when the new cabinetry was installed.
A functional oven was useful for roasting vegetables and making simple chocolate chip cookies or brownies. Having to do dishes in the basement kept me from any complex baking!
More Recommendations for Remodeling Your Kitchen
Purchase a double oven if you like to cook and/or entertain or have a big family. In my former kitchen, I had a single oven topped with a combination convection/microwave. It wasn't ever convenient to use the convection oven so I never got the hang of it. Holidays, especially Thanksgiving, when there was a turkey in the oven, were tough with only one oven.
Coordinate your appliances with your fixtures and hardware. My refrigerator and dishwasher have panels to match my cabinets, but I went with stainless steel for my ovens, range hood, cabinet pulls and faucets.
Decide what is most important to you. My splurges were on a big island and on the range hood below.
I had an island with a cook top in my former kitchen. This greatly limited my working space, so I knew I wanted a solid slab on my island. I also had never been able to find a range hood I liked. So when I finally came across a hood photo I liked, one of my resources was able to have it replicated.
Kitchen Layout
Make sure your work space is functional. The ovens, sink and refrigerator should be in close vicinity. I have these appliances on one side of the island and a bar area on the other.
You want to have a good sized counter area for food prep in the area of your appliances. I requested a large island which is wonderful when working on a multi-step recipe.
Work Space and Lighting
I like to keep my counters relatively free of decor so I can utilize all the space for cooking without having to move things around.
I chose a marble island so that I can set hot dishes on it without fear of damaging the surface. Marble will etch when exposed to acids, like citrus or tomato juices. So make sure to wipe it down after any spills.
We expanded the window above the sink to bring more light into the kitchen, along with a skylight. It makes the space more cheery.
Don't forget under cabinet lighting. It's great for ambiance when entertaining as well as giving additional light to the counters.
I added pendants above the bar and island along with a skylight. I know I will especially appreciate these features in the midst of the dreary winter!
Rope lighting was installed in the glass front cabinets to also provide ambiance lighting and to showcase decorative items and glassware.
Sink and Specialty Cabinets
Instead of the double sink we had in our previous kitchen, I went with a farm sink. I use a lot of cookie sheets and sheet pans and they're much easier to clean in a wide, one bowl sink.
We added a second small sink on the north wall for entertaining. It's next to a couple of refrigerator drawers for beverages and under glass-faced cabinets filled with wine and cocktail glasses. It's the perfect area to serve wine and beer to our guests.
We splurged on a few specialty cabinets. I have two narrow, pull out spice drawers, another narrow pull out cabinet for my cutting boards and drawers for my dishes with a pegboard base to help secure the plates, bowls, etc.
I was lucky enough to be able to reuse my old cabinets in my new laundry room. They were repainted and look amazing!

Baking Center in a Baker's Kitchen
Since I love to bake, I wanted an appliance garage so I could keep my mixer and food processor. Here are a few more must-haves for a Baker's Kitchen.
The cabinet doors fold back and recess so they're out of the way. When not in use, the doors can be brought forward to hide my small appliances. The top photo in this post shows the doors closed.
The cabinet maker had lights installed inside the space. Shelving above the counter stores my frequently utilized baking supplies like extracts, spices, chocolate bars, baking soda, and baking powder.
Note that there are 4 outlets in my baking center alcove. This allows for my stand mixer and food processor to remain plugged in but still leaves open outlets for when I need to use other kitchen tools like my hand mixer.
Having a marble island provides a nice, cool surface for rolling out pie crusts as well as a landing for hot cookie sheets.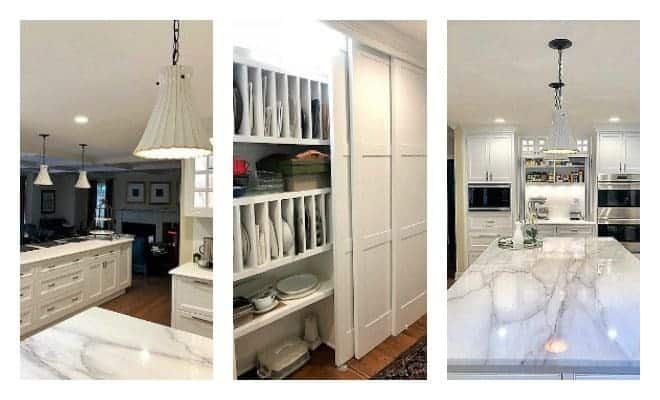 Breakfast bar in the background – Serving pieces, trays, photo prop storage pantry – Large island side view
Have you been through a kitchen remodel? What are some of your tips for renovating a kitchen? Favorite things in your remodeled kitchen? Let me know in the comments!
Note: This post may contain affiliate links; view
my Disclosure Policy
for details. I earn a small percentage from any purchase you make by clicking on these links at no extra cost to you.