I searched and searched for that magical meatloaf recipe that remind me of my mom's. This Bacon Topped Meatloaf brought back delicious childhood memories.

Bacon Topped Meatloaf
The youngest member of the family really, really detests meatloaf. In fact, he dislikes any entree with the word "loaf" attached.  One evening, when he was not even 4 years old, Nick inquired about dinner.
I happened to be preparing his father's favorite salmon loaf (yes, the pickiest man in the world loves salmon loaf.  Go figure).  I knew he'd pitch a fit if he got wind of my plans, so I spelled out F-I-S-H-L-O-A-F, knowing he knew of no entree starting with F. This kid, who was too young to read, couldn't tie his shoes, and didn't venture anywhere without his threadbare Winnie the Pooh, shouted, "FISHLOAF?!!!! I hate fishloaf!" And stomped off.
He feels the same way about meatloaf, even my Bacon Topped Meatloaf.  Nick would much rather have Beef Tenderloin (well, I can't blame him there!), Beef Teriyaki Kabobs, or even Strawberry Salsa Topped Salmon. He's away on a 3-day overnight retreat with 60 other seniors in high school. I imagine one of the blessings he's counting is not having meatloaf for dinner.
My Adaptations
I tested meatloaf after meatloaf, searching for one that reminded me of my mom's best version.  A friend shared a recipe from our former first lady, Pat Nixon, and I knew it was the one after my first bite.
It was the magical mixture of marjoram and thyme that was etched in my memory. I've tweaked it to our liking by topping with ketchup and bacon and using a blend of ground meats.  Feel free to use 2 pounds of lean ground beef if that's your preference. I'm still hoping that my bacon topped meatloaf will turn Nick into meatloaf fan one day!
More Meatloaf Recipes You'll Love:
Print
Bacon Topped Meatloaf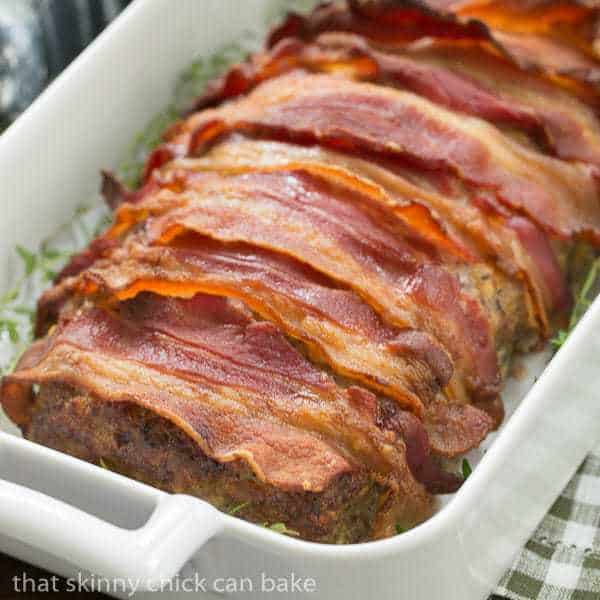 An old-fashioned meatloaf recipe adapted from Pat Nixon
Author:
Prep Time:

20 minutes

Cook Time:

1 hour

Total Time:

1 hour 20 minutes

Yield:

6 servings

Category:

Entree
Ingredients
2 tablespoons olive oil
1/2- 1 cup finely chopped onions
2 garlic cloves, minced
2-3 slices white bread, either diced into small pieces or ground into bread crumbs
1 cup milk
2 pounds meatloaf mix (equal parts ground beef, ground pork and ground veal)
2 eggs, lightly beaten
1 teaspoon salt
1/2 teaspoon dried thyme
1/2 teaspoon dried marjoram
Ketchup
6-8 slices of bacon, partially cooked
Instructions
Grease a 13 x 9-inch baking pan. Add olive oil to a sauté pan, add garlic and sauté until just golden. Let cool.
Dice or grate bread and soak it in milk. In a large mixing bowl, mix ground meat by hand with sautéed onions and garlic and bread pieces. Add eggs, salt, pepper, thyme and marjoram and mix by hand in a circular motion.
Turn this mixture into the baking pan and pat into a loaf shape, leaving at least one inch of space around the edges to allow fat to run off. Brush the top with ketchup and lay strips of bacon across the width of the loaf.
Preheat the oven to 375º. Bake meatloaf for 1 hour, or until meat is cooked through. Pour off accumulated fat several times while baking and after meat is fully cooked. Let stand on wire rack for five minutes before slicing.
Print