This Winter Ceviche from Dorie Greenspan features scallops, mango nectar, citrus and tarragon. Every bite was sheer bliss.
A Restaurant Worthy Recipe
Dorie's recipe called for bay scallops, but those I saw at the market appeared a little sad and long in the tooth. No thank you. I went to my fishmonger where I purchased fresh, plump sea scallops.
Larger than the bay version, I wasn't about to risk ptomaine or whatever you might get from eating raw, contaminated seafood. And the bonus of using sea scallops was that they didn't deteriorate into mush by the next day.
I'd never eaten a ceviche made with scallops, but this was nothing short of ambrosial. I was an instant fan. I found a ripe mango and added a few sweet, vibrant cubes plus a little bit of bell pepper for color, otherwise I followed the recipe to a T.
Winter Ceviche
Winter or summer ceviche? I never knew there was a differentiation due to seasons. Dorie's Tuna and Mango Ceviche, which we made in the fall, was more traditional, with onions and chile peppers.
I'd say her winter version was Frenchified—using tarragon, a very French herb, shallots and no heat. Either version would please my palate no matter the time of the year. The fresh scallops were marinated in mango nectar, sherry vinegar, lemon and lime juice along with their zests and a spoonful of brown sugar.
The citrus "cooked" the seafood by changing the molecular structure of the fish, but it doesn't have the capacity to completely render all the bacteria inactive. Salmonella is mostly held at bay when exposed to lime juice, but not so much with another bacterium, Vibrio parahaemolyticus. So the lesson is to be cautious and use only the freshest seafood from a trusted source.
Here's the recipe for Dorie's Winter Ceviche. Or make it easy on yourself and buy Around My French Table, turn to page 177, and start cooking! I adored this recipe, but to see what the other Doristas thought, visit the French Fridays with Dorie website.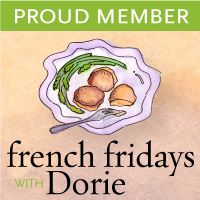 Note: This post may contain affiliate links; view
my Disclosure Policy
for details. I earn a small percentage from any purchase you make by clicking on these links at no extra cost to you.