A dose of Frangelico, my favorite hazelnut liqueur, pushes this luscious White Chocolate Mousse over the top!
I've been cooking out of my well used Silver Palate cookbooks a lot lately; the recipes are no-fail and just as perfect for everyday meals as for entertaining. To celebrate Valentine's Day, I am joining a group of bloggers and sharing a perfect holiday recipe. When I spotted this White Chocolate Mousse with Frangelico in the Good Times volume, I knew it was an ideal choice…easy and elegant.
White Chocolate Mousse with Frangelico
We are a house divided when it comes to white chocolate. The boys prefer deep dark chocolate desserts; the richer the better. Katie and I love white chocolate, even though it truly isn't chocolate per se. But we'll all indulge in both when the recipe is rich and incredible like this white chocolate mousse. I'm a huge fan of adding Frangelico to my white chocolate desserts as there's something magical when this hazelnut liqueur pairs with the dreamy confection.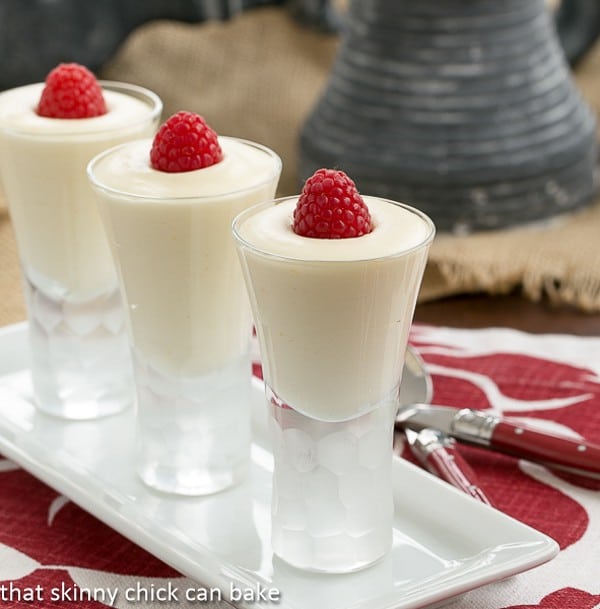 Mousse for the Holidays!
As with a lot of holiday desserts, my kitchen was a wreck after making  this mousse. Melting white chocolate, whisking the custard in a saucepan, whipping the cream and then the egg whites. I won't even start counting the bowls and mixing utensils used. But it was worth every one of them. Creamy and luscious, this is the perfect Valentine's Day dessert for the white chocolate lovers in your life. Just garnish with whatever red berries look best in your produce section and these will be festive as well and scrumptious. Plus there are 13 other Valentine's Day desserts shared by my sweet friends. Just take a look at the collage below and I know you'll want to visit all their blogs to collect every single recipe.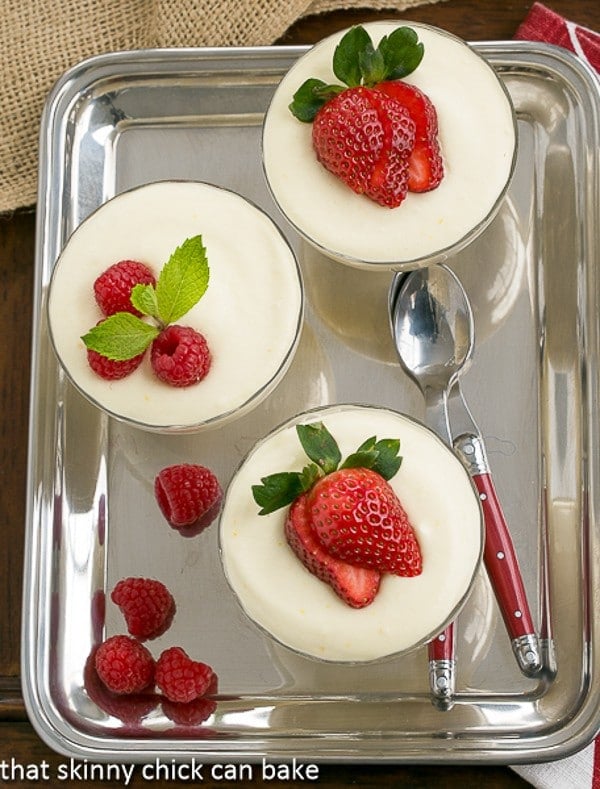 1. Chocolate Dipped Sttrawberry Hi Hat Cupcakes (Gluten Free) from Pineapple and Coconut
2. Frosted Cream Cheese Cutout Cookies from Magnolia Days
3. White Chocolate Mousse with Frangelico from That Skinny Chick Can Bake
4. Chocolate Caramel Pretzel 'n Chip Tart from Gotta Get Baked
5. White Chocolate Cherry Brownies from The Messy Baker
6. Chocolate Champagne Cupcakes from The Girl in the Little Red Kitchen
7. Sugar-Free Blueberry Yogurt Truffles from What Smells So Good
8. Strawberry Cheesecake Heart Pie from Hungry Couple NYC
9. Red Velvet Heart Sandwich Cookies from Jen's Favorite Cookies
10. Chocolate Cannoli Cones   from Created By Diane
11. Cherry Cheesecake Stuffed Cupcakes from Chocolate Moosey
12. Nutella Brownie Cheesecake No-Churn Ice Cream from Cupcakes and Kale Chips
13. Valentines Smores Hearts from Kelly Bakes
14. Chocolate Hazelnut Cookies from Roxana's Home Baking
Print
White Chocolate Mousse with Frangelico
!Adapted from The Silver Palate Cookbook
Author:
Prep Time: 30 mins
Total Time: 30 mins
Yield: 6-8 servings
Ingredients
8 ounces white chocolate, chopped
1/2 cup (4 ounces or 1 stick) butter
6 eggs, separated, at room temperature
1 cup powdered sugar
1/2 cup Frangelico (hazelnut) liqueur
2 cups heavy cream, cold
1/8 teaspoon cream of tartar
Instructions
Gently microwave white chocolate and butter in a microwave-safe bowl, stopping and stirring at 30-second increments till melted and smooth.
Whisk the yolks, sugar, and Frangelico in the bowl for the top of the double boiler (or a bowl large enough to sit over a pan of simmering water) it thickens. Set it over the double boiler, with just simmering water, and cook until very thick, about 3 minutes, whisking constantly. Remove from heat and set aside.
Whisk the white chocolate into the egg mixture.
In another bowl, beat the heavy cream over high speed until stiff peaks form.
Using a mixer with the whisk attachment and a very clean bowl (any oil or grease will prevent whites from whipping properly), with whisk attachment, beat the egg whites and cream of tartar till stiff but not dry.
Gently fold the cream and egg whites into the white chocolate mixture. Scoop mixture into pretty serving dishes. Refrigerate for at least 3 hours to set before serving. Garnish with berries or chocolate shavings/curls if desired.
Notes
Total time does not reflect 3+ hours chilling time.
Servings vary depending on the size of your serving dishes.
Note: There are raw egg whites in this recipe. The consumption of raw or undercooked eggs, meat, poultry, seafood or shellfish may increase your risk of foodborne illness. Do not serve to the very young, elderly or immunosuppressed.  You can use pasteurized eggs, but I find them hard to whip to stiff peaks.
Note: This post may contain affiliate links; view
my Disclosure Policy
for details. I earn a small percentage from any purchase you make by clicking on these links at no extra cost to you.