The Perfect White Birthday Cake Recipe
This sweet, tight crumb Perfect White Birthday Cake will rival any bakery cake! It's the most delicious layer cake I've made in years!
With a fine crumb, sweet and tender texture, and a lovely vanilla bean buttercream, this White Cake Recipe is ideal for birthdays, dinner parties, or any celebration!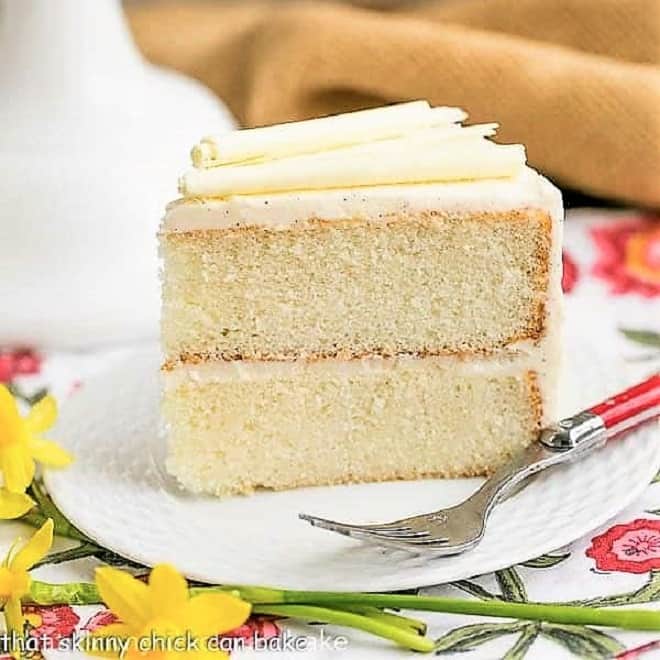 Why You Must Make
Most of my crew would be happy with a rich chocolate dessert, but a white cake is a tasty way to shake up your desserts.
White Cake is ideal for those occasions when you don't know the preferences of those you're baking dessert for.
The Vanilla Bean Buttercream is rich and delectable, too!
Bill's birthday was two days after Easter, so despite the half-eaten Tunnel of Mousse Cake in the fridge, he expected a birthday cake. A new birthday cake, not the Easter leftovers with candles. His first suggestion was white cake with white icing, knowing that the picky daughter (wonder where she picked up that trait??) would enjoy it, too.
I headed to the blog of my friend, Amanda, knowing the cake baker extraordinaire of I am Baker fame, would have an exquisite white cake recipe. And that it was. This Confetti Cake is another wonderful celebratory cake!
Ingredient Notes
Kitchen Staples – Sugar, Salt, Powdered Sugar
Cake Flour – Has less gluten than all-purpose flour, making a more tender cake.
Milk – At room temperature
Egg Whites – At room temperature
Almond Extract – If you don't have any on hand, it's readily available with the spices and extracts at the grocery store.
Vanilla Extract – Never use artificially flavored vanilla.
Baking Powder – Make sure to check the expiration date as your cake won't rise properly if it's expired. This is not the same as baking soda. To test your baking powder for freshness, put a spoonful into a bowl of hot water. If it's active, it will bubble vigorously. If it doesn't, buy a new can.
Butter – at room temperature but still cool for cake and at room temperature for buttercream.
Vanilla Bean – Halved lengthwise and seeds scraped out to add to batter. You may also use vanilla bean paste.
Heavy Cream – 36% butterfat. Used to give richness to the chocolate buttercream frosting.
Recipe Tips
This basic recipe is from Cook's Illustrated, and I followed Amanda's explicit instructions and a truly heavenly cake was the result. Frosted with a vanilla bean buttercream, I must say this rivals any chocolate number I've made of late.
As with all recipes, read through the details once or twice before starting. Double-check that you have all the ingredients, and any ingredients that need to be brought out of the refrigerator can be set on the counter.
PRO-Tip: Make sure your baking powder (different from baking soda) has not expired.
In this recipe, the egg whites, milk, and butter need to be at room temperature. Note that eggs separate best when they are cold, and less fragile, but beat best when at room temperature. The whites are not whipped separately in this recipe but will incorporate best when not chilled.
PRO-Tip: Alternating wet and dry ingredients allows the fats to envelop the flour, which contains gluten. Gluten is what you want to encourage in bread recipes to give structure but discourage when you want a tender crumb, like in this cake.
Note that you don't need to beat the cake batter for a long period of time. Too much beating will make a lighter, air-filled batter that won't have the perfect crumb.
I like to weigh out equal amounts of batter for each cake pan. That way, the layers will be the same size and bake up in the same amount of time.
Use a toothpick to check if your cakes are done. All ovens bake a little differently, so baking times are just a guideline. The toothpick should come out clean when the cake is fully baked.
The crumb was perfect and that leftover chocolate mousse cake was ignored (and it was darned tasty, too). The birthday boy got his wish. And Miss Katie was on cloud nine, too. This White Birthday Cake was a huge hit. From now on, this will be my go-to white cake recipe.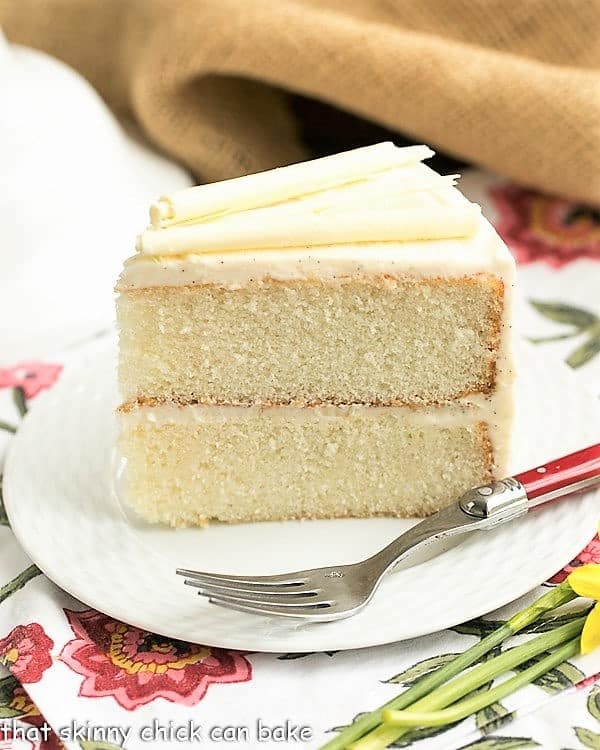 Frequently Asked Questions
What's the Difference Between a White Cake and a Vanilla Cake?
White cakes and vanilla cakes have very similar ingredients. But to make a white cake white, only egg whites are used, instead of the whole egg. Eliminating the yolks makes for a whiter batter. A vanilla cake can have an off-white color due to the addition of yolks.
Why Isn't My Cake Fluffy?
If your batter isn't creamed properly, air won't be incorporated into the batter when then the butter is mixed with the sugar. The air prevents the cake from being dense. Other mistakes include not having the ingredients at room temperature, not sifting the flour, and beating in the flour instead of gently folding it in.
You May Also Like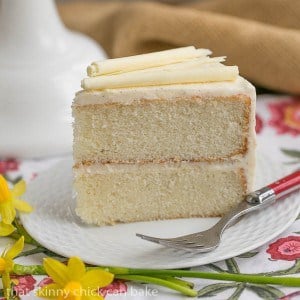 The Recipe:
White Birthday Cake
Prep Time 1 hour
Cook Time 30 minutes
Total Time 1 hour 30 minutes
Yield 12 servings
This sweet, tight crumb Perfect White Birthday Cake will rival any bakery cake!
Ingredients
For the cake:
2 ¼ cups cake flour
1 cup milk, at room temperature
6 egg whites, at room temperature
2 teaspoons almond extract
1 teaspoon vanilla
1 ¾ cups sugar
4 teaspoons baking powder
¾ teaspoon salt
1 ½ sticks butter, at room temperature but still cool
For Buttercream:
1 ¼ cups butter (2 ½ sticks), at room temperature
1 vanilla bean, halved lengthwise
2 ½ cups powdered sugar (10 ounces)
Pinch salt
1 teaspoon vanilla
2 Tablespoons heavy cream
Instructions
Heat oven to 350 degrees. Prepare two 8-inch cake pans.½¼¾
Make sure milk and eggs are at room temperature.
Pour milk, egg whites, and extracts into a medium bowl and whisk to combine.
Mix cake flour, sugar, baking powder, and salt in a bowl of electric mixer at slow speed. Add butter, cut into small pieces, and beat for a couple more minutes.
Add half of the milk mixture to the flour mixture and beat at medium speed for a couple of minutes. Add the remaining milk mixture and beat for about 1 minute.
Pour batter evenly between two prepared cake pans.
Bake until a toothpick inserted in the center comes out clean, 27 to 30 minutes.
Allow cake to cool to room temperature.
To make the buttercream, beat the butter at medium-high speed until smooth, about 20 seconds using a standing mixer with the whisk attachment. Scrape seeds from vanilla bean into butter and beat mixture at medium-high speed to combine, about 15 seconds.
Add powdered sugar and salt; beat at medium speed until most of the sugar is moistened, about a minute. Scrape down the bowl and beat at medium speed until the mixture is fully incorporated less than a minute.
Scrape down the sides of the bowl, add vanilla and heavy cream, and beat at medium speed until incorporated, then increase speed to medium-high and beat until fluffy, about 4 minutes, scraping down the bowl at least once at the halfway mark.
Assemble and frost the cake when cool.
Notes
Recipe adapted from Cook's Illustrated.
Nutrition Information:
Yield:
12
Serving Size:
1 slice
Amount Per Serving:
Calories: 598
Total Fat: 32g
Saturated Fat: 20g
Trans Fat: 1g
Unsaturated Fat: 10g
Cholesterol: 86mg
Sodium: 589mg
Carbohydrates: 74g
Fiber: 0g
Sugar: 52g
Protein: 5g
Note: This post may contain affiliate links; view
my Disclosure Policy
for details. I earn a small percentage from any purchase you make by clicking on these links at no extra cost to you.