Julia Child's French Chocolate Mousse Recipe
Julia Child's French Chocolate Mousse Recipe was the winner of blind taste testing. Silky smooth and delicious, it was voted as the best.
This Mousseline au Chocolat may take a few bowls to make, but the luscious results are worth the extra clean-up! Learn how to make chocolate mousse like the French!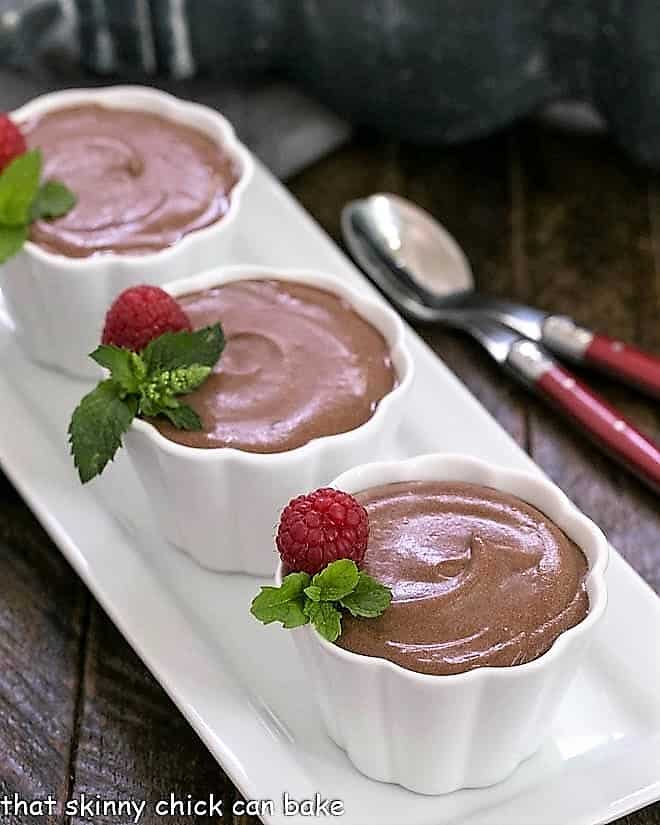 Why You Must Make
I planned a Mousse-a-Palooza gathering for some friends a week ago. We taste-tested and compared 4 different types of chocolate mousse: one classic with raw egg, one with no eggs, one with marshmallows, and one made in the blender.
This is Julia Child's French Chocolate Mousse!
It's made the traditional French way with ultra-smooth and creamy results.
This recipe has stood the test of time and tastes like what you'd get at a fine restaurant!
This was the winner in a blind taste test of 4 different recipes.
Ingredient Notes:
Large Eggs – As mentioned above, separate your eggs when they are cold. And whip your whites when they've come to room temperature.
Sugar – Just regular granulated sugar.
Kahlua – Use Grand Mariner, an orange liqueur, instead if that's your preference. This is what Julia Child used in her original recipe.
Semi-sweet Chocolate – Ghiardelli is readily available at most large supermarkets. If you can get your hands on Scharffen Berger Semisweet Chocolate Bars, it's by far my favorite brand of chocolate.
Strong Coffee – Coffee intensifies the flavor of chocolate. Don't worry if you're not a fan of coffee as it doesn't give the mousse a coffee taste.
Unsalted Butter – I've used salted butter in a pinch and it's still excellent.
Salt – Since it's just a pinch, use a finer salt, not kosher.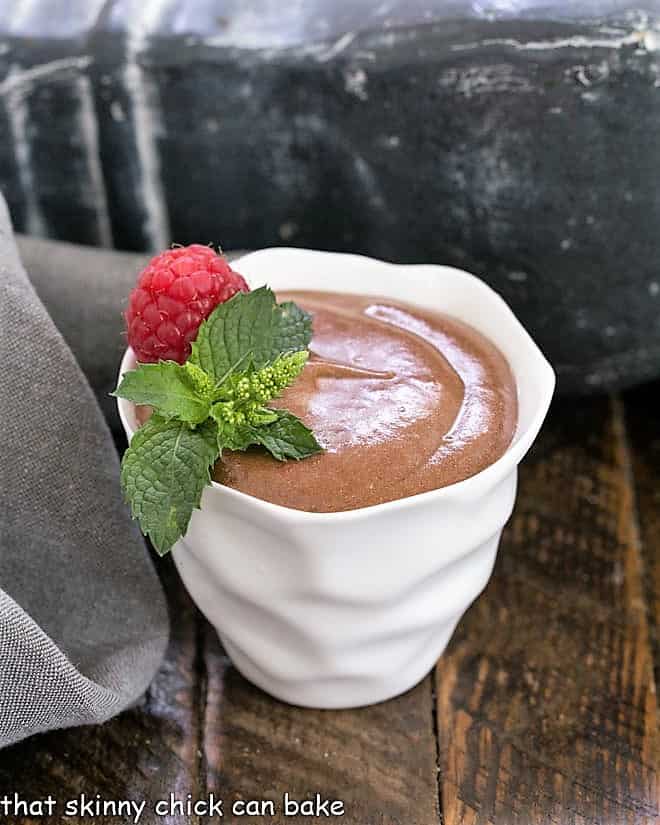 Julia Child's Mousseline au Chocolat and the Competitors
I knew what ingredients were imperative for my favorite chocolate mousse. But would my friends and family be in agreement? When I hound my family for a recipe critique, asking the tough questions like, "Are these chocolate chip cookies better than my usual recipe?" I always get the same response; they want to try both side by side. Personally, I think it's a ploy for more cookie baking, but I can understand that a true comparison of recipes needs a serious taste test.
I gathered the Skinny Chick tasting team. They were up for the challenge. Here are the 4 mousse recipes and our critiques: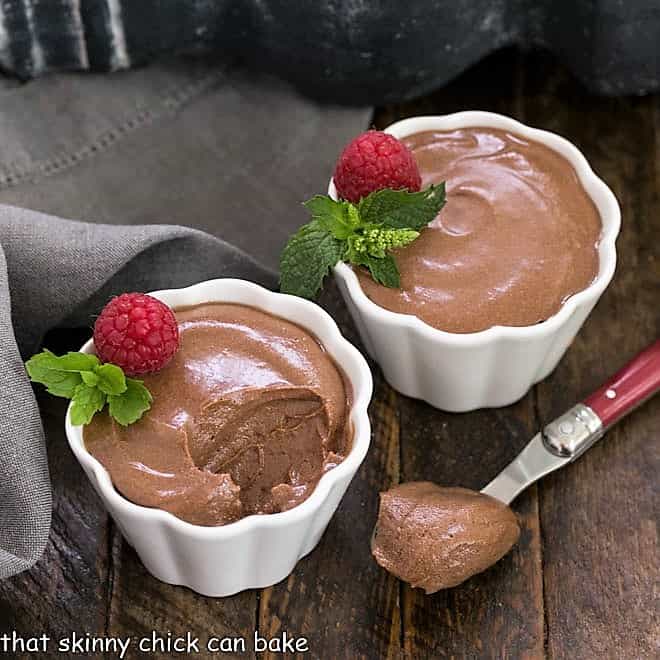 Tips for a Chocolate Mousse Tasting:
I tried to even the playing field by only using coffee, coffee liqueur, and/or vanilla as flavorings.  Julia Child's mousse called for Grand Marnier, an orange liqueur,  so I replaced that with Kahlua. I also used semi-sweet chocolate for each recipe, even if the recipe called for bittersweet.
Julia's and Alton's were the clear favorites with the Classic French Mousse au Chocolat edging out Alton's egg-free version by a hair. Those two were made ahead of time and served fully chilled. All were enjoyed, and the two quick versions were much more palatable, and given more favorable reviews, after a brief time in the fridge. Nigella's had an obvious marshmallow taste according to my testers and came in fourth place, but my family and my children's teenage friends who sampled had no complaints.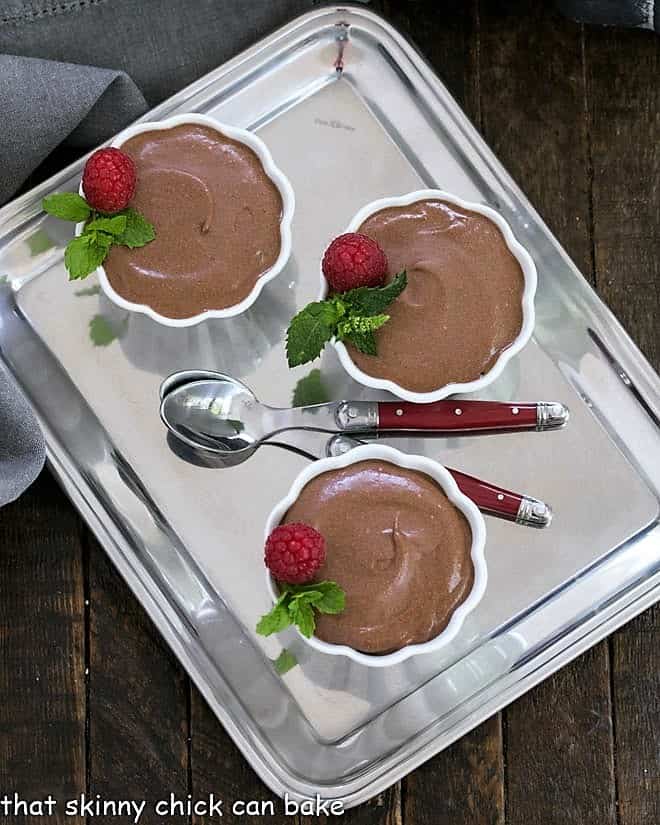 Expert Tips
Quality really makes a huge difference, so first of all, use a decent brand of chocolate. It will make a world of difference. Chocolate chips are OK in a pinch, but they don't always melt smoothly, so check out other options. Ghirardelli bars are one of the more affordable options.
Note that the egg yolks will be heated but the egg whites will be incorporated uncooked. To play it safe, look for some pasteurized eggs if you're serving this to anyone very young, elderly, pregnant or with health concerns. Salmonella, a foodborne bacteria, is occasionally found in raw eggs.
The egg whites need to be whipped to stiff peaks. These will add lightness to the mousse while the yolks add silkiness. PRO-Tip: Egg whites will not beat up into billowy stiff peaks if they're exposed to even one speck of fat. So it's imperative that the mixing bowl and beaters are free from grease, and that no egg yolk has contaminated the egg whites.
PRO-Tip: Egg whites whip best at room temperature, so you may want to set your bowl of collected whites into a larger bowl of warm water, just deep enough to come partway up the bowl, to speed up the process. The water should not be boiling as you don't want to cook the eggs.
To make sure that a yolk does not break and fall into your bowl of whites, try using an egg separator. Plus, separate the eggs while they are cold, to minimize the chance of the yolks breaking. PRO-Tip: But to be 100% safe, use 3 bowls during the separation process. One will be for the whites when separating and one for the yolks. After each of the whites is separated, dump them in the third collection bowl for all the whites. I recently made an angel food cake that called for 12 egg whites, so this technique was imperative!
If you haven't had to fold a light component of a recipe into a heavier component, I'll explain. If you just mix together the whipped egg whites and the rich chocolate mixture, the whites will deflate. So when it comes time to fold, put the lighter ingredient on top of the heavier ingredient, and with a rubber spatula, make circular motions through the middle of the bowl, up along the sides and "fold" the mound of what's on your spatula over and into the bowl. Rotate your bowl about 90 degrees and repeat. Do this over and over until the mixture is homogeneous.
To store your mousse, cover it with plastic wrap and keep it refrigerated for up to 5 days. It can also be frozen for up to 2 months.
Frequently Asked Questions
What is Mousse?
The word mousse is French for froth or foam, reflecting the lightness of these desserts. Chocolate mousse does not require any thickeners since the chocolate provides the needed firmness after it cools. Other mousse recipes, like my Strawberry Mousse, utilize gelatin to give the mousse some structure. Note that there can be both sweet and savory mousses, though my family would be trepidatious if I served up a salmon mousse!
How to Store Mousse
Mousse must be stored in the refrigerator until just before serving. With raw eggs and/or whipped cream as ingredients, keeping the mousse chilled minimizes the chance of food-borne illnesses.
Is it Safe to Eat Raw Eggs?
There is a chance of getting salmonella, a food-borne illness, from raw or unpasteurized eggs. This can be minimized by either purchasing pasteurized eggs or pasteurizing them at home. To pasteurize eggs, they must be held between 140 and 142 degrees for 3 minutes. Hotter will cook them and cooler won't kill the bacteria.

If you do use raw eggs in your mousse, which I often do, make sure not to serve to anyone who is immune-compromised, young children or the elderly.
You May Also Like:
Check out these other mouth-watering recipes for mousse and desserts incorporating chocolate mousse: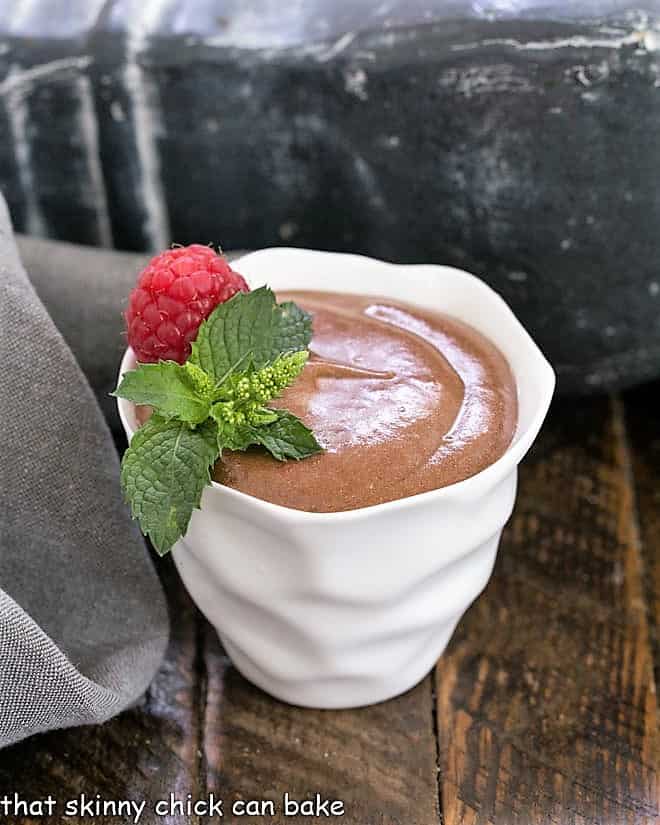 The Recipe:
Mousseline au Chocolat
Prep Time 30 minutes
Cook Time 5 minutes
Total Time 35 minutes
Yield 6 servings
Julia Child's French Chocolate Mousse
Ingredients
4 eggs, separated*
3/4 cup sugar
1/4 cup coffee liqueur (I used Kahlua)
6 ounces semi-sweet chocolate, chopped
1/4 cup strong coffee
6 ounces unsalted butter, softened
pinch of salt
1 tablespoon sugar
Lightly sweetened whipped cream and berries, optional for serving
Instructions
Beat the egg yolks and sugar together until the mixture is thick, pale yellow ribbon (will take a few minutes). Beat in the coffee liqueur.
Set the mixing bowl over a not-quite-simmering pot of water and continue beating for 3-4 minutes..
Then place the bowl over cold water and beat for another 3-4 minutes until the mixture is cool and thick like mayonnaise.
Combine the chocolate and coffee in a microwave safe bowl, and microwave and stir at 30 second intervals till smooth and melted.
Whisk in the butter, a little at a time until smooth and creamy.
Beat the chocolate into the egg yolks and sugar mixture. Set aside.
Beat the egg whites and salt until soft peaks form. Sprinkle in the sugar and continue beating until stiff peaks form. Stir a quarter of the egg whites into the chocolate mixture. Fold in the rest carefully till most of the egg whites are incorporated. Turn into a serving dish or dessert cups.
Refrigerate for at least 2 hours. Serve with berries and whipped cream if desired.
Notes
* Note that eggs will separate best when cold, but egg whites whip best at room temperature.
Use pasteurized eggs if serving to the very young, elderly or immune suppressed. There is always the risk of salmonella when eating raw or undercooked eggs.
Recommended Products
As an Amazon Associate and member of other affiliate programs, I earn from qualifying purchases.
Nutrition Information:
Yield:
6
Serving Size:
1
Amount Per Serving:
Calories: 541
Total Fat: 35g
Saturated Fat: 21g
Trans Fat: 0g
Unsaturated Fat: 13g
Cholesterol: 186mg
Sodium: 77mg
Carbohydrates: 52g
Fiber: 3g
Sugar: 48g
Protein: 6g
A huge thank you to my mousse taste testers: Cathy, Sue, Terry, Beth, Shelli, Ellen, and Gini!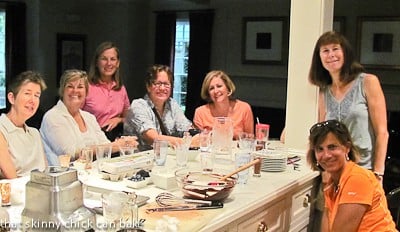 Note: This post may contain affiliate links; view
my Disclosure Policy
for details. I earn a small percentage from any purchase you make by clicking on these links at no extra cost to you.