Ghirardelli Vanilla Cupcakes with White Chocolate Buttercream
These dreamy Ghirardelli Vanilla Cupcakes with White Chocolate Buttercream Frosting became a family favorite since the first day I baked them! The decadent swirl of Swiss Meringue icing is hard to beat!
This Easy Recipe for Vanilla Cupcakes will become a dessert staple! Top with any favorite frosting and sprinkles to shake things up! Your family will be thrilled.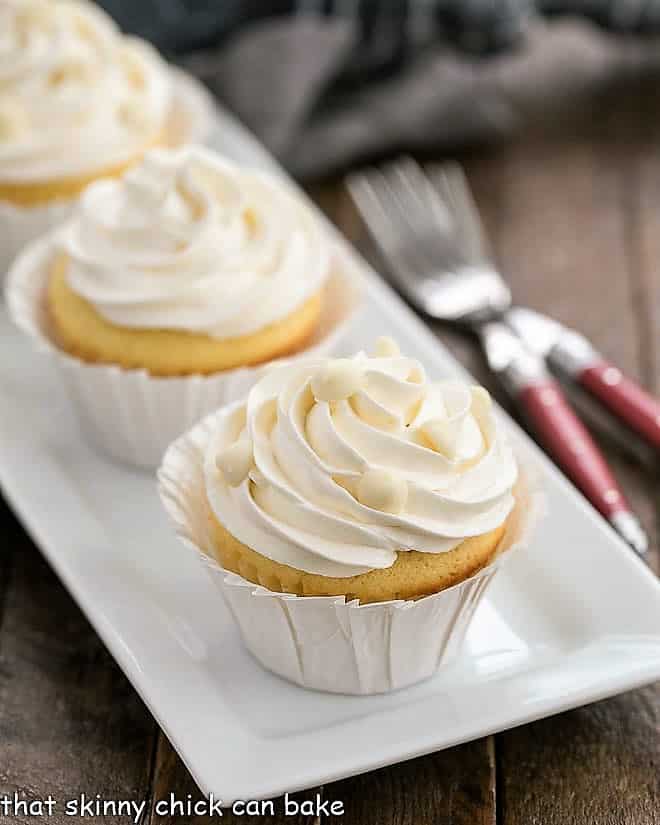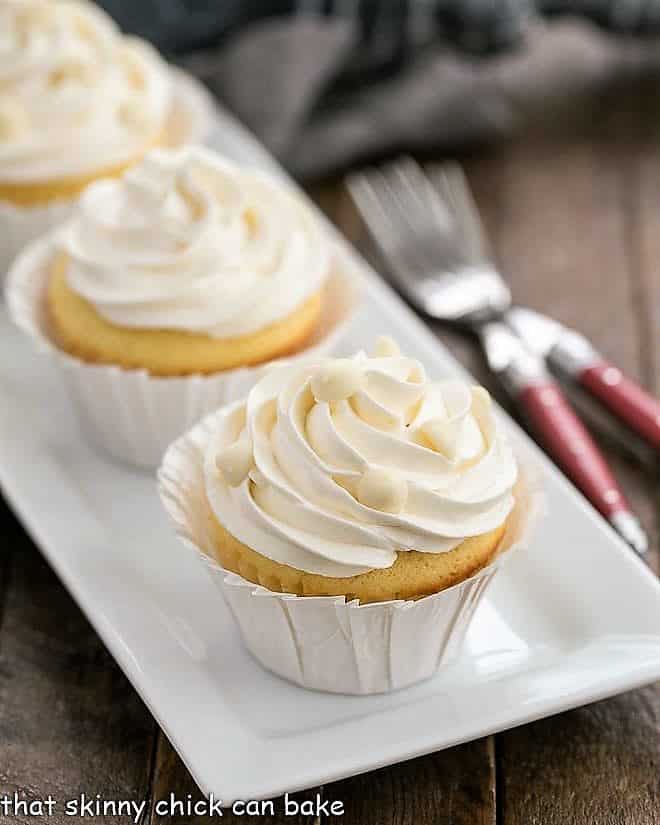 Why You Must Make
The butter, whole milk, and eggs add plenty of fat keeping the cupcakes moist.
And the addition of lemon juice helps to break the gluten strands making for a tender crumb.
And last, but not least, is the ultra-rich and silky Swiss meringue buttercream frosting. One taste and you'll know what I mean!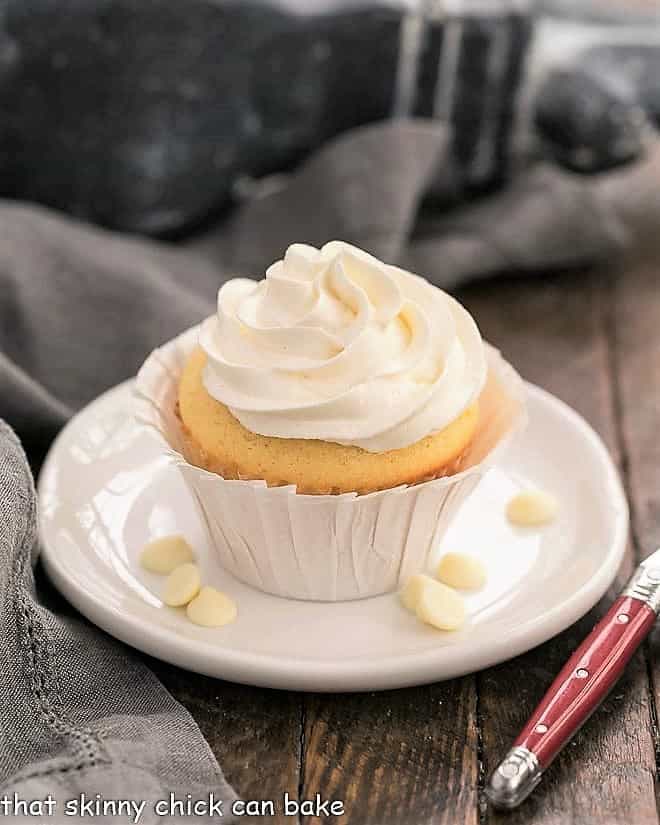 Expert Tips
Like with cakes, there are specific tips to make the best cupcakes. Reading through the recipe directions a couple of times before starting always helps, especially with recipes incorporating unfamiliar techniques, it is always recommended.
Ingredients like eggs and butter should be at room temperature for most cookies and cake recipes. In this case, the egg whites will be heated, so they do not need to be at room temp, but the whole eggs should.
To hurry the eggs along, set them in a bowl of hot, not boiling, water for about 15 minutes.
Use quality ingredients. No imitation vanilla or margarine instead of butter.
Use cupcake liners so your cupcakes don't stick. I like to drop the cupcake into a second liner to serve, especially if you have a pretty or festive one that fits the occasion.
PRO-Tip: Alternate adding your dry ingredients with the wet ingredients. This helps interfere with gluten formation by coating the first batch of flour with fat. Less gluten means more tender cupcakes! Always start and end with your dry ingredients as stated in the recipe.
Do not over-mix the batter. Again, you don't want to encourage gluten formation. Once the dry ingredients are mixed in, the batter is ready to scoop into your cupcake pans.
PRO-Tip: Use a 1/4 cup scoop (affiliate link) to divvy up the batter. This will help keep your all the cupcakes a consistent size.
Do not overbake or your cupcakes will be dry. Check the two testing methods in the questions above.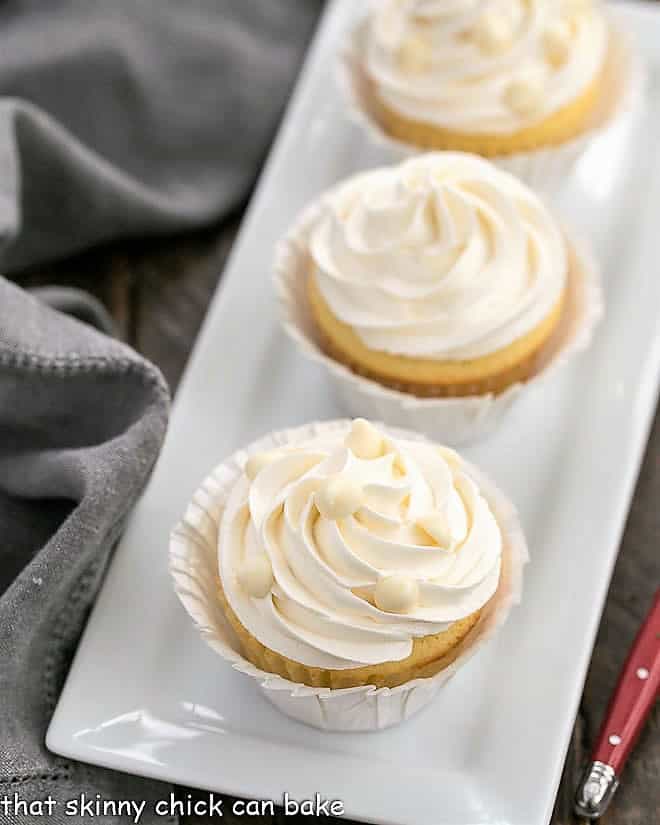 Frequently Asked Questions
What Makes Cupcakes Light and Fluffy?
Finding a great recipe is key. One tip is not to open the oven door to check on your cupcakes. The flow of cool air into the oven can hinder the rising process, making for denser cupcakes.

Also, make sure your baking powder (if used in the recipe) has not expired. If you spoon a little into some very hot water it should bubble vigorously. If it doesn't, you'll need to replace it. Unlike baking soda, baking powder has a much shorter shelf life.
What Makes Moist Cupcakes?
1. Use room-temperature butter. It will coat the protein molecules better than cold butter. Oil is the best for this but does not provide the beloved flavor that butter does.
2. Put paper liners in your cupcake tin and fill only 2/3 full. Having the same amount in each slot helps them all finish baking at the same time.
3. Make sure your baking powder has not expired.
4. Sift your dry ingredients so the leavening agent is well dispersed.
5. Measure your flour properly so you don't add, too much. Spoon flour into the measuring cup, then use a knife or offset spatula to swipe the excess from the top of the cup.

What is Swiss Meringue Buttercream?
Swiss meringue buttercream is a buttercream frosting made with egg whites, sugar, butter, and flavorings. It's not as sweet as American buttercream and is ultra-creamy. It is a stable frosting and because the sugar is cooked, it doesn't form a crust as it sits.
It's one of 3 types of buttercream frosting that is made with egg whites.
How Do You Know When Cupcakes are Done?
Tap the center of a cupcake with your index finger. If the indentation bounces back up, they're done. If the indentation remains, add a few more minutes of baking time. You can also use the toothpick test. Insert a toothpick into the middle of a cupcake or two. If the toothpick comes out clean, they're done. If there's batter on the toothpick, they need more time.
How Should You Store These Cupcakes?
Because of the buttercream frosting, keep these cupcakes in an airtight container in the refrigerator for 3-4 days. Before serving, bring them out of the refrigerator for 30-60 minutes to take the chill off.
You May Also Like:
My family loves cupcakes, especially Ghirardelli White Cupcakes! If cake is your preferred dessert, you must check out:
Stay in touch through social media @ Instagram, Facebook, and Pinterest. Don't forget to tag me when you try one of my recipes! And if you love the results, please give it a 5-star rating in the recipe card. Note: As an Amazon Associate, I earn from qualifying purchases. Visit my Amazon Store for my favorite products.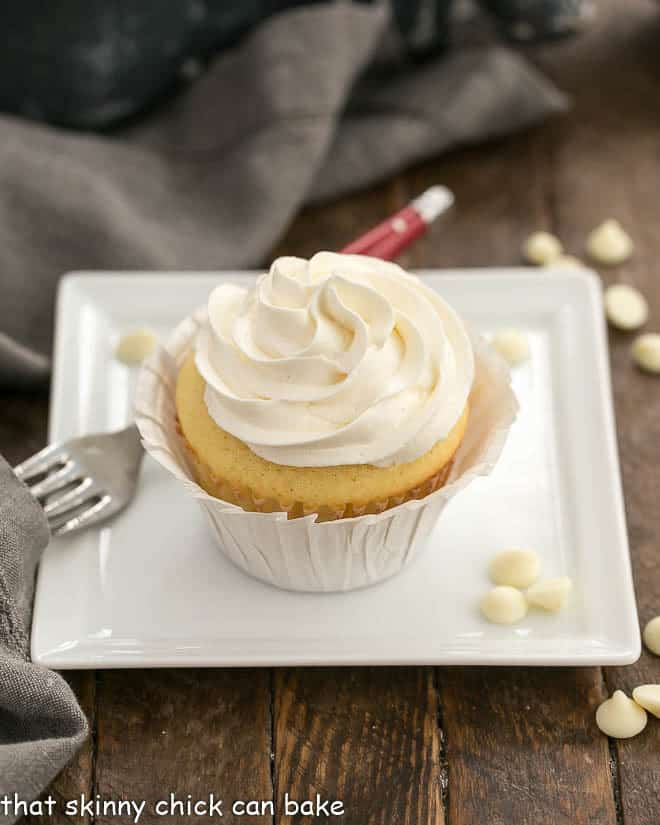 The Recipe:
Vanilla Cupcakes with White Chocolate Buttercream Recipe
Prep Time 40 minutes
Cook Time 23 minutes
Total Time 1 hour 3 minutes
Yield 14
Dreamy cupcakes for white chocolate lovers!
Ingredients
Cake:
1 3/4 cups plus 2 tablespoons flour
3/4 teaspoon baking powder
1/4 teaspoon salt
3/4 cup butter, at room temperature
1 1/2 cups sugar
3 eggs
3/4 cup whole milk
3/4 teaspoon fresh lemon juice
1 1/2 teaspoons vanilla extract
Frosting:
6 ounces white chocolate, chopped
4 eggs whites
1 cup plus 2 tablespoons sugar
1 cup plus 2 tablespoons butter, at room temperature
1 1/2 teaspoons vanilla
1 cup white chocolate chips
Instructions
Preheat oven to 350º. Line muffin tins with paper liners.
Whisk together flour, baking powder, and salt.
In a large bowl, beat the butter and sugar on medium speed till light.
Add eggs, one at a time, scraping bowl between additions.
Mix together milk, lemon, and vanilla. Add half this mixture to the batter. Mix until just blended, scraping down the sides of the bowl if necessary.
Add half the dry ingredients and mix in well, followed by the remaining milk mixture, then the rest of the flour. Scrape down the sides of the bowl between additions.
Divide batter into 14 or so spots in the muffin tins.
Bake in the middle of the oven for about 15 minutes (mine took 23 minutes) or until a tester inserted in the middle of the cupcakes comes out clean.
Cool for 10 minutes then remove the pans to a rack to finish cooling.
Melt the white chocolate in a microwave-safe bowl, gently in the microwave using 15-30 second intervals, stirring till melted. Cool to room temperature.
Combine the egg whites and sugar in the bowl of the mixer. Place bowl over a pot of simmering water so that the water comes a third of the way up the bowl.
Whisk the egg whites till just hot to the touch, about 1-2 minutes.
Use a mixer on high to whip the eggs till thick and cooled to room temperature, about 5 minutes.
Turn mixer speed to medium and add butter by tablespoon, making sure butter is mixed in before adding the next tablespoon.
Add the chocolate and vanilla and mix till smooth. If the icing is too runny, refrigerate briefly till it thickens.
Ice the cupcakes with the frosting and sprinkle with white chocolate chips.
Notes
Recipe adapted from The Ghirardelli Chocolate Cookbook
Make sure your egg whites are not contaminated with any yolk and that your mixing bowl and beaters are free from oil or grease or the egg whites will not whip properly.
I did not use all the frosting, so actual calories may be less.
Recommended Products
As an Amazon Associate and member of other affiliate programs, I earn from qualifying purchases.
Nutrition Information:
Yield:
14
Serving Size:
1 cupcake
Amount Per Serving:
Calories: 372
Total Fat: 22g
Saturated Fat: 13g
Trans Fat: 0g
Unsaturated Fat: 7g
Cholesterol: 130mg
Sodium: 218mg
Carbohydrates: 39g
Fiber: 0g
Sugar: 38g
Protein: 5g
It was Bill's birthday earlier this month. Despite my intent to freeze my age at 29, Bill will not let a birthday or anniversary go by without a celebration. So we made the best of it, and, of course, the birthday boy got to pick dessert. This year, these Ghirardelli Vanilla Cupcakes with White Chocolate Buttercream were his selection. It's the Swiss meringue buttercream that won him over nearly a decade ago. These are truly the Best Vanilla Cupcakes!
Sugar and egg whites were whisked over a double boiler, then beat till the mixture reached room temperature before melted white chocolate and loads of butter was whisked in. The recipe originated from The Ghirardelli Chocolate Cookbook, a souvenir from a family vacation in San Francisco. As I was flipping through the cookbook in Ghirardelli Square, I was encouraged by surrounding chocoholics to make the purchase.
Note: This post may contain affiliate links; view
my Disclosure Policy
for details. I earn a small percentage from any purchase you make by clicking on these links at no extra cost to you.