This Vanilla Chiffon Roll is filled with a dreamy walnut mousse and was hailed as a success by the nut-phobic husband!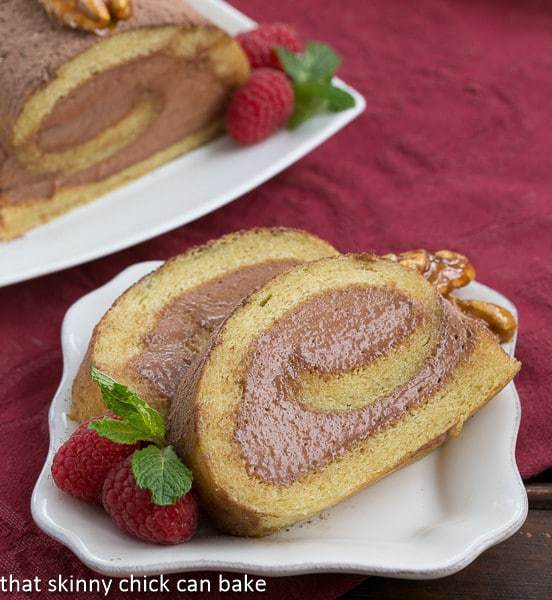 Well, this may be a first. The hubby ate a dessert that had a heck of a lot of walnuts in it. This gorgeous Vanilla Chiffon Roll was filled with a chocolate-walnut mousse. Granted, the walnuts were ground to a paste and indiscernible, but there was a cup and 2/3 of lightly toasted walnuts and even some walnut oil mixed into the filling. Nearly every bowl and spatula in my kitchen was utilized to make this jelly roll cake, but it was worth the effort…and the dish pan hands.


I used my half baking sheet to cook up the sponge cake, but it took nearly double the time listed in the recipe before it pulled away from the edges of the pan…and passed the finger test. I either use a toothpick to check for crumbs or a light tap with my finger to see if the cake bounces back to its original position to check for doneness. I felt it was thoroughly baked after 20 minutes…instead of the 10-12 listed in the recipe. It may have been my heavy duty Chicago Metallic baking pans, so use your discretion if you try this wonderful recipe from contributing baker, Mary Bergin. The hubby thought it was amazing…in fact, he said I could quote him, "I like walnuts I cannot taste."  Well, YEAH….I knew that!!!
Watch Julia and Mary Bergin make this recipe here. And check out the Tuesdays with Dorie site to see what the other members thought about this cake.