Homemade Twix Bars
These outrageously delicious Homemade Twix Bars have a shortbread crust, a decadent layer of caramel, and chocolate glaze. The perfect way to satisfy your sweet tooth!
If you're a Twix Bar fan, you'll love having these gooey caramel bars for an unforgettable indulgence.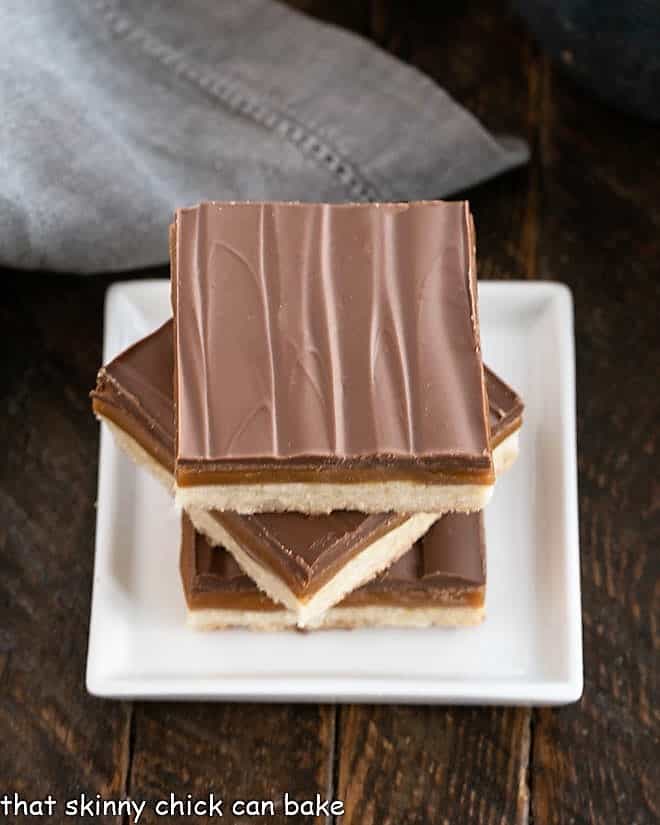 Homemade Twix Bars
I have made my friend, Danielle's, Better Than Twix Bars before, but it was in my first few months of blogging. I had approximately 1.2 followers. I needed a show-stopping recipe for a Christmas cookie exchange and I picked these caramel bars from oodles of her blog recipes that I had bookmarked.
Being someone who could just pour caramel sauce right into my mouth this layered caramel chocolate bar recipe was a no-brainer. There's the buttery shortbread base, the sweet and gooey caramel center, and a milk chocolate topping. Three textures, three flavors, and two thumbs up!
Txix Bar Recipe
None of the steps in this recipe are difficult. The biggest challenge is cutting them into neat bars since the shortbread crust tends to crumble. But this only seems to be a problem when you need to take photos, not if you need to eat them! The taste makes up for any imperfections. Cookies + Caramel + Milk Chocolate = Exquisite Twix Bars!!!!
What are Twix Bars?
If you're not familiar with Twix Bars, they came into existence in 1967 in the United Kingdom and made their way to the U.S. in 1979. Produced by Mars, Inc. the original Twix was a biscuit topped with caramel and milk chocolate. Now there are various flavor combinations along with different sizes and packaging options.
How Do You Make Homemade Twix Bars?
There are three layers in these bars, so three main steps.
First, using either a pastry blender or a food processor, make the shortbread crust.
Press the crust onto the bottom of the baking pan and bake. PRO-Tip: Line your baking pan with nonstick foil for easy removal from the pan for slicing (use the foil as a sling) and to prevent the caramel from sticking to the pan.
Next, melt the unwrapped caramels with the cream and spread over the cooled crust. Chill.
Finally, melt the chocolate and shortening and spread over the chilled caramel layer. Use a frosting tool to make a striated design across the top of the chocolate before it cools, if desired.
Chill bars until the topping is set. Slice and serve.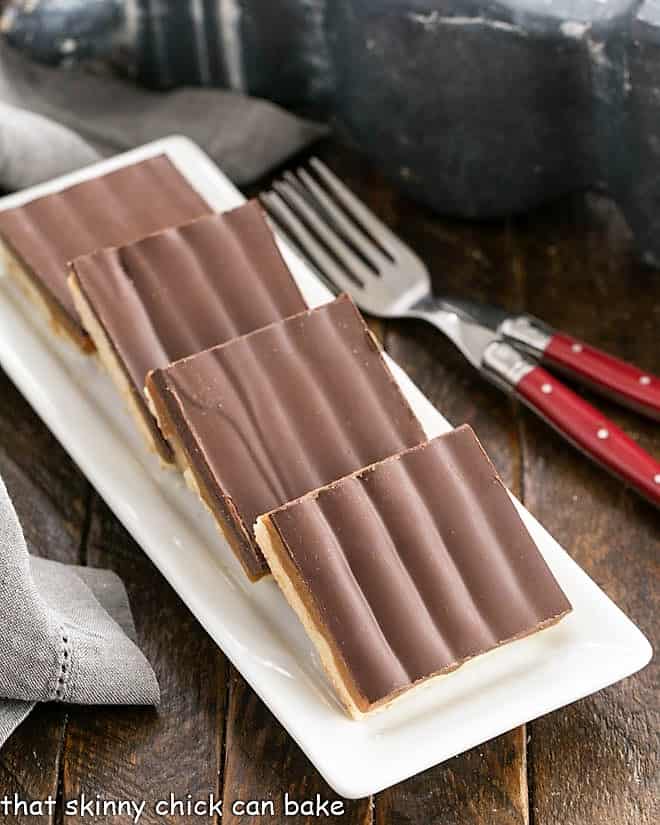 How to Store Caramel Chocolate Bars
Caramel Bars offer a challenge when storing since the gooey caramel can ooze a bit once they're cut. I recommend storing these in a single layer in an airtight container in the refrigerator. They can be frozen, but the chocolate layer may not be pristine when they're defrosted. Defrost in the refrigerator in the same container in which they were frozen. Note: once the bars are frozen, they can be stacked with a layer of parchment paper between the bars.
Chocolate Caramel Dessert Sensation!
The crisp shortbread base on these homemade Twix bars does tend to crumble when you cut into these decadent babies, but the taste will make up for any imperfections. Cookies + Caramel + Milk Chocolate = Exquisite Twix Bars!!!!
Thanks, Danielle, for sharing your baking creativity week after week. I still need you to visit me and give me piping and cookie decorating intervention. You'd better pack for a week!!!!
You can find Danielle on her blog, Hugs & Cookies XOXO, Facebook, or Twitter.
More Caramel Desserts
This recipe was first shared in January 2013. Photos and text were updated in 2021.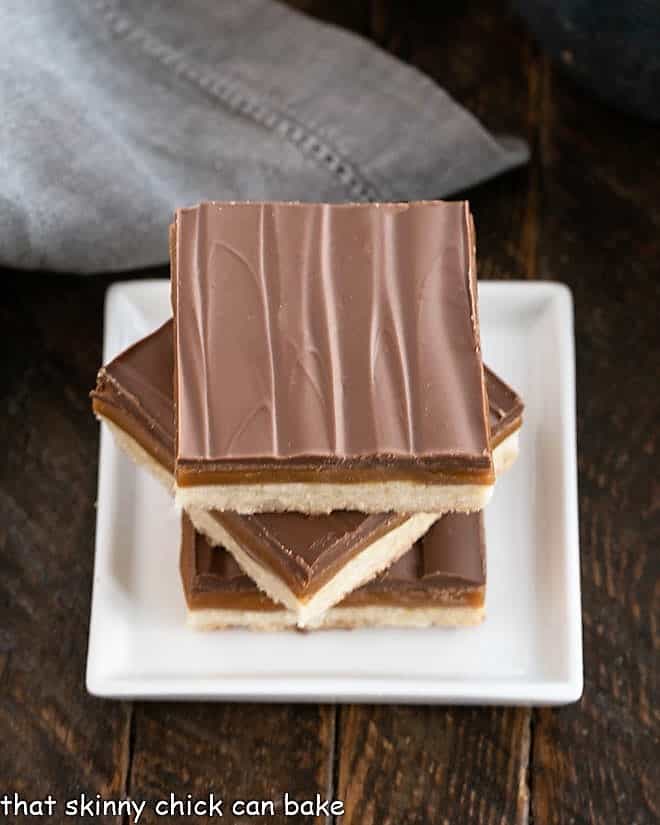 The Recipe:
Homemade Twix Bars
Prep Time 30 minutes
Cook Time 15 minutes
Total Time 45 minutes
Yield 24 bars
Decadent shortbread bars topped with caramel and milk chocolate.
Ingredients
Shortbread layer:
2 sticks cold butter, cut into small pieces
1/2 cup sugar
2 teaspoons vanilla
2 cups flour
Caramel layer:
20 ounces Werther's Original Chewy caramels, unwrapped of course!
3 tablespoons heavy cream
Chocolate layer:
18 ounces milk chocolate, chopped (I used Ghirardelli Bars but chocolate chips are an alternative)
1 tablespoon vegetable shortening (optional, I used to make the topping more glossy)
Instructions
For the crust: Preheat oven to 350°. Line 9" x 13" pan with nonstick foil. Set aside.
Using a pastry blender cut butter into the sugar. Use fingers to break up the butter, till the mixture resembles cornmeal.
Add vanilla. Add the flour.
Mix till flour is incorporated. The mixture will be crumbly. Alternatively, you can mix in the food processor.
Press it evenly into the pan. Lightly flouring your fingertips will help with any sticking.
Prick the crust all over with a fork.
Bake 15 minutes until the crust is lightly golden brown on top and the edges are deeper golden brown. Set it aside to cool completely.
For the caramel layer: Melt the caramel and cream over low heat in a small saucepan. (or use the microwave, stopping and stirring at 30-60 second intervals till smooth and melted). Pour the caramel over the cooled crust and set in the refrigerator for 30 minutes to chill and firm up.
For the Chocolate Layer: Melt the chocolate and shortening in by microwaving using 30-second increments, stopping and stirring till melted and smooth. Spread over caramel with an offset spatula. I also used a plastic frosting tool to make optional striations while the chocolate was warm.
Let cool before cutting. Store in an airtight container in the refrigerator to minimize the caramel oozing.
Notes
You can also use Kraft caramels, but I prefer the taste of Werther's.
I've tested a number of crusts, but they all seem to crumble a bit when the bars are sliced. They will still taste amazing!
The caramel will ooze, so these are best stored in the refrigerator. Cut into squares right before serving if you want the cleanest slices.
Nutrition Information:
Yield:
24
Serving Size:
1 bar
Amount Per Serving:
Calories: 338
Total Fat: 17g
Saturated Fat: 10g
Trans Fat: 0g
Unsaturated Fat: 6g
Cholesterol: 29mg
Sodium: 136mg
Carbohydrates: 43g
Fiber: 1g
Sugar: 31g
Protein: 4g
Note: This post may contain affiliate links; view
my Disclosure Policy
for details. I earn a small percentage from any purchase you make by clicking on these links at no extra cost to you.