Chocolate Layer Cake with Vanilla Buttercream
Today, I'm featuring an outrageously delicious Chocolate Layer Cake with Vanilla Buttercream. You'll want a big glass of chilled milk with your slice!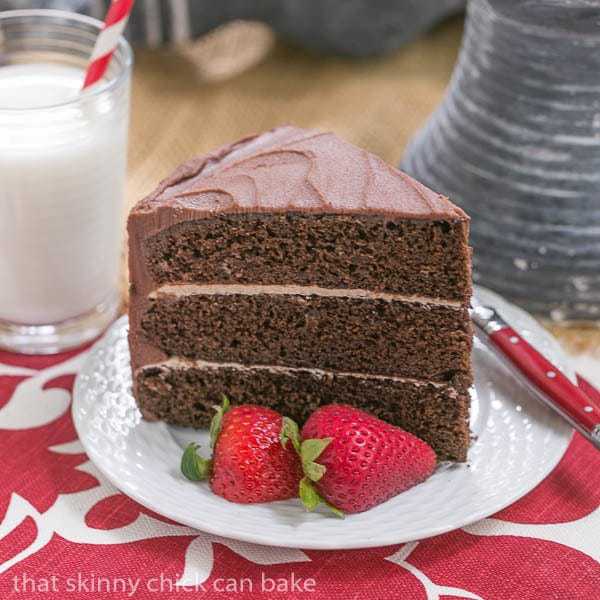 Chocolate Layer Cake for National Dairy Month
Did you know June is National Dairy Month? The change of seasons is a cue to dust off the ice cream maker in preparation for the hot, humid weather to come. My fridge is always stocked with butter, milk, buttermilk, cream, yogurt and a variety of marvelous cheeses—waiting for the perfect recipe. So if you're a huge dairy fan like me, you'll want to pick up a copy of The Dairy Good Cookbook: Everyday Comfort Food from America's Dairy Farm Families. 113 delicious recipes are featured, all easy to make and many paired with a snippet from the dairy farmer who contributed the recipe.
One of the goals of this cookbook is to connect people to those that produce their food. This gem spotlights the hardworking farmers who put the milk on our table–as we sometimes forget the dairy doesn't magically appear on the grocery store shelves. From recipes for lunch, dinner, snacks, and desserts, like this Chocolate Layer Cake with Vanilla Buttercream, as well as celebratory dishes for all occasions, you'll see how dairy is integral to the American menu as well as garner inspiration to cook up some terrific dishes.
Chocolate Layer Cake with Vanilla Buttercream
I have tabbed numerous pages in this cookbook, but the one that first grabbed my attention first was this Chocolate Layer Cake with Vanilla Buttercream. According to my family, I don't bake nearly enough cakes! It was a done deal once I showed them the photo in the cookbook. My youngest was home from college for the summer and we were having the first family dinner since Easter. A chocolate dessert is always in order for our family gatherings. Wouldn't yours give this cake rave reviews? Mine did.
Each chapter profiles real-life dairy farm families from across the country that work tirelessly to provide you with fresh, wholesome and nutritious milk and other dairy products. The most compelling of those mentioned was a Wisconsin dairy family whose relatives settled in the Milwaukee area in 1875. The Koepke Family Farms has won soil conversion awards for their system of terraces, which prevents erosion, and their practice of crop rotation, which is imperative for good soil. As the suburbs grew to their boundaries, these farmers worked on developing relationships with their new neighbors, selling their cheeses and dairy products at the local farmers' market.
And there just may be a connection to my family. First of all, my father-in-law was raised on a dairy farm in Northern Wisconsin. And his brother-in-law shared the last name of Koepke with these dairy farmers. Makes me wonder. This cookbook is chockfull of must-make recipes like Apple-Pecan Coffee Cake, Blackened Fish Tostadas with Watermelon Salsa, Artichoke and Roasted Red Pepper Yogurt Dip, Parmesan Chicken Fettuccine, Buttermilk Brownies, and Pumpkin Date Stack Cake with Mascarpone Frosting to name a few. The Dairy Good Cookbook can be purchased wherever books and e-books are sold, including Amazon, Barnes and Noble and Indie Bound. You'll definitely want to add this to your repertoire!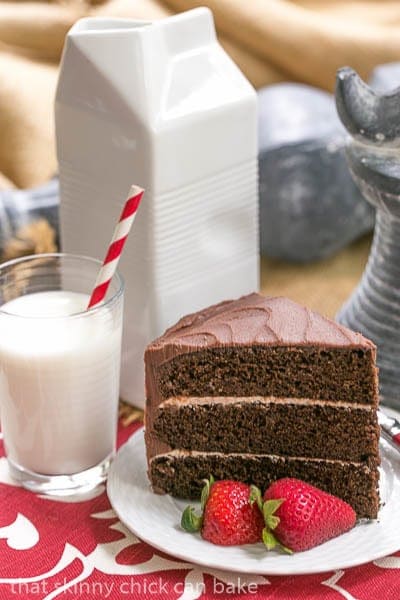 More Chocolate Cake Recipes: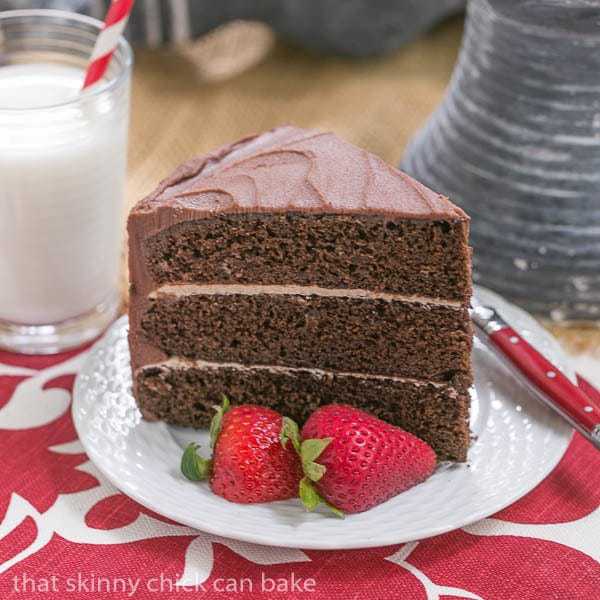 The Recipe:
Chocolate Layer Cake with Vanilla Buttercream
Prep Time 30 minutes
Cook Time 30 minutes
Total Time 1 hour
Yield 12 servings
An indulgent, celebratory chocolate layer cake filled with vanilla butterceam
Ingredients
Cake:
Softened butter, for the baking pans
1 cup unsweetened cocoa powder
1/2 cup unsalted butter, softened
1 3/4 cups granulated sugar
3 large eggs, at room temperature
1 1/2 teaspoons vanilla extract
2 1/4 cups all-purpose flour
2 teaspoons baking powder
1/2 teaspoon baking soda
1/2 teaspoon salt
Filling:
2 cups powdered sugar
4 tablespoons unsalted butter, softened
2 tablespoons vanilla extract
Frosting:
3/4 cup chocolate chips
1/2 cup heavy cream
4 tablespoons butter
2 1/2 cups powdered sugar
Instructions
For the cake, preheat the oven to 350ºF. Butter three 9-inch round nonstick cake pans and line the bottoms with waxed paper.
Bring 2 cups of water to a boil in a medium saucepan over medium-high heat. Remove from the heat, add the cocoa powder, and whisk until smooth. Allow to cool to room temperature, about 30 minutes.
Beat the butter in a large mixing bowl with an electric mixer on medium speed for 1 minute. Add the granulated sugar and beat until fluffy, about 2 minutes, scraping down the sides of the bowl occasionally. Add the eggs and vanilla extract and beat until well blended.
In a separate bowl, whisk together the flour, baking powder, baking soda and salt. Alternately add the dry ingredients and the cooled cocoa mixture to the butter mixture in three additions. Beat until thoroughly mixed.
Divide the batter evenly among the prepared pans. Bake for 25 to 30 minutes or until a cake tester inserted in the centers of the cakes comes out clean. Transfer the pans to wire racks. Let cool in the pans for 10 minutes. Remove the cake layers from the pans and gently peel off the waxed paper. Let cool completely.
For the filling, beat together the powdered sugar, butter, and vanilla extract until smooth and spreadable. Set aside.
For the frosting, combine the chocolate chips, heavy cream, and butter in a medium saucepan over medium-low heat, whisking until melted. Gradually add the powdered sugar and whisk thoroughly. Remove the pan from the heat and place in a large bowl that is partially filled with ice to cool, 5 to 10 minutes. Stir occasionally while cooling to prevent the frosting from becoming too stiff.
To assemble the cake, place a layer on a serving plate. (Use a serrated knife to trim the cake layers to a level surface if necessary.) Spread with half the filling. Add the second layer and spread with the remaining filling. Top with the third cake layer. Spread the cooled frosting on the top and sides of the cake.
Serve immediately or cover the cake with a large bowl or a cake keeper and refrigerate up to 3 days. Let the cake stand at room temperature for 3 minutes before serving.
Notes
This recipe is used with permission from The Dairy Good Cookbook, Andrews McMeel Publishing, LLC.
Nutrition Information:
Yield:
12
Serving Size:
1
Amount Per Serving:
Calories: 642
Total Fat: 25g
Saturated Fat: 15g
Trans Fat: 0g
Unsaturated Fat: 8g
Cholesterol: 101mg
Sodium: 285mg
Carbohydrates: 100g
Fiber: 3g
Sugar: 76g
Protein: 6g
Note: This post may contain affiliate links; view
my Disclosure Policy
for details. I earn a small percentage from any purchase you make by clicking on these links at no extra cost to you.