Tomato Tart with Gruyère
If you're lucky enough to have access to fresh garden Roma tomatoes, this Tomato Tart with Gruyère is a recipe you don't want to miss!
When you have tons of fresh tomatoes and have overdosed on BLT's and Caprese Salads, a Tomato Tart Recipe is a delicious solution.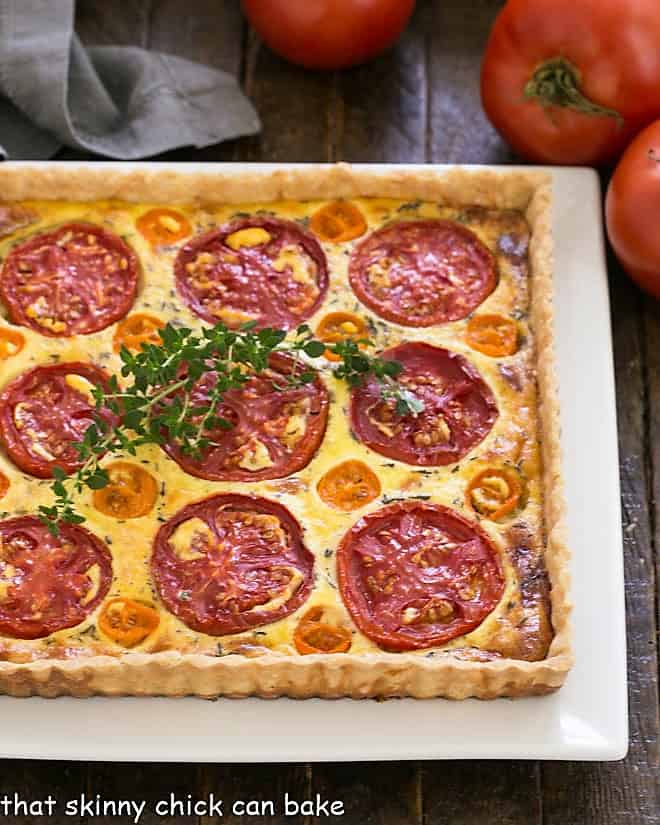 Why You Must Make
I first baked this tart recipe when I was making dinner for some friends going through a kitchen remodel. I wanted to add something else to the menu. What is more summery than a recipe using fresh tomatoes? This Tomato Tart with Gruyère exceeded my expectations. With its crispy crust and wonderfully flavorful tomato filling, it would be wonderful any time of the day!
If you have fresh garden tomatoes, this tomato tart will be pure bliss. But I bet it's pretty darned tasty even with decent off-season tomatoes. Meaty Romas are perfect, but any tomato will do.
This combination of tomatoes, herbes de Provence (or thyme), and Gruyère is a tried and true winner.
You'll be sneaking slices of leftover tart out of the fridge; it's just that irresistible. That is IF you have leftovers! I'm not sure this sort of tart is actually served in France, but if it's not, it should be!
Ingredient Notes
Kitchen Staples – All-purpose Flour, Salt, Eggs, Freshly Ground Black Pepper, Ice Water
Semolina Flour – Often used to make pasta, this durham wheat flour is coarser than all-purpose flour.
Butter – Cold will make a flakier crust
Shortening – Cold will keep the dough cooler
Gruyère Cheese – Grated. A nutty cow's milk Swiss cheese. May substitute another Swiss cheese.
Herbes de Provence – A blend of herbs usually containing lavender, marjoram, rosemary, sage, thyme, and summer savory. I've used thyme instead.
Plum Tomatoes – Or any good quality tomatoes, fresh garden tomatoes are ideal. Slice and drain on paper towels to remove excess juices. This will prevent the juice from diluting the tart filling.
Half and Half – Makes for a rich custard filling.
Dijon Mustard – Adds flavor to the custard.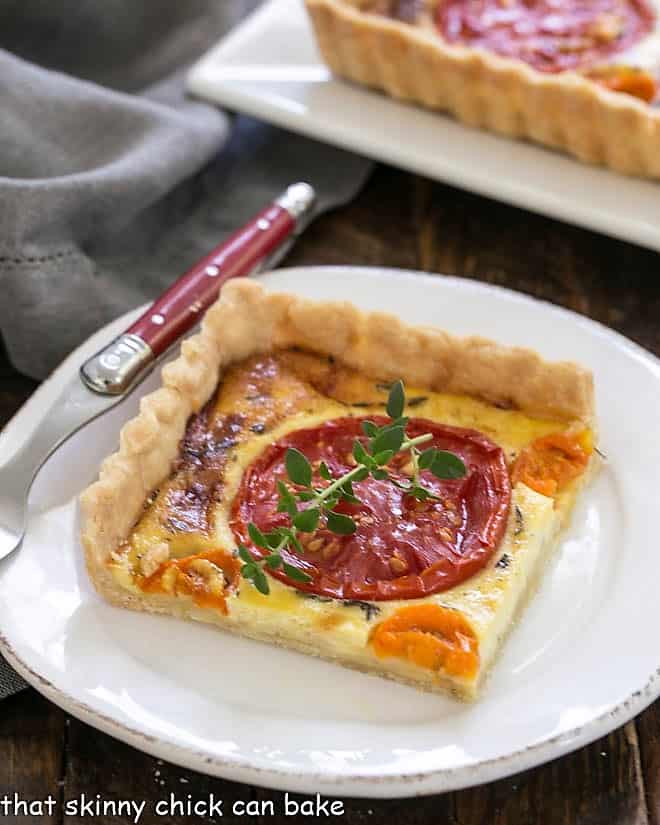 Recipe Tips
Made with fresh garden tomatoes, this tomato tart will be pure bliss. But I bet it's pretty darned tasty even with decent off-season tomatoes. Meaty Romas are perfect, but any tomato will do.
PRO-Tip: Make sure to let your slices drain on a couple of layers of paper towels before adding them to the tart so there's no excess juice to water down your filling.
Placing the grated cheese right over the crust provides a barrier between the crust and the custard. This minimizes a soggy crust.
The recipe that inspired this dish uses 12 sliced plum tomatoes and overlaps the slices to cover the whole surface of the tart. I used fewer tomatoes, did not overlap my slices, and supplemented with a few yellow grape tomatoes to fill the spaces. Feel free to use more or less, depending on your mood!
Making your crust in a food processor is super easy. Note that for the flakiest crust, it's best to chill your dough before rolling it out. You can also rechill it after putting it in the tart pan, then baking.
Pricking the bottom of the crust with a fork and using pie weights keeps the bottom crust flat against the bottom of the pan.
You May Also Like
This recipe was first shared in July 2011. Photos and text were updated in 2020.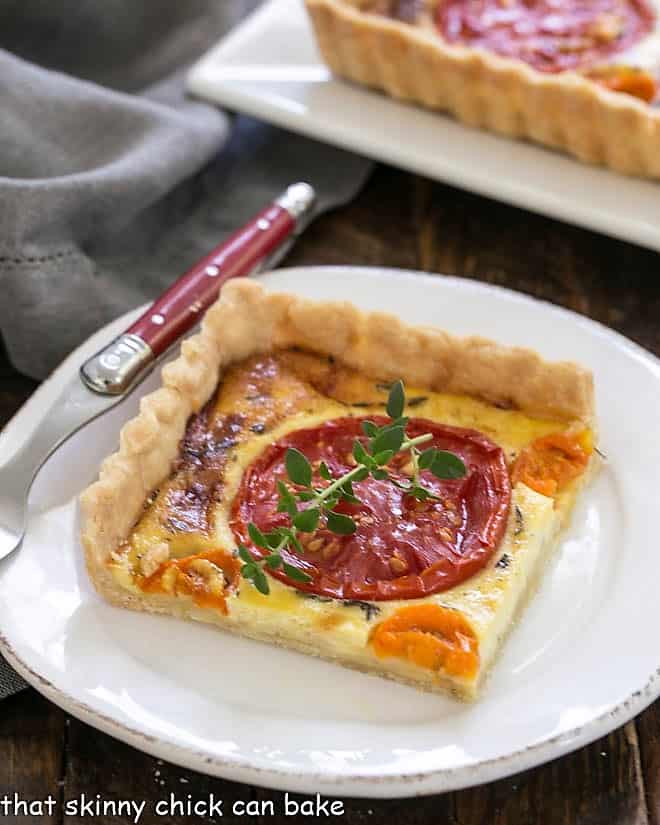 The Recipe:
Tomato Tart with Gruyère
Prep Time 15 minutes
Cook Time 1 hour 10 minutes
Total Time 1 hour 25 minutes
Yield 9 servings
A lovely summer tomato tart with Gruyere and herbs
Ingredients
Crust:
1¼ cups flour
1½ tablespoons semolina flour (1 tablespoon plus 1 teaspoon plus ½ teaspoon)
½ teaspoon salt
6 tablespoons cold butter, cut into small cubes
1½ tablespoons cold shortening (1 tablespoon plus 1 teaspoon plus ½ teaspoon)
2+ tablespoons ice cold water
Filling:
6-12 plum tomatoes, cut into 1/4 inch slices, and allowed to drain on paper towels
1 cup grated Gruyère
1 teaspoon herbes de Provence (I've used dried thyme, too)
2 eggs
¼ cup half and half
1 teaspoon Dijon mustard
1 teaspoon salt
Freshly ground black pepper to taste
Instructions
To prepare the crust, put both types of flour and salt in the food processor and pulse to combine. Add butter and shortening and pulse till the mixture looks like cornmeal.
Remove to bowl and sprinkle with 2 tablespoons of ice water.
Mix to combine, and gather together to form a ball. If not holding together, slowly add more ice water. Flatten the dough ball into a disk, wrap it in plastic wrap, and refrigerate for at least 30 minutes.
Roll out dough to ¼-inch thickness and fit into a 9-inch square tart pan (or another tart pan of comparable size), then trim excess dough. Chill for another 30 minutes.
Preheat oven to 400º. Prick the bottom of the tart with a fork, then line it with parchment and cover the parchment with pie weights (or dried beans). Bake for 10 minutes. Remove from oven, remove paper and weights, and allow to cool as the filling is prepared.
Decrease oven temperature to 375º. Sprinkle the bottom of the tart with Gruyère, then herbs de Provence. Top with tomato slices arranged in a lovely pattern (overlap and completely cover the top of the tart if using 12 tomatoes).
Whisk together eggs, half and half, mustard, salt, and pepper. Pour over the tart, adding more cream if needed.
Bake for about 1 hour, till custard is set. Cool on a wire rack slightly before serving.
Notes
Total time does not reflect chilling time for dough. Adapted from Once Upon a Tart.
Recommended Products
As an Amazon Associate and member of other affiliate programs, I earn from qualifying purchases.
Nutrition Information:
Yield:
9
Serving Size:
1
Amount Per Serving:
Calories: 239
Total Fat: 16g
Saturated Fat: 9g
Trans Fat: 0g
Unsaturated Fat: 6g
Cholesterol: 79mg
Sodium: 541mg
Carbohydrates: 16g
Fiber: 1g
Sugar: 1g
Protein: 8g
Note: This post may contain affiliate links; view
my Disclosure Policy
for details. I earn a small percentage from any purchase you make by clicking on these links at no extra cost to you.