Strawberry Soufflés with Fresh Strawberries
Today, I'm bringing these light-as-air Strawberry Soufflés with Fresh Strawberries to a virtual baby shower! Along with some fabulous bloggers, we're celebrating all things PINK!
Even if you think Soufflé Recipes are daunting, give this one a try! Scroll down for all my tips for making this elegant dessert.
Why You Must Make
There are less than 10 ingredients.
Besides the delicious recipe, I'll provide you with some soufflé making tips to help your first and subsequent attempts successful. Make sure to watch the video in the recipe card below to show you exactly how to make these.
These soufflés are light and fluffy, so they're perfect after a heavy meal.
Plus, this is a relatively healthy dessert. With a sweetened fruit puree and whipped egg whites as ingredients, you actually get some nutritional benefits from these babies! And the flavor is simply divine.
Ingredient Notes
Kitchen Staples – Butter, Sugar
Fresh Strawberries – Half are pureed for the soufflé, half are sliced to garnish. When selecting your berries, make sure they are glossy, red without white, green, soft, or moldy spots, and fragrant.
Fresh Lemon Juice – Avoid bottled juice off the shelf as it's not as tasty as freshly squeezed.
Cornstarch – Helps stabilize the egg whites.
Egg Whites – Separate the eggs when cold as the yolk is less likely to break. Beat when the whites are at room temperature for the best volume. Make sure your egg whites don't get contaminated with grease, oil, or egg yolk as any fat will prevent them from whipping properly.
Grand Marnier – An optional ingredient. Alcohol is a flavor enhancer like salt, plus it's a nice way to add a touch of orange flavor to the soufflés.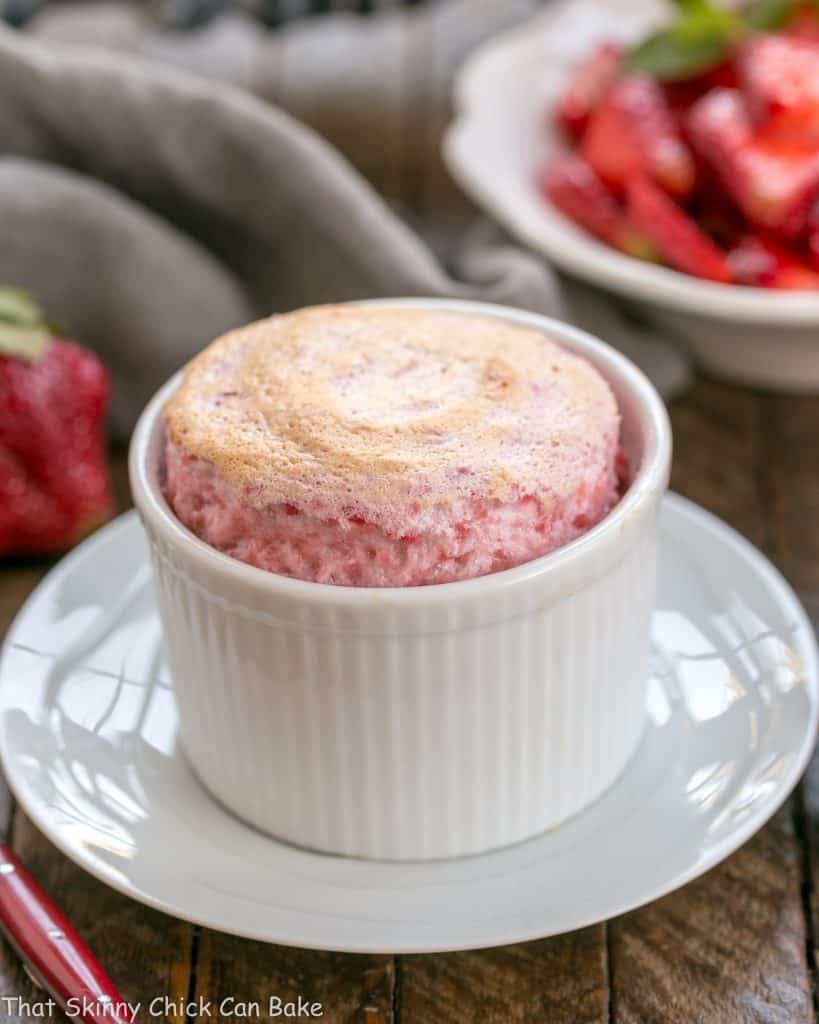 Recipe Tips
Use a straight-sided, oven-safe dish. It doesn't need to be a "soufflé" dish. Just be mindful of the shape of your container. I used (affiliate link) 8 ounce porcelain ramekins.
PRO-Tip: Butter the dishes, then dust them with sugar. This will help with a better height for these souffles as the batter will have the sugar to hold onto as it rises.
PRO-Tip: Run your finger around the edge of each soufflé before baking This little trench in the batter will also help create a higher result.
PRO-Tip: Make sure your mixing bowl is free from any oil or grease. Your egg whites will not whip properly if exposed to oils.
Slightly older eggs will make the fluffiest whipped egg whites!
Don't overbeat your egg whites. You want firm peaks, but they should not be dry.
PRO-Tip: You'll know you have firm peaks when lifting the beaters from the bowl and the peak that forms keeps its shape.
Don't overfold your puree into the egg whites as you will deflate your batter.
Supposedly, you can freeze unbaked soufflés for a month. Wrap them well, defrost for 30 minutes at room temperature, and double the baking time. I have not tested this.
PRO-Tip: Since these berry souffles deflate within minutes after coming out of the oven, you'll want to bake just before serving.
Make it an interactive dessert by having guests join you in the kitchen while you're prepping. What fun to watch these poof up in the oven!
Note: You may have heard that you should not open or slam the oven door while souffles are baking. Apparently, this is just an old wive's tale. But to keep the oven temperature stable, it's best to use the oven light to peer in the oven instead of opening the door.
Frequently Asked Questions
Why Does a Soufflé Fall?
A soufflé can fall if the egg whites aren't beaten long enough or if they're beaten too long. They should reach firm peaks so make sure they go just beyond soft peaks and keep their shape when the beaters are lifted. If they're under-beaten, you'll see the peaks retreat back into the bowl instead of keeping their shape.
Also, if the door of your oven is opened frequently during the baking process, the influx of cold air can also prevent your soufflé from setting properly.
Can Soufflés Be Made Ahead of Time?
Yes, you can make them up to 2 days ahead of time. Prep the ramekins, add the souffle batter, cover, and refrigerate. You will need to bake them an extra minute or two since you'll place them into the oven when they're cold.
Should You Garnish a Souffle?
Soufflés are quite impressive without garnishing, but fruit or fruit sauces with a sprig of mint can be used. Pass a complimentary sauce when serving or place some sliced fruit on the plate holding the warm soufflé.
You May Also Like:
Stay in touch through social media @ Instagram, Facebook, and Pinterest. Don't forget to tag me when you try one of my recipes! And if you love the results, please give it a 5-star rating in the recipe card. Note: As an Amazon Associate, I earn from qualifying purchases. Visit my Amazon Store for my favorite products.
The Recipe:
Strawberry Soufflés with Fresh Strawberries Recipe
Prep Time 20 minutes
Cook Time 17 minutes
Total Time 37 minutes
Yield 6 servings
Lovely souffles made with fresh strawberries. Adapted from Bon Appétit.
Ingredients
Butter, to grease ramekins
24 ounces fresh strawberries, divided
2 teaspoons fresh lemon juice
11 tablespoons sugar, divided, plus more to dust ramekins
1 tablespoon cornstarch
4 egg whites
1 teaspoon Grand Marnier, optional
Instructions
Butter six 8-ounce ramekins and dust with sugar. Set aside.
Preheat oven to 400º. Set ramekins on a baking sheet.
Coarsely puree half the berries with 6 tablespoons of sugar, lemon juice and cornstarch. Pour into a small saucepan and cook on medium till puree boils and thickens. Cool completely.
Slice the remaining berries and add 2 tablespoons of sugar and 1 teaspoon of Grand Marnier. Mix and taste for sweetness. Add more sugar if needed. Set aside.
Beat egg whites till foamy.
Slowly add in the remaining 3 tablespoons of sugar and whip till stiff peaks form.
Slowly fold puree into egg whites, one-third at a time.
Divide between the six ramekins and smooth tops with an offset spatula. Run a finger around the perimeter of each soufflé to make a slight indentation in the soufflé.
Slide the tray of ramekins into the oven and bake for 14-17 minutes or till soufflés are puffed and golden.
Serve immediately with sliced berries.
Nutrition Information:
Yield:
6
Serving Size:
1 souffle
Amount Per Serving:
Calories: 159
Total Fat: 2g
Saturated Fat: 1g
Trans Fat: 0g
Unsaturated Fat: 1g
Cholesterol: 5mg
Sodium: 53mg
Carbohydrates: 33g
Fiber: 2g
Sugar: 29g
Protein: 3g
Pink Dishes for a Virtual Baby Shower!
Meet our guest of honor: Katherine! Katherine blogs over at Love In My Oven and is the proud momma to two boys and a soon-to-arrive baby girl!!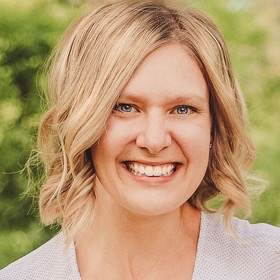 You don't need to know Katherine to join in the fun, just enjoy all of the pink-themed recipes the bloggers are bringing to the party! Scroll down to see what the bloggers are sharing, and click on the links to hop over to their blogs to check their recipes out. And definitely try these light-as-air strawberry souffles!!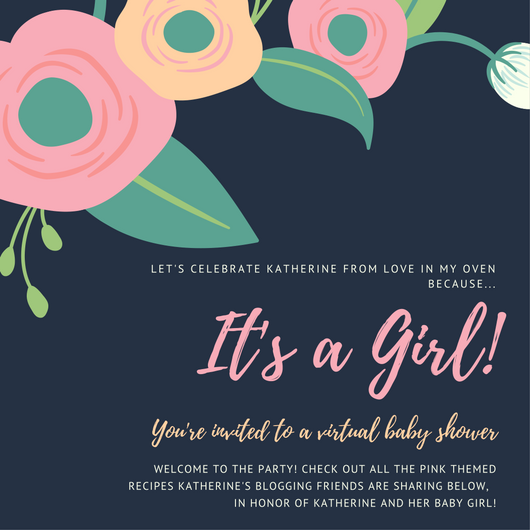 STRAWBERRY SOUFFLÉS WITH FRESH STRAWBERRIES from That Skinny Chick Can Bake
Thanks for joining the party and I hope you enjoyed all of these fun recipes! Follow my Delectable Desserts Pinterest Board for more amazing desserts!
Note: This post may contain affiliate links; view
my Disclosure Policy
for details. I earn a small percentage from any purchase you make by clicking on these links at no extra cost to you.