Strawberry Glazed Salmon
Perfectly roasted, this Strawberry Glazed Salmon is healthy and scrumptious! A quick, flavorful strawberry sauce is used as a glaze, then spooned over the seafood to serve.
This Easy Baked Salmon is definitely an out-of-the-ordinary entree. The sweet and savory glaze pairs perfectly with the rich salmon is easy enough for weeknights, but tasty enough for company.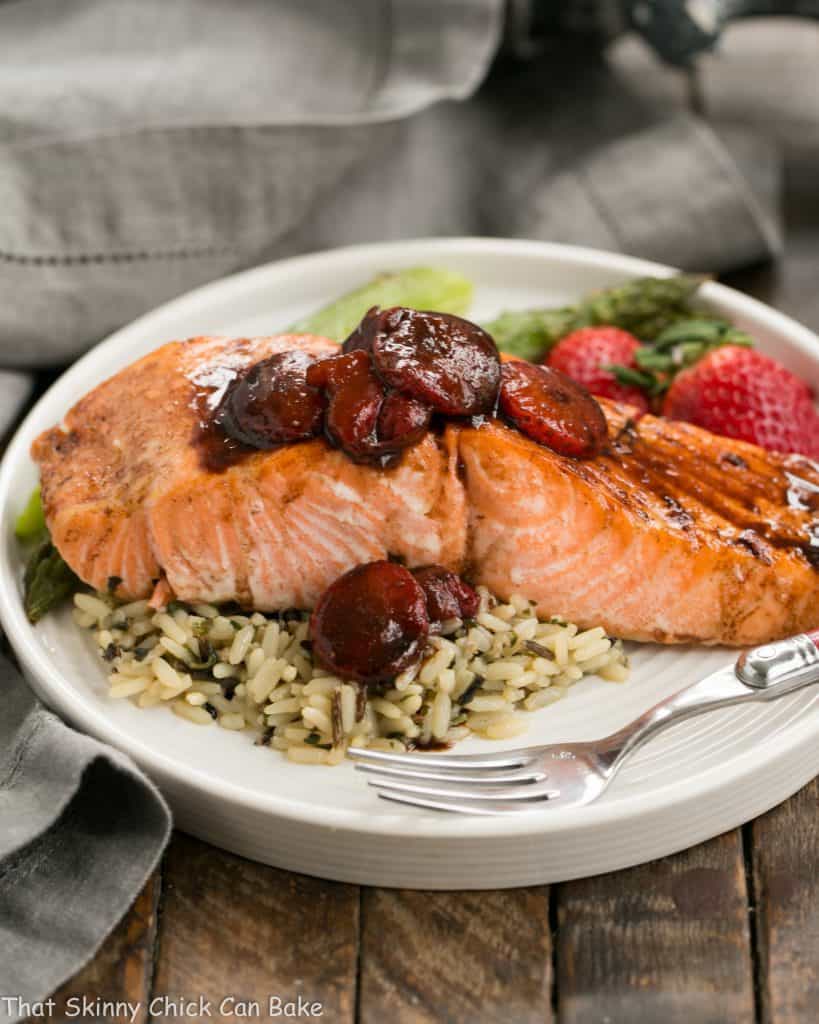 Why You Should Make this Salmon with Strawberry Sauce
Bright, beautiful, and fragrant Florida strawberries have finally made their way into the Indianapolis markets. The season for these delicious, ripe, winter berries runs from December through April.
Beautiful ripe, winter strawberries were my inspiration for making this healthy oven-roasted salmon for my family.
I love serving this Strawberry Salsa Topped Salmon, but with wind chills below zero, it seemed way too summery. Instead, this combination of more earthy, savory ingredients including shallots, garlic, brown sugar, balsamic vinegar and Dijon mustard along with juicy sliced strawberries was the perfect way to enhance the salmon.
Simmered until thickened, this mixture made a quick strawberry glaze to brush on and serve with my roasted salmon. It's such an easy recipe!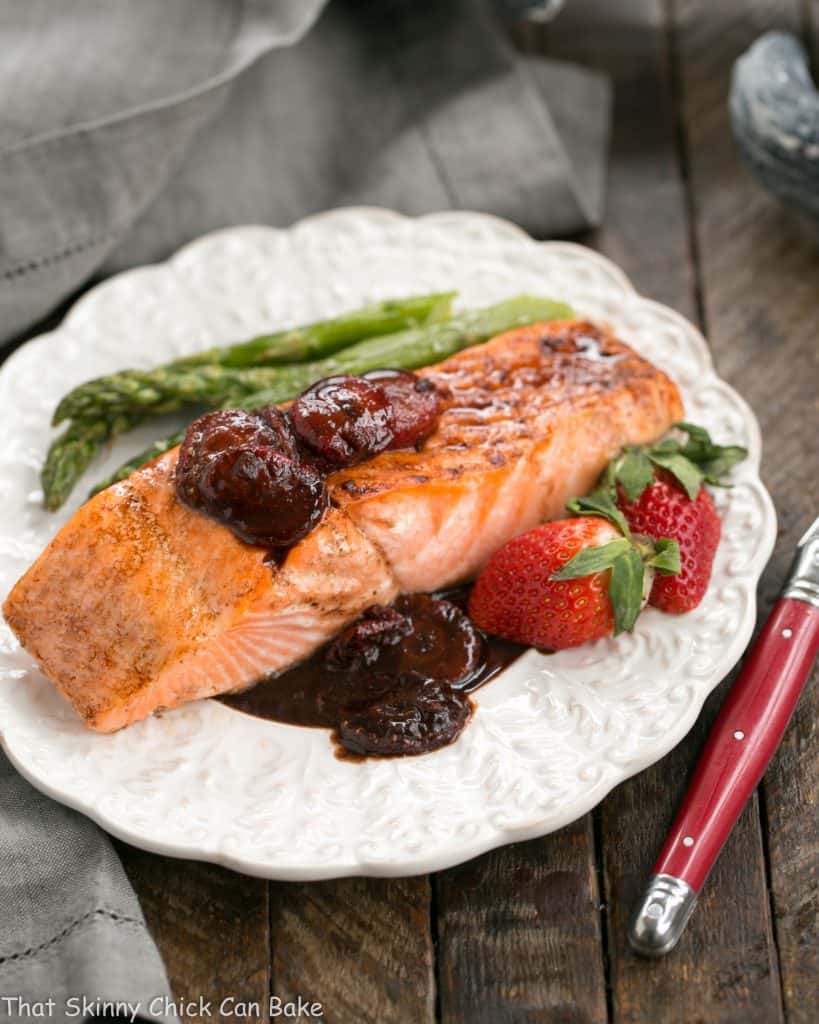 Easy, Elegant Roasted Salmon
Nick was home for winter break, and as long as he doesn't have to cook it, he eats it. The picky hubby, on the other hand, needed to give it his seal of approval before this Strawberry Glazed Salmon was declared blog-worthy.
It was love at first bite. The tangy strawberry glaze paired well with the sweet wild salmon. A heavenly match. This glaze would also be wonderful on chicken, but the pairing with salmon won me over! We also love Oven Roasted Salmon with Mustard and Mayonnaise. You might also enjoy this delicious Grilled Swordfish with Garlic Soy Marinade.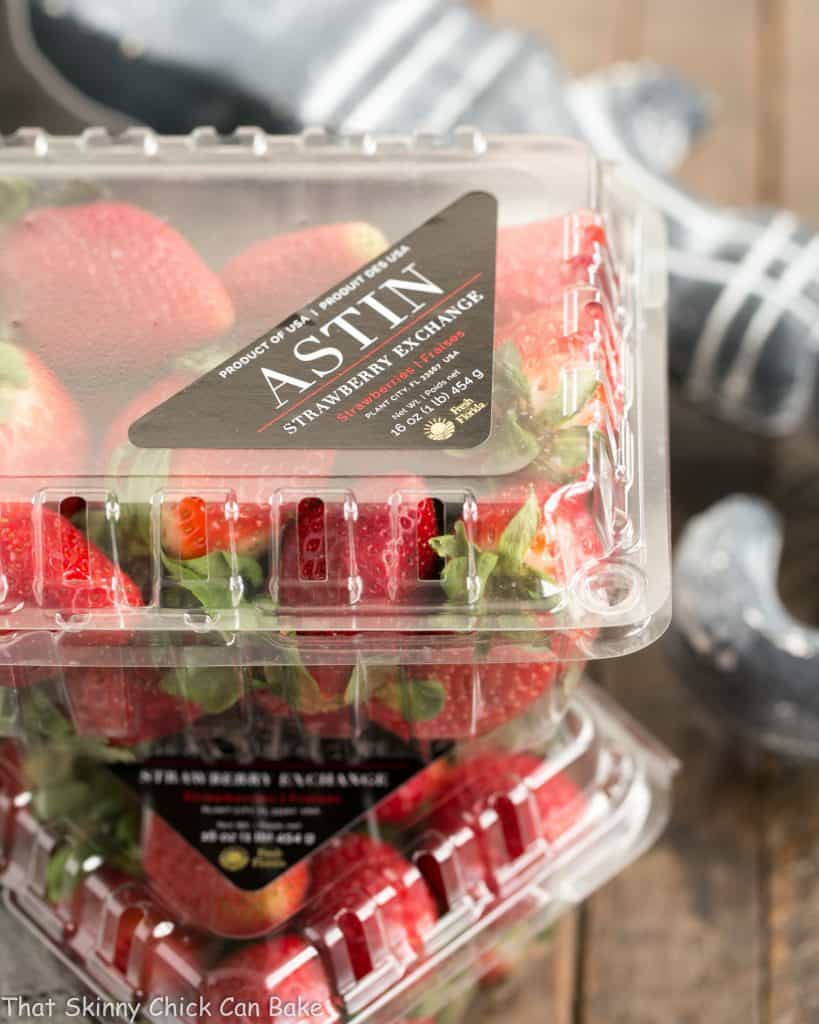 Strawberry Facts
I finally spotted some beautiful berries in the market. And they smelled like strawberries! When I glanced down at the package, I saw Plant City, Florida, on the label. Florida strawberries had finally made their way north!! For local readers, I have spotted Florida strawberries at Meijer, Whole Foods, and Fresh Market. As mentioned above, they are in season from now until April.
Besides tasting amazing, these berries have great nutritional value! 8 strawberries have more Vitamin C than one orange, are fat-free and rate 100 on Yale's Overall Nutrition Quality Index, providing the most vitamins and minerals with the fewest calories! They were one of only 3 foods ranking that high. Those are enough reasons to search out some delectable Florida strawberries and add them to your shopping cart!
When shopping for strawberries, look for those that are firm and plump with a bright glossy red appearance. They should also be fragrant. Check the stem end for bright green, fresh leaves.
Then when you get the berries home, store them in your crisper. They can stay in the plastic clamshell container for up to a week, depending on how fresh they were when purchased.
Do not wash until you're ready to cook with your berries or serve them.
You May Also Like: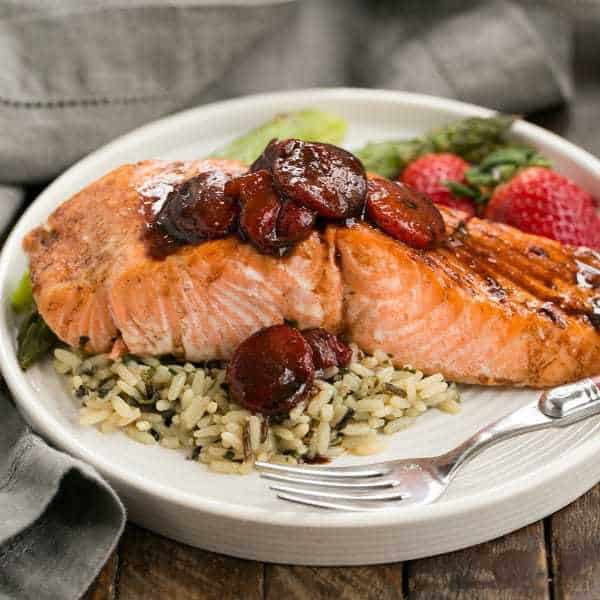 The Recipe:
Strawberry Glazed Salmon
Prep Time 10 minutes
Cook Time 25 minutes
Total Time 35 minutes
Yield 4
Perfectly roasted, this Strawberry Glazed Salmon is healthy and scrumptious! 
Ingredients
1 teaspoon olive oil
1 ½ teaspoons minced shallots
½ teaspoon minced garlic
¾ cup balsamic vinegar
3 tablespoons brown sugar
2 teaspoons Dijon mustard
2 cups fresh strawberries, cored and sliced
4 6-ounce salmon fillets, skin on
Kosher salt and freshly ground black pepper, to taste
Instructions
Saute shallots in olive oil, and when they start to get soft, add garlic and saute until fragrant. Remove the pan from heat.
In a medium saucepan, combine the vinegar, brown sugar, mustard, and strawberries. Add the shallots and garlic.
Bring the mixture to a boil, stirring occasionally, then reduce and simmer until thickens, about 15 minutes.
Preheat oven to 425 degrees. Line a baking sheet with non-stick foil and place salmon fillets a couple of inches apart. Generously season with salt and pepper.
Roast the salmon for about 10 minutes per inch of thickness.
When almost fully cooked, remove from the oven and brush some of the strawberry glaze over the salmon.
Turn on the broiler and brown for 1-2 minutes, watching carefully, until the glaze starts to bubble and brown.
Remove from oven. Serve with the remaining strawberry sauce.
Notes
Glaze can be made earlier in the day to streamline the process at dinnertime.
Nutrition Information:
Yield:
4
Serving Size:
1
Amount Per Serving:
Calories: 465
Total Fat: 22g
Saturated Fat: 4g
Trans Fat: 0g
Unsaturated Fat: 16g
Cholesterol: 107mg
Sodium: 260mg
Carbohydrates: 23g
Fiber: 2g
Sugar: 20g
Protein: 39g
Note: This post may contain affiliate links; view
my Disclosure Policy
for details. I earn a small percentage from any purchase you make by clicking on these links at no extra cost to you.