Frosted Lofthouse Cookies
Ever heard of Lofthouse Cookies? They're the soft, thick bakery sugar cookies created in all sorts of shapes and decorated for any occasion!
These Frosted Sugar Cookies are even better than what you'd find in the bakery and can be customized any way you like. Be prepared for them to disappear fast!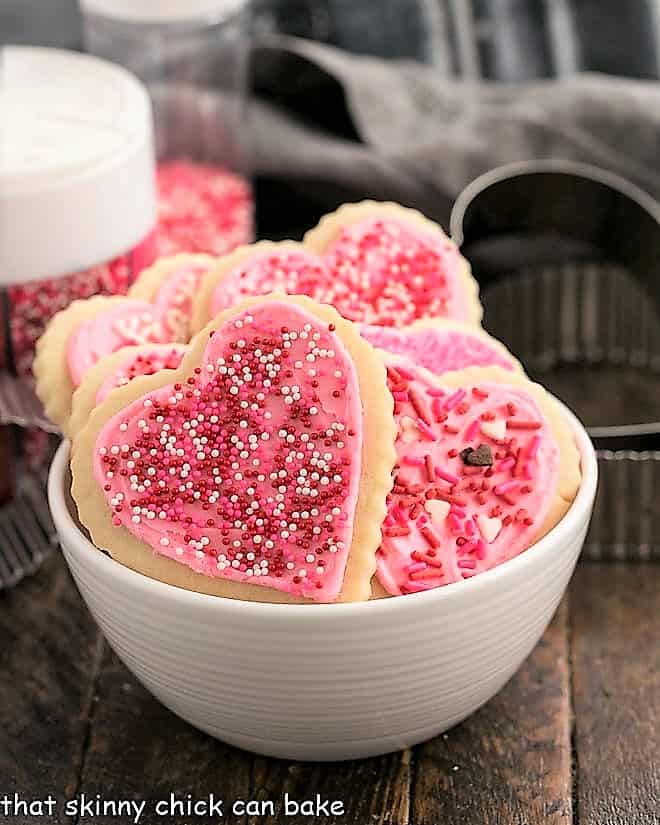 Why You Should Make Soft Frosted Sugar Cookies
Along with chocolate chip cookies, frosted sugar cookies are definitely a favorite of my family. But rolling out the dough and individually frosting them is a labor of love. It's generally reserved for Christmas, but Valentine's Day is also an ideal time to show your love with cookies! In fact, these Lofthouse cookies are appropriate for almost any occasion!
I first baked up a batch of this frosted sugar cookie recipe in 2013, so I figured it was time for another batch of this top-notch soft sugar cookies recipe. Since it's close to Valentine's Day, I grabbed my heart cookie cutters and went to work!
You'll save a lot of money compared to buying these from a bakery!
They are soft and delicious and you'll get to enjoy them while they are fresh.
They can be decorated for any occasion or event.
Both kids and adults love frosted sugar cookies!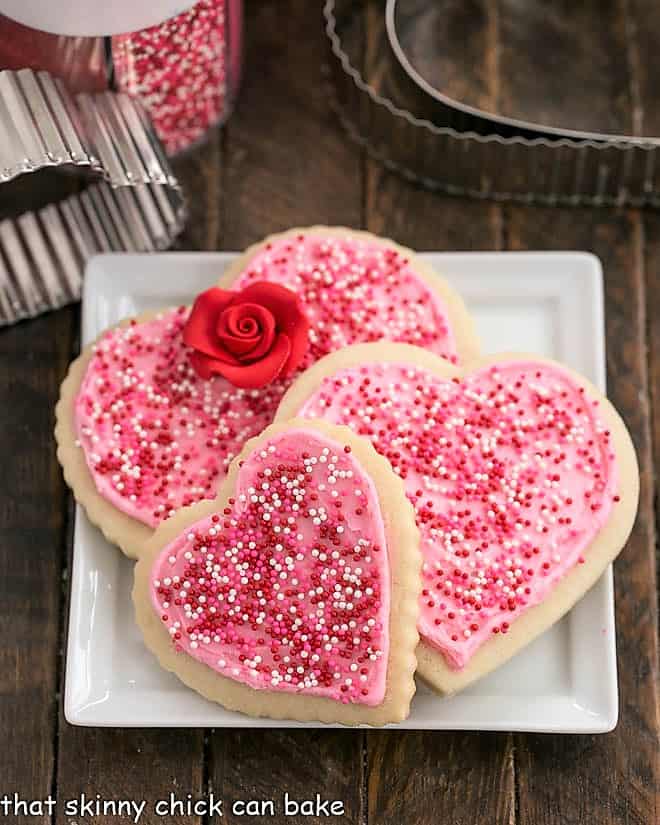 Frequently Asked Questions
What are Lofthouse Cookies?
Lofthouse cookies are the style of thicker, frosted cookies you find in a grocery store or stand-alone bakery. The official "Lofthouse sugar cookies" originated in1994 when Lofthouse Foods started producing cookies that were sold to in-store bakeries of US supermarkets as well as merchandisers. From then on, most thicker cookies with a softer texture topped with a sweet, creamy frosting were known as Lofthouse cookies.
What's in a Lofthouse Cookie?
There are so many variations, including this one that originated in the now-defunct McCall's Magazine. Both baking powder, baking soda, and sour cream are in this version. The bit of almond extract added to the vanilla extract is key to reproducing the specific Lofthouse flavor profile. The factory-made Lofthouse cookie flavoring probably came from creme bouquet, an extract with vanilla, almond, butter, and citrus flavors. But most home kitchens do not have this on hand.

Notable is the addition of baking powder and baking soda, both leavening agents, which create a less crumbly texture. Adding sour cream is another key to keeping these cookies soft and moist, but it's not in all versions of Lofthouse cookies. You may also see some recipes where cornstarch is added. This is actually a way to make substitute cake flour by replacing some of the all-purpose flour with cornstarch to reduce the amount of gluten in the recipe. But this recipe worked well with standard flour.
How Long Do Sugar Cookies Last?
Most cookies stay fresh in an airtight container at room temperature for about 3 days. Freeze whatever you can't eat after that.
Can You Freeze Lofthouse Cookies?
Yes, they freeze well and can be stored in the freezer in an airtight container for up to 3 months. But if you have added sprinkles or other decorations that might potentially bleed while the cookies defrost, they might not hold up as well as unadorned frosted sugar cookies.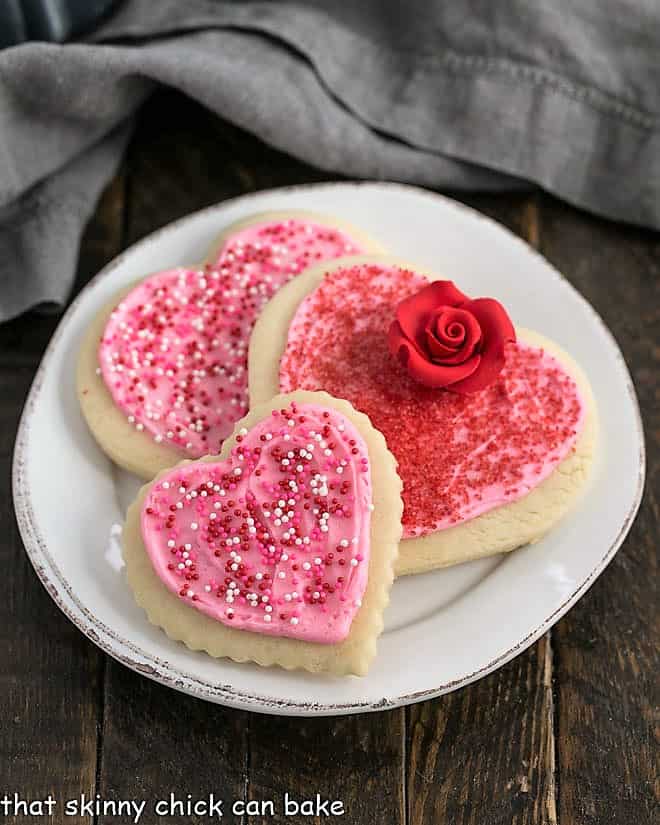 How to Make Lofthouse Cookies
There are a couple of options for making Lofthouse cookies. The easiest is to scoop out rounds of dough onto a baking sheet, then press them into thick rounds with the bottom of a glass. Of course, you will have to search your cabinets for a nice flat-bottomed glass for this task, but these give you the best reproduction of this bakery classic. They can be up to 1/2 inch thick!
If you'd prefer to make cut-out cookies, you can chill the dough, roll it out to your desired thickness, then use cookie cutters to make fun shapes. I made these a little thinner than traditional Lofthouse cookies, but if you don't over-bake them, they'll still have a soft consistency. Plus, you get more from your batch when you make either thinner cookies or smaller cookies.
As far as frosting these, I like using an offset spatula and just smearing the sweet buttery icing over the surface of the cookies. Then dust generously with sprinkles before the frosting dries to make them extra festive.
I've made these in the shape of daisies and my decorating techniques were again quite simple. I placed a blob of icing in the middle of the flower cut-outs, then garnished each with just one pastel white chocolate M & M. Those daisy-shaped cookies looked like spring. In fact, if you're a crafty sort, these would be perfect to make a cookie bouquet. Just insert a skewer into the side of each cut-out cookie before baking.
Tips for How to Cut Out Sugar Cookies
Check your recipe as many call for the cookie dough to be refrigerated before rolling and cutting.
Lightly flour the surface where you will roll out the dough. Monitor the rolling surface, lightly flouring as needed to prevent sticking.
Using a rolling pin dusted with flour, roll the dough to your desired thickness. Sugar cookie dough is usually rolled to about 1/8-inch thickness, but Lofthouse sugar cookies are thicker and should be rolled to 1/4-inch thick.
Peel away any excess dough after cutting out as many cookies as you can from the rolled dough.
Move the cutout cookies to a parchment-lined baking sheet and bake as directed.
Collect the scraps of dough, squeeze it back into a ball, kneading as necessary.
Chill if the dough has gotten warm, then roll out and cut out more cookies.
More Cookies You'll Love:
This post was first shared in May 2013. Photos and text were updated in 2020.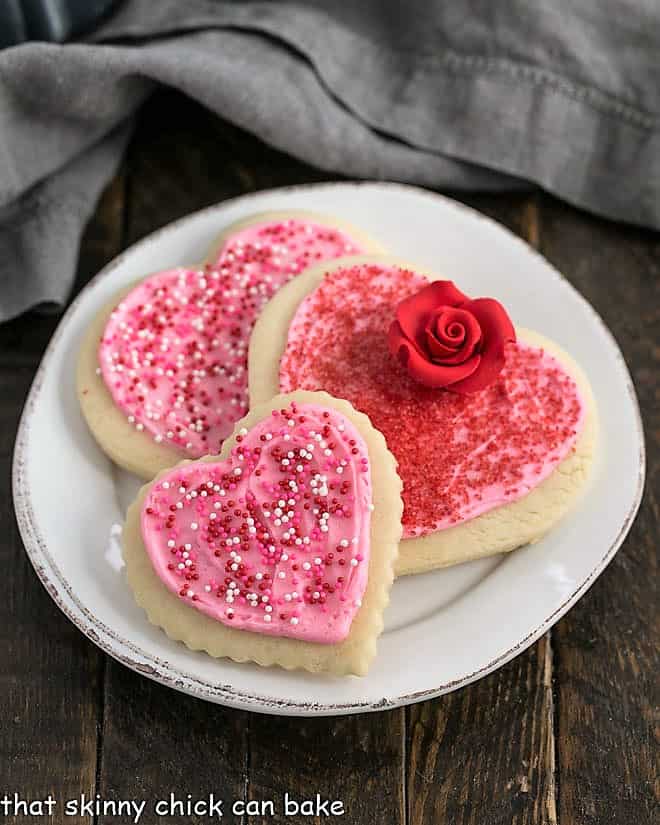 The Recipe:
Frosted Lofthouse Cookies Recipe
Prep Time 30 minutes
Cook Time 12 minutes
Total Time 42 minutes
Yield 24
The famous Lofthouse sugar cookies!
Ingredients
For the cookies:
1/2 cup butter, at room temperature
1 cup sugar
1 teaspoon vanilla extract
1/2 teaspoon almond flavoring
1/2 teaspoon baking soda
1/2 teaspoon baking powder
1/4 teaspoon salt
3/4 cup sour cream
2 eggs
3 cups flour
For the frosting:
1/2 cup butter, set out for about a half-hour so it's cool, not cold
1/2 teaspoon vanilla
2 cups powdered sugar
3 tablespoons or more of heavy cream
Food coloring or gel, if desired
Sprinkles, candy to garnish as desired
Instructions
Cream the sugar and the butter together with a hand mixer until light.
Add the flavorings, then the baking powder, baking soda, and salt. Mix in the sour cream.
Beat in one egg at a time. Add the flour and mix until it forms a ball.
Refrigerate at least an hour or overnight if you plan to roll out the dough.
Preheat the oven to 350º. Roll out cookie dough on a floured surface to about 1/4 inch thickness.
Cut out cookies with cookie cutters of choice.
Place cutouts on parchment-lined cookie sheets.
Bake until the edges are golden, about 10 to 12 minutes. Do not overbake if you want them to be soft.
To make the frosting, cream the butter and vanilla in a medium bowl.
Add the powdered sugar and beat until smooth. Add the cream, one tablespoon at a time to desired consistency.
Add food coloring if desired (I used pink gel paste).
Frost cooled cookies and garnish as desired.
Notes
Make sure your baking powder is not expired. If it's over a year old, you might want to purchase a fresh can.
Adapted from McCalls via What's Cookin' Italian Style Cuisine
Recommended Products
As an Amazon Associate and member of other affiliate programs, I earn from qualifying purchases.
Nutrition Information:
Yield:
24
Serving Size:
1 cookie
Amount Per Serving:
Calories: 218
Total Fat: 10g
Saturated Fat: 6g
Trans Fat: 0g
Unsaturated Fat: 3g
Cholesterol: 41mg
Sodium: 153mg
Carbohydrates: 30g
Fiber: 0g
Sugar: 18g
Protein: 2g
Note: This post may contain affiliate links; view
my Disclosure Policy
for details. I earn a small percentage from any purchase you make by clicking on these links at no extra cost to you.