Spinach Mushroom Quiche
A perennial favorite for brunches, this Spinach Mushroom Quiche is loaded with vegetables and cheese. Perfect for Meatless Monday, too!
This Spinach Quiche with Mushrooms is my favorite quiche recipe. Instead of saving this tasty vegetarian dish for a morning meal, have a slice or two at any time of the day. Scroll down for tips on How to Make a Quiche.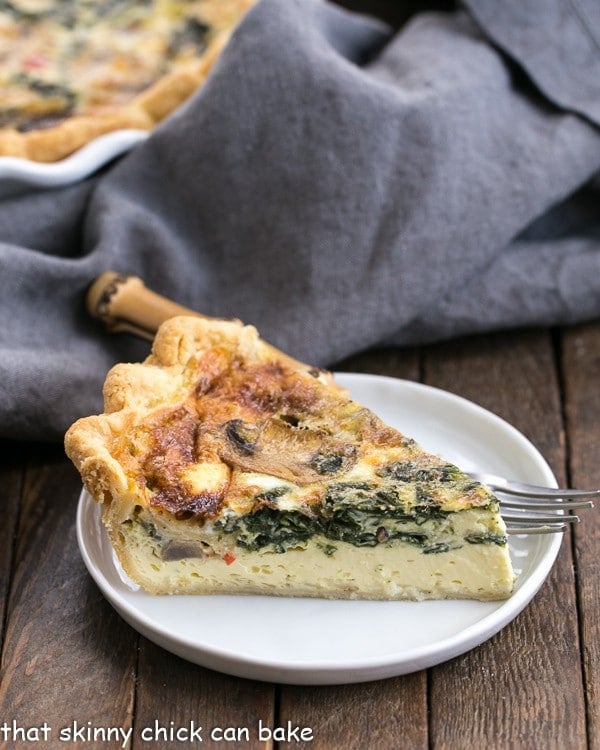 Why You Must Make
Bill will eat Quiches if I call it pie. He's one of those holdovers from the "Real Men Don't Eat Quiche" era. Of course, I had to marry a real manly man. Sigh. When I make omelets, I always add spinach and mushrooms, so it's not a stretch to see why I chose these two add-ins for this Easy Quiche Recipe. For a spot of color, I diced a bit of red bell pepper to add to the vegetable mixture. Totally optional, of course.
Your kitchen will smell incredible while this quiche bakes.
A quiche can be served any time of the day. As acceptable for a meatless dinner as it is for breakfast or brunch!
Use a premade pie crust to make this a super easy spinach quiche! You won't even break a sweat.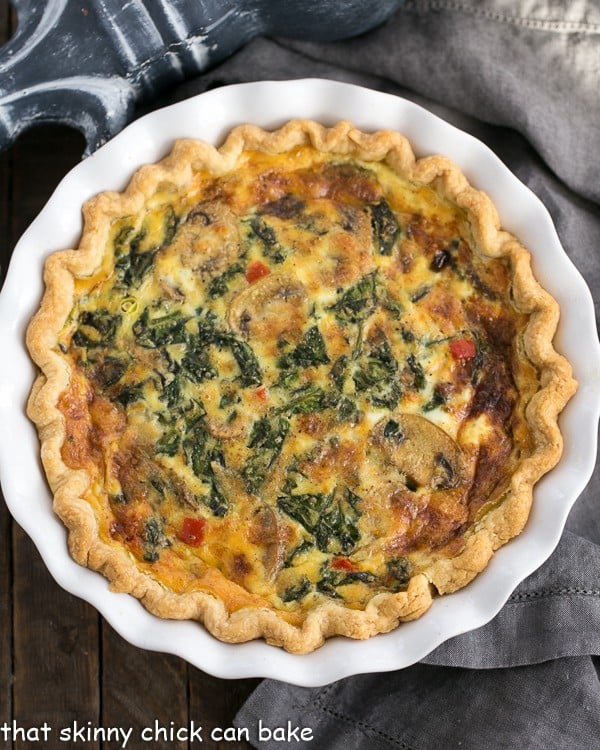 Expert Tips: 
You can tweak this Easy Quiche Recipe however you'd like.
Keep the amounts of eggs, cheese, half and half, and cream the same, but add bacon, ham, or your favorite vegetables. PRO-Tip: But for the BEST results, don't overload with fillings. Part of the deliciousness of this quiche was having the perfect ratio of egg custard to filling.
Saute your vegetables before adding them to the crust. Mushrooms, for example, will taste much better when cooked first.
Use your favorite shredded cheese or a combination of cheeses like sharp cheddar, mozzarella, Gouda, and Monterey Jack. The options and combinations are endless.
If you'd like a meaty quiche, adding cooked and crumbled sausage or cooked and diced bacon would be delicious.
Feel free to use your favorite pie crust recipe or store-bought crust for any of your quiches.
To check for doneness, insert a knife into the middle of the quiche. It should come out clean but be careful not to over-bake or the eggs will become rubbery.
I served this Spinach Quiche for a meatless dinner recently. When the hubby came home from work, he reminded me, "I don't really like quiche." Sigh. When he finally decided to have a slice instead of a peanut butter sandwich, he did admit, "This is pretty good." I consider that a victory. I found it to be my best quiche ever. The ratio of eggs and creams made for the perfect textured quiche, and one I will make again and again.
Frequently Asked Questions
What is quiche made of?
A basic quiche is made of a milk and egg custard poured into and baked in a pie shell. Many variations, including the classic Quiche Lorraine, have additional ingredients. For a quiche Lorraine, there is also Gruyere cheese, bacon, and onion added to the custard.
Can you freeze quiche?
Yes, a quiche can be frozen. It's easiest to freeze after baking, just let it cool, then slide it into a freezer-safe bag, and seal. Quiche is best frozen for up to a month.
What is the difference between a quiche and a frittata?
A quiche is a French dish with a pastry shell filled with a custard of eggs, cream plus seasonings, and other ingredients. It is baked slowly.

A frittata is an Italian omelet without a crust. It uses less cream than a quiche and the ingredients are mixed with the eggs instead of folded over as with a French omelet. It is cooked more quickly.
Can you make a quiche the night before?
The crust could get soggy sitting overnight, but you can prep much of the recipe the night before. The vegetables can be sauteed, the crust made and ready to roll out, and the custard whisked together. Using a store-bought crust makes the process even simpler!

If you must make the quiche the night before, partially bake the crust before adding the custard. This gives a  little more stability to the crust when you add the fillings and bake. A sprinkle of cheese over the bottom crust after par-baking will also shield the crust from any absorption of the custard. Do this just after pulling it out of the oven so the cheese has a chance to melt.
How Do You Reheat a Quiche?
Reheat the quiche on a baking tray at 350 degrees for 15-20 minutes if it was in the refrigerator. If the quiche is frozen, it will take 30-35 minutes or until the middle reaches an internal temperature of 160 degrees.
You May Also Like: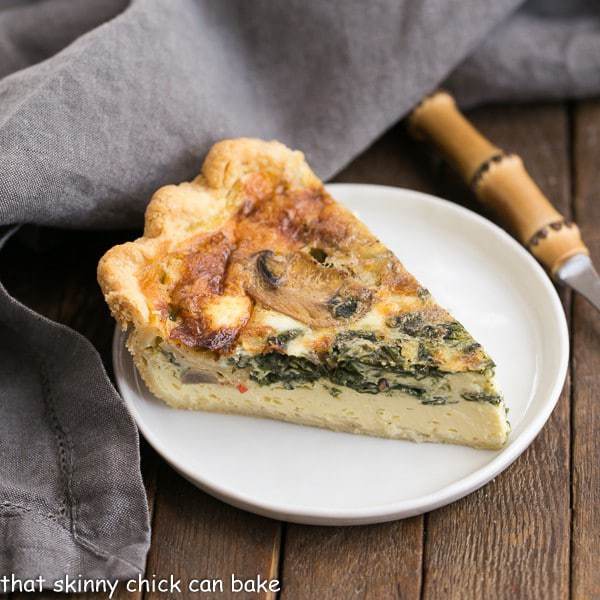 The Recipe:
Spinach and Mushroom Quiche
Prep Time 20 minutes
Cook Time 55 minutes
Total Time 1 hour 15 minutes
Yield 6 servings
A cheese and vegetable pie that's perfect for brunch!
Ingredients
1 tablespoon butter
4 ounces sliced mushrooms
4-5 ounces baby spinach, roughly chopped
1/4 of a red bell pepper, diced
4 eggs
1 cup half and half
1/2 cup heavy cream
3/4 teaspoon salt
1/4 teaspoon freshly ground black pepper
1 1/2 cups cheese, shredded (I used a mixture of Monterey Jack and sharp cheddar)
1 green onion, sliced
1 prepared pastry shell (homemade or store bought), I used this all butter, food processor recipe.
Instructions
Preheat oven to 400º.
Heat the butter in a skillet. Add mushrooms, sprinkle with a pinch of salt, and saute till tender. Add spinach and red bell pepper; cook and toss until the spinach is wilted. Remove from heat.
Whisk together eggs, half and half, cream, salt and pepper. Stir in the 1 1/2 cups of cheese of your choice. Set aside.
Sprinkle crust with green onion and vegetables. Pour egg mixture into the pastry shell.
Bake for 15 minutes at 400º. Decrease temperature to 325º and continue baking for about 40 minutes or till knife inserted near the center comes out clean.
Nutrition Information:
Yield:
6
Serving Size:
1 slice
Amount Per Serving:
Calories: 334
Total Fat: 24g
Saturated Fat: 14g
Trans Fat: 1g
Unsaturated Fat: 9g
Cholesterol: 185mg
Sodium: 542mg
Carbohydrates: 19g
Fiber: 3g
Sugar: 6g
Protein: 13g
Note: This post may contain affiliate links; view
my Disclosure Policy
for details. I earn a small percentage from any purchase you make by clicking on these links at no extra cost to you.