Slow Cooker Carne Asada
This Slow Cooker Carne Asada Recipe is slow-cooked in a magical mixture of lime, orange, garlic, and spices before shredding and serving taco style!
The picky hubby panics a bit when I spout off our entree for the night and he doesn't recognize the name. But seeing the Carne Asada Tacos on the table alleviated his worries! He was puzzled for an instant, but once he took his first bite, this Latin dish was a smash hit!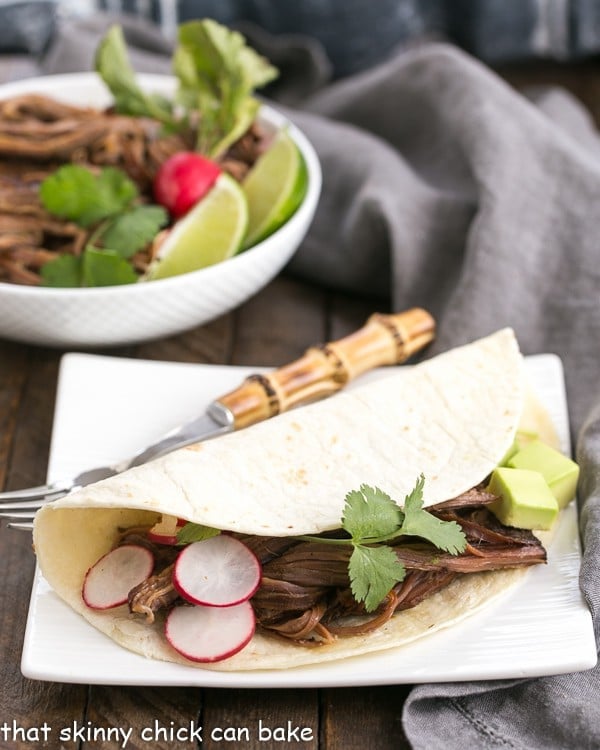 Why You Must Make
It's made in a slow cooker, so lots of hands-off cooking.
The beef is super tender and flavorful!
Serving them as tacos means you can make a taco bar with all your favorite toppings! Don't forget some Guacamole!
Of course, Bill's memories from high school Spanish probably cued him in. Carne = Meat. So he wasn't too worried. Plus serving this as carne asada tacos in tortilla shells made it much more mainstream, and after one bite, he was SOLD!
There was a time, more than a decade ago, when I first made Penne with Havarti. His eyes widened as he fretted, "You're not feeding me fish are you???" He's come a long way since then! The literal translation of carne asada is "grilled beef, " but this slow cooker version is perfect for the winter or a busy day.

Expert Tips
Like with tacos, carne asada wouldn't be the same without the garnishes! Typically served with radishes, avocados, and lime, the hubby wouldn't have any of that.
I had some shredded cheese and salsa in the fridge as I anticipated that these "funky" toppings wouldn't be his style. We both loved this flavorful carne asada tacos recipe our own way.
Flour or corn tortillas both work well with carne asada. Pick your favorite.
Warm your tortillas to make them even softer and more pliable.
Use flank steak or skirt steak for the most authentic carne asada recipe.
This carne asada marinade is top-notch. Instead of marinating and grilling, like in a more traditional recipe, the flank steak spends 8 hours in the slow cooker with a flavorful concoction.
Orange juice, lime juice, garlic, honey, cilantro, chili powder, and cumin infuse into the flank steak during the cooking process.
Serving Suggestions:
When making a Tex-Mex or Latin entree like carne asada, having a few good side dishes and desserts will help round out the meal. Here are a few of my suggestions from the blog: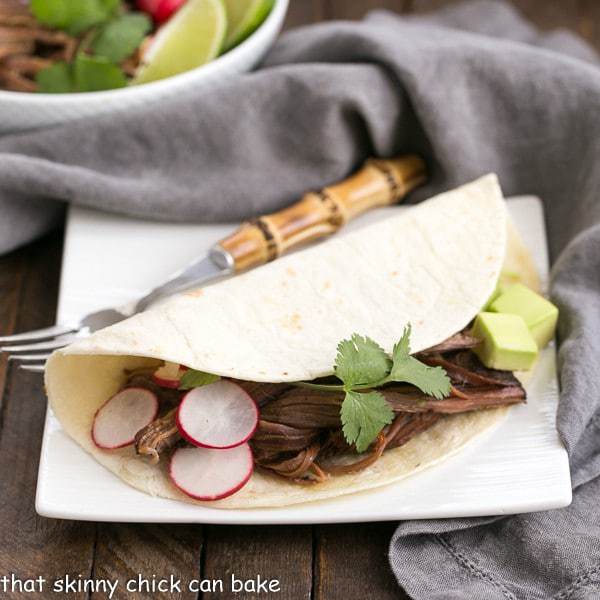 Frequently Asked Questions
What Is the Best Cut of Meat for Carne Asada?
Flank steak and skirt steak are the most traditional, but sirloin and tenderloin are also used.
How Do You Season Carne Asada?
The flavorful marinade with orange juice, lime juice, honey, garlic cilantro, chili powder, and cumin infuse flavor into the beef via the marination process. Typically meat is marinated before cooking, but in this recipe, marination occurs as the beef cooks for 8 hours in the slow cooker. Salt is also imperative as a flavor enhancer, too.
How Do You Cook Carne Asada?
The most traditional way is to marinate and grill your carne asada to a medium rare with a reddish-pink interior. This recipe slow cooks the beef in a crockpot, making it super tender.
How to Serve Carne Asada?
If grilled, slice thinly across the grain and if slow-cooked, shred into bite-sized pieces. Serve with tortillas, lime wedges, and sliced radishes for traditional toppings. Or use your favorite taco toppings like shredded lettuce, diced tomatoes, guacamole, pico de gallo, salsa, shredded cheese, etc.
You May Also Like: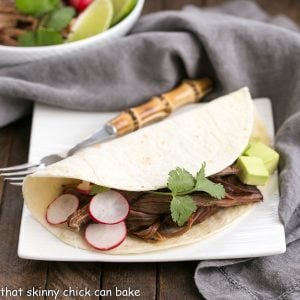 The Recipe:
Slow Cooker Carne Asada
Prep Time 5 minutes
Cook Time 8 hours
Total Time 8 hours 5 minutes
Yield 6 servings
The slow cooker version of the classic Latin recipe. Adapted from Gourmet Slow Cooker via My Southwest Kitchen
Ingredients
1 (2.5-3) pound flank steak or skirt steak
1/4 cup olive oil
1/4 cup orange juice
2 cloves minced garlic
2 tablespoons lime juice
1 tablespoon honey
1 teaspoon chopped cilantro
1 teaspoon salt
1 teaspoon chili powder
1 teaspoon ground cumin
Flour or corn tortillas
Garnishes: Cilantro, lime wedges, sliced radishes, avocado chunks
Instructions
Place flank steak into the slow cooker.
Whisk together the olive oil, orange juice, garlic, lime juice, honey, cilantro, salt, chili powder, and cumin. Pour marinade over the meat.
Cover and set the slow cooker to low. Cook for 8 hours.
Remove the meat from the slow cooker and shred. Place the meat back in the slow cooker and coat with the juices.
Serve on tortillas and garnish with lime wedges, sliced radishes, and avocado chunks.
Nutrition Information:
Yield:
6
Serving Size:
1
Amount Per Serving:
Calories: 310
Total Fat: 18g
Saturated Fat: 4g
Trans Fat: 0g
Unsaturated Fat: 14g
Cholesterol: 24mg
Sodium: 389mg
Carbohydrates: 27g
Fiber: 4g
Sugar: 4g
Protein: 11g
Note: This post may contain affiliate links; view
my Disclosure Policy
for details. I earn a small percentage from any purchase you make by clicking on these links at no extra cost to you.