Seafood Pot au Feu is Dorie's twist on the classic French meat and root vegetable stew. Mussels, salmon and scallops create a lighter entree that's perfect for spring.
Down to Our Last Two Recipes
What a ride this has been. Two of my dear foodie friends' encouragement convinced me to join the French Fridays with Dorie group back in 2010. One bought me the cookbook, Around My French Table, for my birthday, and the other filled me in on the details of this newly formed group of bloggers. I dove right in. Our first assignment was Dorie's Gougeres. My blog was just 6 months old and many of my Dorista friends started their blogs just for French Fridays with Dorie. We'll be doing a few weeks of reminiscing after our last recipe is completed next Friday so stay tuned.
Seafood Pot au Feu
This is the second pot au feu recipe in Dorie's cookbook. Her Warm Weather Pot au Feu was meatless and topped with a poached egg. She referred to today's version as the classic pot-au-feu's lighter, brighter, quicker cousin, a dish for spring or summer. The timing was perfect as the temps hit 80º the day I cooked up this speedy stew.
A lovely poaching liquid composed of chicken broth, fresh ginger, a bay leaf and lemon zest was used to cook the vegetables and then the seafood. The sugar snap peas were reserved till the end to preserve their color and texture. I cut the recipe in half since out of all the ingredients, the hubby would have eaten only the carrots and potatoes, snubbing the best components. I enjoyed the clean, simple flavors of this dish, but would have added the salmon later in the process—it seemed overcooked and underseasoned. Nevertheless, I ate every bite!
The recipe can be found in Dorie Greenspan's magnificent cookbook, Around My French Table on page 308. If you'd like to see what the other "Doristas" thought of this dish, check out the LYL section for this recipe on the French Fridays website. Kathy, of Bakeaway with Me, shared her version of the recipe, and I'll post it here, too. Check out the lessons I've learned from Dorie here.
Print
Seafood Pot Au Feu
A light, delicious seafood stew from Dorie Greenspan.
Author:
Prep Time: 20 minutes
Cook Time: 40 minutes
Total Time: 1 hour
Yield: 4 1x
Category: Entree, Seafood
Method: Simmering
Cuisine: French
Ingredients
6 cups chicken broth
1 cup water
1 teaspoon minced ginger
2 bay leaves
4 red potatoes, quartered
2 large carrots, cut into quarters, then sliced lengthwise
1 leek, sliced (white and green part only)
1/2 pound snap peas
4 green onions, sliced
4–5 large mushrooms, sliced
1 pound of mussels, cleaned and debearded
1 pound of sea scallops
1 pound of salmon
Instructions
In a large dutch oven, heat the chicken broth and water. Bring to a boil, and simmer for 5 minutes, covered. Add the bay leaves and ginger, simmer for 5 minutes.
Add in the potatoes and simmer for about 5 minutes, until a fork can pierce easily. Add the carrots, leek, green onions, and simmer covered for 5 more minutes. Add the sliced mushroom, and simmer another 5 minutes.
Using slotted spoon, remove all the vegetables into a large bowl, set aside. With the heat on a low simmer, add the cleaned mussels to the pot, cover and cook for about 3-4 minutes, once the shells start to open, remove them to a large bowl. Once they're cool enough to handle, remove the mussels from the shells, and discard any that did not open.
Add the salmon to the pot, simmer for about 6 minutes, covered. Add the mussels with any juices from the bowl, scallops and the rest of the vegetables including the snap peas. Cook on low for 10 minutes more. Serve and enjoy!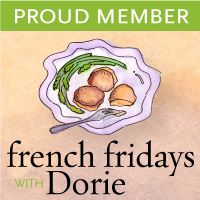 Note: This post may contain affiliate links; view
my Disclosure Policy
for details. I earn a small percentage from any purchase you make by clicking on these links at no extra cost to you.