Sea Bass with Tomatoes, Olives and Capers
Sea Bass with Tomatoes, Olives, and Capers: A simple roasted fish recipe with a quick Mediterranean topping. An easy, gourmet entree!
If you're looking for a Lenten entree or simply a healthier seafood recipe, topping a mild white fish with olives, capers and tomatoes will rock your taste buds and become a favorite dinner option.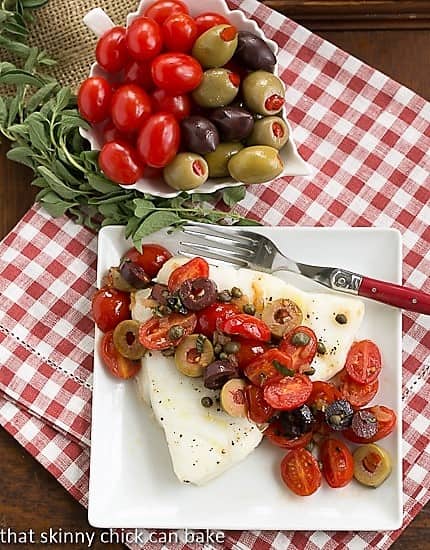 Sea Bass with Tomatoes, Olives, and Capers
Today I'm guest posting for my dear blogger friend, Kim, of Cravings of a Lunatic. She's taking a well deserved holiday and wanted some of her friends to share seafood recipes. Since Lent is still in full gear, our family goes meatless on Fridays. We've done the usual pizza Margherita and a few shrimp dishes, so I turned to a dish I typically order in restaurants. The quickly cooked sauce composed of shallots, grape tomatoes, olives, capers, and oregano can be served over any fish.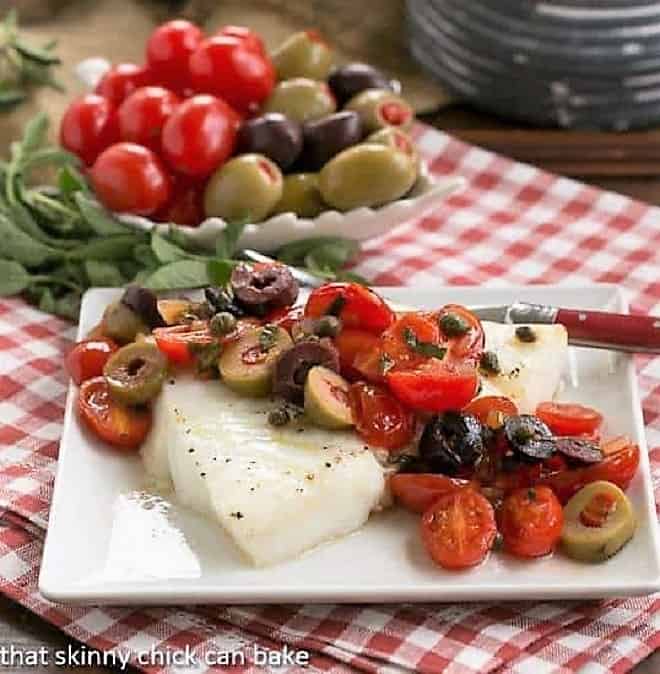 Healthy Seafood Recipe
But while at the fishmonger, the bright white of the sea bass looked to contrast best with the colorful topping. This Sea Bass with Tomatoes, Olives, and Capers was supposed to serve two, but I managed to down the whole thing myself. And this is the sort of dish in which you are allowed to overindulge. Save your willpower for the Peanut Butter Chocolate and Caramel Bars I posted earlier this week.
Tips for Cooking Seafood
I generally go by the rule of thumb: 10 minutes of cooking time per inch thickness of your fish. So a piece of sea bass that is 1 inch thick would roast for about 10 minutes in the oven or on the grill. This works when the heat is relatively high. You may need to cook longer if your oven is at 350 vs. 450 degrees.
Season nicely before cooking. Adding salt after cooking does not enhance the flavor nearly as much as if you had it first.
Letting your chilled seafood sit on the counter for 10 minutes or so to bring it closer to room temperature will help the fish cook more evenly.
Some seafood, like salmon, can be slightly undercooked so the middle is a bit translucent if that's your preference. And for Ahi tuna, I always want it rare.
I always check on a piece of fish for doneness by using a fork or knife to look at the center. For this sea bass, I wanted to see opaque flesh, but still moist. Overcooking will result in dry fish.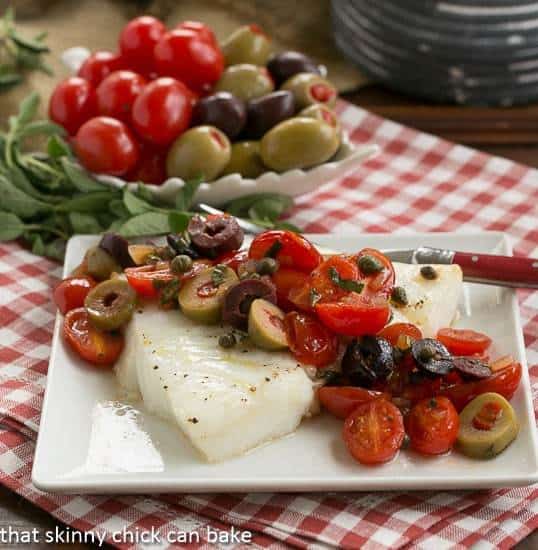 The Recipe:
Sea Bass with Tomatoes, Olives and Capers
Prep Time 15 minutes
Cook Time 15 minutes
Total Time 30 minutes
Yield 2 servings
Seabass topped with a Mediterranean tapenade! Adapted from Eatingwell.com
Ingredients
1 pound sea bass, butterflied (my fishmonger did this for me)
1 tablespoon olive oil
1 tablespoon minced shallot
1 cup halved grape tomatoes
1/4 cup olives, sliced
1 tablespoon capers (rinse if salt cured)
1 teaspoon fresh oregano, chopped
1 teaspoon balsamic vinegar
Salt and pepper to taste
Instructions
Preheat oven to 450º. Line baking sheet with foil and spray with nonstick cooking spray.
Rub sea bass with 2 teaspoons of olive oil. Season well with kosher salt and freshly ground black pepper. Place on baking sheet and roast till fish is flaky, about 15 minutes.
While fish is roasting, add remaining olive oil to a skillet and cook the shallots till soft. Add tomatoes, olives and capers and cook for a minute or two, till tomatoes soften. Add oregano and balsamic vinegar and remove from heat.
Spoon over cooked sea bass to serve.
Nutrition Information:
Yield:
2
Serving Size:
1
Amount Per Serving:
Calories: 383
Total Fat: 15g
Saturated Fat: 3g
Trans Fat: 0g
Unsaturated Fat: 11g
Cholesterol: 120mg
Sodium: 575mg
Carbohydrates: 6g
Fiber: 2g
Sugar: 3g
Protein: 55g
Note: This post may contain affiliate links; view
my Disclosure Policy
for details. I earn a small percentage from any purchase you make by clicking on these links at no extra cost to you.