With an option of seafood with this Dorie Greenspan recipe, I chose Scallops and Double Carrots, but the guys in the family loved the shrimp version just as much. You can't go wrong with the addition of bacon!
Scallops and Double Carrots
Are you wondering what the heck scallops with "double carrots" means? I certainly was when I saw this' week's French Friday's selection…and even after looking over the recipe, I wasn't sure I would enjoy this recipe. But I shouldn't have fretted. Even Bill, the picky hubby, thought this scallops and double carrots recipe was magnificent.
We're coming to the tail end of recipe options as we cook our way through Around My French Table, and some of the odds and ends of dishes remaining in the cookbook give me pause. I did know to swap out Bill's scallops (my preference) for shrimp, or he wouldn't have touched this entree. Dorie gave both the former shellfish as substitutes for more difficult to source monkfish. Read on to see how we got our double dose of carrots.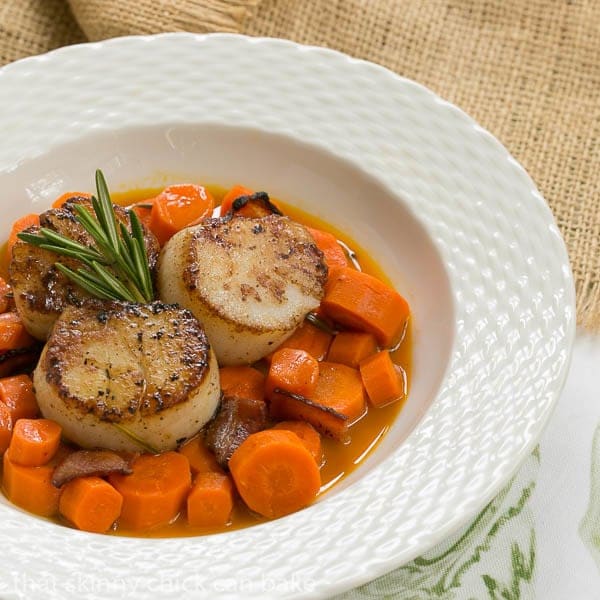 Bacon Tipped the Scales
Sliced carrot coins were simmered in chicken broth and carrot juice flavored with rosemary and a touch of butter and olive oil. After frying some bacon to a nice crisp consistency for the garnish, the seafood was cooked in the grease plus a pat of butter. My sister was visiting from Denver and she and I inhaled the scallop version.
And Bill and Tom both gave the shrimp thumbs up. I had my doubts whether any of us would enjoy this unusual concoction, but the four of us were longing for more. Tom grumbled that 5 jumbo shrimp was a paltry serving. And Bill surmised that everything tastes better sauteed in bacon fat. Maybe I should have tweaked that celeriac soup last week by adding bacon??? This Scallops and Double Carrots with varied seafood was definitely an easy, yet gourmet treat!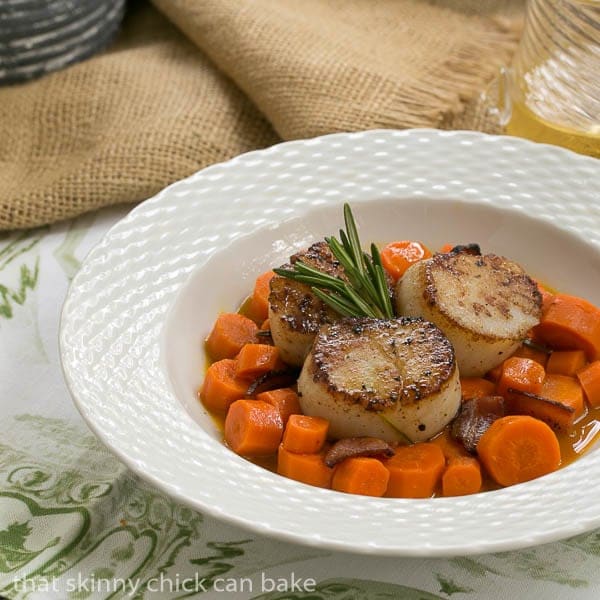 The recipe for Monkfish and Double Carrots along with the shrimp and scallop options can be viewed here.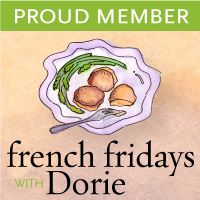 Skinny Tip
I'm offering a series of Skinny Tips. How I keep slim is one of my most frequent inquiries. I'll feature more tips on some of my upcoming blog posts. Click on the #SkinnyTip tag at the end of this post to see all my previous tips.
Tip #47: A colorful plate of food is a healthy plate of food. Make sure to have a "rainbow" of ingredients for each meal..berries, peppers, squash, carrots, cruciferous vegetables all bring color and nutrition. White bread, white rice, and noodles should be eaten in small quantities as they are not nutrient dense.
Note: This post may contain affiliate links; view
my Disclosure Policy
for details. I earn a small percentage from any purchase you make by clicking on these links at no extra cost to you.