Raspberry Amaretto Bundt Cake
This sublime Raspberry Amaretto Bundt Cake is sweet, dense, and packed full of ripe berries. Follow my pro tips for perfect results every time!
Amaretto, vanilla, almond extract, and Fiori di Sicilia flavoring make this Raspberry Pound Cake an extraordinary dessert!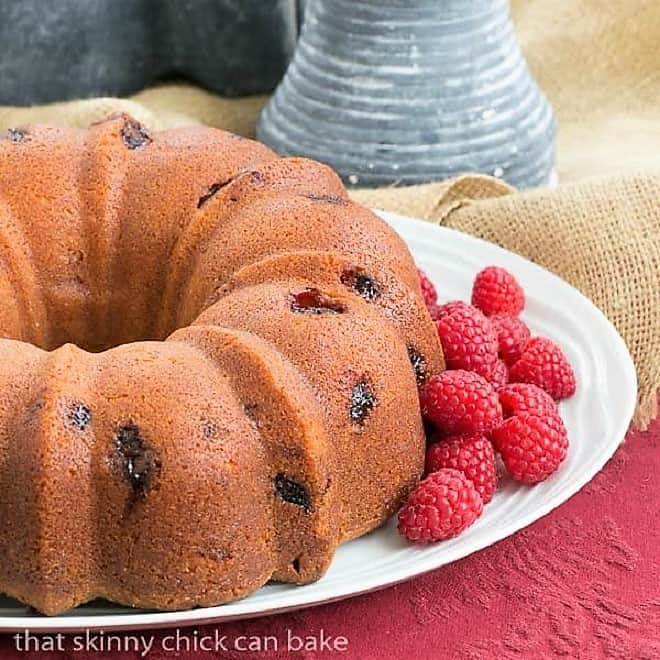 Raspberry Amaretto Bundt Cake
This recipe was inspired by a long time and most hilarious friend, Janet, of From Cupcakes to Caviar. You'll definitely want to head over to drool over her fabulous recipe and belly laugh while reading her entertaining posts.
I poured through her site and printed off a half dozen terrific recipes. But I kept returning to gawk at her picture-perfect Raspberry Pound Cake!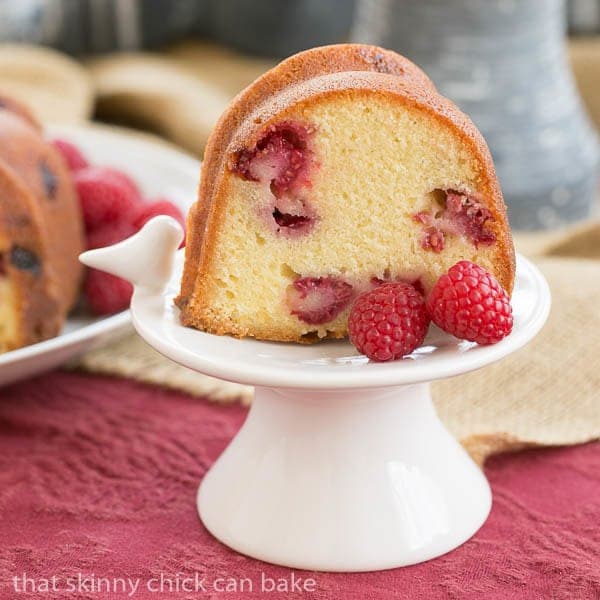 A Dense, Raspberry Pound Cake
This Raspberry Amaretto Bundt Cake recipe is pretty classic for pound cake and turns out a heavy cake with a perfect dense crumb. And the aroma is nothing short of heavenly. Bill, the hubby, is pretty much a white bread, vanilla type of guy and he went nuts for this cake.
He does love raspberries, but I wasn't sure if he'd like the more exotic flavorings (meaning not just plain vanilla!) in this raspberry pound cake. But he raved about this cake after his first nibble. I sent a few slices along when he trekked to Illinois to visit his mom, brother and sister-in-law–and they were instant fans as well.
Have you tried Fiori di Sicilia yet? I had a bottle in my pantry and had forgotten it's intoxicating smell—a mixture of citrus and vanilla. A little goes a long way, but it's terrific in cakes, cookies and even pancakes. But I'm sure you'll want to start with this winner of a cake.
Tips for Making a Perfect Pound Cake
As with most baked goods, start with room temperature ingredients, especially the butter, eggs and cream cheese.
Room temperature ingredients will incorporate much easier. You do not want little pieces of butter or cream cheese in your batter, but instead a smooth, homogeneous batter.

Follow the recipe's instructions on how to beat in each ingredient. The sugar and butter can be beaten until very light and fluffy.
When you add the eggs, beat just until they're incorporated. You don't want to add excess air because pound cakes should be dense.

The flour should only be mixed in until it's combined. Again, you don't want to incorporate any extra air into the batter. Plus beating in the flour will encourage gluten formation, which is good for yeast breads, but not for tender cakes.
Be sure to scrape the bottom of the mixing bowl frequently. Invariably, there will be some of the batter didn't get mixed in well.

Use a toothpick to check if your cake is done. I check a couple of spots by inserting a toothpick into the middle of the cake. If it comes out clean or with a few crumbs, the cake is done. If there is batter on the toothpick, bake your cake a little longer.
Usually, I cool a pound cake about 15 minutes before releasing it from the pan onto a cooling rack. In this recipe, though, some glaze is drizzled over the bottom of the cake, then it's cooled completely in the pan before inverting. You must prep your pan well or have a relatively new non-stick Bundt pan to avoid sticking. Otherwise, skip glazing the bottom and release the cake after 15 minutes and glaze only the top.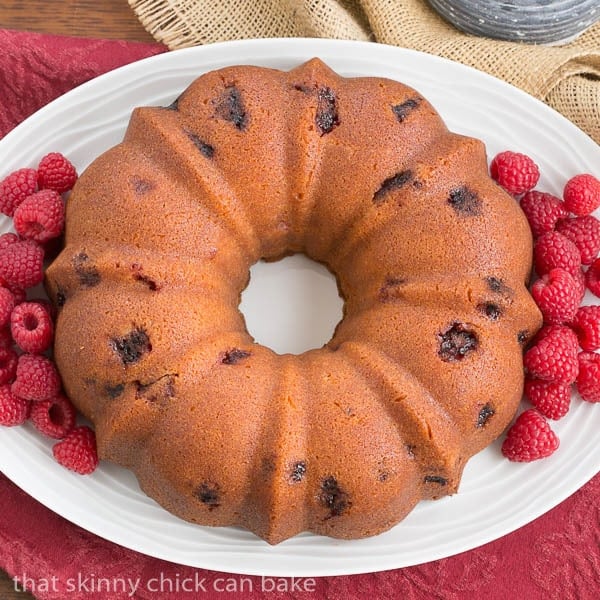 More Bundt Cakes You'll Love:
Plus, if you're looking for a simple pound cake, this sour cream version is fabulous! And this Chocolate Raspberry Snack Cake is terrific for chocolate lovers.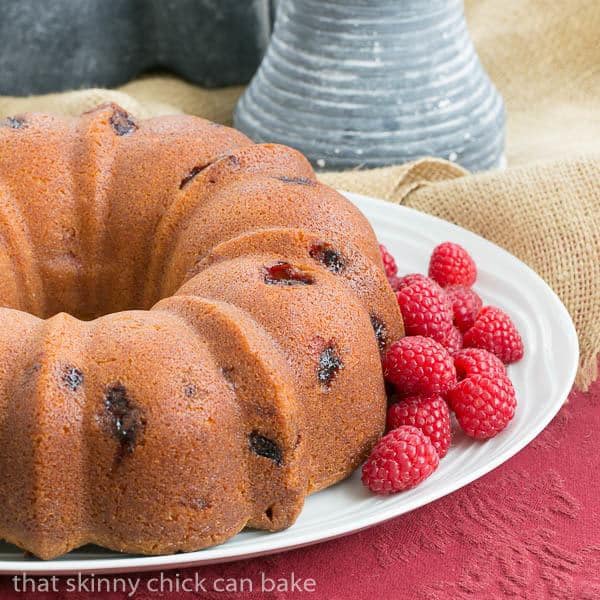 The Recipe:
Raspberry Amaretto Bundt Cake
Prep Time 20 minutes
Cook Time 1 hour 35 minutes
Total Time 1 hour 55 minutes
Yield 12 servings
A dense, delectable Bundt cake loaded with raspberries and infused with Amaretto, almond extract and Fiiori de Sicilia!
Ingredients
1 1/4 cups butter, at room temperature
3 ounces cream cheese, at room temperature
2 1/2 cups sugar
3 tablespoons Amaretto
1 tablespoon vanilla
1 1/2 teaspoons almond extract
1/2 teaspoon Fiori Di Sicilia flavoring (optional)
2 1/2 cups flour
6 eggs
2 cups fresh raspberries
Amaretto Glaze:
1/2 cup sugar
3 tablespoons butter
3 tablespoons Amaretto liqueur
1 tablespoon water
Instructions
Preheat oven to 325º. Spray a 12 cup Bundt pan with Baker's Joy (or butter and flour) and set aside.
In a large bowl, combine the butter and cream cheese. Beat at medium speed until creamy, scraping down the bowl once if needed.
Gradually add the sugar, beating at medium speed until light and fluffy. Add the Amaretto and the extracts, beating well afterward. Gradually add the flour to the mixture, keeping the speed at low speed so you don't end up looking like Casper The Ghost. Beat just until blended.
Add the eggs, one at a time, beating just until blended after each one. GENTLY fold in the raspberries. You can't avoid crushing some, but you can minimize the damage. Gently spoon batter into the prepared pan. When you have it in the pan, firmly bang the pan on a countertop to help remove any air bubbles.
Bake at 325º for 65 to 95 minutes or until a skewer inserted in the middle comes out clean.
When the cake is almost done, make the glaze- in a small pot, combine the glaze ingredients. Bring to a boil over medium heat and set aside until the cake is finished.
Set the cake on a rack. Spoon the glaze over the top, a little at a time, letting it soak in each time. Use about half the glaze. Let the cake cool completely on the rack, then turn out onto a serving dish. Reheat the glaze and spoon the rest of it over the cake, again letting it soak in each time before adding more.
Notes
Recipe adapted from Southern Living
Nutrition Information:
Yield:
12
Serving Size:
1 slice
Amount Per Serving:
Calories: 586
Total Fat: 27g
Saturated Fat: 16g
Trans Fat: 1g
Unsaturated Fat: 9g
Cholesterol: 159mg
Sodium: 235mg
Carbohydrates: 76g
Fiber: 2g
Sugar: 54g
Protein: 7g
Note: This post may contain affiliate links; view
my Disclosure Policy
for details. I earn a small percentage from any purchase you make by clicking on these links at no extra cost to you.