Penne alla Vodka is easy, elegant comfort food. Perfect for those busy nights around the holidays! Sponsored post by Mirum Shopper.  All opinions are my own.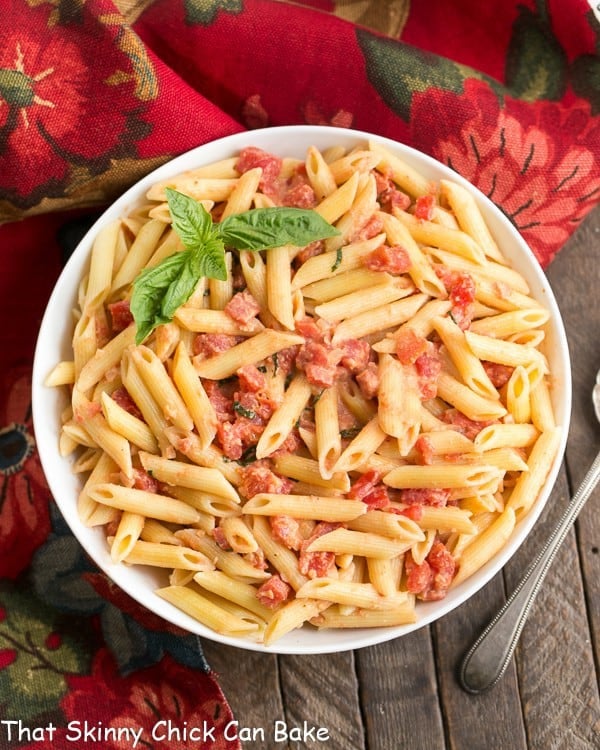 Note: This post may contain affiliate links; view my Disclosure Policy for details. I earn a small percentage from any purchase you make by clicking on these links. This helps me keep my kitchen stocked with butter and chocolate!
Penne alla Vodka
I have the world's pickiest eater in my household. You loyal readers may know about my husband and how he feigns allergies to mushrooms, nuts, pineapple, etc. just to avoid eating those ingredients. But my daughter is even worse!
So when I find a dish she loves, it makes its way into our meal rotation. This  simple and delicious Penne alla Vodka is a frequent birthday dinner request. Katie often picks a crazy complicated birthday cake, like the red velvet checkerboard number this year, so an easy main dish is welcomed.
This Penne alla Vodka is creamy with a hit of heat, this classic Italian pasta is truly a winner. Did you know alcohol is a flavor enhancer like salt? The vodka will evaporate during the cooking process, but magically intensifies the deliciousness along the way.
Hunt's: From Farm to Table
Days get crazy around the holidays, so it's important to sit down as a family and enjoy a home cooked meal. My goal is to prepare a simple meal, with quality ingredients, that will elicit smiles with every tasty bite.  Hunt's tomatoes are grown in the rich soil of Oakdale, California, by dedicated farmers.  
Since 1888, Hunt's has been bringing the purest tomatoes from farm to table; not all canned tomatoes can tout that! Peeled using FlashSteam instead of chemicals, Hunt's products are good for the soil (no chemical by-products) and good for your health*.  Their method might not be the easiest way, but Hunt's believes that it's the right way, the natural way. 

Hunt's Petite Diced Tomatoes
I picked up Hunt's Petite Diced Tomatoes at my local Walmart. Walmart has a large area of very reasonably priced Hunt's products in the aisle with canned tomatoes. These tomatoes are easy to find, inexpensive and nestled with a wide array of Hunt's tomato products.
Petite Diced Tomatoes eliminate the need for chopping which helps streamline dinner prep. Just open the can and add the perfectly diced tomatoes and juices into the saucepan. It's a hectic time of year, and we all need comfort food that takes little time to get on the table. Make sure to stop at Walmart and stock your pantry. I hope you'll add this Penne alla Vodka to your menu!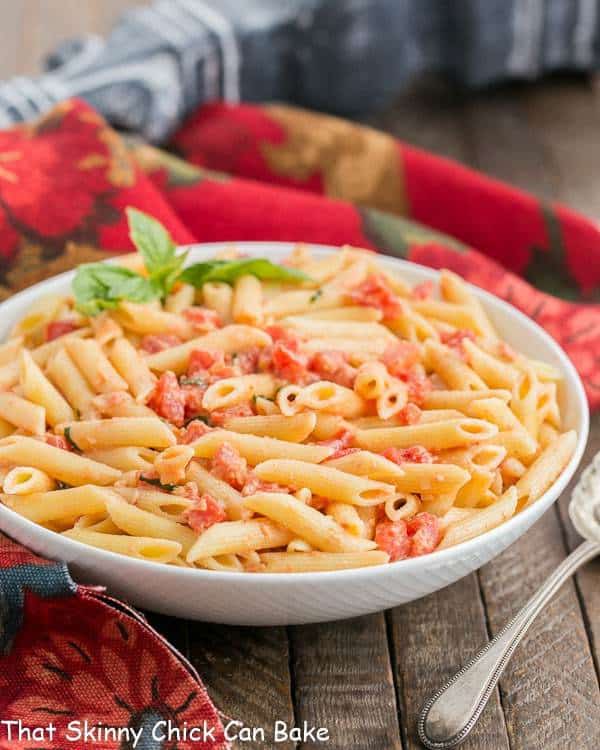 More Family Friendly Pasta Recipes You'll Love:
You may need these supplies to make the penne alla vodka recipe:
Print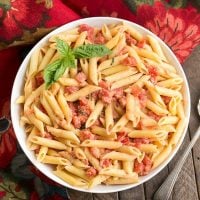 Penne alla Vodka
A quick creamy tomato and vodka pasta sauce served with penne.
Author:
Prep Time: 10 mins
Cook Time: 15 mins
Total Time: 25 minutes
Yield: 6 servings
Ingredients
2 14.5-ounce cans Hunt's Petite Diced Tomatoes
1 pound penne pasta
2 tablespoons olive oil
1 tablespoon minced garlic
1 large shallot, minced (about 1/3 cup)
1/2 teaspoon crushed red pepper flakes (more or less to taste)
2 teaspoons sugar
1/2 teaspoon salt (more or less to taste)
Freshly ground black pepper to taste
1/4 cup vodka
1/2 cup heavy cream
2 to 3 tablespoons chopped fresh basil
3/4 cup freshly grated Parmesan cheese
Instructions
Start water boiling, add enough salt to make water taste briny and cook penne according to package instructions
While pasta water is heating up, heat the olive oil in a large saucepan. Add garlic and shallots and cook till soft. Add tomatoes and their juices plus crushed red pepper flakes, sugar, salt and pepper to taste. Cook for a few minutes. Add vodka and simmer for 2 or 3 minutes (longer if you want to ensure all alcohol has evaporated). Stir in cream and basil, then add drained pasta. Mix in Parmesan. Gently heat until sauce is hot.
Serve immediately. Pass extra Parmesan to top pasta if desired.
*Tomatoes contain lycopene, a powerful antioxidant which may be linked to a reduced risk of cancer, heart disease, and age-related eye disorders.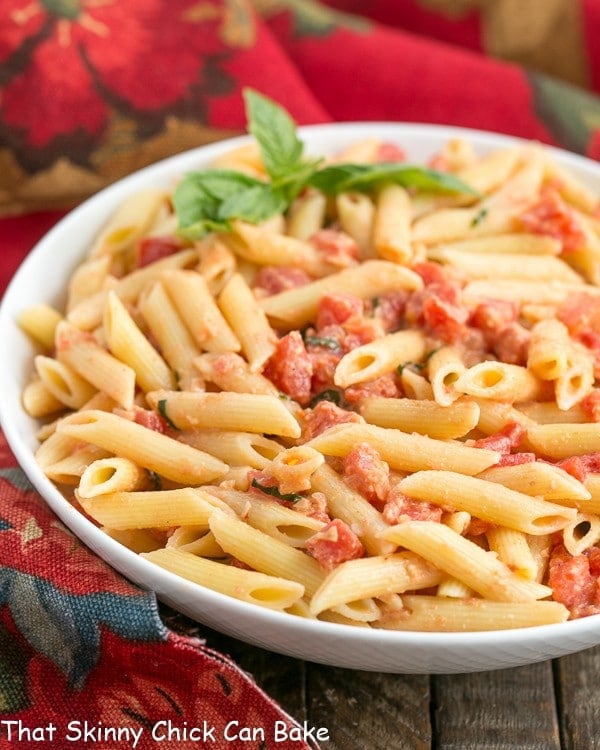 Note: This post may contain affiliate links; view my Disclosure Policy for details. I earn a small percentage from any purchase you make by clicking on these links at no extra cost to you.