Orange Marmalade Filled Sweet Rolls are composed of a tender bread dough rolled around a healthy dose of marmalade and brown sugar for a delightful breakfast treat!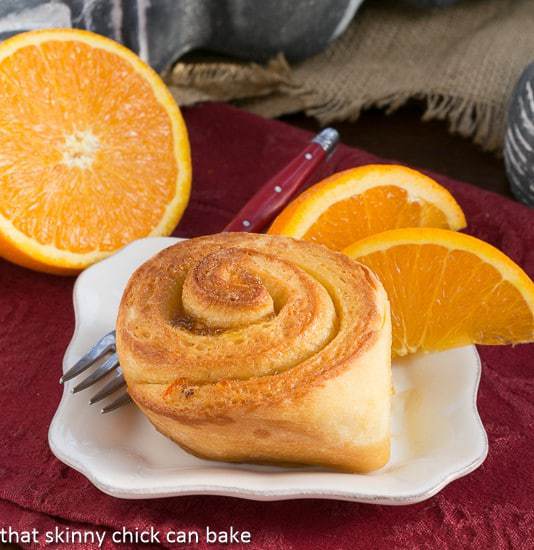 Sweet Rolls
Whew. After a couple of yeast disasters, I thought I had lost my baking mojo. But I went to my trusty Red Star Platinum yeast and an Alton Brown cinnamon dough recipe to revive my bread baking esteem.
These Orange Marmalade Filled Sweet Rolls started with a soft buttery dough that spent the night in the fridge slowly developing an exquisite flavor and texture. Bill was back at work for a half day and gave me a call on his way home, questioning if I got those orange rolls baked. When I replied in the affirmative, he mentioned he planned to have one for lunch!
Marmalade Filling Verdict
Alton Brown's cinnamon roll dough was a winner and rolled out like a dream. I smeared some marmalade jam over the surface, followed by a cup of brown sugar and then a drizzle of melted butter. The most difficult part of the whole process was rolling up the dough…but even if your spiral isn't perfect, your rolls will taste amazing.
The long, rolled cylinder was sliced into 12 slices, then placed in a baking pan, covered and set in the fridge overnight. Just a half hour in a slightly warmed oven proofed them for baking the next morning. I added an icing made of butter, orange zest, orange juice and powdered sugar. Now wouldn't this be the perfect breakfast to serve your morning company? All the work can be done the night before.
I didn't mention the orange marmalade to Bill. If he has toast for breakfast, he tops it with butter and the most mundane jelly…raspberry, strawberry or grape. I awaited his verdict. Bill has a fondness for both cinnamon and orange breakfast rolls. I shouldn't have worried. These plump, tender sweet rolls were definitely a success. Just ask Bill. He'll vouch for them.
Print
Orange Marmalade Filled Sweet Rolls #TwelveLoaves
Recipe adapted from recipes from Alton Brown, The Pioneer Woman, and Better Homes and Gardens
Author:
Prep Time: 45 mins
Cook Time: 30 mins
Total Time: 1 hour 15 mins
Yield: 12 rolls
Category: Bread, Breakfast, Brunch
Method: Baking
Cuisine: American
Ingredients
For dough:
4 egg yolks, room temperature
1 whole egg, room temperature
1/4 cup sugar
6 tablespoons butter, melted
3/4 cup (6 ounces) buttermilk, room temperature
4 cups flour (you may not need it all)
1 package instant dry yeast, Red Star Platinum Yeast preferred
3/4 teaspoon kosher salt
Filling:
1/2 cup orange marmalade, I used Bonne Maman
1/2 cup butter, melted
1 cup brown sugar
Icing:
2 tablespoons butter, room temperature
1 teaspoon orange zest
1 tablespoon plus 1 teaspoon orange juice
I cup powdered sugar
Instructions
In your stand mixer fit with whisk attachment, mix the egg yolks, whole egg, sugar, butter, and buttermilk. Add 2 cups of the flour,yeast and salt and mix till combined. Replace the whisk attachment with the dough hook. Add 1 1/4 cups of the remaining flour and knead on low speed for 5 minutes. If the dough is sticky after 5 minutes, slowly add more flour till it reaches desired consistency. Knead on low speed 5 minutes more or till dough comes away from the sides of the bowl. Spray a large bowl with non-stick cooking spray and swirl the top of the dough in the bowl, then flip it over. Cover and let double in volume at room temperature, 2 to 2 1/2 hours.
Grease a 9 by 13-inch glass baking dish. Turn the dough out onto a lightly floured work surface. Roll into an 18 by 12-inch rectangle. Brush the dough with the marmalade, leaving 1/2-inch border along the top edge. Sprinkle the brown sugar over the dough, then drizzle with butter. Beginning with the long edge nearest you, roll the dough into a tight cylinder.Using a serrated knife, slice the cylinder into 12 equal sized rolls. Arrange rolls cut side down in the baking dish; cover tightly with plastic wrap and store in the refrigerator overnight.
Remove the rolls from the refrigerator and place in an oven that is turned off. Fill a 9 x13 pan half-full of boiling water and set on the rack below the rolls. Close the oven door and let the rolls rise until they look slightly puffy, about 30 minutes. Remove the rolls and the water from the oven.
Preheat oven to 350º. Bake rolls for about 30 minutes till lightly browned.
Make icing by adding all ingredients to mixing bowl. Beat till well combined. Spread over rolls when cooled.
Notes
Total time does not include proofing times or cooling time.
Twelve Loaves
#TwelveLoaves April: Oranges. The month of March was filled with gorgeous strawberry breads! We have chosen ORANGES for our April theme! Choose a recipe including oranges. Your bread of choice recipe must include in the recipe: oranges, orange marmalade, orange zest. In addition to being in the dough, it could also be added to a glaze. Whatever you bake, (yeasted, quick bread, crackers, muffins, braids, flatbreads, etc) have fun and let's have a delicious month of bread with ORANGES. Let's get baking! Check out all the wonderful breads this month, and scroll down for the rules if you'd like to join us:
If you'd like to add your bread to the collection with the Linky Tool this month, here's what you need to do!
1. When you post your Twelve Loaves bread on your blog, make sure that you mention the Twelve Loaves challenge in your blog post; this helps us to get more members as
well as share everyone's posts. Please make sure that your bread is inspired by the theme!
2. Please link your post to the linky tool at the bottom of my blog. It must be a bread baked to the Twelve Loaves theme.
3. Have your Twelve Loaves bread that you baked this April, 2014, and posted on your blog by April 30, 2014.
#TwelveLoaves is a monthly bread baking party created by Lora from Cake Duchess. #TwelveLoaves runs so smoothly thanks to the help of the lovely Renee from Magnolia Days and Heather from girlichef.
Disclosure: Red Star Yeast supplied me with a variety of their premium yeasts.Bonne Maman  supplied me with a jar of their Orange Marmalade. I was not compensated for writing this post and the opinions expressed herein are those of the author, and are not indicative of the opinions or positions of Red Star Yeast nor Bonne Maman. 
Note: This post may contain affiliate links; view
my Disclosure Policy
for details. I earn a small percentage from any purchase you make by clicking on these links at no extra cost to you.