Maple Glazed Apple Tart
This Maple Glazed Apple Tart is made from buttery puff pastry baked up with cream cheese and apple filling for a delicious breakfast dish or dessert.
This Apple Pastry is a fall favorite pairing seasonal apples and maple syrup in a most delightful way!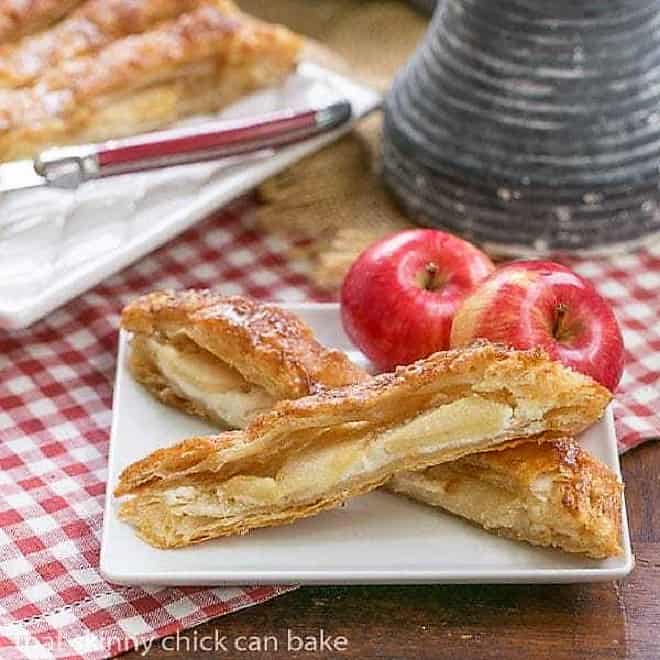 Why You Must Make
I adore apple desserts and I'm certain this tart was first baked up as an after-dinner treat. I've served it for brunch numerous times—any excuse for eating it numerous times during the day. Growing up, I wasn't a fan of maple anything. I credit this with the artificially flavored syrup that donned our table when having French toast, pancakes or waffles for Sunday breakfast. Ick.
It was this tart that showed me that maple could be an exquisite flavor, especially paired with apples.
This tart is simply glazed with reduced maple syrup. Just 10 minutes or so of simmering concentrates the flavor and thickens the syrup into a delectable glaze.
The combination of flavors and textures makes this Puff Pastry Apple Tart an exquisite dish, whether you choose to serve it at the beginning, middle, or end of the day.
Recipe Tips
Defrost your frozen puff pastry in the refrigerator for a few hours or overnight.
While working with your puff pastry, if it gets warm, place it back in the refrigerator for a few minutes.
After your dish is assembled, place it into the refrigerator to chill. Puff pastry "puffs" best when it's cold when placed into a hot oven.
Bake in a hot oven. This recipe is baked at 375º.
Use a combination of apple varieties for the best depth of flavor for your apple tart filling. Look for baking apples like Honeycrisp, Golden Delicious, Granny Smith, Northern Spys, etc.
Ingredient Notes
Kitchen Staples – Sugar, Powdered Sugar, Egg
Cream Cheese – At room temperature so it will blend smoothly
Vanilla Extract – Never use imitation vanilla. Make sure the label reads Real Vanilla Extract.
Golden Delicious Apples – Peeled, cored, and sliced into ¼-inch slices. You may also use other favorite baking apples. Just pierce them to check that they're tender before pulling the pastry out of the oven.
Frozen Puff Pastry – I used all-butter Dufour brand puff pastry. Trader Joe's often carries an all-butter puff pastry in their freezer aisle (especially around the holidays). Thaw overnight in the refrigerator so it's ready to use.
Pure Maple Syrup – Use real maple syrup. Artificially flavored syrups won't taste nearly as good.
Frequently Asked Questions
Can You Use Puff Pastry to Make a Tart Crust?
Yes, it's a quick and tasty option for a crust. Just leave a border of the puff pastry without filling (lightly scoring where the border begins).
What Do You Need to Know When Baking with Puff Pastry?
Puff pastry will puff or rise best when it's put into a HOT oven when the pastry is COLD. Often this requires putting your tart into the refrigerator to chill before baking as the pastry can get warm as you work with it.
Why Do Apples and Maple Pair Well?
Since harvesting apples and maple syrup both occur in the fall, they have become a natural food pairing.
You May Also Like
The Recipe:
Maple Glazed Apple Tart
Prep Time 20 minutes
Cook Time 40 minutes
Total Time 1 hour
Yield 6 servings
A gourmet apple tart with a puff pastry base, cream cheese filling and maple glaze.
Ingredients
8 ounces cream cheese, at room temperature
¼ cup powdered sugar
1 teaspoon vanilla
2 medium Golden Delicious apples, peeled, cored and sliced into 1/4 inch slices
¼ cup sugar
14 ounces Frozen puff pastry, thawed (I used a package of Dufour puff pastry)
1 large egg beaten with 1 tablespoon water
½ cup pure maple syrup
Instructions
Stir together cream cheese, powdered sugar, and vanilla till smooth.
Peel, core, and slice apples into ¼-inch slices. Toss with 2 tablespoons of sugar.
Preheat the oven to 375º.
On a lightly floured surface roll one sheet of puff pastry into 12 x16 rectangle. From a long side, cut a ⅓-inch wide strip, then cut it in half. From a short side, cut two ⅓-inch strips. Set strips aside.
Cut the remaining rectangle in half to make two 12 x 8-inch pieces. Place one on a parchment-lined baking sheet.
Brush the outer ⅓ inch of the rectangle on a baking sheet with egg wash and arrange pastry strips around the perimeter of borders, trimming to fit. Spread cream cheese mixture inside borders and top with apples. If the pastry gets warm at any time, place it in the refrigerator to chill.
On a lightly floured surface roll the remaining sheet, if needed to enlarge, so that it covers the apple tart. Cut several diagonal slits down the middle of the rectangle.
Brush the border edges of the tart with egg wash, then top with the pastry rectangle. Press edges gently to seal. Brush tops with egg wash and sprinkle with the remaining 2 tablespoons of sugar.
Bake for 30 minutes, or till puffed and golden.
Simmer maple syrup for about 10 minutes to reduce to ⅓ cup. Brush hot glaze over warm tarts. Serve warm or at room temperature.
Nutrition Information:
Yield:
6
Serving Size:
1
Amount Per Serving:
Calories: 668
Total Fat: 39g
Saturated Fat: 12g
Trans Fat: 0g
Unsaturated Fat: 25g
Cholesterol: 69mg
Sodium: 303mg
Carbohydrates: 71g
Fiber: 2g
Sugar: 37g
Protein: 8g
Note: This post may contain affiliate links; view
my Disclosure Policy
for details. I earn a small percentage from any purchase you make by clicking on these links at no extra cost to you.