Lattice Topped Raspberry Pie
If I want to put a smile on my husband's face I make this heavenly Lattice Topped Raspberry Pie. Check out the secret combination for the most exquisite pie crust, too!
A Berry Pie is a classic summer dessert. Whether your filling is fresh raspberries, strawberries, blueberries, blackberries, or a combination, you'll love a slice topped with a scoop of vanilla ice cream.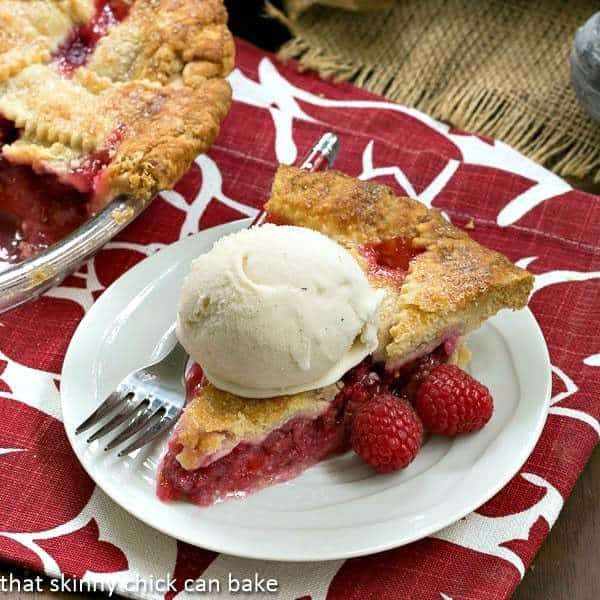 Lattice Topped Raspberry Pie Recipe
We had dinner guests last weekend; and after my friend, Barb, of Creative Culinary, raved about her pie crust made with leaf lard, I had to dig my stash out of the freezer. I baked up both a peach pie and this lattice topped raspberry pie.
My pie crust is quite similar to Barb's. We both use a combination of butter, for flavor, and lard, for exquisite flakiness. My leaf lard pie crust recipe made its debut in this blog post from Thanksgiving 2010. It's outstanding. Scroll down if you're new to making homemade pie crust for my tips.
Leaf Lard + Premium Butter = Best Pie Crust Ever
For those of you who haven't heard of leaf lard, it's rendered from the pork fat found around the kidneys and the loin. It is the highest grade of lard, with little pork flavor and known to produce the flakiest pie crusts. My mother-in-law would always make the BEST lard pie crusts. I use a combination of leaf lard and butter for the best flavor and texture.
Local friends can find leaf lard at Moody's Meats. It keeps well in the freezer and I always stock up at Thanksgiving. And also make sure to use the highest quality butter you can find. Look for a European or European style butter, made from the milk of grass-fed Irish dairy cows. Irish butter is available in most larger markets.
Tips for Making Perfect Pie Crusts
I doubt anyone was born knowing how to make a perfect pie crust. It takes loads of practice to recognize when the dough has enough water, is blended enough, and is rolled to the proper thickness. But a few tips will help make the process easier.
There are so many variations of fats that can go into pie crust. All lard, all butter, all shortening or a mixture of these. Some folks use oil, but I'm not a fan. Each of these have benefits. I like using 2/3 butter for the flavor and 1/3 either shortening or lard for the flakiness they provide.
Keep your fats cold. If you find you use shortening a lot in your crusts, consider keeping some stored in the freezer, so it's always cold and ready to go. Some bakers chill their bowls and even the flour to keep the pie dough cool.

Mixing the Pie Dough

Use a pastry blender or food processor to mix the fat or fats into the dry ingredients. You'll want the mixture to look like corn meal with a few pea sized bits interspersed.
Over processed pie dough will not result in a flaky crust.
Also use ice water to moisten your dough, but make sure no actual ice gets into the pie dough. Do not add too much water. You want just enough so the dough holds together when you pinch it between your fingers.

Rolling the Pie Dough

Wrap flattened rounds of your pie dough in plastic wrap and chill for at least 30 minutes before rolling. This gives the gluten time to relax and the fat time to rechill.
Roll out the pie dough on a well floured surface. Roll from the center outward and rotate the dough a quarter turn and repeat. If the dough doesn't turn easily, reflour the surface.
Do not overwork the dough as you need to keep the small bits of fat intact as they make for a flaky crust when baked.

Fitting the Pie Dough into the Pie Plate

Fold the rolled out dough in half, then place and unfold in the pie plate. Do not stretch the dough to fit, but instead, let it fall into place.
If your crust has gotten warm during the rolling and fitting process, chill it again in the pie plate.
If your pie needs a top crust, make sure to add some vents to let the steam escape. Lattice topped pies have natural vents.

How Long to Bake a Raspberry Pie
The baking time in this recipe is a general guideline. You may add more fruit or less fruit plus all ovens bake a bit differently. As the lower end of the baking time nears, look at the crust as it should be golden brown. Also, eye the middle of the pie filling. In order for the filling to thicken, it must be bubbling.
Tapioca thickens well before the boiling point, but cornstarch needs to boil to thicken. Don't expect a rolling boil like when boiling water, but instead just bubbling visible between the lattice strips. If you make a solid top crust, a few vents must be cut to release steam. Check the vents for bubbling.
Raspberry Pie Recipe Reviews
Well, needless to say, our company raved about the pies. And the hubby, too. As he finished off the leftovers, one slice at a time, he complimented it again and again. I hope you can track down some leaf lard and some European butter for your next crust. You won't be disappointed with this delicious berry pie.
More Fruit Pies You'll Love: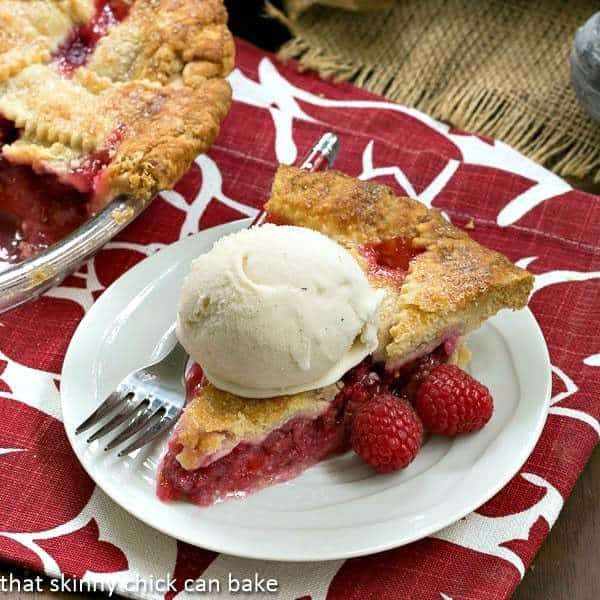 The Recipe:
Lattice-Topped Raspberry Pie
Prep Time 40 minutes
Cook Time 55 minutes
Total Time 1 hour 35 minutes
Yield 8 servings
An exquisite fresh raspberry pie with the ultimate flaky pie crust recipe!
Ingredients
Crust:
2 1/2 cups flour
1/2 teaspoon salt
1 tablespoon sugar
12 tablespoons cold premium butter (I prefer Kerrygold), and cut into 1/2 inch pieces
8 tablespoons lard, leaf lard preferred, cold, and cut into pieces similar size to the butter.
6-8 tablespoons ice water or enough till crust just holds together when pinched between your fingers
Filling:
1 1/3 cups sugar
2 tablespoons quick-cooking tapioca
2 tablespoons cornstarch
5 cups fresh raspberries
1 tablespoon butter
Glaze for crust:
1 tablespoon of milk
Sugar
Instructions
In a food processor, pulse together flour, salt, and sugar to mix. Add butter and lard and pulse 3-5 times, till mixture resembles cornmeal, with a few pea-sized chunks of fat. Add ice water one tablespoon at a time, until dough just holds together.
Form dough into two balls and flatten into disks. Wrap in plastic and refrigerate one hour or longer. Roll and fit pie tin with one round of crust; trim edges to just a bit wider than pie plate. Place in fridge while preparing filling.
In a large bowl, combine the sugar, tapioca, cornstarch, and raspberries; let stand for 15 minutes.
Roll out remaining dough to at least a 12-inch circle. Cut into strips 1-1¼ inches wide. On a silpat or piece of parchment, weave strips into a lattice crust. Start with your two longest strips crossing over in the center. See link below for more details. You can also not weave, but instead, lay half the strips in one direction, and lay the other half over them perpendicular to the first set. Space the strips so that the lattice will cover all the fruit filling. Slide Silpat or parchment onto a flat baking sheet and chill for a few minutes to let dough firm up slightly, but not so long that it gets hard and brittle.
Scoop filling into pie plate and dot with pieces of the 1 tablespoon of butter.
Carefully transfer lattice crust and center over top of the pie (I use a large cake mover). Trim, seal and flute edges. Brush with milk; sprinkle with sugar.
Bake at 350° for 50-55 minutes or until crust is golden brown and filling is bubbly. Cool on a wire rack. Serve with vanilla ice cream.
Notes
Filling inspired by Taste of Home recipe.
Total time does not include chilling time for pie dough.You can also weave the lattice crust right on top of the pie.
Your strips may get stained from the process of plaiting, but the juices will bubble onto the lattice during baking, so the top will never be pristine.
There are photos of how to do this on Simply Recipes.
Nutrition Information:
Yield:
8
Serving Size:
1 slice
Amount Per Serving:
Calories: 644
Total Fat: 35g
Saturated Fat: 19g
Trans Fat: 1g
Unsaturated Fat: 15g
Cholesterol: 67mg
Sodium: 296mg
Carbohydrates: 78g
Fiber: 6g
Sugar: 39g
Protein: 5g
Skinny Tip
I'm offering a series of Skinny Tips. How I keep slim is one of my most frequent inquiries. I'll feature more tips on some of my upcoming blog posts. Click on the #SkinnyTip tag at the end of this post to see all my previous tips.
Tip #39: Don't starve yourself. When you do, the tendency is to overeat when you finally sit down to a meal or park yourself in front of the fridge. It's much better to eat smaller amounts 3 or more times a day. Incorporate some protein and healthy fat (avocado, olive oil, nuts, seeds, eggs, fish like salmon and tuna) in each meal which will help keep you full longer.
Note: This post may contain affiliate links; view
my Disclosure Policy
for details. I earn a small percentage from any purchase you make by clicking on these links at no extra cost to you.