Sunchoke fans will love this Jerusalem Artichoke Soup topped with a dollop of creme fraiche.
Another Jerusalem Artichoke Recipe
A pleasant soup. That's what I'd say about this Jerusalem artichoke soup. One of my wise friends uses this term when she can't think of anything especially complimentary to say about someone (usually referring to one of her daughters' latest paramours).
Not that it was bad, but it wasn't the kind of soup that beckoned to me for seconds. He's Just Not That Into You is playing on the TV in the background…and that's what I'd say about this soup. I'm just not that into you.

Jerusalem Artichoke Soup
Since we eat with our eyes, it may be the bland color that threw me for a loop. The mixture of chokes, chicken broth, onions, garlic, celery and leeks was cooked then pureed. The hue was less than appealing, sort of a speckled taupe.
I made just a fraction of the recipe and my mini food processor was incapable of pureeing the parsley into a proper coulis for the garnish, so mine was short of that flavor component. If you are a huge fan of Jerusalem artichokes or sunchokes, I have a feeling you'd be a fan.
Dorie's recipe can be seen on Google Books Jerusalem artichoke soup. Plus if you're already a fan of sunchokes, Dorie's Roasted Jerusalem Artichokes with Garlic are a nice substitute for roasted potatoes.
More soups for your viewing pleasure: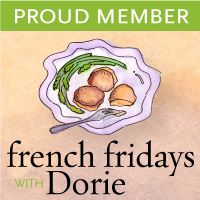 Note: This post may contain affiliate links; view
my Disclosure Policy
for details. I earn a small percentage from any purchase you make by clicking on these links at no extra cost to you.