Italian Rice Pilaf with Toasted Almonds
A Pilaf Recipe is a perfect way to round out any meal. This Italian Rice Pilaf with Toasted Almonds is simple enough for a weeknight meal, yet impressive enough for company! 
This Rice Casserole is a frequent flyer at our house. With growing boys in the house, there was always a need for a filling side dish, usually potatoes or rice. This was a hit from the start.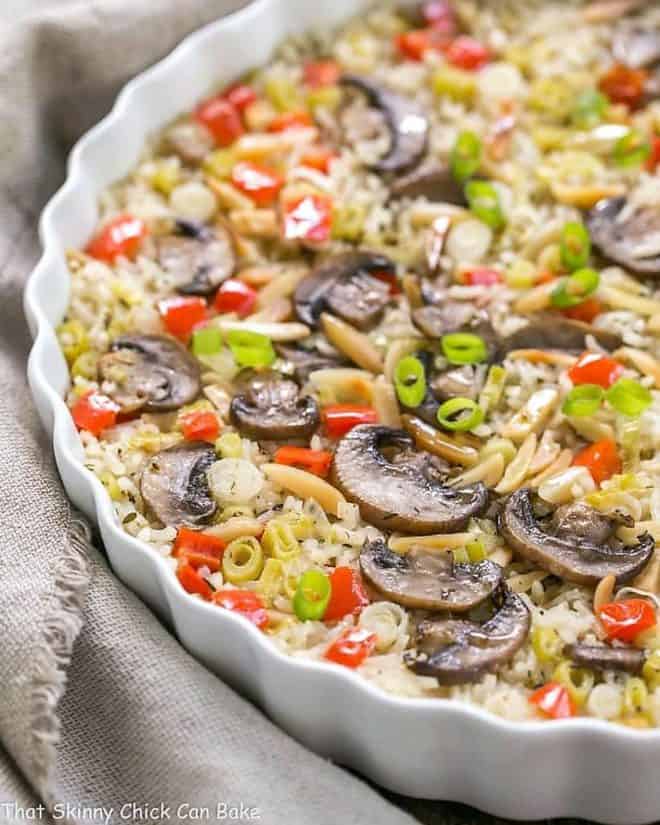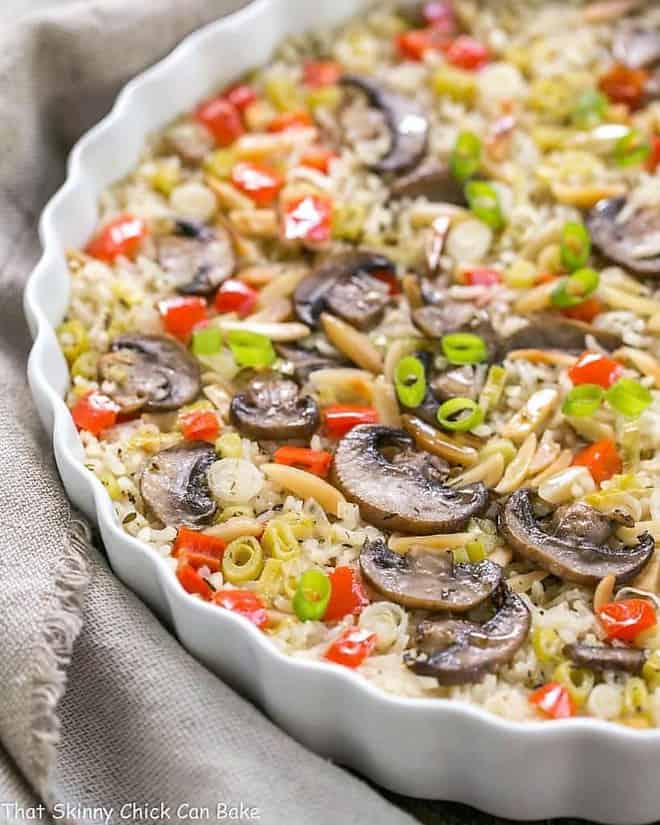 Why You Must Make
This Mushroom Rice Pilaf has been an Indianapolis favorite since it appeared in our local Junior League cookbook, (Affiliate Link) Winners: Winning Recipes from the Junior League of Indianapolis.
I've had it at dinner parties and made it for company. It's an easy recipe, but special enough for guests.
Cooked in the oven, this rice is easy to make ahead, park in the fridge, then bake up when guests arrive. You must extend the baking time if it comes straight from the refrigerator to the oven.
It's a delicious, easy way to shake up your side dish repertoire.
Ingredient Notes
Kitchen Staples – Butter, Long Grain Rice
Mushrooms – Your favorite variety. Buy sliced to save a step.
Red Bell Pepper – Chopped
Italian Seasoning – Mine is a mixture of oregano, basil, marjoram, thyme, and rosemary (I use Penzey's brand)
Green Onions – Also known as scallions, chopped
Chicken Broth – Use vegetable broth for a vegetarian dish. I use Pacific brand as it's not overly salty. If you use unsalted broth, you'll need to add salt to your dish before baking or it will be very bland.
Slivered Almonds – Toast in the oven or in a skillet to bring out their essential oils for more flavor if you'd like.
How to Make
Expert Tips
I love easy, make-ahead dishes when planning a dinner menu, whether for a big family gathering or a dinner party. I love to focus on an unforgettable entree and a spectacular dessert. The rest should be delicious, memorable, yet easy! So it's great to have a handful of terrific side dishes that can practically be made blindfolded. Well, maybe not that easy since there is some mushroom sauteing involved!
The almonds can be toasted ahead of time, then the rice, mushrooms, onions, and season cooked in butter, before pouring it all into a baking dish.
It's easy to tweak to your taste. Don't like almonds? Leave them out. Love mushrooms? Add another variety to the mix.
The broth and almonds are added, then the whole shebang is popped into the oven. As Ina would say, "How easy is that???"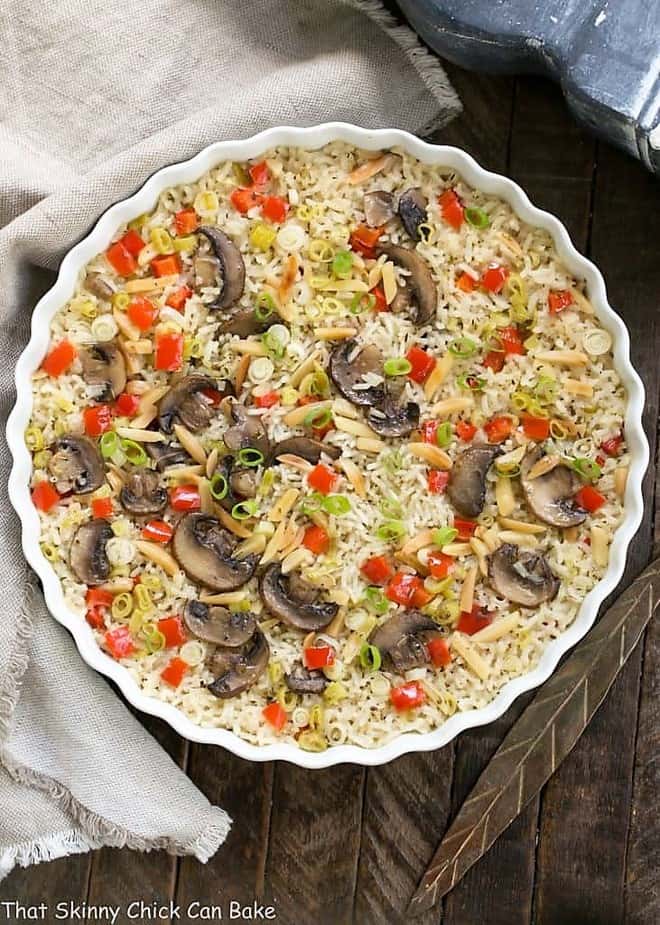 Frequently Asked Questions
What is Pilaf?
According to the Food Lover's Companion, pilaf is a rice or bulghur dish that originated in the Near East. It's made by browning the rice in butter or oil before cooking it in broth. There are often other additions like vegetables or proteins like meat or poultry. It can be eaten as a side dish or entree.
What is the Difference Between Pilaf and Risotto?
Pilaf bakes into a dryer, loose-grained rice dish whereas risotto is made with European rice, Arborio, which is starchier, a smaller grain, and round. Much more liquid is used to make risotto compared to pilaf and the results are much creamier.
What Type of Rice is Best for Pilaf?
Long grain rice like Jasmine or Basmati is best for pilaf.
You May Also Like
Do you have a favorite, easy side dish? Any delicious, simple rice recipes?
The Recipe:
Italian Rice Pilaf with Toasted Almonds
Prep Time 15 minutes
Cook Time 1 hour
Total Time 1 hour 15 minutes
Yield 6 servings
An easy rice pilaf that's perfect to round out nearly any meal!
Ingredients
½ cup (1 stick) butter
1 cup rice (I use long grain)
1 cup sliced mushrooms
½ cup diced red bell pepper
1 teaspoon Italian seasoning
¾ cup chopped green onions, plus more to garnish if desired
2 ⅔ cups chicken broth (use vegetable broth for a vegetarian dish)
¾ cup slivered almonds, toasted
Instructions
Preheat oven to 325 degrees. Grease a 2-quart baking dish. Set aside.
Melt butter in a large skillet. Stir in rice, mushrooms, bell pepper, Italian seasoning, and green onions. Stir and cook until the mushrooms are tender.
Pour the rice mixture into the baking dish. Stir in broth and almonds.
Cover tightly with foil and bake for 1 hour. Check to see if rice is cooked and broth is absorbed. Cook longer if needed.
Nutrition Information:
Amount Per Serving:
Calories: 349
Total Fat: 22g
Saturated Fat: 10g
Trans Fat: 1g
Cholesterol: 41mg
Sodium: 177mg
Carbohydrates: 32g
Fiber: 2g
Sugar: 2g
Protein: 5g
Note: This post may contain affiliate links; view
my Disclosure Policy
for details. I earn a small percentage from any purchase you make by clicking on these links at no extra cost to you.