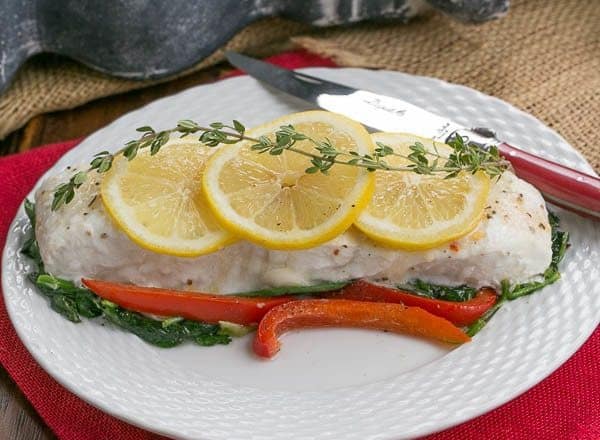 This Halibut and Spinach en Papillote was a delightful, healthy dinner—even the pickiest husband ate every bite!
Curry and Comfort
I was delighted when I saw my April assignment for Blogger CLUE. In case you've missed my previous posts, this is a group where bloggers are assigned to another blogger and cook something from that blog according to the theme of the month. Now that spring has arrived, seasonal vegetables seemed appropriate as our April topic.
I popped over to my assigned blog, Curry and Comfort, written by my dear friend, Ramona, to see which one of her terrific dishes I would make. Ramona and I became friends early in our blogging careers. We'd bounce questions and ideas off each other—I think we were both trying to figure out the mysteries of StumbleUpon! So I was quite familiar with her blog and all the marvelous recipes she had to offer.
Halibut and Spinach en Papillote
Ramona was born in Sri Lanka and is the mom of two. She loves spicy food and curries, but has all sorts of recipes that are perfect for families and busy moms. I whipped up these super easy Halibut and Spinach en Papillote for our Good Friday dinner. Making foil or parchment packets, AKA cooking en papillote, is a classic technique which deliciously steams the contents.
Bill was starving after a long day at work, but when I mentioned I made halibut for dinner, he promptly said, "I'll make a grilled cheese." He hadn't eaten much all day and wasn't thrilled at trying out a new seafood (I've barely converted him to salmon and shrimp in the past decade). Using my wifely charms, I asked him to take just a bite. "Not bad" was his reply and he managed to eat the whole portion of this halibut and spinach en papillote in record time. A fait accompli!
Note that Ramona used cod when she prepared this recipe. Use your judgement when you're at the seafood counter. The halibut looked fresh so I went that route–any nice white fish will do. I also overbought scallions (a Dorie recipe called for 20 green olives, but instead I purchased 20 green onions. Multitasking is not my forte!) and used them in place of onions. I had fresh thyme in the fridge so that was added to the marinade instead of dried. I think all sorts of herbs would work well, too.
I also zeroed in on her Asparagus and Leek Frittata with Bacon, thinking it would be a lovely meatless dinner for Lent sans bacon–and any leftovers would make a terrific breakfast. It looked like a versatile recipe that could easily be tweaked by shaking up the herbs and veggies. If you'd like to see more of Ramona's marvelous recipes, pop on over to Curry and Comfort and say hello! Thanks, Ramona, for helping me add another fish to Bill's repertoire!
April's Blogger CLUE participants:
Here's another halibut recipe to try: Halibut with Capers, Cornichons and Brown Butter Sauce
Print
Halibut Spinach and Peppers en Papillote
This healthy, flavorful halibut recipe is ready in just a half hour!
Author:
Prep Time: 10 minutes
Cook Time: 20 minutes
Total Time: 30 minutes
Yield: 4 servings 1x
Category: Entree, Seafood
Ingredients
1 1/2 – 2 pounds fresh halibut (or cod), cut into 4 filets
8 ounces baby spinach leaves
1–2 lemons
Bell peppers (as desired)
Scallions, sliced
Salt and black pepper to taste
Crushed red chili flakes
Olive Oil
Marinade:
1 tablespoon fresh lemon juice
1 1/2 tablespoons olive oil
1/4 teaspoon garlic powder
1/4 teaspoon dried thyme (or 3/4 teaspoon fresh thyme leaves)
Crushed red chili flakes, to taste
Instructions
Brush foil with a little oil. Place a handful of spinach in middle of foil. Next place peppers and scallions and season with salt and black pepper.
Brush each piece of cod with oil and place it on top of the vegetables. Then season the cod well with salt, black pepper and red chili flakes to taste.
Pour the prepared marinade over each piece of fish and top with 2-3 slices of fresh lemon. Fold all sides of foil up and seal. Place all the packets on a baking tray and bake at 400 degrees for 15-20 minutes (or until fish is flaky and cooked through). Allow the packets to remain unopened for 2-3 minutes before serving.
Notes
Adapted from Curry and Comfort.
Note: This post may contain affiliate links; view
my Disclosure Policy
for details. I earn a small percentage from any purchase you make by clicking on these links at no extra cost to you.