Grilled Shrimp Scampi
Fire up the BBQ and make this heavenly Grilled Shrimp Scampi flavored with lemon, garlic, basil, and grainy mustard for a phenomenal entree. It's a delicious, easy recipe to kick off the summer grilling season!
The twist on this Recipe for Shrimp Scampi isn't the recipe itself, but the technique. Cooking quickly over charcoal imparts an incredible smoky flavor which complements the sweet, succulent shrimp perfectly.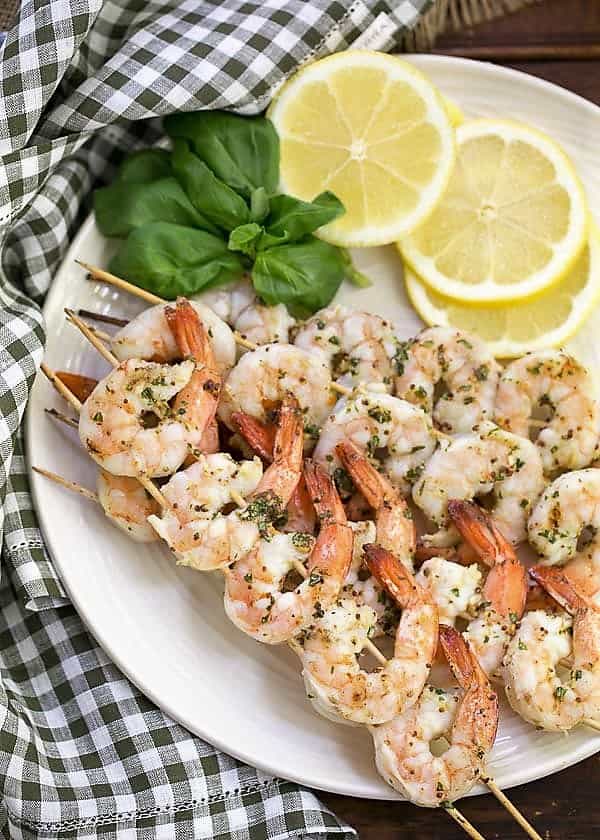 Why You Must Make
You may think of pasta tossed with garlicky shrimp and butter when shrimp scampi comes to mind. But this grilled version is fabulous!
Apparently Italian immigrants to the states developed scampi by utilizing Italian techniques to cook American food.
I was relieved that adding grainy mustard and basil wouldn't necessarily butcher a purest's interpretation of scampi nor would grilling it.

Recipe Tips
My husband lets me get my way most of the time. I think that's how we have stayed married for 30 years. Smart man. But he refuses to let me purchase a gas grill. Granted, the taste of charcoal does impart a certain smokey deliciousness, but it's messy. I think that's my new excuse for wearing yoga pants 24/7! I admit, though, that he does have a point.
These shrimp, for example, were phenomenal. Besides all the layers of flavors from the marinade, the grilling process imparted another marvelous nuance. Of course, a gas grill is much easier to control, so feel free to use whatever method you have available.
Shrimp grill quickly, so work fast. Just 1-2 minutes per side and they need to be removed from the heat so the texture doesn't become rubbery.
If you're using wooden skewers, soak them in water for about 30 minutes to prevent them from catching on fire. Metal skewers are always an option.
PRO-Tip: Use two skewers threaded through each shrimp as seen in the photo above. This will make the shrimp easier to flip as they're locked in place.
Use your eyes to judge when the shrimp is done. Once they start turning pink, give them a quick flip and remove them to a serving tray. Also, watch for them to curl. If they curl into a "C" shape, they're cooked. If they curl into an "O" shape, they're overcooked.
Timing will vary, of course, depending on the temperature of your grill and the size of your shrimp. If you are a shrimp lover, you must make this extraordinary grilled shrimp scampi!

Serving Suggestions
We enjoyed this with a lovely Sauvignon Blanc with citrus flavors of lemon peel and grapefruit.
A crusty loaf of bread or slices of Garlic Bread would be delicious.
Frequently Asked Questions
What is Scampi?
Scampi is the Italian word for the tail portion of lobsterettes like the Dublin Bay prawn, according to the Food Lover's Companion. In the US, scampi typically refers to large split shrimp brushed with garlic butter before being broiled.
What Ingredients Can Be Used in a Scampi Sauce?
Some ingredients you'll see in scampi recipes include butter and/or olive oil, white wine, garlic, red pepper flakes, and freshly squeezed lemon juice.
You May Also Like: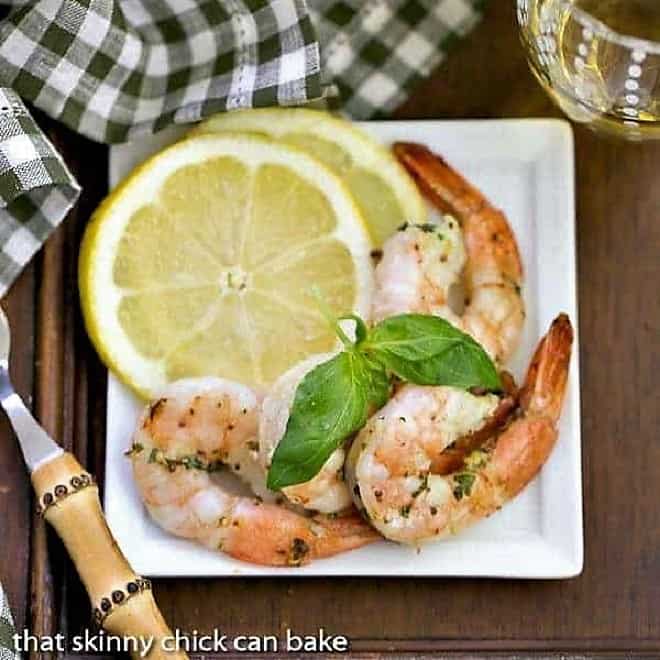 The Recipe:
Grilled Shrimp Scampi
Prep Time 20 minutes
Cook Time 4 minutes
Total Time 24 minutes
Yield 6 servings
A fabulous grilled version of the classic shrimp scampi.
Ingredients
1 tablespoon olive oil
3 tablespoons butter, melted
2 tablespoons fresh lemon juice
Zest of half a lemon
1 1/2 tablespoons grainy mustard
1/4 cup minced basil
2 cloves garlic, minced
1/4 teaspoon crushed red pepper flakes
1/4 teaspoon Badia spices complete seasoning mix
2 pounds jumbo shrimp, peeled and deveined
Instructions
In a shallow glass dish (I used my 9x13-inch pyrex cake pan), mix together olive oil, butter, lemon juice and zest, mustard, basil, garlic, red pepper flakes, and seasoning mix.
Add shrimp and stir till the shrimp are coated with the paste.
Place in the refrigerator for about an hour.
Prepare grill. Thread shrimp onto skewers. Gently microwave any marinade left in the pan and smear over skewered shrimp.
Grill for approximately 2 minutes per side or till just starting to turn pink. Serve hot.
Notes
Grill just until the shrimp turn pink. Overcooking will make them rubbery.
Nutrition Information:
Yield:
6
Serving Size:
1
Amount Per Serving:
Calories: 258
Total Fat: 11g
Saturated Fat: 5g
Trans Fat: 0g
Unsaturated Fat: 5g
Cholesterol: 334mg
Sodium: 1583mg
Carbohydrates: 4g
Fiber: 0g
Sugar: 0g
Protein: 35g
Note: This post may contain affiliate links; view
my Disclosure Policy
for details. I earn a small percentage from any purchase you make by clicking on these links at no extra cost to you.