Classic Gazpacho with Homemade Croutons
This traditional Classic Gazpacho is a cold, refreshing summer tomato soup that hails from the region of Andalusia in Spain.
My mom introduced us to Spanish Gazpacho Recipe back in the 1970s. It became a summer favorite topped with cucumbers, peppers, and buttery homemade croutons!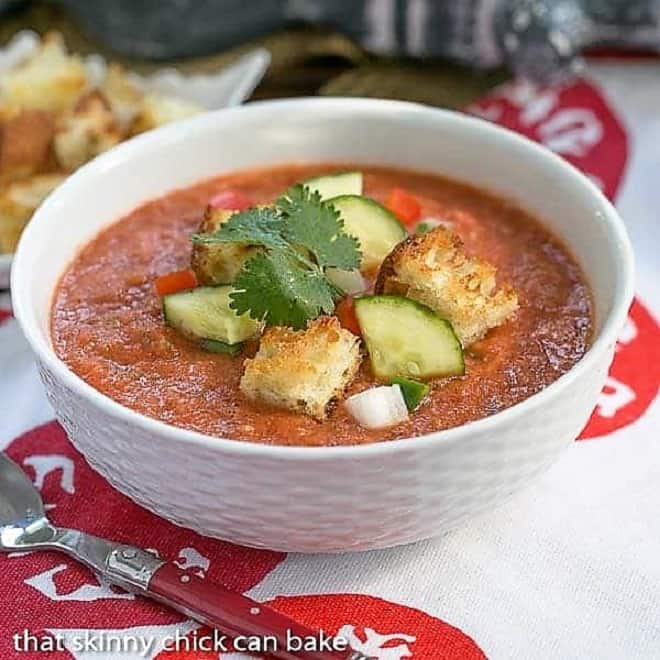 Why You Must Make
I fell in love with this refreshing, cold soup as a child. My first taste of a classic gazpacho was in a Swiss restaurant (weird, eh?) in Aspen, Colorado. If a 10-year-old loved it, it must be good!
It's like a salad in liquid form! It's chock-full of delicious vegetables. Plus, the homemade croutons cooked in butter are exquisite!
It's a delicious way to cool down on a hot summer's day.
My dad studied at the Physics Institute there for a couple of weeks each summer…at least on those days when he wasn't scaling some mountain…and my family enjoyed the quaint, Victorian ski town before it became so chic.
We'd spend our days hiking or parked outside the music tent listening to the daily practices or, if we were lucky, my mom would treat us to lunch. My sisters and I would be on our best behavior, and we got tastes of exotic dishes that weren't so prevalent in our Midwest college hometown. It may have been at Guido's where we all oohed and ahhed over our first tastes of this Spanish soup.
Gazpacho Ingredients
Tomatoes–Vine ripe or garden tomatoes preferred, but a good quality canned tomato will do in a pinch
Green Pepper–though I prefer red, green is traditional and offers a stronger flavor
Onion—the piquant tones are needed
Cucumber—I like to use an English cucumber so as to eliminate the need to remove the seeds
Vinegar—red wine or sherry
Olive oil—it adds a certain richness and mouthfeel
Bread—I've never blended bread into my gazpacho, but it does help to thicken the soup. I like my bread as crunchy croutons.
Water or Tomato Juice–definitely debatable whether either is traditional, but they work well to thin your gazpacho
You can see why classic gazpacho is often referred to as a liquid salad! Packed full of delicious vegetables, it's the perfect mid-summer lunch or a refreshing addition to any meal, whether a grilled steak or sandwich. Check out my Wazpacho for a twist on this classic. This Mango Gazpacho offers another terrific fruity twist and this Beet Gazpacho is stunning!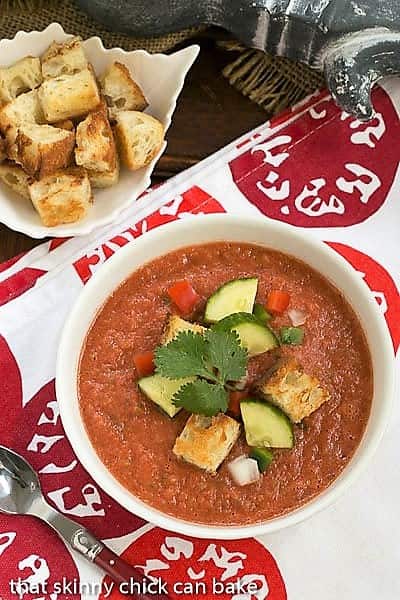 How to Make
This gazpacho recipe is so easy, you'll want to make it over and over. The ingredients are blended, then the mixture is chilled. Here is the process:
Make garnishes by dicing cucumbers, bell peppers, and/or onions.
Saute cubes of bread in salted butter until they're browned on all sides to make croutons. Sprinkle with a bit of salt while warm, if desired.
Make the gazpacho by adding the soup ingredients into a blender and pureeing until smooth.
PRO-Tip: Chill to allow the flavors to meld and develop. Overnight is best.
Serve with the garnishes of your choice.
PRO-Tip: You can make a half batch (or smaller) to serve as shooters for an appetizer course. A shooter is when you pour the soup into small glasses for just a few sips or an amuse bouche, French for "amuse the mouth." Wonderful on a hot summer's eve! And don't forget to garnish!
Shortly after, my mom recreated this cold, tomato soup at home. Back then, my favorite elements were the slightly salty croutons which she made by sautéing cubes of a baguette in butter. But now a combination of the veggie garnish with the slightly spicy tomato puree is what I consider pure bliss.
I've updated my mom's classic gazpacho recipe by adding a wee bit of hot sauce, and switching out the red wine vinegar for champagne vinegar, only because I had a higher quality version of the latter in my pantry. Sherry vinegar is a great option, too. I hope this traditional gazpacho recipe will become a new summer favorite for you, too.
Frequently Asked Questions
What Makes a Classic Gazpacho Recipe?
Gazpacho comes from the Andalusia region of Spain, though different regions have developed their own twists. Though there are zillions of gazpacho recipes out there, the true, classic gazpacho recipe has these traditional elements: Fresh tomatoes, bell peppers, onions, celery, cucumber, breadcrumbs, garlic, olive oil, and vinegar.
What is White Gazpacho?
White Gazpacho or Ajo Blanco is also a cold Spanish soup and is made with bread, almonds, cucumbers, grapes, sherry vinegar, and olive oil.
Should You Peel Your Tomatoes Before Using?
Since I use canned tomatoes in my gazpacho recipe, it's easy to slip off the peels with your fingers. If you're using fresh tomatoes, it requires cutting a shallow X in the non-stem side and blanching them for a minute or so in simmering water, placing them in an ice bath, and then removing the peels. You'll also want to remove the seeds if using fresh tomatoes.
Is Gazpacho Healthy?
Yes, gazpacho is very healthy. It's chock full of delicious, nutritious vegetables. Plus, tomatoes are full of Vitamins A, C, and E. There also comes lots of fiber with the vegetables.
Why is Gazpacho Served Cold?
Southern Spain, where gazpacho was first created, can get very hot in the summer. This cold soup was designed to cool you down on a sultry day.
You May Also Like: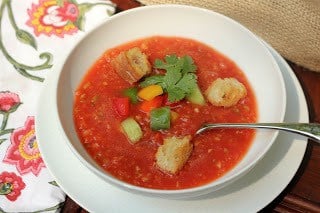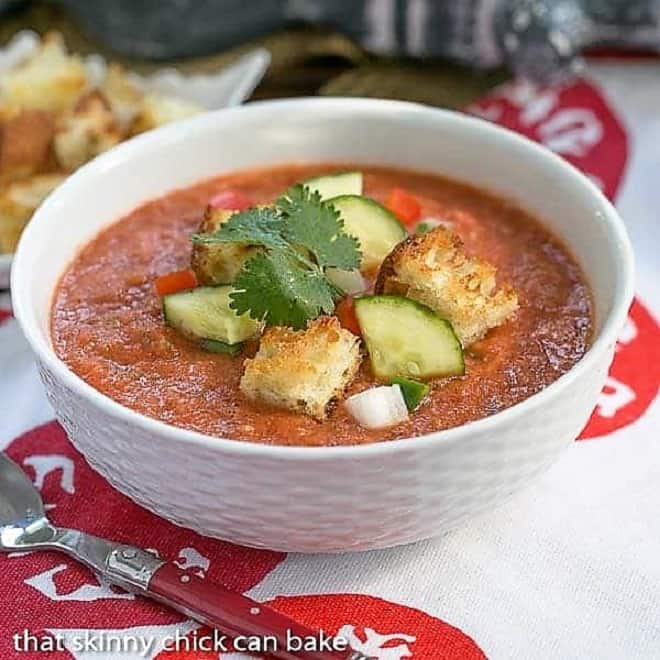 The Recipe:
Classic Gazpacho Recipe with Homemade Croutons
Prep Time 15 minutes
Total Time 15 minutes
Yield 8 servings
A spectacular cold tomato soup garnished with vegetables and homemade croutons.
Ingredients
1 pound can of tomatoes (or fresh peeled and seeded garden tomatoes)
20 ounces tomato juice
1/2 cucumber, chopped
1/4 green or red bell pepper, chopped
1/2 onion, chopped
1/4 cup champagne vinegar (or red wine vinegar)
1/4 cup olive oil
1/2 teaspoon Tabasco sauce, or to taste, optional
1/2 teaspoon salt
Freshly ground black pepper to taste
Diced cucumbers, bell peppers, homemade croutons
Instructions
Add all ingredients, except garnishes, to a blender or food processor. Puree.
Chill overnight (or at least a few hours) before serving.
Serve cold with diced veggies and croutons.
Notes
!Adapted from my mom's recipe
To make homemade croutons, saute bread cubes in a combination of butter and olive oil with a sprinkle of salt.
Chilling overnight will allow the flavors to meld, making a tastier soup.
Recommended Products
As an Amazon Associate and member of other affiliate programs, I earn from qualifying purchases.
Nutrition Information:
Yield:
8
Serving Size:
1
Amount Per Serving:
Calories: 104
Total Fat: 8g
Saturated Fat: 1g
Trans Fat: 0g
Unsaturated Fat: 6g
Cholesterol: 0mg
Sodium: 418mg
Carbohydrates: 9g
Fiber: 2g
Sugar: 5g
Protein: 2g
Note: This post may contain affiliate links; view
my Disclosure Policy
for details. I earn a small percentage from any purchase you make by clicking on these links at no extra cost to you.