Fresh Fruit Pizza
The next time you order pizza for dinner, finish your meal with this vibrant, delicious Fresh Fruit Pizza! Easy and a stunning showstopper!
Add whatever fruit you'd like for your own customizable dessert pizza recipe. Just as perfect for a summer gathering as for a casual grand finale for a pizza party.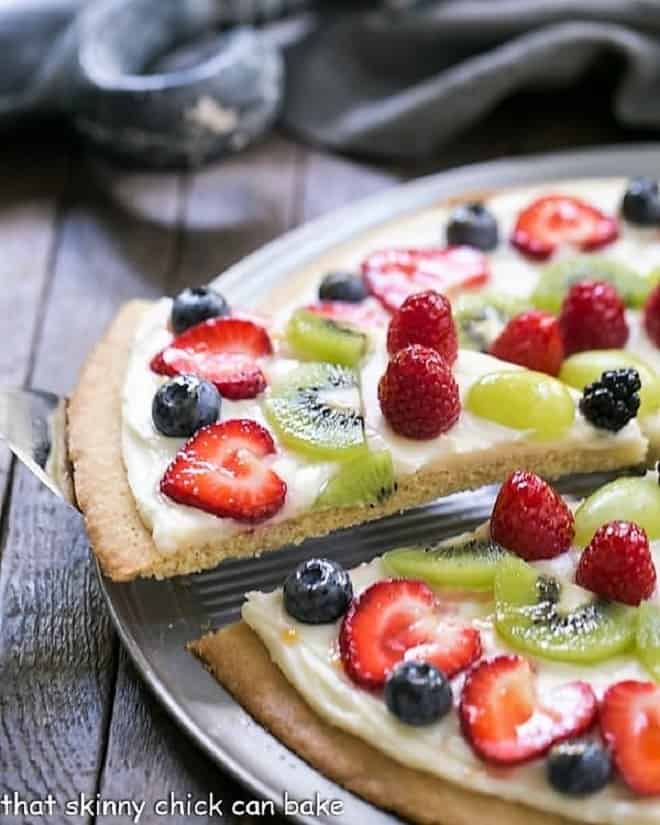 Why You Must Make
How does this sound: a soft sugar cookie crust topped with a dreamy cream cheese frosting and garnished with colorful glazed fresh fruit? Pretty darn good, right?
Did you know October is National Pizza Month? It's the perfect time of year to try a new pizza recipe.
If you want to bring a beautiful (and tasty!) dessert to any gathering, this dessert pizza will impress your friendsl
Reader Endorsement:
From Janet: YUMMY! This was the best "sauce" for a fruit pizza…I used a variety of berries and grapes plus kiwi fruit. It was yummy AND beautiful!
I dug out my pizza pan and pat out a round of cookie dough to form the crust. My favorite cream cheese icing was spread over the baked cookie before artfully placing berries and fruit over the surface. A dessert pizza is a perfect way to celebrate pizza, spring, summer or any occasion!!
Ingredient Notes:
Kitchen Staples: Butter, Sugar, Powdered Sugar, Flour, Salt, Eggs, Vanilla, Baking Soda
Baking Powder (if you have some, check the expiration date)
Cornstarch
Fresh Lemon Juice
Cream Cheese
Fresh Fruit like berries, kiwi, seedless grapes (I like using a variety of colors, but a monochromatic palette with all red berries would be beautiful, too)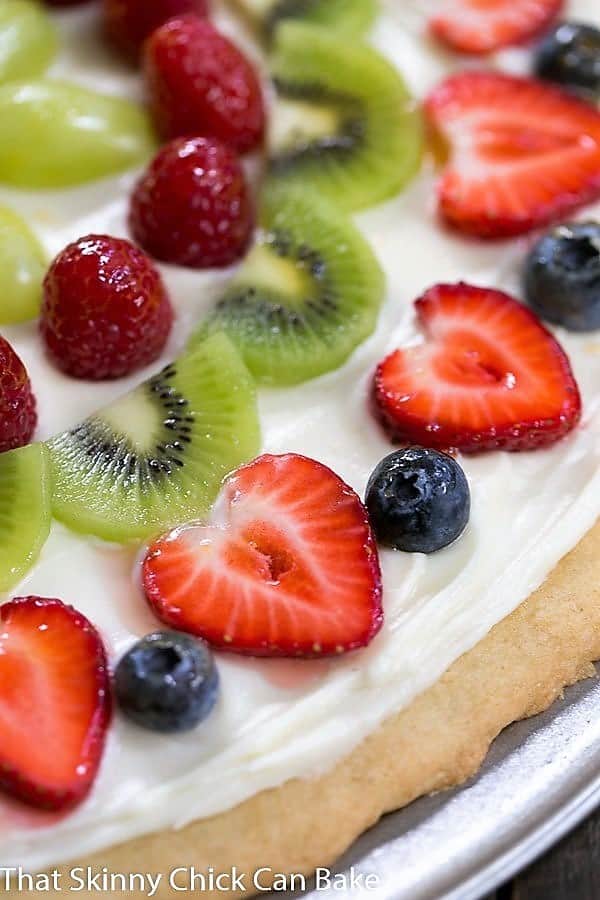 Expert Tips
This fun dessert pizza recipe can be tweaked in so many ways. Use just strawberries or try a different cookie recipe for the crust. Here are some of my tips to help make your dessert pizza perfect every time.
PRO-Tip: Use chilled cookie dough to make your crust. This helps prevent undue spreading when it's baked.
If the dough happens to spread too much when it comes out of the oven, just use your spatula to tap the crust back while it's still warm and pliable.
For a shortcut, an easy alternative is to use refrigerated store-bought cookie dough.
Feel free to make the crust from any flavored cookie dough. A sugar cookie dough, though, is the most versatile.
You can always top it with a single fruit, like all strawberry slices, or whatever combination appeals to you!
PRO-Tip: Using soft fruit like berries, peeled peaches and kiwi make it easy to slice your fresh fruit pizza into wedges.
Try other toppings and frostings. How about a chocolate frosting, chocolate chips, and mini marshmallows with a drizzle of chocolate sauce?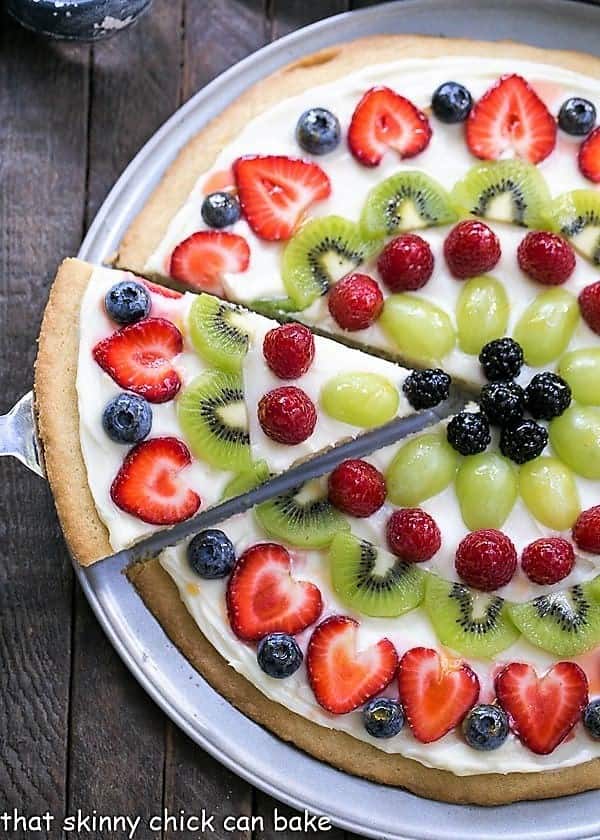 Frequently Asked Questions
What is a fruit pizza?
It's just what it sounds like! It's a dessert pizza topped with fresh or cooked fruit. My kids discovered Pizza Hut dessert pizza and were smitten. They're made with cookie dough or pizza crust, topped with a "sauce" or frosting, fruit, and often a glaze.
What kind of crust goes with dessert pizza?
It's up to you and can depend on your toppings. A traditional yeast bread pizza crust works well. I'd love it rolled out thin and topped with sweetened sauteed apple tossed with cinnamon. But my favorite crust is a sugar cookie crust, which is baked first and cooled before adding toppings.
Can I use store-bought sugar cookie dough?
Yes, it should work just fine. Just watch your baking time as it may vary from my recipe. A great shortcut!
Can I use canned fruit?
If the fresh fruit options look dismal, canned fruit will work in a pinch. Slice as needed, then lay it over a couple of layers of paper towels to remove excess juice which will dilute the "sauce" layer.
Can you make dessert pizzas the day before?
If you're serving to company or a special dinner, it's best to make this fruit pizza on the day you plan to serve it. The fruit will start to release some juices as it sits over the cream cheese frosting.
It may discolor the frosting and even make the crust a bit soggy. My family will still eat leftovers days later, so it all depends on who you're feeding!
How do you glaze a fruit pizza?
When you make an apple pizza, the apples are generally cooked with cinnamon and sugar and form their own glossy juices. There's no need for a glaze. But when making a fruit pizza recipe, a little glaze gives a nice finished sheen to the fruit.
My go-to fruit pizza glaze is super easy. Take a few tablespoons of jelly that works with the colors of your fruit. Apple and apricot jellies are generally pretty neutral. Raspberry or red currant jelly is perfect for berry toppings as they're red in color.
Melt the jelly on the stovetop or microwave with a bit of water. Let cool slightly before brushing over the fruit-topped crust.
You May Also Like:
There are so many delicious variations of dessert pizzas besides my fruit pizza recipe. You can easily swap out the fruits for your favorites and totally change the taste and appearance.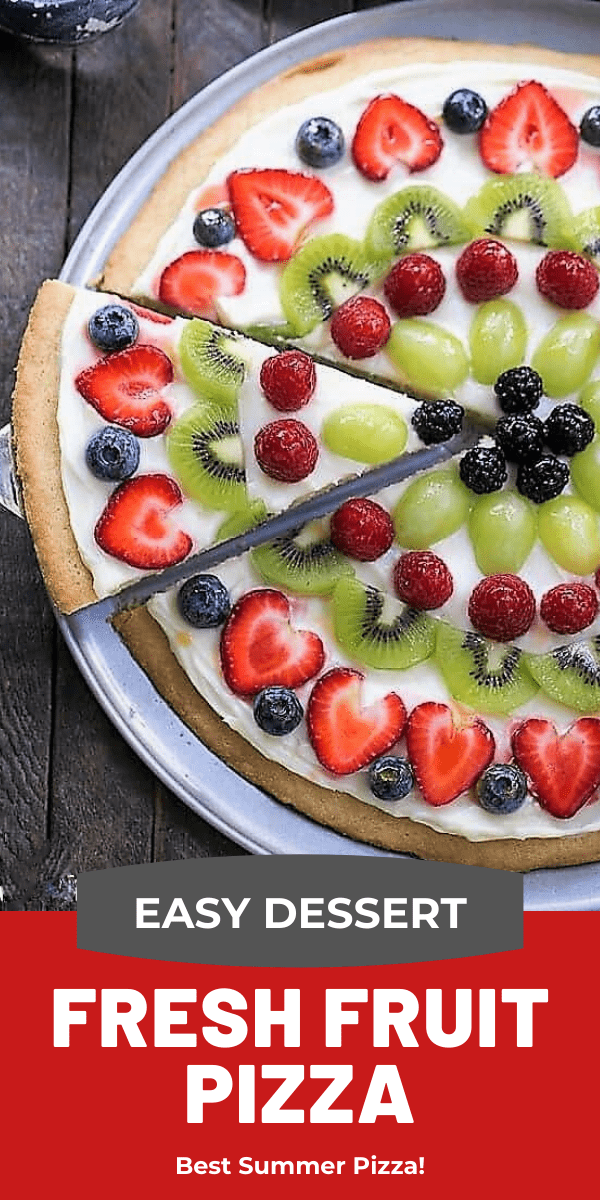 Stay in touch through social media @ Instagram, Facebook, and Pinterest. Don't forget to tag me when you try one of my recipes! And if you love the results, please give it a 5-star rating in the recipe card. Note: As an Amazon Associate, I earn from qualifying purchases. Visit my Amazon Store for my favorite products.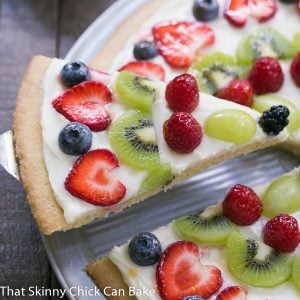 The Recipe:
Fresh Fruit Pizza
Prep Time 30 minutes
Cook Time 20 minutes
Total Time 50 minutes
Yield 12 servings
A vibrant, delicious dessert pizza with a sugar cookie crust and cream cheese frosting! Crust adapted from Sally's Baking Addiction,
Ingredients
Crust:
½ cup butter, at room temperature
¾ cup sugar
1 egg, at room temperature
1 teaspoon vanilla
1 ½ cups flour
¼ teaspoon salt
1 teaspoon baking powder
½ teaspoon baking soda
1 ½ teaspoons cornstarch
Frosting:
6 ounces cream cheese, at room temperature
½ cup butter, at room temperature
½ teaspoon vanilla
2 teaspoons fresh lemon juice
1 ¼ cups powdered sugar, sifted
To finish:
Fresh fruit, sliced as needed (I used blueberries, raspberries, blackberries, strawberries, green grapes, and kiwi)
¼ cup strained apricot jam to glaze, optional
Instructions
Cream the butter and sugar with a hand mixer until light and fluffy. Beat in egg and vanilla.
In another bowl, whisk together the flour, salt, baking powder, baking soda, and cornstarch. Add the dry ingredients to the butter mixture and mix until just combined. Cover and chill for at least 30 minutes, but longer is better to prevent spreading when baked.
Preheat oven to 350°. Grease a 12-inch pizza pan and pat the cold cookie dough into a flat round. Bake for 18-20 minutes or until very light brown. Do not over-bake. Cool before frosting.
To make the frosting, whip the cream cheese and butter until light and fluffy. Add vanilla and lemon juice and mix until combined. Add the powdered sugar and mix until well incorporated.
Spread frosting over the cooled crust leaving about ½-inch of the edge unfrosted. Arrange fruit in concentric circles as desired.
To glaze, heat the strained apricot jam with a teaspoon of water. I used the microwave. Using a pastry brush, glaze the fruit.
To serve, cut in wedges.
Notes
Use any combination of fruit you'd like. Berries and soft fruit cut into bite-sized pieces works best.
Recommended Products
As an Amazon Associate and member of other affiliate programs, I earn from qualifying purchases.
Nutrition Information:
Yield:
12
Serving Size:
1 slice
Amount Per Serving:
Calories: 378
Total Fat: 21g
Saturated Fat: 13g
Trans Fat: 1g
Unsaturated Fat: 6g
Cholesterol: 71mg
Sodium: 313mg
Carbohydrates: 46g
Fiber: 1g
Sugar: 31g
Protein: 3g
Note: This post may contain affiliate links; view
my Disclosure Policy
for details. I earn a small percentage from any purchase you make by clicking on these links at no extra cost to you.