French Silk Tart
This French Silk Tart with an Oreo crust made the cut this year for the Holidays, but it is easy enough for anytime you need a luscious, decadent dessert!
A chocolate pie is always in order to satisfy the chocoholics you know.
French Silk Tart
Once again, I'm reinventing the wheel. I don't know how many iterations of a French silk pie I've actually made, but the crusts have varied from buttery pastry to pretzel to chocolate, the fillings have had raw eggs and cooked eggs, the sizes have varied from mini tarts to standard pie and now to a 10-inch tart. My family just can't get enough of French silk. And a blogger just can't make the same thing twice!
Perfect Holiday Dessert
This French Silk Tart was our bonus Thanksgiving dessert this year. The chocoholic hubby and offspring feel it is their inalienable right to have a second dessert despite that there are only 5 of us at the dinner table. I have to admit I couldn't help snitching little slivers as I cut big slices after the main feast. This French Silk Tart will continue to be a mainstay holiday dessert!
Tips for Making French Silk Desserts
This French Silk Tart recipe calls for raw eggs. The uncooked eggs give the filling a most satiny texture, which is why this is no ordinary chocolate tart, but a French "silk" tart. Unfortunately, raw eggs can harbor salmonella, a food-borne illness. I won't go into details, but you definitely don't want it, especially around the holidays. So it's worth searching out some pasteurized eggs (Safest Choice is the brand I can find locally), especially if you're feeding this to children or the elderly.
The gentle heating process kills any bacteria without cooking the eggs. In a pinch, I have pasteurized my eggs at home by keeping them at 140º for 3 1/2 minutes by immersing them in hot water and carefully monitoring the temperature. It's a little tricky and not ideal unless you have some specialty equipment. If your water is too hot, you may scramble your eggs, too cool and you risk getting ill. So hunt down some pasteurized eggs and whip up a French Silk Tart for a treat you soon won't forget!
You may need these supplies to make the french silk tart recipe:
For a mini version, check out these French Silk Shooters! And if you're short on time, these semi-homemade French Silk Brownies are spectacular!
More Pies and Tart Recipes to inspire you!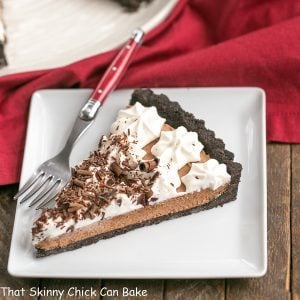 The Recipe:
French Silk Tart
Prep Time 30 minutes
Total Time 30 minutes
Yield 8 servings
A rich, satiny chocolate filling in an Oreo tart shell!
Ingredients
Oreo Crust:
32 Double Stuff Oreos, processed to crumbs
6 tablespoons butter, melted
Filling:
1/2 cup butter, at room temperature
2/3 cup sugar
2 ounces unsweetened chocolate, melted
1 teaspoon vanilla
2 eggs, pasteurized recommended
Topping::
1 cup heavy cream
1/4 cup powdered sugar
1 packet Whip It (whip cream stabilizer), optional
1 teaspoon vanilla
Chocolate shavings, optional, to garnish
Instructions
To make crust, mix Oreo crumbs and melted butter until well combined. Pat into the bottom and up the sides of a 10-inch tart pan. Freeze for about 10 minutes.
In the bowl of a stand mixer with the paddle attachment, cream butter and sugar for about 2 minutes, till light and fluffy. With mixer running, gradually add melted chocolate and the vanilla. Add eggs, one at a time, beating at medium speed for 5 minutes after each addition. Pour filling into cooled crust. Cover with plastic wrap, and cool in the refrigerator at least 4 hours.
Whip one cup of heavy cream, adding powdered sugar, Whip It (if using) and vanilla to taste. Pipe stars of whipped cream over the surface of the tart, or just spread the cream over the surface. Sprinkle with chocolate shavings.
Garnish with chocolate shavings if desired.
Notes
To make chocolate shavings, very gently warm a bar of semi-sweet chocolate in the microwave. With a vegetable peeler, scrape the sides of the bar to make shavings.
Nutrition Information:
Yield:
8
Serving Size:
1 slice
Amount Per Serving:
Calories: 642
Total Fat: 45g
Saturated Fat: 25g
Trans Fat: 1g
Unsaturated Fat: 11g
Cholesterol: 134mg
Sodium: 368mg
Carbohydrates: 57g
Fiber: 3g
Sugar: 40g
Protein: 5g
Note: This post may contain affiliate links; view
my Disclosure Policy
for details. I earn a small percentage from any purchase you make by clicking on these links at no extra cost to you.