Easy Southern Fried Chicken Recipe
This Easy Southern Fried Chicken Recipe starts with a flavorful brine and a short pan frying time, then finishes with a stint in the oven. There is less mess and outrageously delicious chicken!
Fried, then Baked Fried Chicken allows the exterior to get extra crispy without getting too dark in the hot oil. Plus, the buttermilk brine keeps the meat moist and tender!
Why You Must Make
This is an "easier" fried chicken recipe from Cook's Illustrated.
Fried chicken was always one of those daunting recipes as it's typically deep-fried and creates a huge greasy mess, but this pan-frying then baking method is so much easier.
This southern fried chicken is shallow fried, eliminating the big vat of oil and quite a bit of the mess. I use a (affiliate link) splatter screen over my frying pan to also help contain any flying grease! The chicken is fried just long enough to get some lovely golden color on the crust, before being fully cooked on a rack in the oven.
Expert Tips
Drape your cooktop in aluminum foil and use a screen splatter guard to minimize the mess.
PRO-Tip: Brine the chicken overnight in a flavorful buttermilk mixture. This will infuse moisture into the meat.
Don't be dissuaded by the large amount of salt in the brine as it is necessary for flavorful, tender meat.
Do not brine for any longer than overnight or the meat can get spongey. 
PRO-Tip: Add some baking powder to the dredging mixture for a little oomph as the chicken cooks. 
After the chicken is dredged once, take the reserved flour coating and add some buttermilk, and press that onto the chicken pieces, too.
Once both applications are complete, place the chicken on a wire rack over a baking sheet and refrigerate uncovered for a couple of hours. It helps adhere the coating to the chicken.
Fry your chicken in about an inch and a half of oil and avoid having to deal with a massive amount of oil afterward. That's a huge bonus!
Finish it off in the oven to make sure the internal temperature gets to a safe number, 165°.
The crust was crispy and flavorful and the meat was moist and tender. This was PERFECT buttermilk fried chicken! I could not stop sampling bits of the delectable crust. I'd call this a home run dinner!!!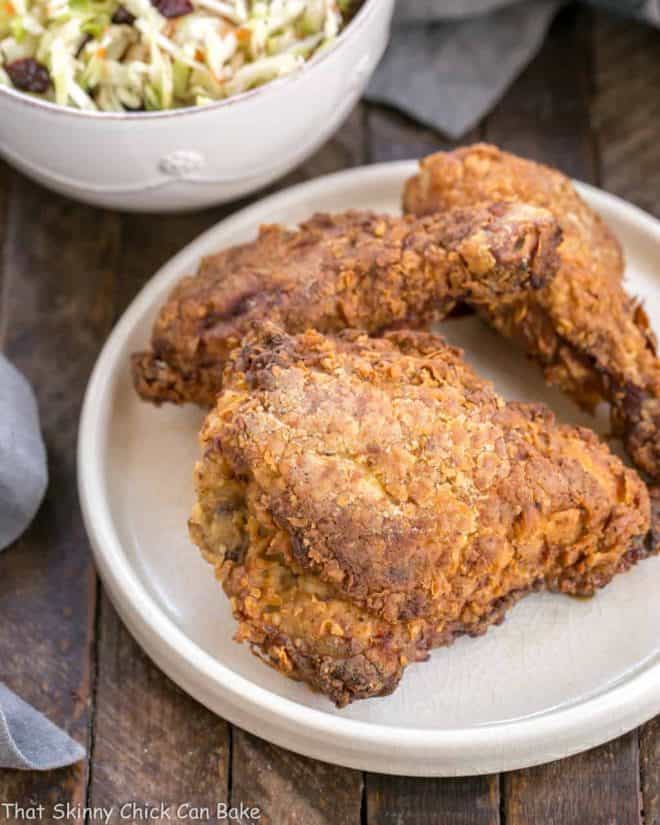 Frequently Asked Questions
Should You Soak Your Chicken Before Frying?
If your soaking liquid is adding flavor and moisture, then definitely soak (AKA brine) your chicken. The salt, pepper, garlic powder, and hot sauce in this recipe will infuse into the cells of the chicken meat by the process of osmosis. If you remember from high school chemistry, osmosis is when a liquid with a higher concentration of salt, for example, will pass into the unsalted chicken meat.
Instead of just flavoring the outside of the chicken, the flavors of the brine infuse into the meat and the "salt in brine denatures the meat's proteins to allow the cells to retain more moisture," according to The Taste of Home.
How Do You Get Crispy Fried Chicken?
Make sure your oil is hot enough so the exterior fries instead of absorbing the oil. Aim for 325°F. Double dredging makes sure there is plenty of coating to crisp. Adding baking powder to the dredging mixture will help create the perfect texture for the crust.
Also, the second dredging has some buttermilk added to the flour creating a thicker, stickier layer that will ensure a generous crispy layer!
How Do You Know When Your Chicken is Done?
It's best to use a meat thermometer to make sure your chicken is thoroughly cooked. Undercooked chicken can harbor salmonella bacteria which causes food poisoning. Check a few of the chicken pieces to make sure they have all reached 165°F.
Serving Suggestions:
Stay in touch through social media @ Instagram, Facebook, and Pinterest. Don't forget to tag me when you try one of my recipes! And if you love the results, please give it a 5-star rating in the recipe card. Note: As an Amazon Associate, I earn from qualifying purchases. Visit my Amazon Store for my favorite products.
The Recipe:
Easy Southern Fried Chicken
Prep Time 30 minutes
Cook Time 25 minutes
Total Time 55 minutes
Yield 4 servings
This Easy Southern Fried Chicken Recipe starts with a flavorful brine and a short pan frying time, then finishes with a stint in the oven. 
Ingredients
1 1/4 cups buttermilk, divided
4 teaspoons salt, divided
Dash hot sauce
3 teaspoons ground black pepper, divided
1 teaspoon garlic powder, divided
1 teaspoon paprika, divided
1/4 teaspoon cayenne pepper, divided
3 1/2 pounds bone-in, skin on chicken parts
2 cups flour
2 teaspoons baking powder
1 3/4 cups vegetable oil
Instructions
In a large Ziploc bag, combine 1 cup of the buttermilk, 3 teaspoons salt, the hot sauce, 1 teaspoon black pepper, 1/4 teaspoon paprika, and a pinch of cayenne pepper.
Add cut-up chicken to the bag and turn chicken pieces to coat them.
Place in fridge for at least 1 hour or overnight.
When ready to fry, preheat the oven to 400º.
In another large bowl, whisk together the flour, baking powder,1 teaspoon salt, 2 teaspoons black pepper, 3/4 teaspoon garlic powder, 3/4 teaspoon paprika, and remaining cayenne pepper. Add ¼ cup of buttermilk to the mixture and mix with your fingers until the buttermilk forms small clumps.
Dredge each piece of chicken in the flour mixture. Press the flour coating onto the chicken and place the chicken on a plate skin side up. *See note for extra step if you have time.
In a large saute pan, heat oil over medium heat until it reaches 375º. Add chicken pieces, skin side down, to the pan of hot oil. Cook 3 to 5 minutes, until they are golden brown. Carefully flip the chicken and continue to cook until they are golden brown on the other side, about 2 to 4 minutes more.
Remove the chicken pieces from the pan and place on a wire rackset over a rimmed baking sheet. Bake for about 15 to 20 minutes (leave the larger pieces in a bit longer). Allow chicken to cool slightly before serving.
Notes
Total time does not include brining time.
Calorie count isn't accurate due to the oil used for cooking.
*After breading the chicken, I like to put it on a rack over a baking sheet and refrigerate it for a couple hours. This helps the coating adhere better during the frying process.
Recommended Products
As an Amazon Associate and member of other affiliate programs, I earn from qualifying purchases.
Nutrition Information:
Yield:
4
Serving Size:
1
Amount Per Serving:
Calories: 1360
Total Fat: 112g
Saturated Fat: 12g
Trans Fat: 2g
Unsaturated Fat: 94g
Cholesterol: 110mg
Sodium: 2591mg
Carbohydrates: 54g
Fiber: 2g
Sugar: 4g
Protein: 37g
Note: This post may contain affiliate links; view
my Disclosure Policy
for details. I earn a small percentage from any purchase you make by clicking on these links at no extra cost to you.