Easter Cookie Cake
This Easter Cookie Cake is packed full of Easter candy and chocolate chips! It's perfect for any Easter leftovers!
Whether you whip up this Cookie Cake Recipe before or after the holiday, I guarantee it won't last long!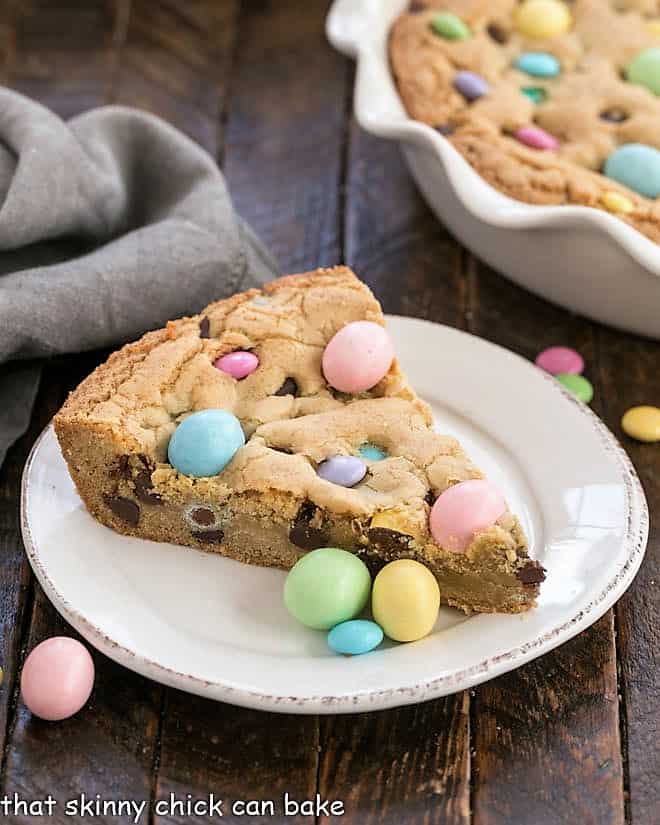 Why You Should Make a Homemade Cookie Cake
When my children were in elementary school, I loved baking treats for them to take to school on their birthdays. Then one year, Nick, my youngest, asked if I could buy a grocery store cookie cake instead of something homemade. Harumph, I thought.
But it was his day, so I honored his request. But I got to thinking that I could make a homemade cookie cake that would be so much better. I just packed chocolate chip cookie dough into my deep dish pizza pan and decorated it with icing after it cooled. The whole family loved it. And I never got another request to buy a cookie cake. Now I make them for any occasion, and this Easter cookie cake is one of our favorites!!
Cookie cake recipes are so versatile, you really can make them for any reason.
Add seasonal M&M's depending on the time of year.
They're so much fresher than a grocery store version, plus there's nothing artificial added! My cookie cakes are made with real butter and vanilla!
The wedges taste just like your favorite chocolate chip cookie recipe, but thicker and chewier!!!
Frequently Asked Questions
How Do You Cut a Cookie Cake?
I like serving wedges, so start by cutting across the middle from one side to the other. Then start in the middle and slice the first wedge in whatever size you desire.

This cookie cake is meant to serve eight but you can cut bigger or smaller slices depending on your appetites. Since the pie plate was greased, it's easy to remove the first slice with a spatula.
How Long Does a Cookie Cake Last?
Not long around here! But it should be good if it's stored covered for about 3 days at room temperature. Cover tightly with plastic wrap or foil to prevent it from drying out. Leftovers will be good after 3 days, but they may lose some freshness after that.
Can You Freeze Cookie Cakes?
Definitely. Since you can freeze chocolate chip cookies, this chocolate chip cookie cake, which is basically a big cookie, also freezes well. Just make sure it's wrapped airtight and store in the freezer for up to 3 months.
Tips for Making this Giant Cookie
If you've ever made chocolate chip cookies, this cookie cake will be a cinch to prepare. Like baking regular-sized cookies, there are a few simple tips for making a perfect cookie cake.
When it's time to add the dry ingredients to the batter, use a wooden spoon to combine. That will result in a nice, dense, chewy cookie cake. If you must uuse a mixer, mix at a very low speed just until combined. Overmixing will activate the gluten plus incorporate extra air into the dough.
Press the dough into a greased pie plate and smooth the top with an offset spatula.
Bake until the top is browned and the cookie cake looks cooked in the center. A few minutes before the cookie cake is done, you'll start smelling the wonderful aroma of baked chocolate chip cookies!
Another way to check for doneness, besides using your nose, is to tap the center with your finger. You should feell some resistance when it's cooked. If your finger encounters dough, it's not ready. I prefer my cookies and cookie cakes slightly underdone, but if you prefer a more fully cooked cookie cake, add a couple of minutes to the baking time.
Remember, all ovens bake a little differently. Your cookie cake may take a few minutes longer or shorter than what the recipe states.
PRO-Tip: Reserve some of the candies to carefully press into the top of the cake when it's fresh out of the oven. This will make a prettier, bakery-like presentation. Use caution so you don't burn yourself on the hot pie plate.
Ingredient Notes
These are the add-ins found when perusing the candy and baking aisles at the grocery store. They provided inspiration for this cookie cake idea:
Chocolate Chips – I used semi-sweet, but white chocolate, milk chocolate or even bittersweet will work well
Easter colored M&M's – Grab all these Easter candies early as by Easter, many will be sold out.
Easter egg M&M's
Cadbury mini Easter eggs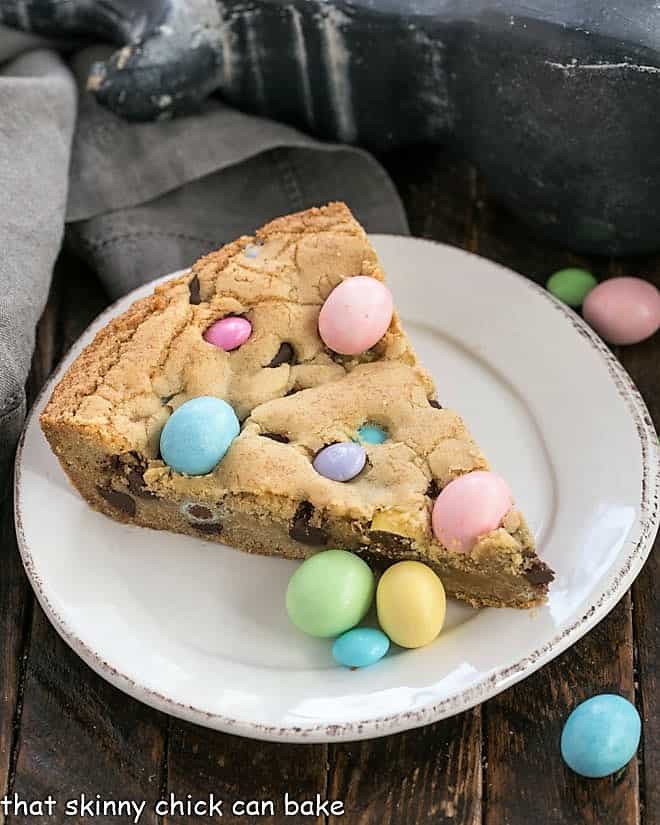 More Easter Dessert Recipes You'll Love:
The pieces of this huge candy-laden cookie were a hit with my girlfriends. Needless to say, my chocoholic family loved these Easter cookie cake leftovers. My family also loves this White Chocolate Easter Bark and these Easter Cake Pops to celebrate the holiday!
Don't Forget to Subscribe!
Have you subscribed to my weekly newsletter? You'll get the latest blog recipes plus some seasonal favorites delivered to your inbox every Saturday morning! And as a bonus, you'll receive a series of 5 Tips & Recipes for Leveling Up Your Desserts! Of course, you can unsubscribe at any time!!
SUBSCRIBE HERE—> https://bit.ly/3tLQIcL
This recipe was first shared in March 2016. Photos and text were updated in 2021.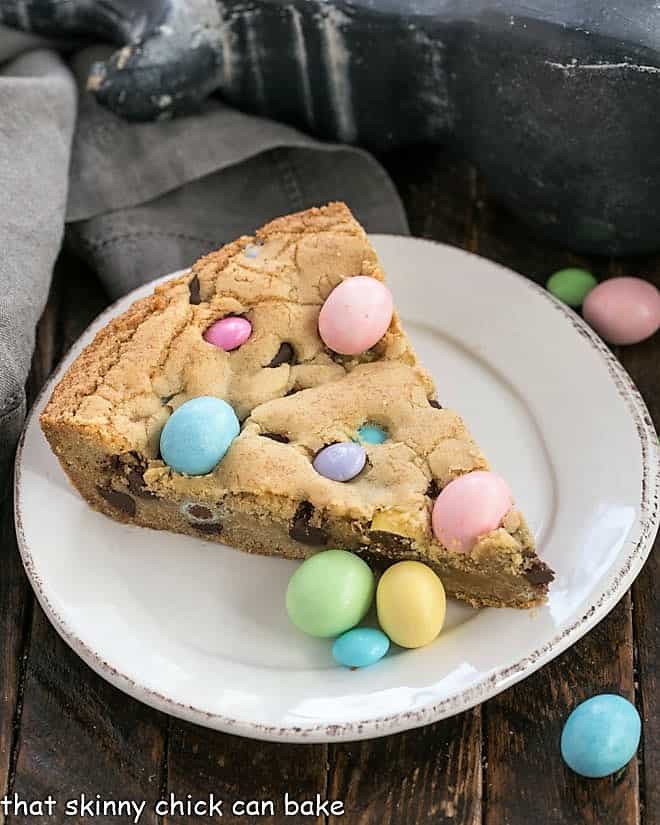 The Recipe:
Easter Cookie Cake
Prep Time 15 minutes
Cook Time 25 minutes
Total Time 40 minutes
Yield 8 servings
A giant candy-laden cookie baked up in a pie plate.
Ingredients
1/2 cup butter (1 stick or 4 ounces)
3/4 cup brown sugar
1/4 cup sugar
1 egg
2 teaspoons vanilla
1 1/3 cups flour
1/2 teaspoon baking soda
1/4 teaspoon salt
1/2 cup chocolate chips
3/4 cup chocolate candies (I used Easter M&M's and mini Cadbury eggs), divided
Instructions
Preheat oven to 350º. Spray a 9-inch pie plate with non-stick cooking spray. Set aside.
Melt the butter in a large, microwave-safe bowl. Mix in the sugars, then the vanilla. Then stir in the egg.
Whisk together the flour, baking soda, and salt in a medium bowl. Then mix into the butter mixture just till combined. Add the chocolate chips and 1/2 cup of the candies. Reserve the remainder of the candy to garnish the cookie cake when it comes out of the oven. Mix well.
Scrape the dough into the prepared pan, then smooth the top with an offset spatula.
Bake for 25 minutes or till the top is golden brown. Remove from oven and gently press remaining candies across the surface of the cookie cake while it's hot.
Cool before slicing.
Notes
Total time does not include cooling time.
The recipe will need to be adjusted for higher altitudes.
Nutrition Information:
Yield:
8
Serving Size:
1 slice
Amount Per Serving:
Calories: 415
Total Fat: 20g
Saturated Fat: 12g
Trans Fat: 0g
Unsaturated Fat: 6g
Cholesterol: 57mg
Sodium: 264mg
Carbohydrates: 55g
Fiber: 2g
Sugar: 37g
Protein: 5g
Note: This post may contain affiliate links; view
my Disclosure Policy
for details. I earn a small percentage from any purchase you make by clicking on these links at no extra cost to you.