Easter Brownie Cookies
Easter Brownie Cookies are chewy, rich, and loaded with chocolate! Embellished with M&Ms, they're perfect for leftover Easter candy!
I've been making these Chocolate Cookies for decades and they're easily transformed into Easter Cookies by pressing on a few pastel M&M candies when they're still warm from the oven.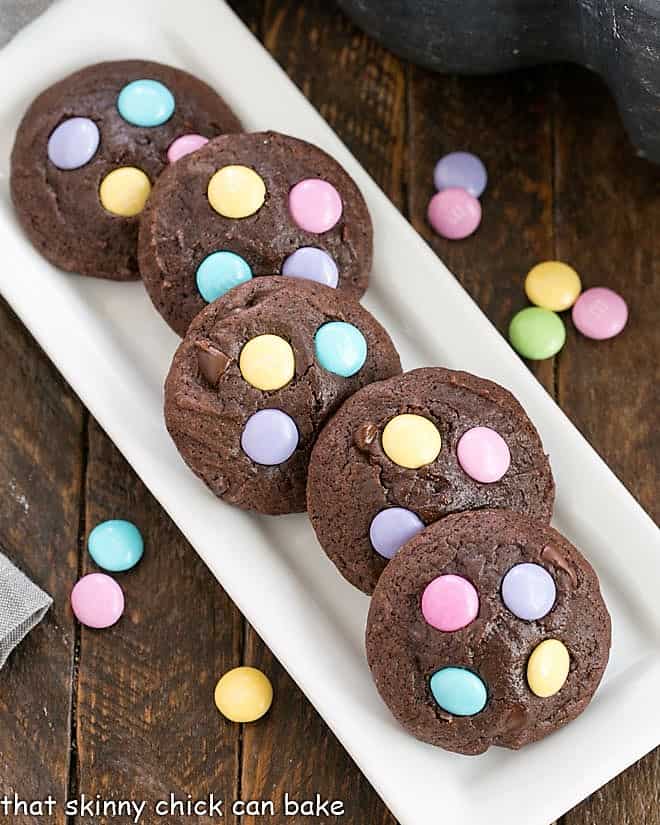 Why You'll Love these M&M Cookies
I adore putting leftover candy into cookies and brownies. Who doesn't love the crunch of toffee in a chocolate chip cookie? Or a caramel Rolo inside a sugar cookie?
M&Ms come in loads of holiday colors making them a favorite to use in cookie recipes.
I've made these brownie cookies with all sorts of add-ins. My first batch had semisweet ane white chocolate chips! This cookie recipe is very adaptable.
Pastel Easter M&Ms stand out beautifully tucked in the chocolate cookies. Plus the brownies are full of semisweet chocolate chips as well.
I'm certain the wee ones you know would love to donate some of their excess Easter candy to use in cookies. Well, maybe not! Mine were always quite possessive of their holiday loot.
Frequently Asked Questions
Do M&Ms Melt in the Oven?
No, the candy shell prevents the M&Ms from melting while they bake. They will crack, though, so to have pristine M&Ms on the surface, add carefully press the into the hot cookies when they come out of the oven.
How Do You Make Nice Round Cookies?
First, use a cookie disher to scoop out nice rounds of dough to place on your baking sheet. Then, when they come out of the oven, use a spatula while holding the baking sheet with a hot pad, and tap them around the perimeter, making nice rounds.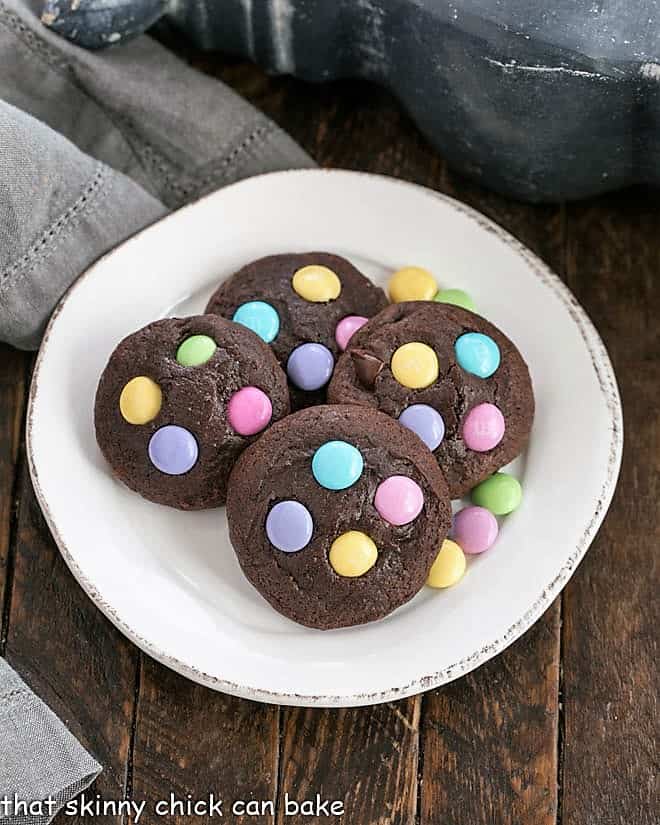 How to Make a Brownie Cookie Recipe
These chewy brownie cookies have been a hit with my family for years. Just one spoonful of batter sold me on these gems. A perfect flavor replica of those chocolate brownies we all adore. And soft and chewy. Did I mention chewy?
Start with real butter and a decent brand of unsweetened chocolate. I use the Ghirardelli bars that are readily available at the grocery store.
PRO-Tip: Use a wooden spoon to mix the dough. A mixer can overbeat and make these more cakey than chewy.
If you try to scoop out this cookie dough before the butter and chocolate have a little time to cool off, the "dough" could puddle. So wait a few minutes until it's scoopable before dishing it out onto the baking sheets.
Line your baking sheets with parchment paper for easy removal and easy cleanup.
Use a cookie disher or scoop to make cookies evenly sized.
If you're super picky, use a damp finger to pat down any spikes on the cookie dough scoops before baking. This happens as the cookie disher gets a layer of dough inside and doesn't release smoothly.
PRO-Tip: Let the cookies cool on the baking sheets for a few minutes before moving them to a cooling rack. They need some time to solidify so they don't break as you transfer them to the rack.
To ensure these cookies are chewy, make sure not to over-bake these babies. The centers can look slightly underbaked when you pull them out of the oven. The residual heat from the baking sheet will finish the job.
PRO-Tip: Reserve some M&M's to press into the warm cookies. These candy-coated chocolates tend to crack in the oven, so I wait until after they're baked to press into the hot from the oven cookies for the perfect finishing touch. It makes a prettier, bakery-worthy presentation.
Use whatever add-ins to these brownie cookies–chocolate, peanut butter or butterscotch chips, nuts, chocolate chunks or feves. Or the ever-popular M&M's (affiliate link).
There are always fun colored M&Ms for each holiday, so this recipe can be used for Valentine's Day, Christmas, 4th of July, Halloween, etc.
This Easter Cookie Cake and these Easter Egg Cookies are more wonderful ways to utilize leftover candy.
More Easter Recipes You'll Love:
If you love a fun presentation, you'll enjoy these Easter Cake Pops. Or if your menu needs some tweaking, try some of our Best Easter Menu Recipes. An Easter Fudge Lamb is a tradition at our house. If you have a chocoholic family, too, give it a try! Check out these 100+ Cute Easter Desserts. plus more Holiday Recipes from the blog to peruse, too.
Don't Forget to Subscribe!
Have you subscribed to my weekly newsletter? You'll get the latest blog recipes plus some seasonal favorites delivered to your inbox every Saturday morning! And as a bonus, you'll receive a series of 5 Tips & Recipes for Leveling Up Your Desserts! Of course, you can unsubscribe at any time!!
SUBSCRIBE HERE—> https://bit.ly/3tLQIcL
This recipe was first shared in April 2015. Photos and text were updated in 2021.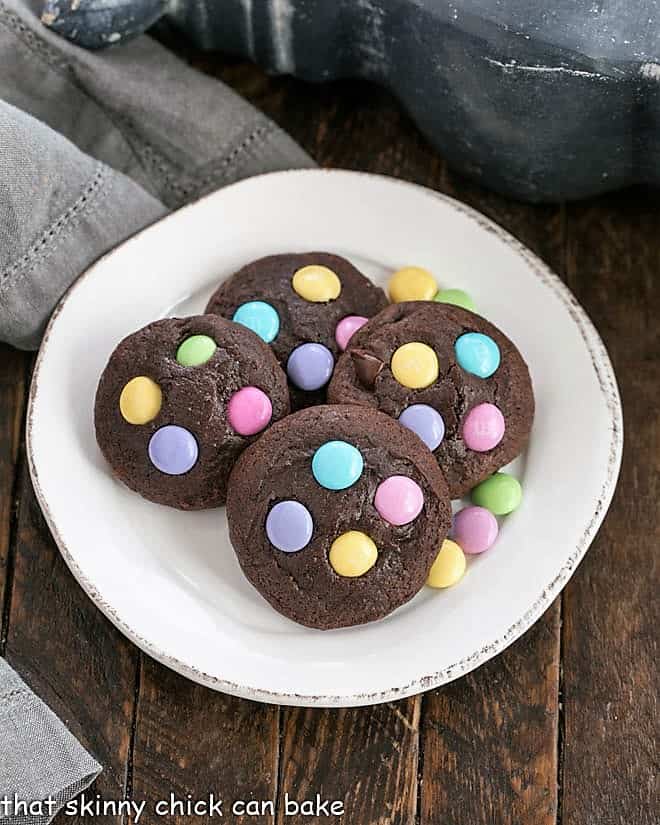 The Recipe:
Easter Brownie Cookies
Prep Time 20 minutes
Cook Time 10 minutes
Total Time 30 minutes
Yield 2 dozen
Fudgy brownie cookies filled with M&M's. Perfect for leftover holiday candy!
Ingredients
6 ounces unsweetened chocolate, chopped
½ cup butter
1¾ cup sugar
4 large eggs
1 teaspoon vanilla
1¼ cup flour
¾ cup semi-sweet chocolate chips
½ cup Easter M&Ms
Instructions
Preheat oven to 350º.
Melt the chocolate and butter in a microwave-safe bowl, starting with 60 seconds, stirring, then heating and stirring in 30-second increments until smooth.
Add sugar; mix well. Add the eggs and mix until combined. Add the vanilla.
Add the flour and mix until incorporated. Add chocolate chips and mix until well distributed.
If the dough is too soft, let it sit at room temperature for a few minutes until it firms up.
Drop by rounded tablespoons onto parchment-lined cookie sheet. Bake for 10 minutes. The centers should still look underbaked.
Carefully press 4 or so M&Ms onto the top of the cookies to garnish, if desired, before the cookies are cool.
Cool on the pan for 10 minutes before removing to a cooling rack.
Notes
Use a wooden spoon to make the dough. If you use a mixer, mix on the lowest speed.
Recipe adapted from Caprial Pence.
Recommended Products
As an Amazon Associate and member of other affiliate programs, I earn from qualifying purchases.
Nutrition Information:
Yield:
24
Serving Size:
1 cookie
Amount Per Serving:
Calories: 226
Total Fat: 12g
Saturated Fat: 7g
Trans Fat: 0g
Unsaturated Fat: 4g
Cholesterol: 42mg
Sodium: 50mg
Carbohydrates: 28g
Fiber: 2g
Sugar: 21g
Protein: 3g
Note: This post may contain affiliate links; view
my Disclosure Policy
for details. I earn a small percentage from any purchase you make by clicking on these links at no extra cost to you.