The French have the right idea! This Dieter's Tartine is a light, fresh, delicious lunch.

Dieter's Tartine
Who doesn't need a light lunch idea smack in the middle of the summer? Especially when coming off a relaxing holiday up in northern Wisconsin…where walking to the balcony with my Kindle was often the most intense activity of the day. Then we had our annual book club pitch in dinner. My lunch that day consisted of cream cheese frosting, caramel filling and coconut mousse, all eaten straight out of the mixing bowls. So this little ditty came at the perfect time. I shouldn't have been surprised that the combination of ordinary ingredients in this Dieter's Tartine turned out so tasty, but it was from Dorie Greenspan, cookbook author extraordinaire.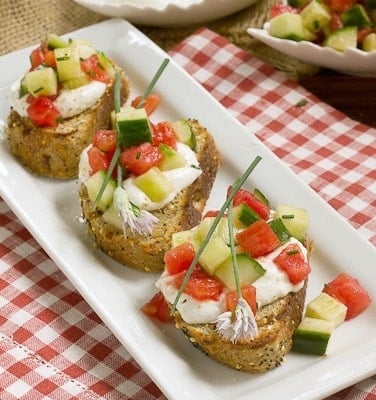 Simple and Satisfying
The concept was so easy: toasted bread (I used Seeduction from Whole Foods) was topped with Fromage Blanc, salt and white pepper, then a melange of diced tomatoes, English cucumbers and chives. Sea salt and freshly ground white pepper were all the seasonings needed. If you're unable to find Fromage Blanc at your market, Dorie offered an easy substitution: 6 tablespoons of cottage cheese mixed with 2 tablespoons sour cream. I had plans to drizzle these with a balsamic reduction, but after one bite, I knew to leave well enough alone. I think it will be today's lunch, too!
Recipe can be found here.
Note: This post may contain affiliate links; view
my Disclosure Policy
for details. I earn a small percentage from any purchase you make by clicking on these links at no extra cost to you.