Danish Twists with Cream Cheese Filling
Danish Twists with Cream Cheese Filling are made with a tender, sweet yeast bread, a sweet cream cheese center plus a generous drizzle of a powdered sugar glaze!
Way before the Internet, my mom learned of all the latest finds from her bridge club, church or university friends. One summer it was all about the Sara Lee outlet in the metropolis of Des Moines, 30 miles south of my hometown, and their Cream Cheese Danish. What the heck was cheese doing in a sweet roll, my sisters and I wondered???
Danish Twists
I was not thinking of cream cheese but instead cheddar or Parmesan when picturing "cheese danish" for the first time. What in the world, thought my pre-teen self? Who would eat those?? I loved breakfast pastries, but these sounded a bit strange!
Well, I was pleasantly surprised when I finally tasted these cream cheese filled danish after my mom purchased a case for the freezer. I was smitten after that initial nibble! These danish twists with cream cheese filling are reminiscent of those pastries I first tasted in the 1970s!
Cream Cheese Danish Recipe Tips
From that moment on, I adored a cream cheese filling—whether in a Bundt Cake, Tea Roll or these cream cheese danishes, it pushes a recipe over the top! My tip for filling these rolls is to scrape it into Ziploc bag, snip off one corner, and pipe it into the centers. The result will be neater than if you use a spoon. You can use a fork to crisscross the drizzle over the finished cheese danishes, but you can also utilize another Ziploc bag and snip off a smaller corner to attractively ice these rolls.
Bill, AKA the picky hubby, eyed these after a long day at work. "Are these up for grabs?" he inquired. "Why yes, but let's freeze most of them, to keep them fresh," was my practical reply. Day after day, he started his day with one of these marvelous cheese danishes and loved every bite. I think you will, too!

More Breakfast Pastry Recipes You'll Love: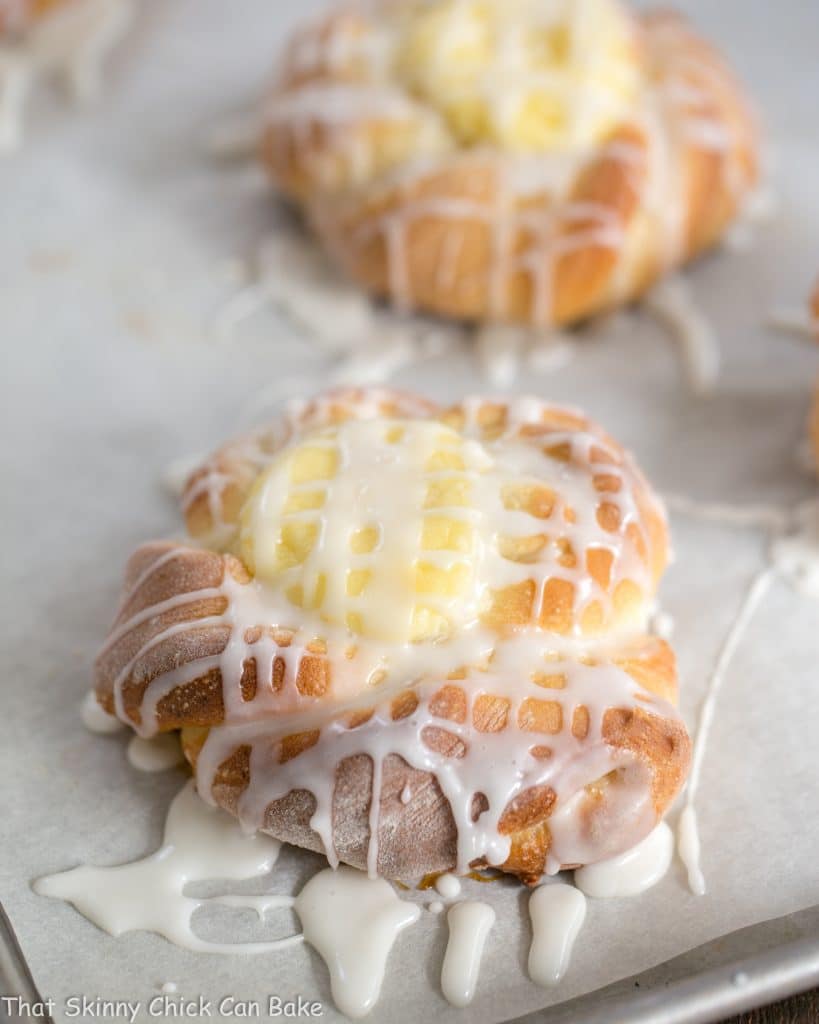 Used to Make these Danish Twists: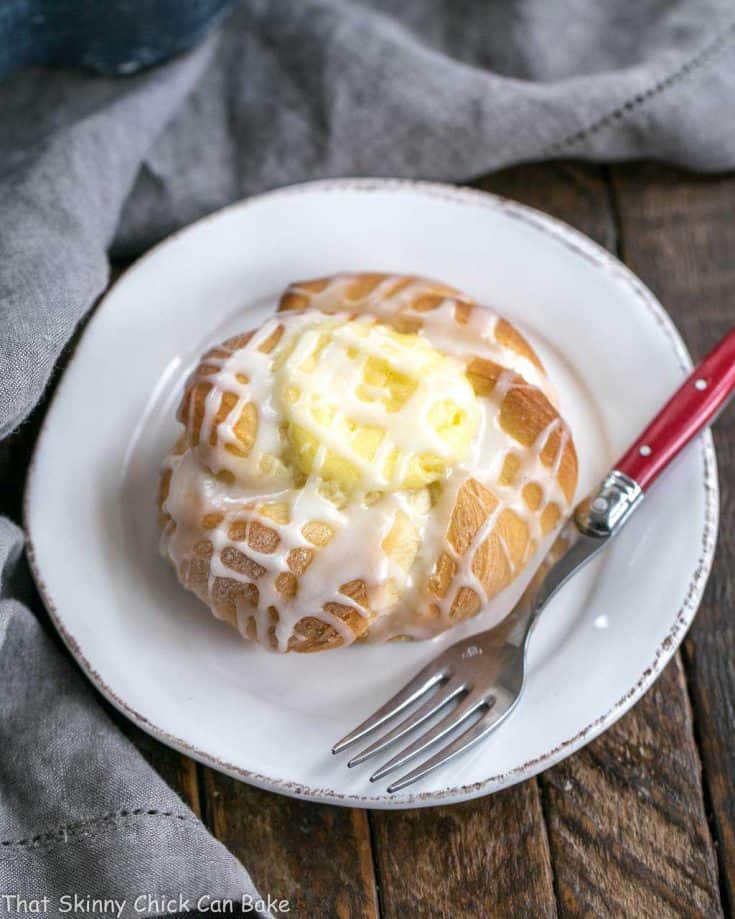 The Recipe:
Danish Twists with Cream Cheese Filling
Prep Time 30 minutes
Cook Time 10 minutes
Total Time 40 minutes
Yield 12
Sweet yeast bread twists with cream cheese filling!
Ingredients
Dough:
3 cups bread flour
4 1/2 tablespoons sugar, divided
3/4 teaspoon of salt
2 1/4 teaspoons instant yeast
1 egg, at room temperature
2 tablespoons butter, melted and cooled
1 cup warm milk, about 120 degrees
Cream Cheese Filling:
8 ounces cream cheese, at room temperature
1/4 cup sugar
1 egg yolk
1/2 teaspoon vanilla extract
Glaze:
1 1/4 cup powdered sugar
2 tablespoons milk (or enough to make a good drizzling consistency)
Instructions
In a stand mixer fit with the paddle attachment, mix together 2 cups of flour, 3 tablespoons of sugar, salt, and yeast. Add the egg, butter, and milk. Continue mixing, then add in the remaining cup of flour.
Replace the paddle attachment with a dough hook and knead for 5 minutes, until the dough is soft and pulls away from the sides of the bowl.
Transfer the dough to a large greased bowl. Turn the dough around in the bowl to apply a light coating of oil. Cover with a tea towel and let rise in a warm spot until doubled in size, about 45 minutes.
Make the filling while the dough is proofing. In a medium bowl, beat together the cream cheese and sugar, then mix in the egg and vanilla until smooth. Set aside.
When the dough has doubled, punch it down in the bowl, then place it on a lightly floured work surface.. Roll out into an approximate 12 x 10-inch rectangle. Sprinkle with the remaining 1 1/2 tablespoons of sugar.
Line two baking sheets with parchment paper and set aside.
Gently fold the dough in half widthwise to make a 12 x 5-inch rectangle. Cut dough into 12 1-inch wide strips. Twist each strip and shape twist into a spiral and place it on the baking sheet. Press the dough down in the center to create a well for the filling.
Place twists on a baking sheet lined with parchment paper or a baking mat. Cover with a tea towel and allow to rise for 20 minutes in a warm spot or until puffed. Use the tips of your fingers to make a center well for the filling in each twist.
Preheat oven to 375 degrees.
Divide the filling between the danishes. Bake for 8-10 minutes or until twists are golden brown. Remove to a wire rack to cool.
Make the glaze by whisking together the powdered sugar and enough milk to make a drizzling consistency. Drizzle over twists when cool.
Nutrition Information:
Yield:
12
Serving Size:
1 Danish
Amount Per Serving:
Calories: 313
Total Fat: 10g
Saturated Fat: 6g
Trans Fat: 0g
Unsaturated Fat: 4g
Cholesterol: 57mg
Sodium: 228mg
Carbohydrates: 48g
Fiber: 1g
Sugar: 21g
Protein: 7g
Note: This post may contain affiliate links; view
my Disclosure Policy
for details. I earn a small percentage from any purchase you make by clicking on these links at no extra cost to you.