Raspberry Danish Braid
Bea Ojakangas, the contributing baker for this exquisite Raspberry Danish Braid, reported that this is how modern danish is made in Denmark.
When one of my girlfriends said this Danish Pastry may be the best thing I've ever baked, I knew I'd hit a home run!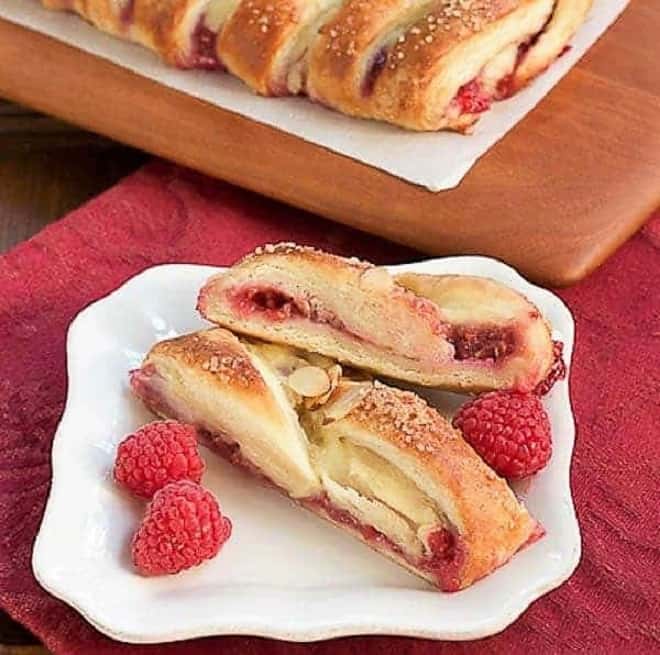 Raspberry Danish Pastry
This cheater version of a laminated dough was right up my alley. Made in the food processor, then rolled and folded like puff pastry, this method avoided the messy layering of butter but produced similar results. Bea Ojakangas, the contributing baker for this exquisite Raspberry Danish Braid in Baking with Julia, relayed that danish is made this way all over Denmark these days. Less work, but still producing a buttery, flaky dough.
I filled this lovely pastry dough with vanilla cream and gelled raspberries, then crisscrossed strips of dough resulting in a stunning braid. Waiting for this to cool for a sample was pure torture, but totally worth all the steps…including the overnight resting period of the dough. I think you will agree.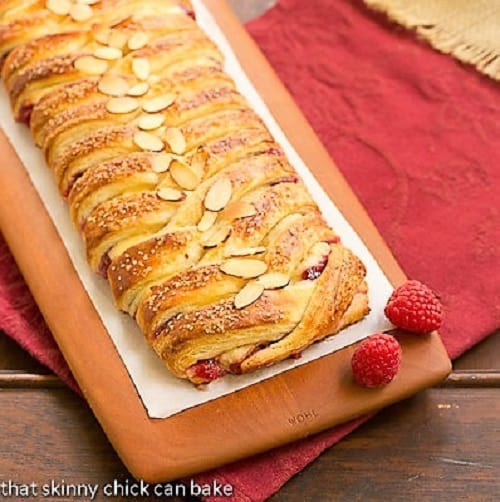 Why are these baked goods called Danish?
These pastries did not originate in Denmark but do have a connection. In the 1850s, the pastry makers in Austria went on strike, so in response, they went to Denmark where their baked goods are called Viennese (wienerbrød) according to Quora. But known as danishes here in the U.S.
What is a danish pastry?
A Danish pastry is a sweet, multilayered, laminated pastry developed by Viennese bakers in Austria. As mentioned above, it was brought to Denmark by Austrian bakers, where it became known as "danish."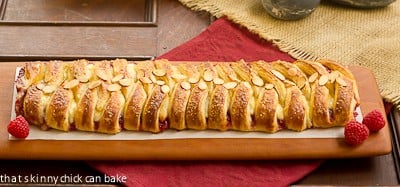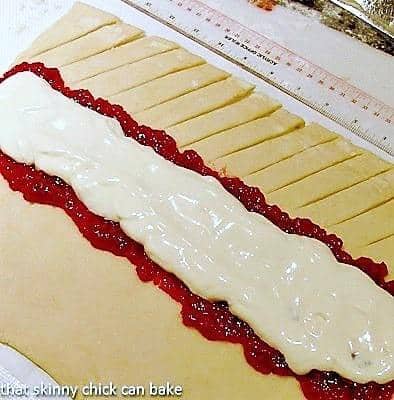 How to make your cuts: Repeat on the second side, then start at one end folding a strip over the filling. Repeat with the corresponding strip on the other side. Repeat until all strips are folded.
Tips for Making a Raspberry Danish Braid
I should have known that the microwave instructions for the vanilla cream and raspberry filling were outdated. I have quite the powerhouse microwave and my raspberry concoction boiled out of its measuring cup at the 7-minute mark. I'm certain I'd still be cleaning if I went the full 10 minutes.
I was more cautious with the instructions for the cream filling, and actually enjoyed only having Pyrex measuring cups to clean instead of pots and pans. But the dough is the real star. Feel free to fill this raspberry danish braid with whatever tickles your fancy.
Other berries will also make delicious versions of this tasty danish!
The braiding process is quite simple. Definitely easier than plaiting a 3-stranded bread! Utilize the photo above to see how to make your cuts.
After cutting each side, fold one strip over the filling, followed by the corresponding strip on the other side.
I took this braid over to my neighbor's house to share with a group of friends…there were oohs and ahs when I set it on the kitchen counter. Then the ultimate compliment: that this beautiful braid tasted as good as it looked and was one of the BEST things I've ever baked!!! Now I can see why this is Bea's most requested recipe.
An apricot version of this danish can be viewed here. You might also enjoy my Cream Cheese Danishes and my Braided Cinnamon Danish! Find more of the best breakfast recipes and brunch food in my Recipe Index!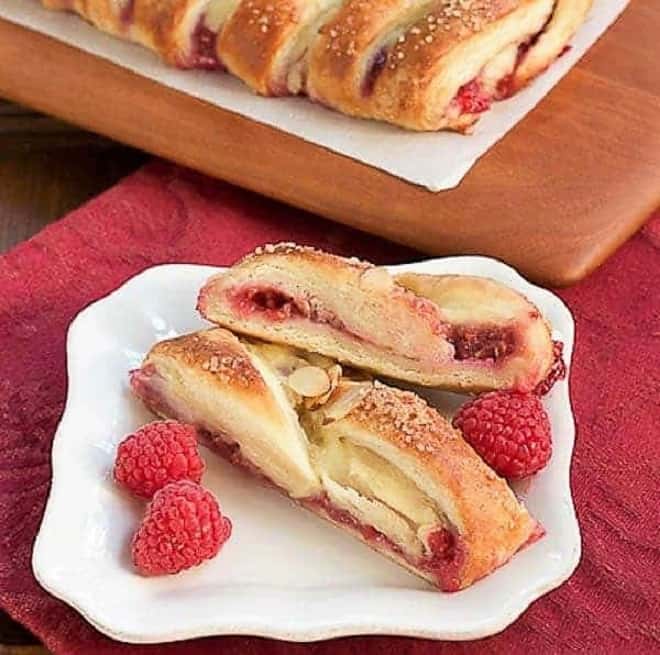 The Recipe:
Raspberry Danish Braid
Prep Time 1 hour
Cook Time 20 minutes
Total Time 1 hour 20 minutes
Yield 8 servings
Tender dough filled with raspberry and cream cheese. Plus how to make a cheater laminated dough!
Ingredients
Danish Dough:
1/4 cup warm water (105-115 degrees F)
2 1/2 teaspoons active dry yeast
1/2 cup milk at room temperature
1 large egg at room temperature
1/4 cup sugar
1 teaspoon salt
2 1/2 cups all purpose flour
8 ounces unsalted cold butter
Extra flour to prevent sticking
Fresh Berry Jam Filling:
2 cups crushed fresh raspberries
1 cup sugar
1-2 tablespoons fresh lemon juice
Confectioner's Cream:
1 cup heavy cream
1 1/2 tablespoons cornstarch
2 tablespoons sugar
1 egg yolk
1 teaspoon vanilla
Instructions
Pour the water into a bowl. Sprinkle the dried yeast on top of it and gently swirl until mixed through.
Add the milk, egg, sugar, and salt and whisk to mix, set aside.
In a food processor combine the flour and cut up butter and pulse gently until the butter has been broken down into about half an inch. The butter must stay visible to make the pastry be flaky and layered.
Empty the flour mixture into the wet bowl and gently mix through with a spatula until well combined. Cover the bowl with plastic wrap and let rest in the fridge overnight.
Flour a cool work surface and dump the dough onto it. Roughly shape the dough into a square. Sprinkle flour and roll the dough into a 16-inch square. Fold the dough in thirds and turn it so that the folded closed side is to your left.
Roll the dough out again to 10 x 24 inches. Remember to use the flour! Fold the dough into thirds again. Turn it so that the closed side is on your left again.
Roll it into a 20-inch square and fold it again into thirds like a brochure. Roll the dough into a rectangle 10 x 24 and fold it in thirds again.
Wrap the dough in plastic and chill for about 30 minutes. The dough is now ready to be rolled and shaped for pastries. It can be kept in the fridge for 4 days sealed in plastic or frozen for 1 month.
For the berry filling, stir the berries and sugar together in a microwave-safe bowl. Cook for 10 minutes on full power. Stir and cook 5-8 minutes longer till most of the liquid has been absorbed and the filling looks glossy. Mine took less time. Cook time will vary depending on the strength of your microwave. Stir in lemon juice and cool to room temperature before using it.
For cream filling, whisk together cream, cornstarch, and sugar in a large microwave-safe bowl. Microwave on full power for about 1 minute (time will vary depending on the strength of your microwave). Stir and cook for 2-3 more minutes till the mixture boils and thickens a bit. Watch carefully as all microwaves cook differently.
Whisk together egg yolk and vanilla. Temper the egg mixture by slowly whisking in a little of the hot cream mixture, then slowly add the yolk mixture into the cream, whisking constantly.
Microwave 30 seconds more, then stir. The mixture should be thick like lemon curd. Press some plastic wrap over the surface and cool to room temperature.
Spread some of the berry filling over the middle of the danish, then top with some of the cream filling. You may not need to use all the fillings.
Notes
Adapted from Baking with Julia
Nutrition Information:
Yield:
8
Serving Size:
1
Amount Per Serving:
Calories: 688
Total Fat: 36g
Saturated Fat: 22g
Trans Fat: 1g
Unsaturated Fat: 11g
Cholesterol: 142mg
Sodium: 475mg
Carbohydrates: 84g
Fiber: 4g
Sugar: 37g
Protein: 9g
Note: This post may contain affiliate links; view
my Disclosure Policy
for details. I earn a small percentage from any purchase you make by clicking on these links at no extra cost to you.