Chewy Coconut Cookies
I'm a sucker for coconut and these Chewy Coconut Cookies were a cinch to prepare and fulfilled a major craving.
I could not keep my hands off of this Coconut Cookies Recipe! So soft, buttery, and perfect for anyone who loves a good Coconut Dessert. They're addictive!!!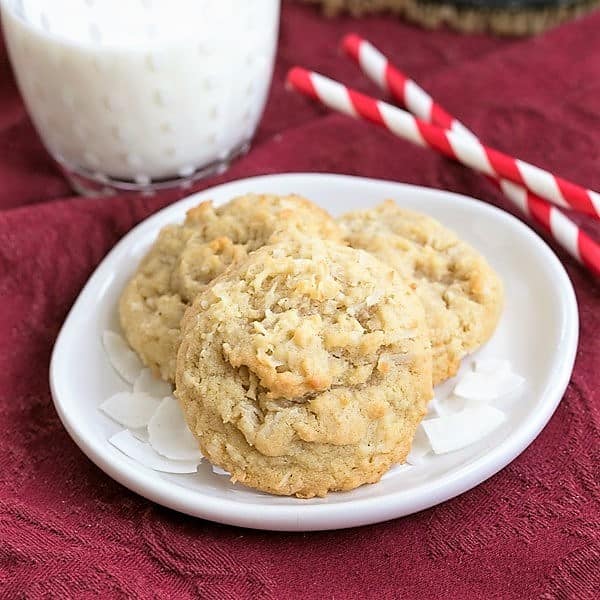 Note: This post may contain affiliate links; view my Disclosure Policy for details. I earn a small percentage from any purchase you make by clicking on these links at no extra cost to you.
Chewy Coconut Cookies
I'm still in party prep mode…and I keep finding recipes I must try. I adore coconut but typically can't justify baking a batch of cookies just for myself…as I am the only coconut fanatic in this house. These coconut cookies kept calling to me until I caved, rationalizing that these will be great for my open house.
The recipe came from Jennifer's blog. You will love her gorgeous food photos and darling little girl, Indigo. She made these even more delectable by glazing half and sprinkling them with coconut. I was just too lazy to do this extra step or maybe it was the sugar-induced coma I was in after sampling this addicting cookie dough. My only tweak was to add an extra quarter cup of flour to the recipe to give them a little more poof!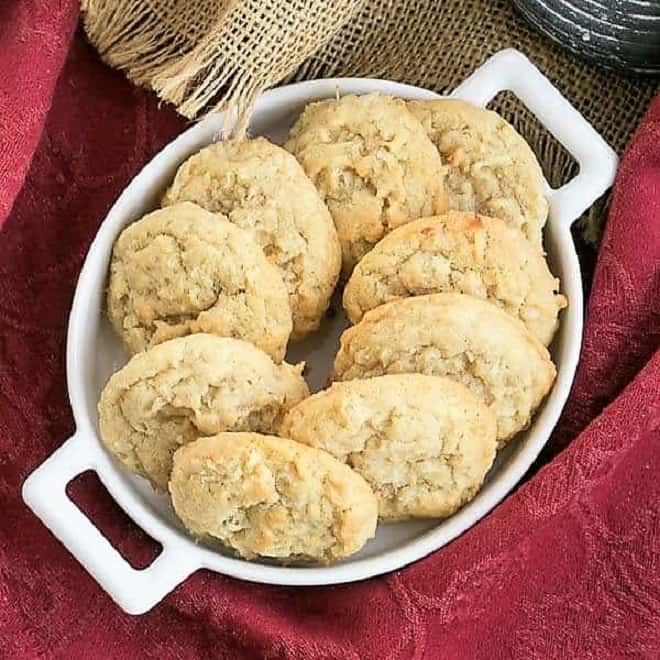 Tips for Making the Best Coconut Cookies
As with most cookie recipes, start with room temperature butter and eggs. This will allow the ingredients to incorporate more efficiently.
Use a cookie disher cookie disher to make evenly sized cookies.
Do not use a mixer to mix in the flour or if you do, use the paddle attachment and mix only until incorporated. Over-mixing will activate the gluten and make tough cookies and the mixer whisk will incorporate too much air and change the cookies' texture. I like to use a wooden spoon.
I also like to use half baking sheets and line with parchment for easy cleanup. The parchment also prevents these coconut sugar cookies from sticking.
You can reuse the parchment sheets for a couple batches of cookies, then toss them.
Store your coconut flakes cookies in an airtight container for up to 3 days. Freeze the leftovers so they don't get stale. They'll keep well in the freezer for up to 3 months.
More Coconut Dessert Recipes You'll Love:
The Recipe:
Coconut Cookies
Prep Time 20 minutes
Cook Time 12 minutes
Total Time 32 minutes
Yield 2 dozen
Chewy and irresistible coconut cookies adapted from Indigo's Sugar Spectrum and Allrecipes
Ingredients
1/2 cup butter. at room temperature
1/2 cup packed brown sugar
1/2 cup sugar
1 egg
1/2 teaspoon vanilla
1 1/2 cups flour
1/2 teaspoon baking soda
1/4 teaspoon salt
1 1/3 cup coconut
Instructions
Preheat oven to 350º. Line baking sheets with parchment paper.
Cream butter with brown sugar and sugar. Add egg and mix well. Add vanilla, then flour, baking soda, and salt. Mix well. Add coconut.
Place 1 1/2 tablespoon scoops of dough onto prepared baking sheets about 3 inches apart. Bake for 10-12 minutes. Cool on wire racks.
Nutrition Information:
Yield:
12
Serving Size:
2 cookies
Amount Per Serving:
Calories: 235
Total Fat: 11g
Saturated Fat: 8g
Trans Fat: 0g
Unsaturated Fat: 3g
Cholesterol: 36mg
Sodium: 193mg
Carbohydrates: 33g
Fiber: 1g
Sugar: 19g
Protein: 3g
Note: This post may contain affiliate links; view
my Disclosure Policy
for details. I earn a small percentage from any purchase you make by clicking on these links at no extra cost to you.