Old Fashioned Cocoa Fudge Cake
There's nothing more comforting than an old-fashioned Cocoa Fudge Cake topped with creamy chocolate icing. SO easy to make (and eat)!
Created over half a century ago, this rich chocolate cake has definitely stood the test of time. Treat your family to this marvelous Chocolate Fudge Cake Recipe ASAP!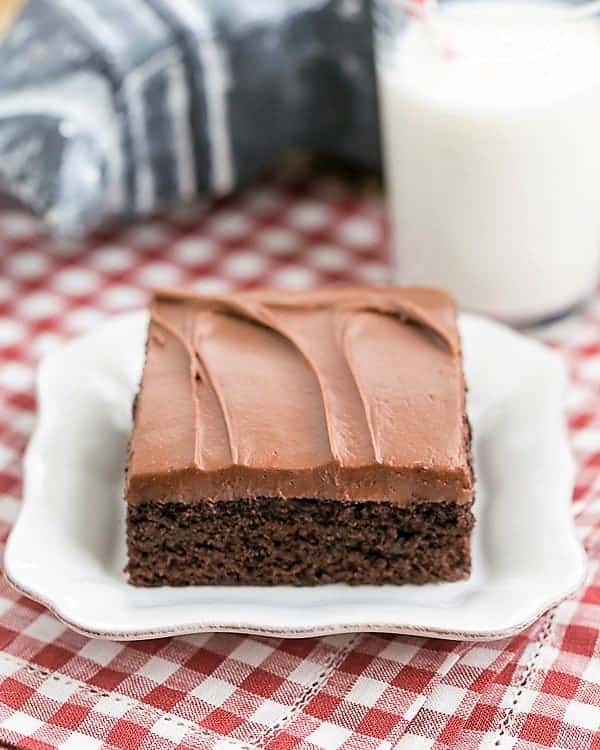 Note: This post may contain affiliate links; view my Disclosure Policy for details. I earn a small percentage from any purchase you make by clicking on these links at no extra cost to you.
Why You Must Make this Classic Cocoa Fudge Cake
This cocoa fudge cake is perfect for a casual family dessert, yet scrumptious enough for company. It was inhaled by my family and disappeared as fast as those I remember from the summer potlucks of yesteryear.
From a Betty Crocker recipe first published in 1965, this dreamy chocolate cake is the kind of dessert we zeroed in on at those pitch-in picnics of my childhood. It's obviously stood the test of time!
It's a moist, tender cake, iced with the creamiest cocoa buttercream frosting.
It's baked in a 9 x 13 pan, making it perfect for a gathering of friends and family.
Recipe Endorsement:
From Joanne via the comments: Thank you for this fabulous recipe! My 24yo son said that this is the best cake I have ever made!!!!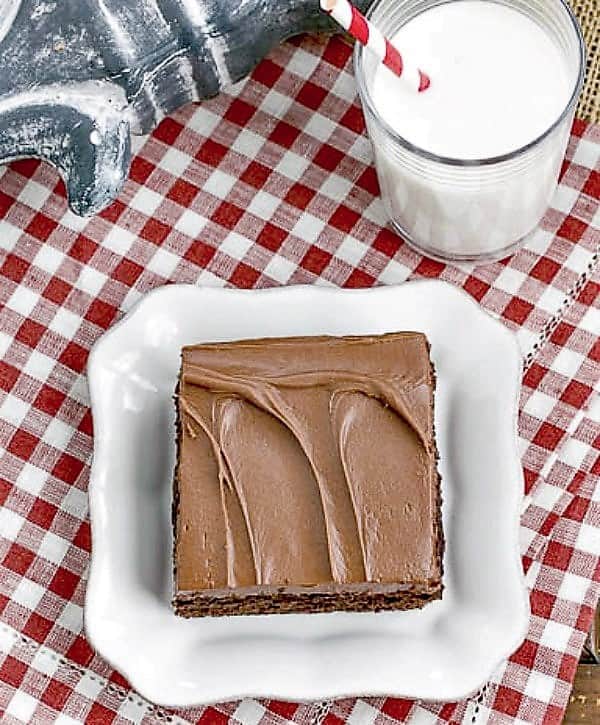 Party Like a Mad Man
You've probably all heard the hype about the final season of Mad Men this year. Season 7 is split into two parts, and the last series of episodes,"The End of an Era," premieres on Sunday, April 5th.
This chocolate snack cake comes from the cookbook, ]The Unofficial Mad Men Cookbook: Inside the Kitchens, Bars, and Restaurants of Mad Men by Judy Gelman and Peter Zheutlin. All the dishes in this collection have a connection to one of the Mad Men episodes.
For example, an iced chocolate cake like this beauty was whipped up by Don and Betty Draper's daughter, Sally, after she received a frosting machine. The Sterlings had invited themselves over for dinner at the Drapers, and an inebriated Roger Sterling cornered Betty in the kitchen where she rebuked his advances. Much alcohol was flowing at this impromptu dinner party for four in Season 1, Episode 7.
Tips for Making the Best Chocolate Cake:
There are a few general rules that help with making a delicious chocolate cake like this old-fashioned Cocoa Fudge Cake. Check out my best baking tips post for more tips and tricks. Making sure your oven temperature is accurate is key. Newer ovens can be calibrated after you check the temperature with an oven thermometer. Compare the temperature you set your oven to the temperature on the thermometer.
Use quality ingredients, especially your chocolate and cocoa powder when making a chocolate cake.
Use room temperature eggs and butter unless directed otherwise. They will incorporate into the batter better than if they were cold.
Baking is a science so measure carefully. Weighing ingredients with a kitchen scale (affiliate link) gives the most consistent results, but if that's not an option, scoop out ingredients like flour and sugar, and scrape off the top with a bench scraper or similar utensil.
An ingredient like buttermilk is a cue that the cake will be moist. Yogurt and even mayonnaise offer a similar effect.
I like to whisk together my dry ingredients so the cocoa powder, soda, salt, and flour will incorporate evenly when added to the wet ingredients.
Do not over-mix when the dry ingredients are added to prevent over-stimulating the gluten and making a less tender cake. There are exceptions, so if the recipe calls for beating in the dry ingredients for a certain amount of time, follow the instructions.
Start checking your cake about 5 minutes before you think it might be done. Insert a toothpick into the middle. It should come out clean or with a moist crumb or two. Tapping the center of the cake with your index finger and watching for the cake to bounce back without leaving an imprint will also signal the cake is done.
Over baking can make your cake dry.
When you start smelling your cake, that's a clue that it's almost fully baked.
Wait until the cake is fully cooled before frosting. Buttercream frostings will melt into the cake if it's still warm.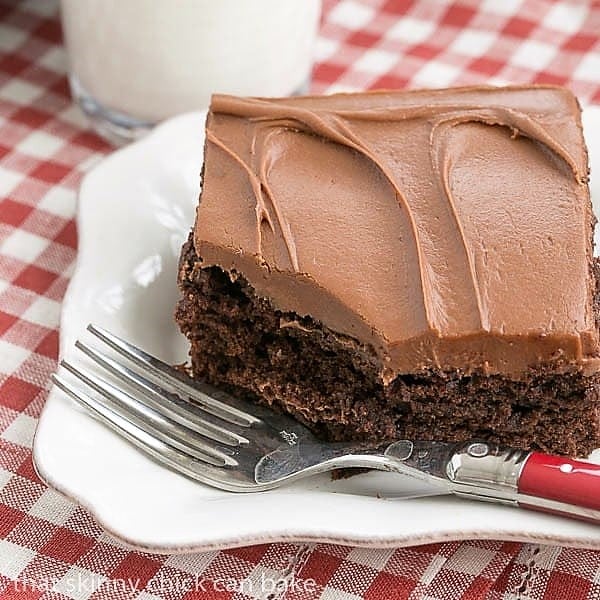 Ingredient Notes:
All-Purpose Flour – No need for cake flour
Granulated Sugar – Just ordinary white sugar
Cocoa Powder – I use Ghirardelli brand
Baking Soda
Table Salt – I prefer this over the coarser kosher salt for baking
Butter – I use salted butter; have it at room temperature for easy incorporation
Buttermilk – Makes for a moist cake. In a pinch, you can make your own buttermilk by combining 1 tablespoon of white or cider vinegar or lemon juice with enough milk to make a cup to replace 1 cup of buttermilk.
Vanilla – Must be real vanilla extract, never imitation
Eggs – I use large eggs in my recipes unless specified otherwise
Milk – Used to thin frosting
Corn Syrup – Used to sweeten and make a glossy frosting
Powdered Sugar – Sifted so the frosting is lump-free
More Chocolate Cake Recipes You'll Love:
If you're a chocoholic, like all members of my family, you might enjoy this Cheesecake Stuffed Chocolate Bundt Cake, this Italian Flourless Chocolate Cake, or this Chocolate Mayonnaise Cake! And this One Layer Fudge Cake is another chocolate winner! Check out my Cake Recipes and Chocolate Dessert Recipes, too.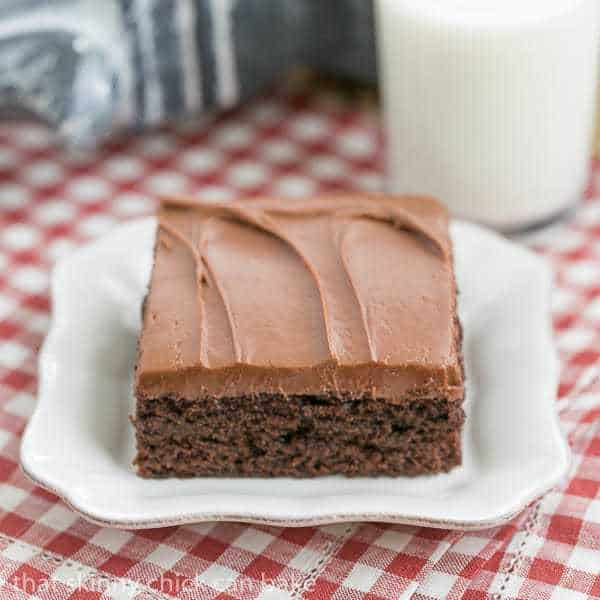 The Recipe:
Cocoa Fudge Cake Recipe
Prep Time 30 minutes
Cook Time 25 minutes
Total Time 55 minutes
Yield 20 servings
A scrumptious chocolate cake from Betty Crocker circa 1965.
Ingredients
1 2/3 cups flour
1 1/2 cups sugar
2/3 cup cocoa powder
1 1/2 teaspoons baking soda
1 teaspoon salt
1/2 cup (1 stick) butter, at room temperature
1 1/2 cups buttermilk
1 teaspoon vanilla
2 eggs
For Frosting::
1 cup sugar
1/4 cup cocoa powder
4 tablespoons (1/2 stick) butter
1/2 cup milk
2 tablespoons light corn syrup
1 1/2 cups sifted powdered sugar
1 teaspoon vanilla
Instructions
Preheat oven to 350º. Grease and flour a 9 x 13 pan (or spray with Baker's Joy). Set aside.
In a large mixing bowl, whisk together flour, sugar, cocoa, baking soda and salt. Add butter, buttermilk and vanilla and beat for a couple minutes, scraping sides of bowl as needed.
Add eggs and beat for 2 more minutes, scraping sides of bowl often.
Pour into prepared pan and bake for 25 minutes or till center of cake bounces back when pressed with your finger.. Cool pan on wire rack.
When cake is almost fully cooled, make frosting.
Mix sugar and cocoa in a saucepan. Add butter, milk and corn syrup and bring to a boil. Boil for 3 minutes, stirring occasionally. Remove from heat and place pan in cold water (I fill my sink with ice and water).
When mixture is cooled, stir in powdered sugar and vanilla. You may thin frosting with a little milk if desired.
Frost cake.
Notes
If you don't have buttermilk on hand, for each cup needed add a tablespoon of lemon juice or white vinegar to a one-cup liquid measuring cup. fill the cup to the one-cup mark with 2% or whole milk. Mix and let thicken for a few minutes before using.
Nutrition Information:
Yield:
20
Serving Size:
1 slice
Amount Per Serving:
Calories: 207
Total Fat: 1g
Saturated Fat: 0g
Trans Fat: 0g
Unsaturated Fat: 0g
Cholesterol: 20mg
Sodium: 247mg
Carbohydrates: 46g
Fiber: 1g
Sugar: 36g
Protein: 3g
By the way, my post won one of the photography awards at this Virtual Mad Men Finale Party!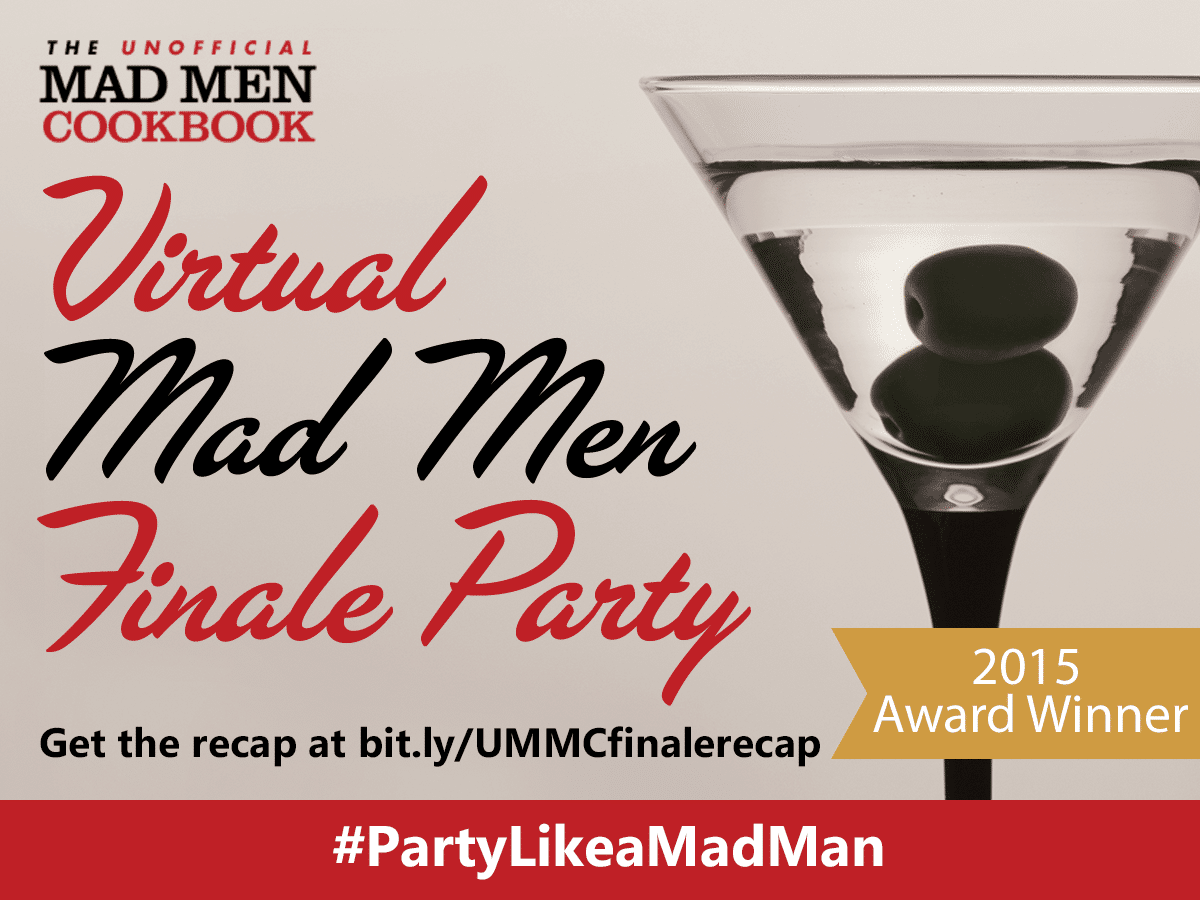 .
Note: This post may contain affiliate links; view
my Disclosure Policy
for details. I earn a small percentage from any purchase you make by clicking on these links at no extra cost to you.