Soft and chewy, these Classic Oatmeal Cookies are buttery and as tasty as your favorite bakery version. Perfect for a lunchbox treat, a tailgate sweet, or a sleepover indulgence!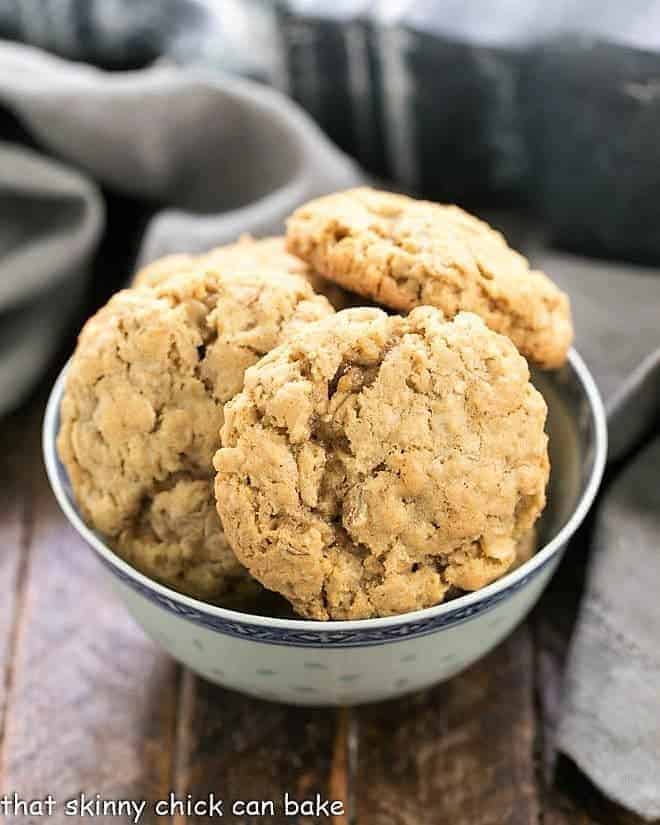 Classic Oatmeal Cookies
We often trekked to North Dakota to visit my mom's family in the summer. Packed in an un-airconditioned, radio-less station wagon, my three sisters and I did our best to entertain ourselves, though there was always some squabbling after our excitement waned. Upon our arrival, we'd make the rounds, stopping to see our grandparents, cousins, aunts and uncles. Once, my aunt Marsha had some freshly baked oatmeal cookies waiting for us when we dropped in for a visit.
Simple, chewy and delicious. My mom made sure to come home with the recipe. Since that time, I've had a weakness for both chewy oatmeal cookies and oatmeal cookie dough. I love including all sorts of add-ins like chocolate chips, dried fruit, nuts, and even toffee chunks. But sometimes a plain ol' oatmeal cookie wins out. I found a new recipe in Cook's Illustrated to test out for you all.
How to Make Chewy Oatmeal Cookies
I don't deny indulging in  a box of crisp oatmeal cookies and loving every bite, but my heart is with a chewy oatmeal cookie. I have a few tips for ensuring a chewy, well shaped cookie to share with you.
Since this recipe was adapted from Cook's Illustrated, you know it was well researched by food chemists. The first change was adding oil to the mixture. Both saturated fat (butter) and unsaturated fat (oil) were included in this recipe in a ratio of 1:2.
I browned the butter adding a nutty nuance. You can use plain melted butter if you prefer.
An extra egg yolk is also one of their secrets. You'll find this same addition in some of their chocolate chip cookies. It adds extra moistness and richness.
Less flour than the typical oatmeal cookie also helps the texture.
I also make sure to under-bake instead of over-baking. Over-baking will make a firmer, crisper cookie
I've made these cookies a number of times and even rolling the dough into perfect balls doesn't guarantee a round cookie.
PRO-Tip – As soon as a pan of cookies comes out of the oven, carefully tap the edges of any misshapen cookies into shape using a spatula. Make sure to use a hot pad to hold the pan in place so you don't burn yourself!
More Oatmeal Desserts You'll Love:
Most of my oatmeal desserts are variety of cookies. From Loaded Cowboy Cookies to Oatmeal Cream Pies to Gingered Cranberry Oatmeal Cookies, I adore them all! Also worth noting from my blogger friends are these No-Bake Oatmeal Scotchies, Peanut Butter Oatmeal Chocolate Chip Cookies, and this Old-fashioned Oatmeal Cake.
Slumber Party Treats!
Some of my blogger friends are putting on their pjs and sharing snacks and dishes for this virtual slumber party. My mom would always whip up something sweet when my girlfriends would spend the night. Last month, I packed these oatmeal gems in my suitcase and schlepped them to Colorado. My three sisters and I along with some hubbies, puppies and one niece, my Katie, gathered for some fun.
We cooked, laughed, hiked, and stayed up late telling stories. A grown up slumber party without all the teenage angst and drama. One of my brothers-in-law (who is as picky as Katie!) sang high praises when he took his first bite of these classic oatmeal cookies. Then he went back for another! If you're looking for an unadulterated, buttery, chewy oatmeal cookie, this is the recipe for you.
 Breakfast
Desserts
Snacks
You Might Need:
Print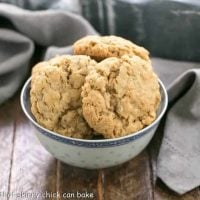 Classic Oatmeal Cookies
Chewy oatmeal cookies adapted from Cook's Illustrated
Author:
Prep Time: 10 minutes
Cook Time: 10 minutes
Total Time: 20 minutes
Yield: 36 cookies 1x
Category: Dessert, Cookies
Method: Baking
Cuisine: American
Ingredients
1 cup flour
1/2 teaspoon salt
1/2 teaspoon baking soda
4 tablespoons butter
1/4 teaspoon cinnamon
3/4 cup dark brown sugar
1/2 cup sugar
1/2 cup vegetable oil
1 egg
1 egg yolk
1 teaspoon vanilla
3 cups old fashioned oatmeal (do not use quick oats or steel cut oats)
Instructions
Preheat oven to 375 degrees. Line baking sheets with parchment and set aside.
Whisk together flour, salt, and soda and set aside.
Melt the butter in a skillet and cook over medium-high heat, stirring frequently, until butter is golden brown with a nutty aroma. Remove from heat.
Pour butter into a large, heatproof mixing bowl and whisk in cinnamon.
Add sugars and oil to the butter and whisk to combine. Mix in eggs and vanilla. Stir in flour mixture with a wooden spoon and mix until just combined. Add oats and stir until mixed well.
Scoop out about 1 1/2 tablespoons of dough for each cookie. Roll into balls between hands and place about 2 inches apart on baking sheet. Flatten each dough ball with palm before baking.
Bake for 8-10 minutes.Centers should still look soft when you remove from the oven.
Let cool on baking sheet for about 5 minutes, then remove to wire rack to finish cooling.
Note: This post may contain affiliate links; view
my Disclosure Policy
for details. I earn a small percentage from any purchase you make by clicking on these links at no extra cost to you.