Chocolate Mayonnaise Cake
This moist, scrumptious Chocolate Mayonnaise Cake was popular when I was growing up. It's tender and out of this world! It's seriously one amazing Homemade Chocolate Cake!
It could be the Best Chocolate Cake Recipe you'll ever taste, making it perfect for all the chocoholics in your life. The unusual ingredient can be our little secret!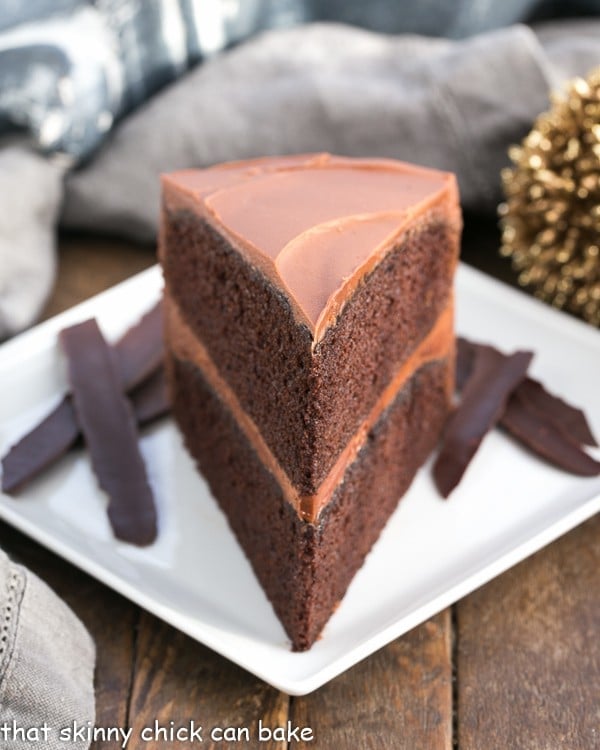 Reader Testimonial:
Hands down the most delicious chocolate cake! I made it for someone's birthday, everyone there agreed it was the best.
Why You Must Make
The magic "mayo" helps add the moisture that many chocolate cakes are lacking.
Even though I thought overbaked it by a couple of minutes, it was moist and delicious!
The frosting is just as yummy as the cake!
This cake was declared a hit by the whole family and the neighborhood chocoholic relayed that it was the best chocolate cake recipe he had ever had (via his wife who left me a glowing review via voice mail). Not a single soul thought it was dry, despite that it could have come out of the oven at the 28-minute mark.
Ingredient Notes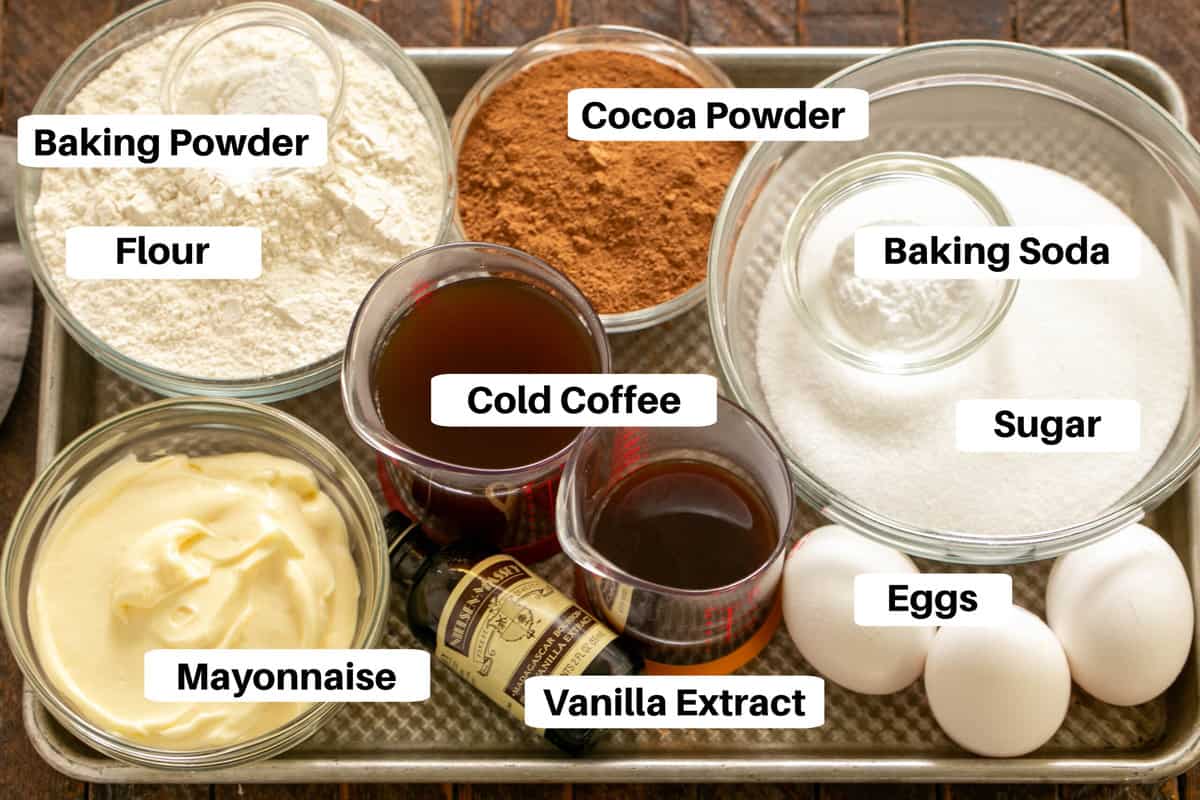 Ingredient Notes:
Flour – All-Purpose.
Cocoa powder – I use Ghirardelli brand
Baking Soda and Baking Powder – check expiration dates as baking powder often expires before you can put a dent in it!
Granulated sugar
Real vanilla extract – Never use imitation vanilla. The taste of real vanilla is so much better.
Full fat Hellmann's Mayonnaise – (or Best Foods), do not use a salad dressing, like Miracle Whip
Eggs – I always use large eggs unless otherwise specified
Brewed coffee – Coffee helps accentuate the chocolate flavor without adding a coffee taste, so don't worry about adding this ingredient if you don't like coffee. You will not taste it.
Semisweet chocolate – I prefer Ghirardelli bars over chocolate chips for better quality
Butter – I use salted butter in most of my recipes
Powdered sugar – Sift whenever using powdered sugar for frosting so there won't be lumps.
How to Make
Expert Tips:
Read through the recipe first to see if you have all the ingredients needed before starting.
PRO-Tip: Get your eggs out of the refrigerator to take the chill off. Room-temperature eggs incorporate better than cold ones.
PRO-Tip: Measure properly. Using dry measuring cups for flour and sugar, and liquid measuring cups for the coffee help with accuracy. One of my friends did not know there was a difference, so it's worth mentioning.
Scoop up the flour from your bin, bag or container with your measuring cup, then use a flat spatula to cleanly scrape off the excess from the top. The scoop and swipe method is used universally by bakers for consistency.
Though measuring by weight is definitely the most accurate method, many home cooks do not own kitchen scales.
The mayonnaise can be measured in a dry cup.
Tips for Cutting the Perfect Slice of Cake
I'm frequently asked how to cut a perfect slice of cake. Today, I'll reveal all my secrets for cutting this chocolate cake recipe!
I popped this layer cake into the refrigerator for a few hours to help firm up the frosting. When I was ready to cut a wedge, I grabbed a wide serrated knife and ran it under very hot water.
PRO-Tip: Cut chilled, and serve at room temperature.
Next, I wiped the knife dry with a clean cloth or paper towel and cut the cake with a sawing motion. I reheated and dried the knife for the second cut, making sure both cuts met at the center.
I used a metal spatula (affiliate link) to remove the slice. Voila! Note that the cake will taste better served at room temperature, but slices better cold.
Frequently Asked Questions
Why Add Mayonnaise to a Cake Recipe?
You must remember that mayonnaise is made of oil, vinegar, and egg. Each of these components offers its own benefits to the texture of a cake. No wonder this chocolate mayonnaise cake recipe is so incredible!!

The oil makes the cake moist and tender. Check. We want that! The vinegar helps accentuate the chocolate flavor. Check. Who wouldn't want that in a chocolate cake??? And, finally, the egg helps the batter retain moisture. Yes, no dry cakes are wanted!

PRO-Tip: Plus, all of the above (moisture, tenderness, and intensified chocolate flavor!) can be obtained with just a measuring cup full of mayo. Please use a good name brand, like Hellmann's, for the best results when making this homemade chocolate cake! Do not use reduced-fat mayonnaise as the results will not be the same.
Can You Bake with Mayonnaise?
Well, if you've read this far, you know the answer is yes. Though I have never tried it, I've read that you can substitute 3 tablespoons of mayonnaise for every egg in a cake recipe. A great tip if you're out of eggs and desperately need to bake a cake!
Do You Need to Refrigerate a Mayonnaise Cake?
Though real mayonnaise contains eggs, the eggs and mayonnaise are cooked in this cake. Therefore, there is no need to refrigerate this cake. If you live in a hot climate or make this cake in the middle of the summer, the frosting will do better if it is kept cool. Just make sure to cover well as there's less moisture/humidity in your fridge, which will dry out your cake faster, then bring the cake to room temperature before serving.
Can You Freeze a Chocolate Mayonnaise Cake?
Yes, this cake freezes well. Cool and wrap the unfrosted layers in plastic wrap, then foil, and freeze for up to 3 months. If you'd like to freeze the frosted cake, first freeze the cake uncovered to allow the frosting to firm up. Then wrap well in plastic wrap. Remove the plastic while the cake is frozen and let the cake defrost overnight in the refrigerator.
What is the Origin of the Mayonnaise Cake?
This cake recipe came about during the Great Depression. With the shortage of many items, using mayonnaise instead of eggs and oil for cake became popular. In fact, the recipe started appearing on mayonnaise jars!
Does this Cake Taste Like Mayonnaise?
No. You'd never guess there was mayonnaise in this cake recipe unless someone tells you!
You May Also Like:
Stay in touch through social media @ Instagram, Facebook, and Pinterest. Don't forget to tag me when you try one of my recipes! And if you love the results, please give it a 5-star rating in the recipe card. Note: As an Amazon Associate, I earn from qualifying purchases. Visit my Amazon Store for my favorite products.
The Recipe:
Chocolate Mayonnaise Cake Recipe
Prep Time 20 minutes
Cook Time 30 minutes
Total Time 50 minutes
Yield 12 servings
A retro chocolate layer cake that has stood the test of time!
Ingredients
Cake:
2 cups flour
⅔ cup unsweetened cocoa powder
1 ¼ teaspoons baking soda
¼ teaspoon baking powder
3 eggs
1 ⅔ cups sugar
2 teaspoons vanilla
1 cup mayonnaise (I recommend using Hellmann's or Best Foods and not Miracle Whip)
1 ⅓ cups cold coffee
Frosting:
10 ounces semisweet chocolate, chopped
1 ½ cups (3 sticks) butter, room temperature
3 cups powdered sugar
1 tablespoon vanilla
Instructions
Preheat oven to 350°. Grease two 9-inch cake pans, line them with rounds of parchment, and grease the parchment; set aside.
In a medium bowl, whisk together the flour, cocoa, baking soda, and baking powder; set aside.
In a large bowl or mixer, beat eggs, sugar, and vanilla on high for 3 minutes or until light and fluffy. Beat in mayonnaise at low speed until blended.
Alternately beat in flour mixture with coffee, beginning and ending with flour mixture. Divide evenly between prepared pans.
Bake for 26-30 minutes or until a toothpick inserted into the center of the cakes comes out clean.
Let cakes cool for about 20 minutes, then remove to cooling racks (remove parchment if it's stuck to the cakes) to cool completely.
Place chopped chocolate into a microwave-safe bowl. Microwave, stopping to stir frequently until the chocolate is melted and smooth.
Let the chocolate cool until lukewarm, stirring occasionally.
Beat butter in a large bowl until smooth and creamy (I used my stand mixer with the paddle attachment). Sift powdered sugar over the butter and beat until well blended, about 2 minutes. Beat in vanilla.
Add melted chocolate and beat until well blended, scraping down the sides of the bowl as needed.
Frost as desired.
Notes
Make sure your baking powder hasn't expired or your cakes won't rise properly. Baking soda has a much longer shelf life.
Recommended Products
As an Amazon Associate and member of other affiliate programs, I earn from qualifying purchases.
Nutrition Information:
Yield:
12
Serving Size:
1
Amount Per Serving:
Calories: 571
Total Fat: 23g
Saturated Fat: 7g
Trans Fat: 0g
Unsaturated Fat: 15g
Cholesterol: 54mg
Sodium: 569mg
Carbohydrates: 89g
Fiber: 3g
Sugar: 68g
Protein: 6g
Note: This post may contain affiliate links; view
my Disclosure Policy
for details. I earn a small percentage from any purchase you make by clicking on these links at no extra cost to you.